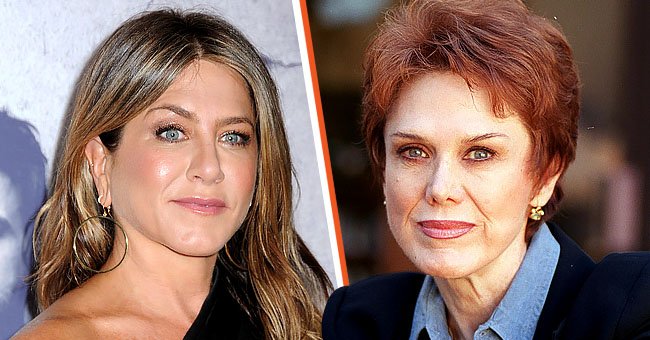 Getty Images | Shutterstock
Jennifer Aniston Helped Estranged Mom With Money Before She Died but Left the Actress Nothing
Jennifer Aniston is undoubtedly a fan favorite with a career spanning more than three decades with several high-ranking movies to her credit. Still, the actress has endured some heartbreaking relationships.
Jennifer Aniston's calm nature and funny lines make it difficult for fans not to fall in love with her. Decades since she first became a star, Aniston remains one of the highest-paid actresses in the industry.
Aniston is best known for her role as Rachel Green on the hit sitcom "Friends" and other movies such as "The Break-Up," "Horrible Bosses," "Cake," and most recently, "The Morning Show."
Aside from her career, Aniston's personal life has caught the headlines several times. Her marriage with Brad Pitt and subsequent divorce was the most talked about event in Hollywood for a while as fans did not see their breakup coming.
Pitt was accused of ditching the actress in favor of his romance with co-star Angelina Jolie, who he later married and divorced. Both Pitt and Jolie denied any wrongdoing while the actor was married to Aniston, although fans argue otherwise.
Her breakup with Pitt was one of the lowest points of her life and caused her to rekindle her relationship with her mom, with whom she had been estranged for over a decade.
Aniston and her mom, actress Nancy Dow, did not have the perfect mother-daughter bond and were estranged for most of the actress's adult life. Still, despite their broken relationship, she helped her mother financially but was met with further heartbreak.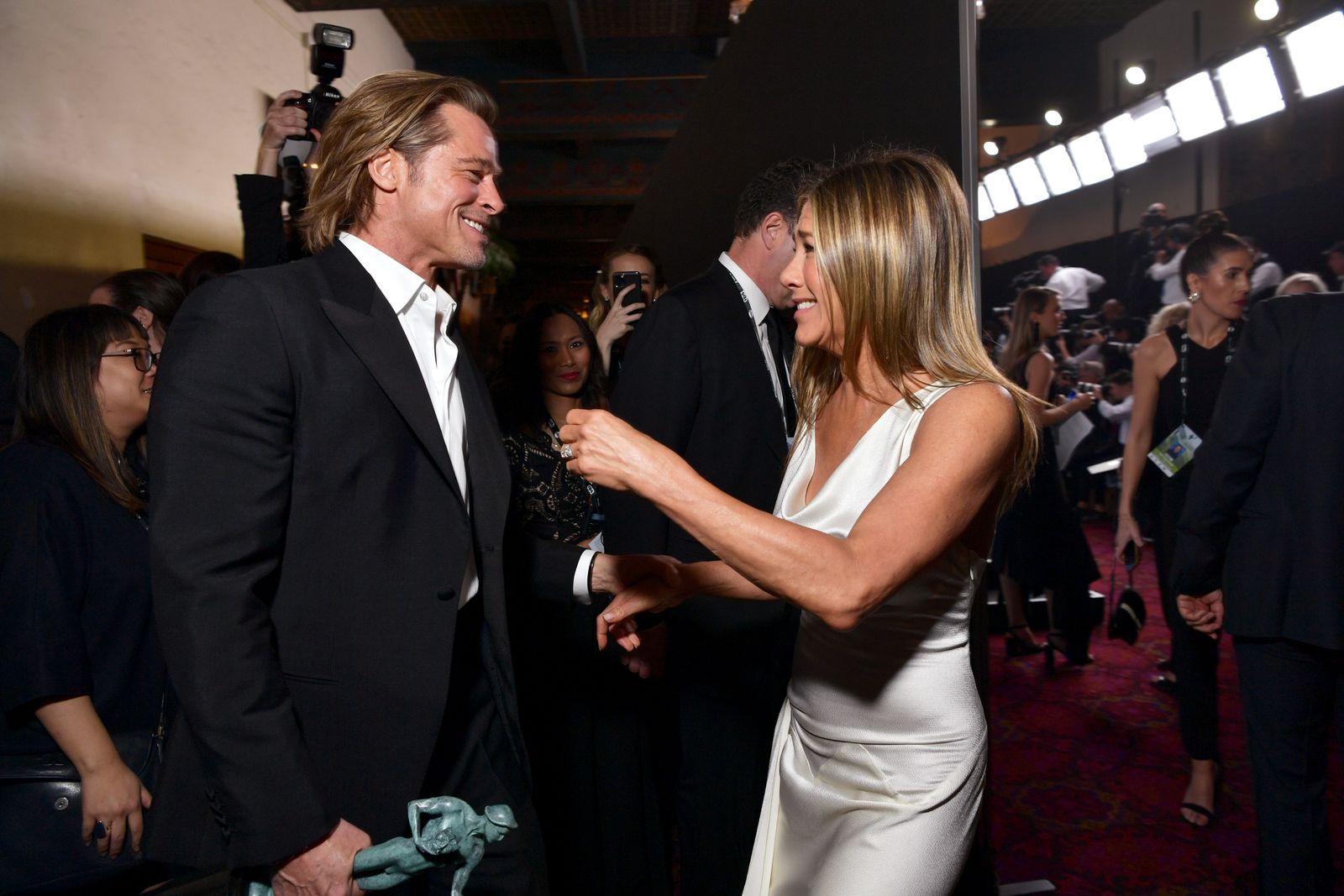 Brad Pitt and Jennifer Aniston at the 26th Annual Screen Actors Guild Awards at The Shrine Auditorium on January 19, 2020 | Photo: Getty Images
NOT THE CHILD SHE HOPED FOR
Despite being a popular star, Aniston is private about her life. One of the few times she opened up on her younger years and family was to shed light on her fragile relationship with her mom.
While promoting her 2018 Netflix movie "Dumplin," the "Friends" star remarked that her real-life relationship with Dow matched her character's mother-daughter bond. The movie was reminiscent of a story with which Aniston was already familiar.
Aniston stars as Rosie, a former pageant queen who now leads her tiny town's young beauty pageant in the film "Dumplin." She was the single mom of Willowdean or Will, whom she refers to as Dumplin.
Will is overweight and resents her mother's apparent preference for the pageant girls over her, so she enters the competition. Every moment of the movie was a relatable experience for Aniston.
Aniston admitted that she and her mother, Dow, who also enjoyed a career as a model and appeared in several films, including "The Beverly Hillbillies" and "The Wild Wild West," didn't always see eye to eye.
"The Morning Show" actress claimed her mother was preoccupied with things that did not matter and was sad her daughter did not come out as the model child she had hoped for. According to Aniston, all she ever wanted from her actress mother was to be seen and loved.
Fans these days consider Aniston a beauty icon and a living legend, but the actress did not always have it so easy. According to her, in her younger years, she felt invisible and struggled to maintain a good self-perception.
One of the reasons Aniston agreed to star in "Dumplin" was to help spread the positive message of self-love. Her shaky relationship with her mom taught her never to live up to unrealistic social constructs that end up causing damages to one's self-esteem.
GROWING UP WITH DOW
Aniston was only 9-years-old when she learned that her father, John, a soap opera actor, had left her mother, and for over a year, she did not see her father. Dow was married to the actor from 1965 to 1980.
Her first marriage, which produced Aniston's half-brother, was to Jack Meick from 1956 to 1961. Life with her mother was not as pleasing as she had hoped as Dow was a harsh critic who was overly concerned with appearance.
The blonde beauty and her mom later stopped communicating, but Aniston confessed that her mother's criticism never came from a place of hate; rather, it came from a sincere place of love that was wrongly communicated.
LEFT OUT OF THE WILL
Dow passed on at age 79 in 2015, but her death left Aniston with more heartbreak after the actress realized she was left out of her mother's will and had none of Dow's possessions for her inheritance.
Dow had secretly changed her will shortly before she died and bequeathed her house, money, and other personal items — including several personal writings about Aniston to another relative.
Aniston reportedly quit talking to her mom in 1996 after Dow gave a tabloid TV show "Hard Copy" an interview about her daughter.
Three years later, the gulf between the pair widened when Dow wrote a tell-all memoir, "From Mother and Daughter to Friends: A Memoir," against Aniston's wishes, detailing their terrible breakup.
Despite their bad blood, the "Friends" actress catered for most of her mother's bills in her final years. Instead of repaying Aniston's kindness after her death, Dow gave her condo and over a million dollars in savings to the relative.
Aniston and her mom made some attempts at reconciling before Dow's death. The pair contacted each other in 2011 after Dow suffered a stroke, which is believed to have been their last meeting until two weeks before Dow's death five years later.
Jennifer Aniston reportedly attended a private ceremony in honor of her mother. Still, even that did not suffice for the many years of the distance she kept from the late actress.
The actress failed to invite her mother, Dow, to her wedding to Justin Theroux, which later ended in a divorce. Although she shares a respectful relationship with her father, John, he was also not in attendance.
Aniston continues to focus on her career and her several charity works. Having had two failed marriages, fans have wondered if they will ever see the actress walk down the aisle for the third time or embrace motherhood, but only time will tell what the movie star plans to do.
Please fill in your e-mail so we can share with you our top stories!