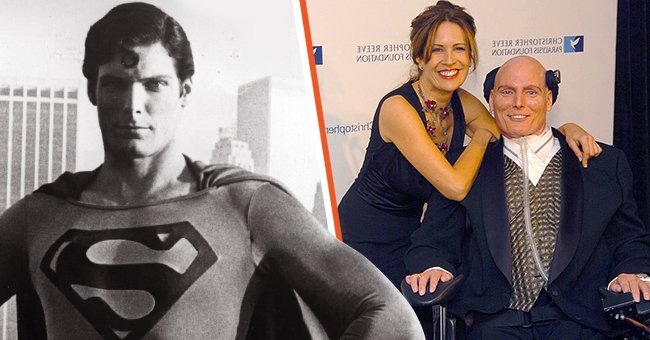 Getty Images
Christopher Reeve's Wife Saved His Life When He Felt Trapped by Dark Thoughts Following Accident

It is common to get trapped by dark thoughts after a life-threatening occurrence, and for Christopher Reeve, it was no different. His wife of three years, however, helped him through the dark stage.
Christopher Reeve became "Superman" to the world at only 24 years of age and continued to play the same role in the sequels that would follow. But a devastating accident during a horse race left him feeling anything but super.
Several riding accidents saw him sustain injuries in his leg as well as three broken ribs, but in 1995, he faced one of the most severe injuries he had ever suffered in his life, so intense that it shook everyone to the core.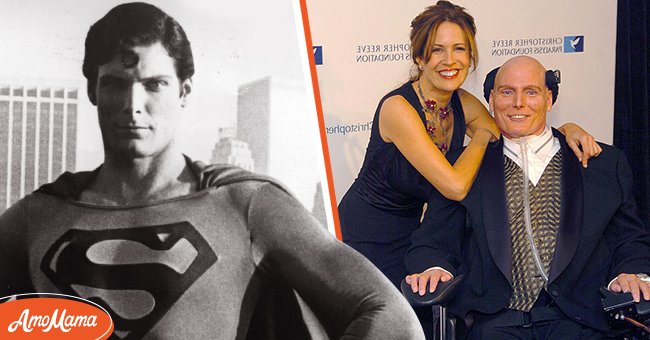 Left: Christopher Reeve stands before the Manhattan skyline as "Superman." Right: Reeve with his wife during 13th Annual "A Magical Evening" Gala Hosted by The Christopher Reeve Paralysis Foundation, New York, United States | Photo: Getty Images
THE ACCIDENT THAT FOREVER CHANGED HIS LIFE
It was the morning of May 27, 1995. Reeve had been putting hours upon hours of practice in readiness for the cross-country event in Culpeper, Virginia. Riding had become a passion, one he had developed as a substitute for his stunted career in acting.
For years, producers would turn him away, denying him roles in other movies. He would forever be frozen in time, always "Superman" in the eyes of his fans and the world at large.
Now he was riding, an activity that was redemption to his character and a sport that reminded him that despite the many denials for movie roles, he could still do something that spoke to his heart.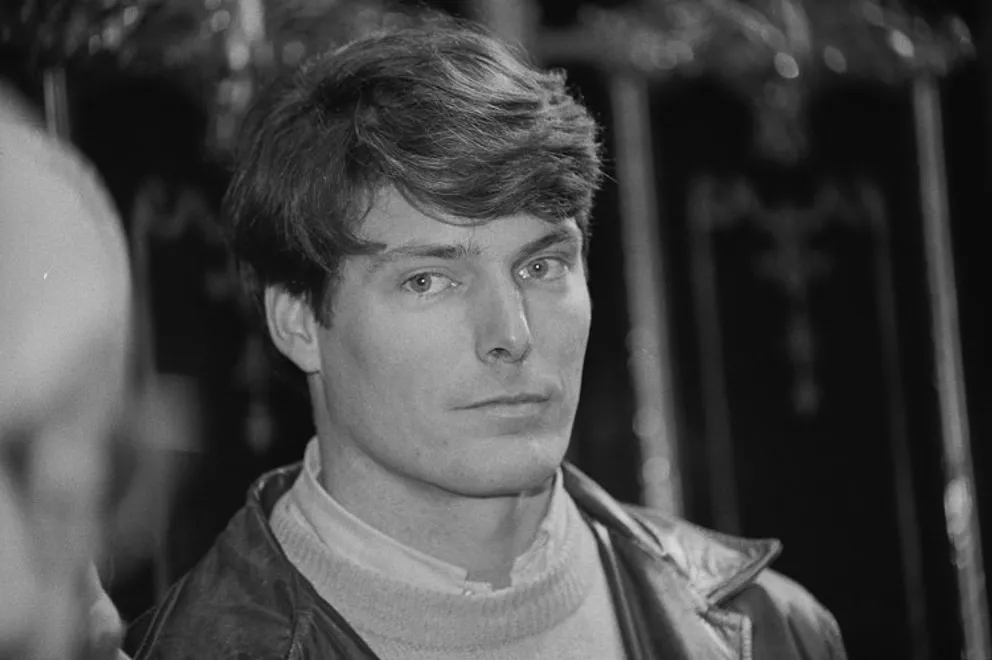 Christopher Reeve in the UK on January 20, 1984. | Photo: Getty Images
On that fateful morning, he strolled the cross-country thrice, taking notes. In his book "Still Me," Reeve wrote of the fateful morning, as reported by The New York Times:
''I put on my safety vest and helmet and started out to the warm-up area. From that point onward, I have no memory.''
He had no recollection of what had transpired. He woke up three days later, in the hospital. His horse, Eastern Express, had begun taking the third jump when suddenly, he stopped.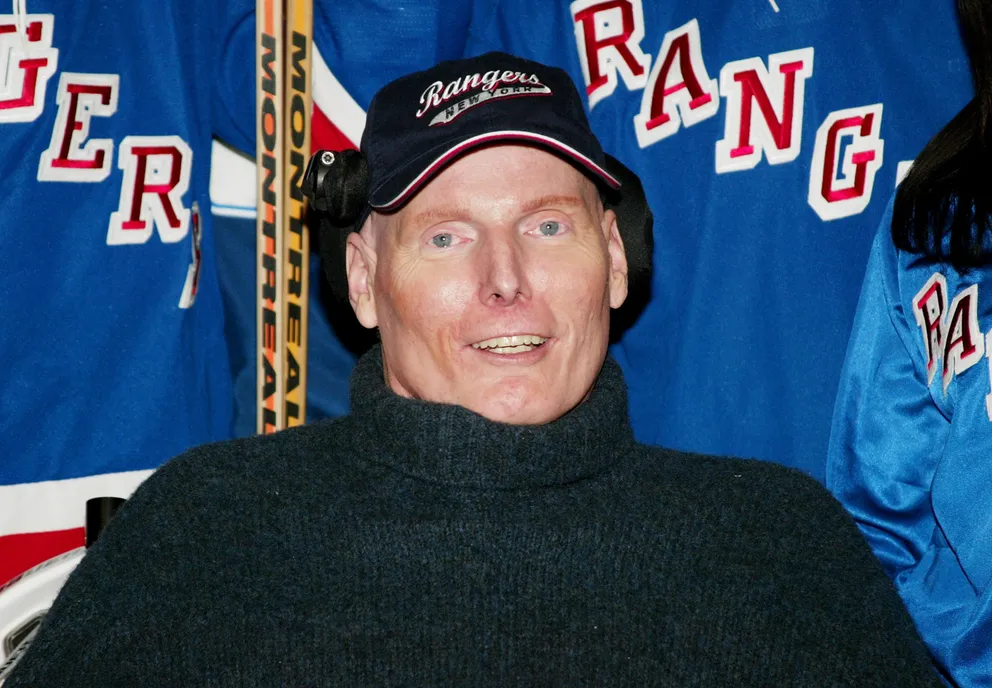 Christopher Reeve on January 25, 2004 in New York City. | Photo: Getty Images
With his hands entangled in the reins, Reeve was hurled forward, falling headfirst into the ground. He shattered his first two vertebrae, causing a cervical spinal injury that paralyzed him from the neck down.
Consequently, he developed breathing problems. Paramedics responded fast and ensured they devised a way to get air into his lungs before rushing him to a nearby hospital. He was then flown to the University of Virginia Medical Center.
Thus began a tumultuous journey towards recovery, one that not only affected his physical health but his mental well-being as well.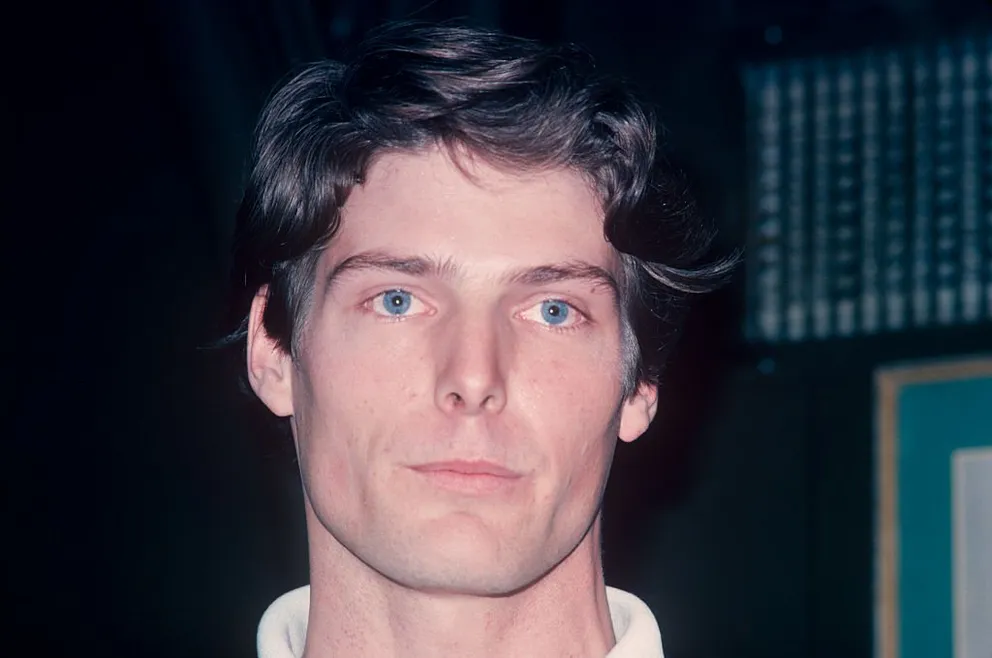 Close-up photo of Christopher Reeve circa in New York 1970. | Photo: Getty Images
THE UNCONDITIONAL SUPPORT OF HIS WIFE
The post-accident period was one of the most challenging moments of Reeve's life. He revealed in his book that it took two attendants to get him up every morning, as well as a team of five aides and ten nurses that worked around the clock to see that he was well catered to.
Due to the paralysis, he had to breathe through a straw attached to a ventilator, and since the admission, he had had two near-death experiences - one from dysreflexia and a second time from a drug reaction.
And yet, throughout the trying period, his wife of three years, Dana Morosini, stood by his side, reminding him that he was still the same old Reeve he was before the accident.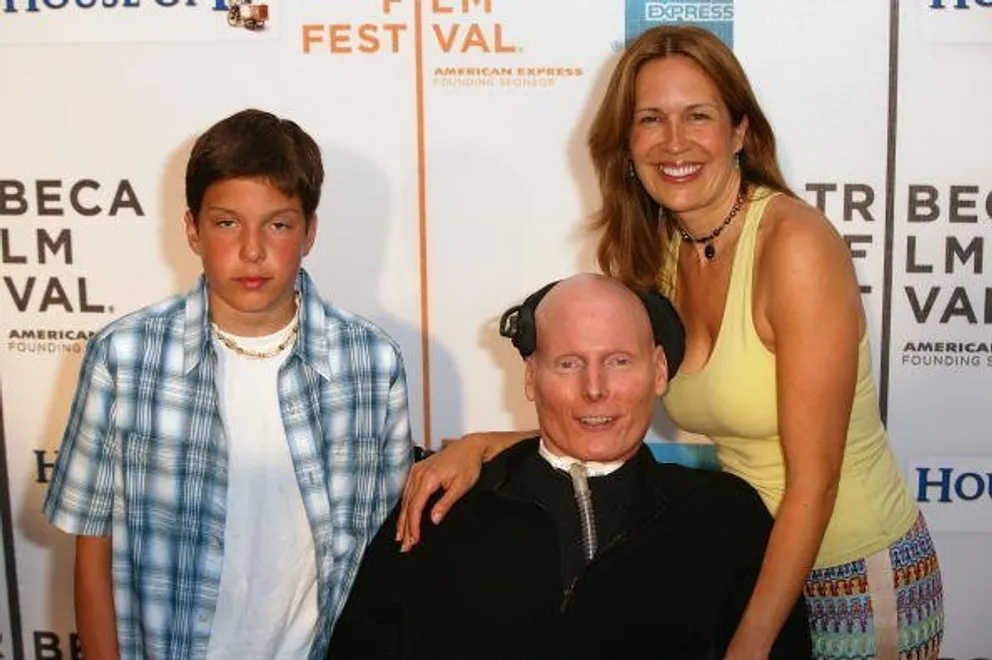 Christopher Reeve, his wife Dana and son Will at the screening of "House Of D" on May 7, 2004 in New York City. | Photo: Getty Images
Reeve had met Morosini, an actress, and singer, in June 1987, but he was afraid to commit due to his parents' painful divorce. But after they almost broke up, he began seeing a therapist and soon asked her to marry him.
They had only been married for three years when the life-threatening accident happened. But Reeve was glad he had chosen to marry the gorgeous actress as she became his pillar of hope during his recovery.
As would be expected, it was a tough time for the family, and it got to a point where the devastating sight of her son left Reeve's mother so upset that she begged the doctors to take him off life support.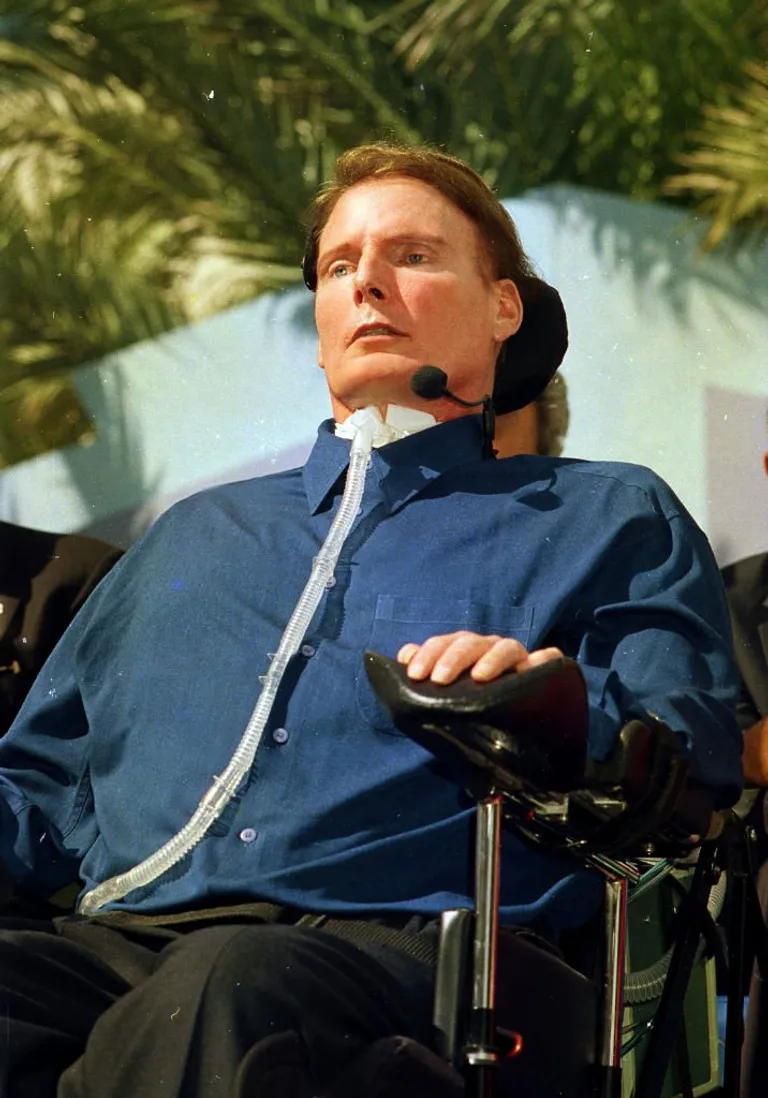 Christopher Reeve speaks at the dedication ceremony for the University of Miami School of Medicine's Lois Pope Life Center on October 26, 2000. | Photo: Getty Images
After being admitted to the hospital with severe injuries, Reeve also wanted the doctors to pull the plug. The surgeon that reattached his spine to his head confirmed that Reeve had indeed wanted to end it all right there and then.
He did not consider life worth living. But his wife was not having any of that. Her words of encouragement and support kept him going.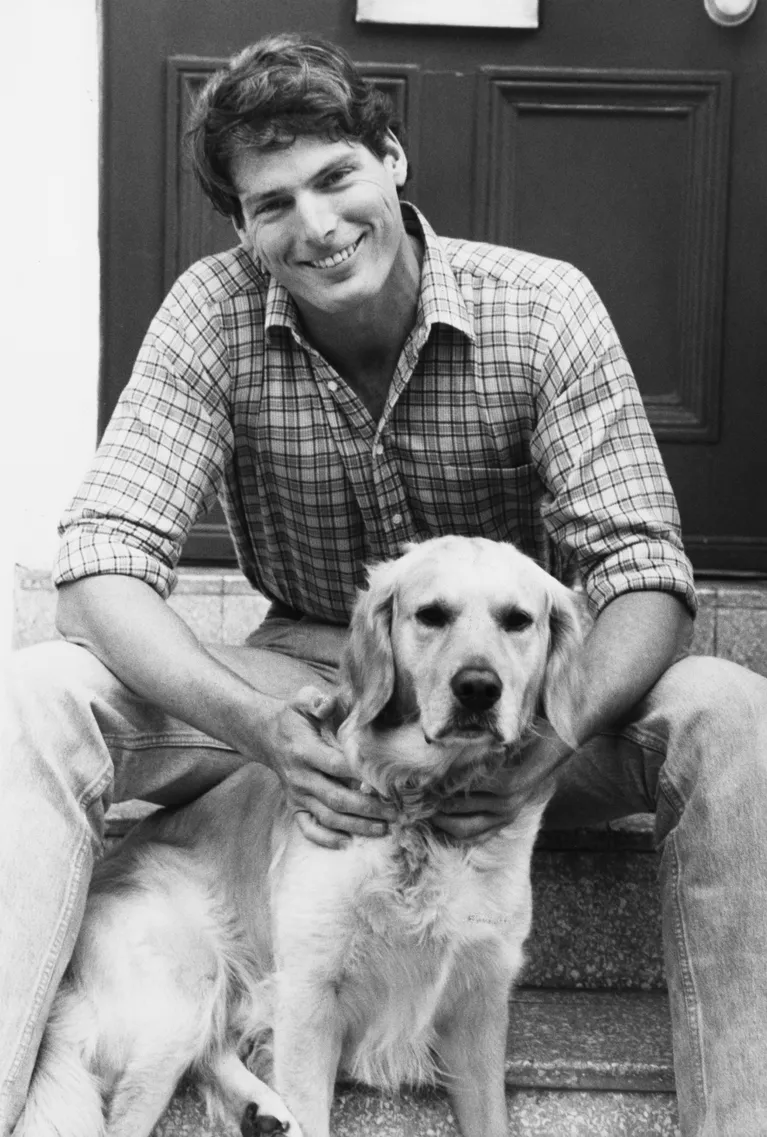 Young Chriss Reeve posing with dog, 1986 | Photo: Getty Images
According to author Christopher Anderson, Morosini made a pact with her husband that would keep him alive for a decade to come. He opened up about it on CBS's "The Early Show," saying:
"She said 'I still love you.' Then she made a pact with him. 'Hold on for two years, if you still feel this way two years from now, we will reconsider this question.'"
And "Superman" held on, not for two years, but another whole decade. He received so much support during the darkest days from his family and friends. His long-time friend, Robin Williams, now deceased, cheered him up during his lowest moments.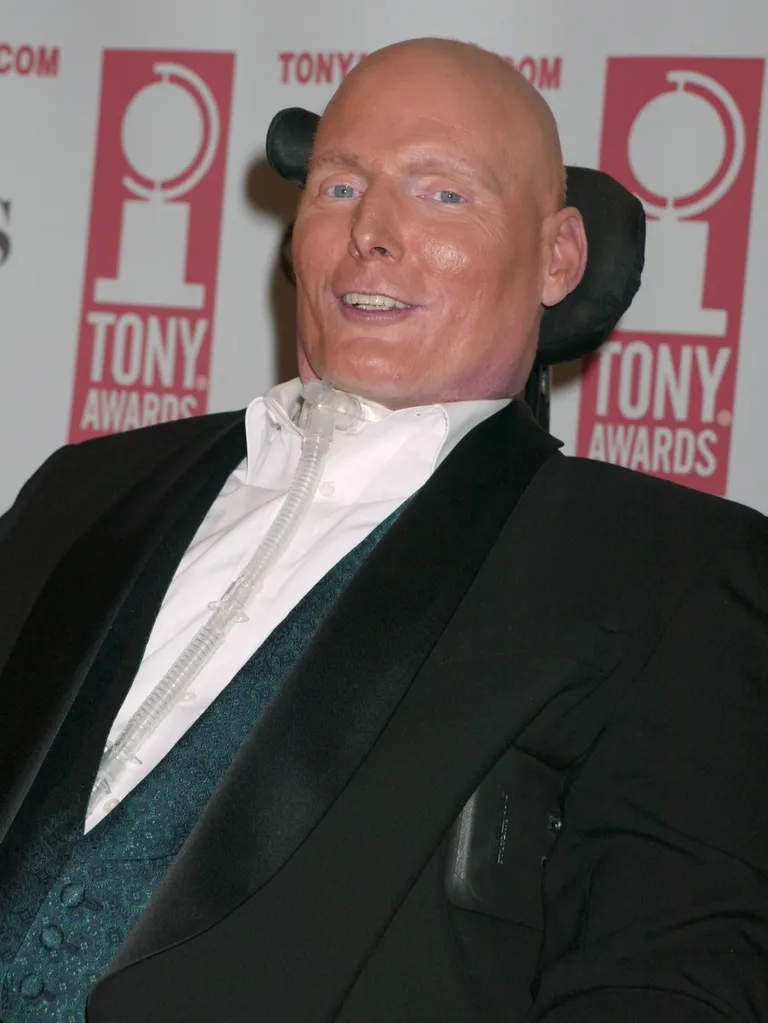 Chris Reeve at the 2003 TONY Awards | Photo: Getty Images
They first became friends when they studied acting together at "The Juilliard School" back in the '70s. And their friendship had been filled with nothing but laughter, and support, especially after the horrible accident.
Despite being complete opposites, they clicked right away, and their friendship carried on even after becoming famous. After the accident, Williams came visiting, dressed as a proctologist.
And when Reeve recognized the "surgeon" to be his long-time friend, he laughed for the first time since his accident, and the laughter changed his perspective on life. He felt that if he could laugh, he could live.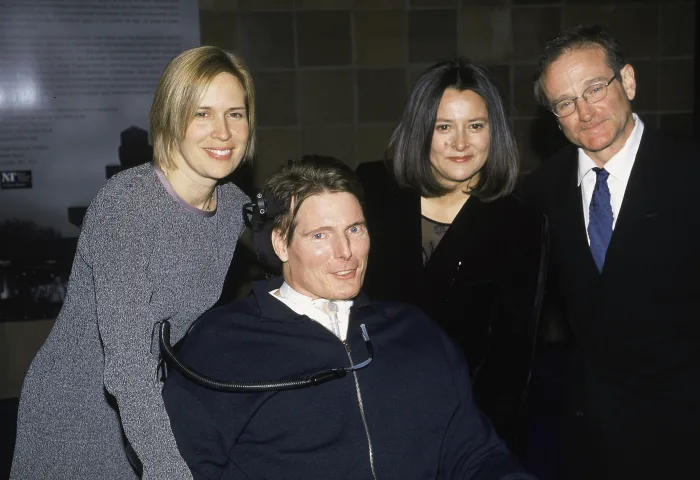 Dana Reeve, Christopher Reeve, Marsha Garces Williams and Robin Williams in February 1999 | Source: Getty Images
It was evident that William cared deeply for Reeve and supported him in many ways, including buying a van and a generator to aid his recovery and traveling with Reeve to Puerto Rico for the American Paralysis Association fundraiser.
Unfortunately, in 2004, Reeve suffered a sudden heart attack that took his life. Williams, in a statement, said that he had lost a great friend and even dedicated his Golden Globes Awards to Reeve the following year.
Ten years after the departure of his friend, Williams followed suit. He took his own life, but it was later disclosed that he had been suffering from Lewy body dementia and Parkinson's disease.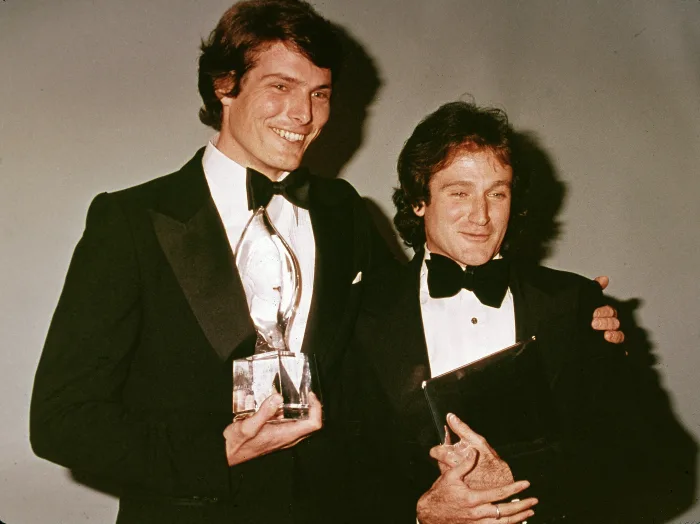 Christopher Reeve and Robin Williams backstage at the People's Choice Awards in March 1979. | Source: Getty Images
REEVE WOULD HAVE SAVED WILLIAMS
Glen Close, an actress and a long-time friend of Reeve, emotionally disclosed that he would have saved Williams from himself had Reeve been alive. Speaking at the Christopher & Dana Reeve Foundation in 2017, she said, according to Eonline:
"Their friendship, their connection, is the stuff of legend. It not only endured but became a life-giving force sustaining them both. I am convinced that if Chris were still with us, Robin would be too."
Reeve and Williams died ten years apart and are still remembered for their enviable friendship and their contribution towards raising awareness on spinal cord injuries and supporting paraplegic causes.
The National Suicide Prevention Lifeline is 1-800-273-8255. Other international suicide helplines can be found at befrienders.org.
Please fill in your e-mail so we can share with you our top stories!