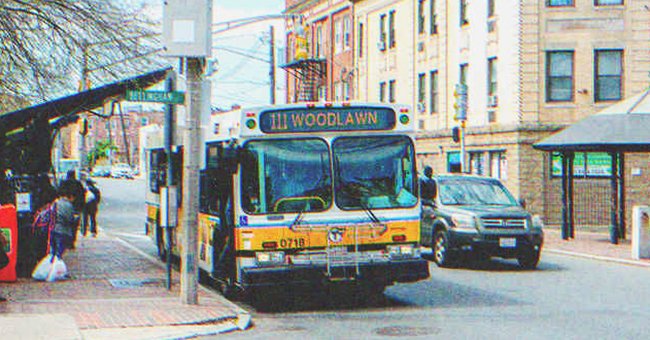 Shutterstock
Bus Driver Overhears Elderly Woman's Call With Grandson, Exposes $35K Scam — Story of the Day
A bus driver decides to stick his nose in an elderly woman's private business when he overhears her on a call with her grandson — eavesdropping was this unlikely heroes' superpower.
"Jimmy, what — what are you saying?" Elma's voice trembled as she spoke. The nervousness in her voice alerted Mark, the chubby driver who was driving the bus the 70-year-old woman had boarded just as her phone rang.
Mark had a lot of love for his job as a bus driver; he kept his vehicle very clean, and he was always nice to the passengers, which made them respond very warmly to him.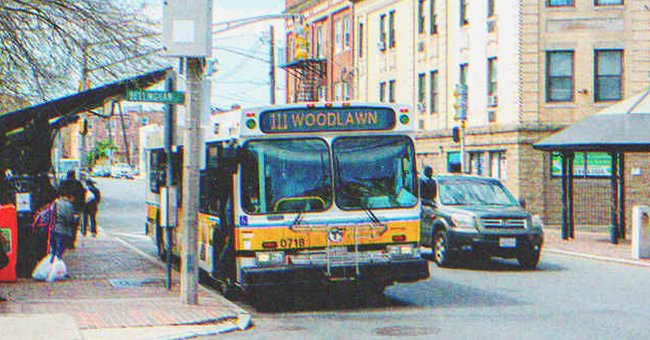 Mark helped an elderly woman avoid a scam after overhearing her call with her grandson | Source: Shutterstock
It was not the first time he had picked Elma up from the bus stop, and they had exchanged pleasantries a couple of times, so when he heard the distress in her voice, he was naturally concerned.
A quick glance at the cleverly positioned center mirror showed that Elma also had a worried look on her face as she continued to talk into the phone.
"OK Jimmy, I will withdraw all the money from the bank," Mark heard.
"What could be going on?" he thought within himself.
"Are you okay?" he asked as soon as she ended the call. She looked towards him, startled, and their eyes met in the center mirror.
"Of course," she said with a bravado she did not feel. "That was just my grandson, Jimmy. He was arrested."
"What? That's terrible?" Mark said, trying his best to keep the conversation between him and Elma while making sure she could actually hear him.
It was a trick he had mastered for occasions when he wanted to talk to his passengers sometimes, and it came in handy with Elma, who sat directly behind him.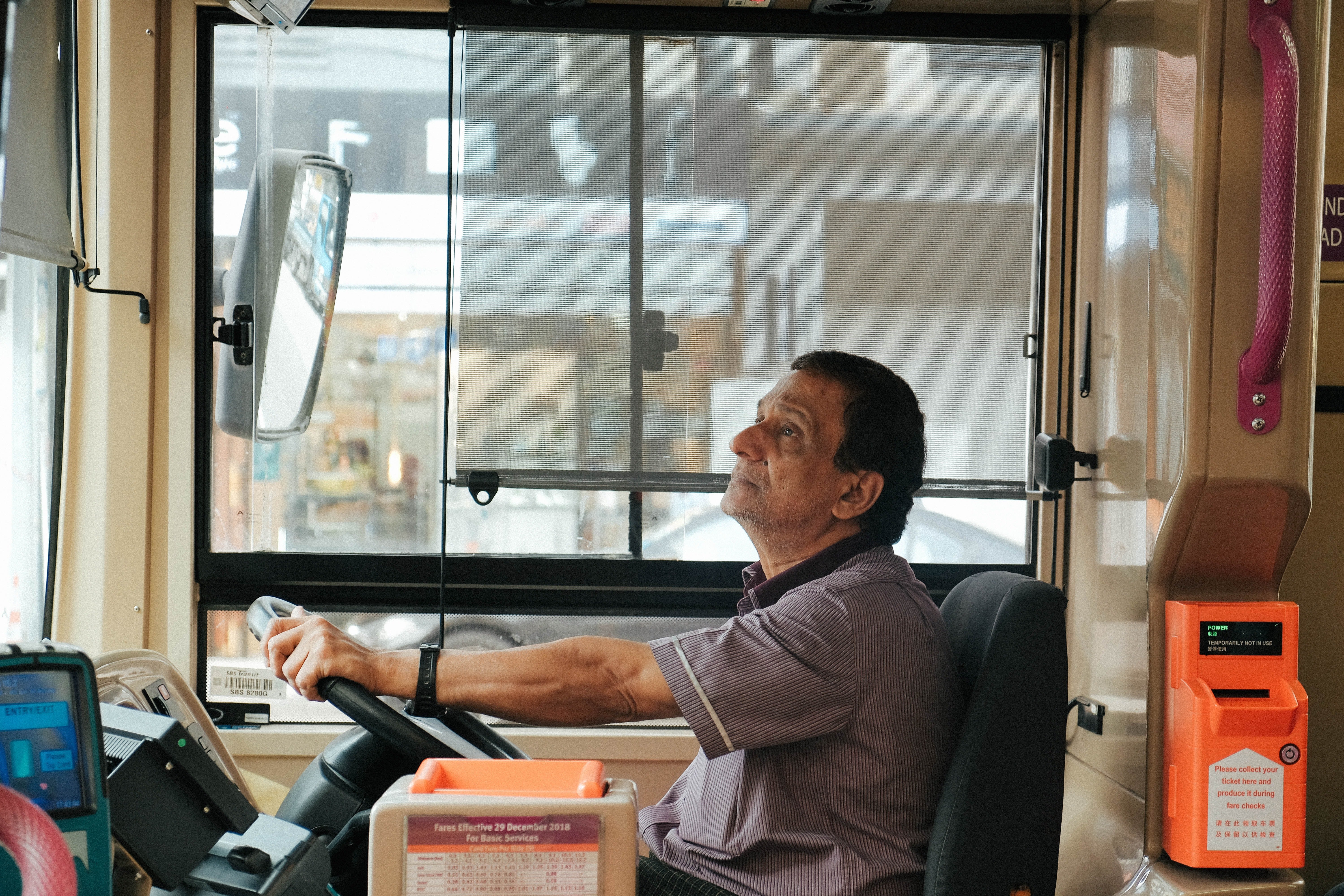 Mark made a quick glance at the center mirror and saw Elma with a worried look on her face as she continued to talk into the phone | Source: Pexels
"He needs 35 thousand dollars to get bailed while we await the trial but he has no such amount," she said.
"Hold on, 35 thousand?? For bail? What crime did he commit?" Mark asked, feeling something was off.
"He was arrested for an alleged armed robbery..." Elma told him all the details, and after listening patiently, Mark asked her to remain on the bus while he completed his circuit so they could figure things out afterward.
He offered to help because he figured something wasn't right; bail for robbery shouldn't cost that much, depending on what was stolen and whether or not someone died at the scene. This even fueled his initial suspicion – Mark had been hearing stories of scams involving older people, especially grandparents, as victims.
"I would be grateful," she told him. Half an hour later, they settled down at a cafe, and Mark asked her to make a return call to the number her grandson used to reach her.
When she did, he took the phone and listened to the voice on the line — it belonged to a man who said he didn't know the old lady personally. Mark saw this as his cue to step in, so he did.
"I think you should call the police," he told her politely.
"I know what you heard, but I have to get to the bank as quickly as possible to withdraw all the cash I've got. It's not 35 thousand dollars but it is definitely a start," she replied vehemently.
"Listen, Elma. I don't think your grandson is who you spoke to okay. Whoever it was, just wants to scam you of that money and I don't want you to walk into that trap. Why don't you call your grandson? Find out if he really is locked up."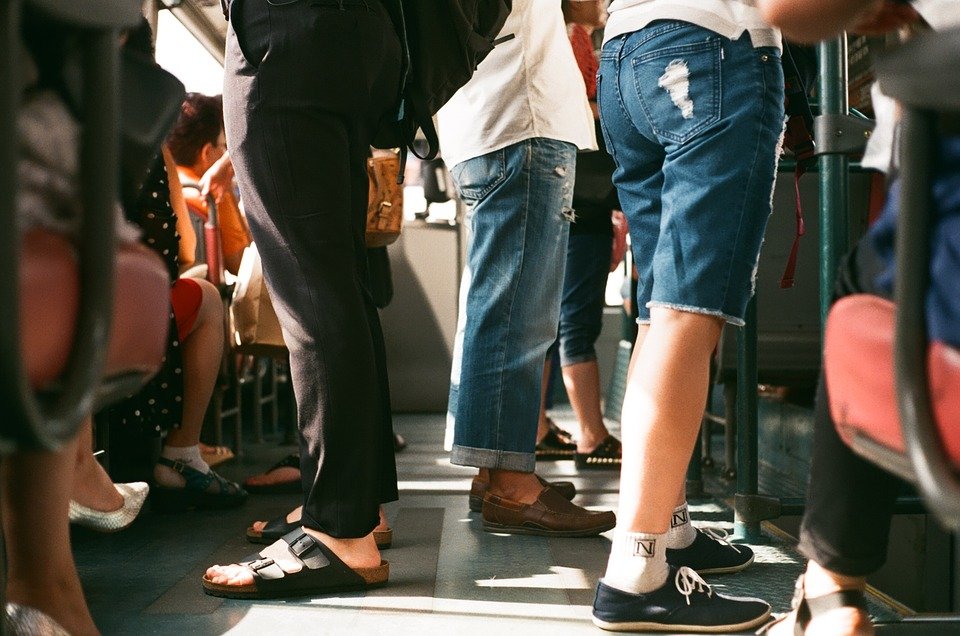 Mark told Elma he'd drop her off at the bank | Source: Pexels
"But I've been on the phone with him," Elma said. "He begged me to help and that's what I'm going to do. I've been his only guardian ever since his parents passed. I'm all he's got."
Mark could see that nothing he said would change her mind, so he switched tactics. "Okay Elma, come on, I'll drop you off at the bank so you can help your grandson," he told her.
The drive was silent, with both parties ruminating on their thoughts; Elma was thinking about how to get more money while Mark just wanted to help her see through the ruse.
He was thinking of things to say to convince her when he caught sight of policemen on the street and stopped by them. "Officer, I have an issue here that needs your informed judgment," Mark said to one of them.
"You see, my friend over here seems to think that her grandson is in jail for robbery and will need to be bailed for a sum of 35 thousand dollars."
"What?" the cop said.
"What are you doing?!" Elma hissed when she heard what Mark said.
"Tell him what you told me, Elma," Mark said.
"I don't have time for this," she said. "Get me to the bank now or let me get off and find my way."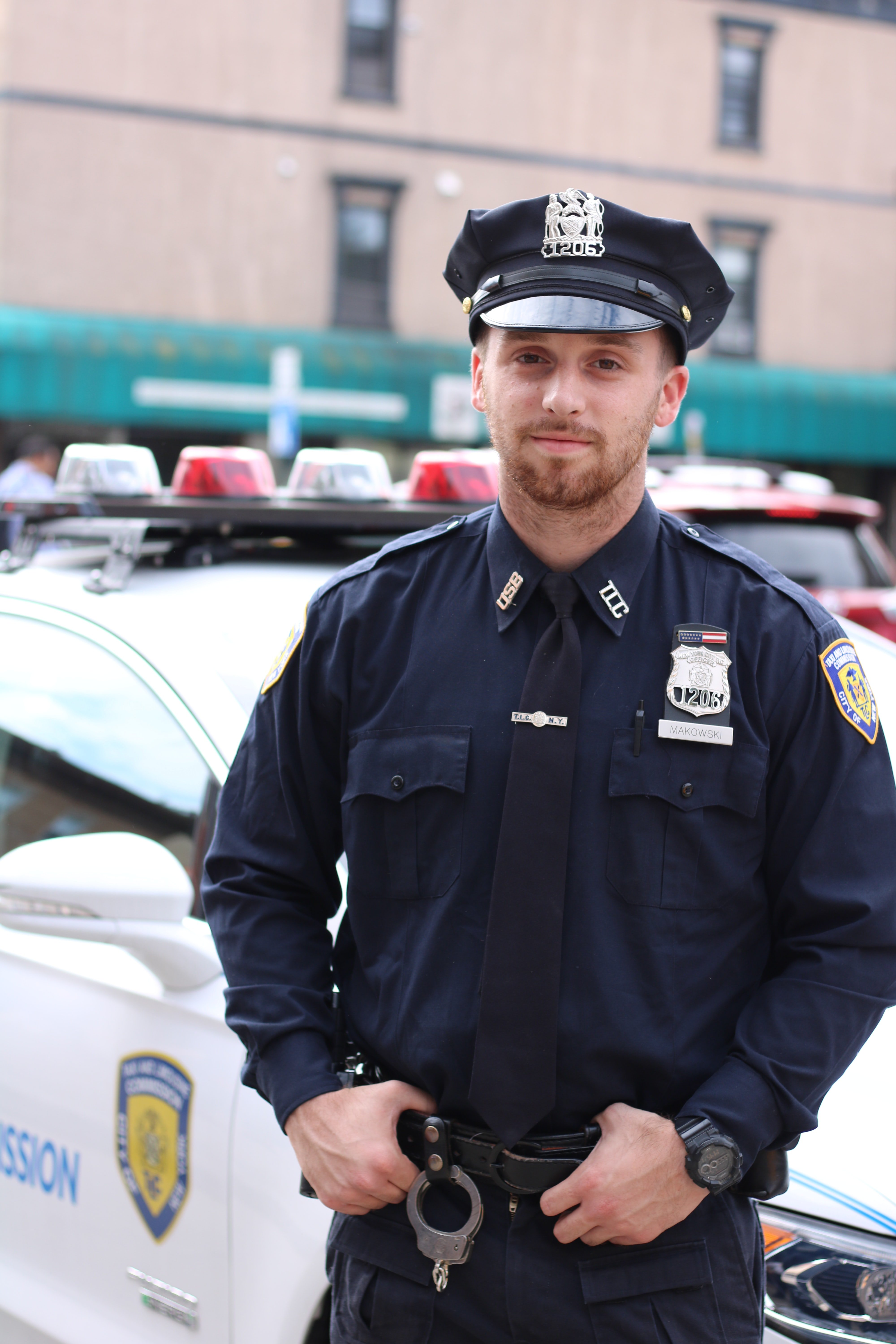 Mark was thinking of things to say to convince her when he caught sight of policemen on the street and stopped by them | Source: Pexels
"Ma'am, my name is John Trey and I can help you verify if this man's claims are true or you could rush to the bank and lose your savings to a fraud," the cop told her.
His cold tone gave her pause and made her decide to at least try to verify before making such a hasty decision. So she told him everything.
Her grandson was a free-spirited boy who grew into a man with a love for travel. He rarely visited her because he was often far away in distant cities living his life to the fullest.
To hear that he had been arrested for robbery had been a lot for her to take in. "My grandson wouldn't hurt a fly," she made sure to tell the cop.
Elma and Mark were able to speak extensively with the officer, who soon confirmed it was indeed a scam after trying and failing to confirm the case on the police servers. Elma believed only then that she was being scammed, and she decided not to get her money. The bus driver then took her back home.
A week after the potentially devastating event, Mark received a $500 gift card from Elma with a note that read, "Thank you. I got a call from my grandson later that day."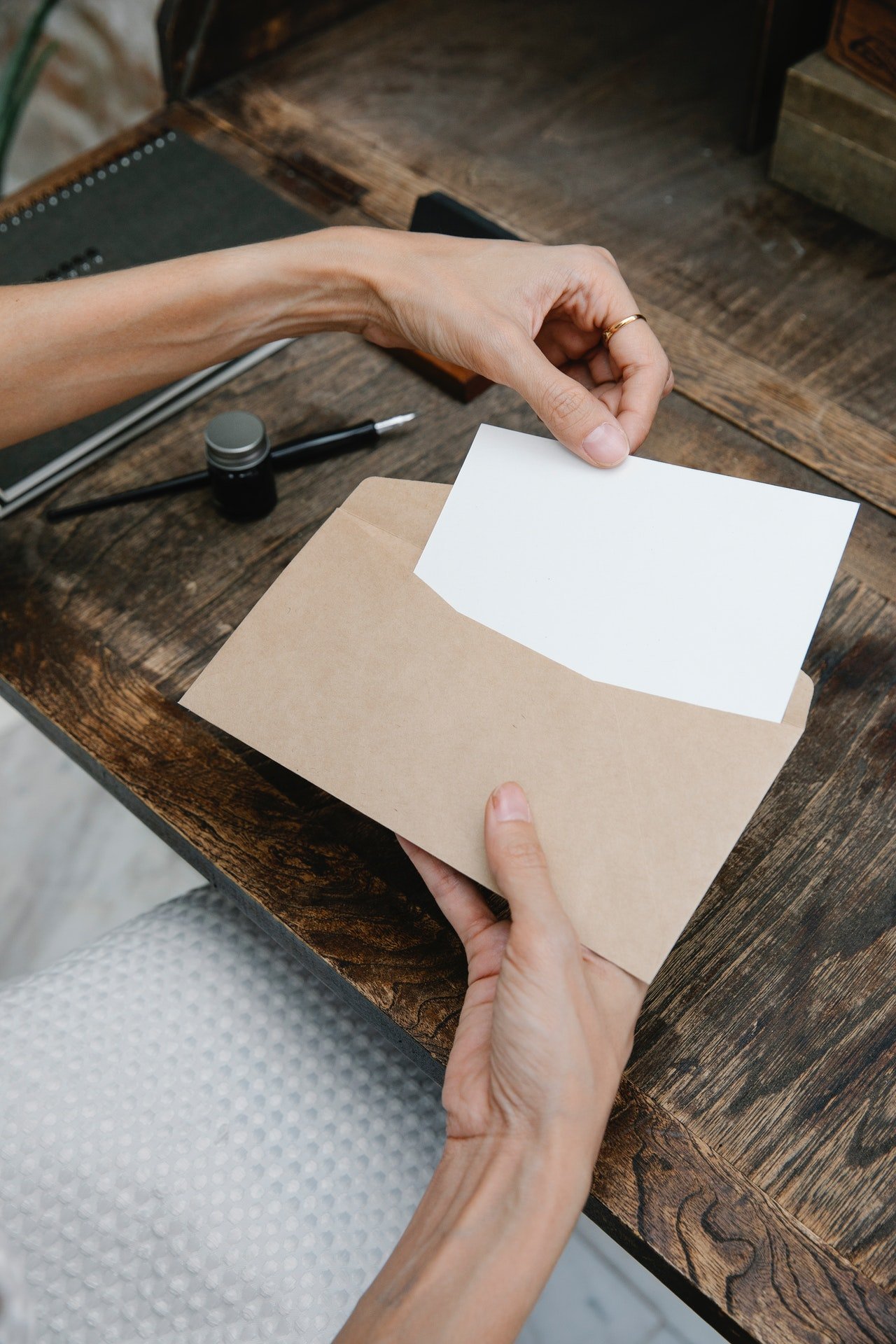 Mark received a $500 gift card from Elma with a "Thank You" note | Source: Pexels
What did we gain from this story?
Think twice before making a hasty decision. Elma would have lost all of her life savings had she run to the bank that day out of fear for her beloved grandson. She had no intentions of verifying the facts and wouldn't have, had Mark not intervened. After she took a step back to reflect on things, she decided to trust Mark and it worked well in her favor.
If you think you're on the right path, never settle. Mark knew Elma was in trouble. He was certain of it. This is why he was able to save her by reporting what was happening to the cops even though he had promised her something else. If he had listened to her and chosen to mind his business, Elma would have lost everything, and he would never have forgotten his part in that.
Share this story with your friends. It might brighten their day and inspire them.
If you enjoyed this story, you might like this one about a driver who spots a strange man with a crying kid in her bus, then remembers a missing child report.
This account is inspired by our reader's story and written by a professional writer. Any resemblance to actual names or locations is purely coincidental. All images are for illustration purposes only. Share your story with us; maybe it will change someone's life. If you would like to share your story, please send it to info@amomama.com
Please fill in your e-mail so we can share with you our top stories!