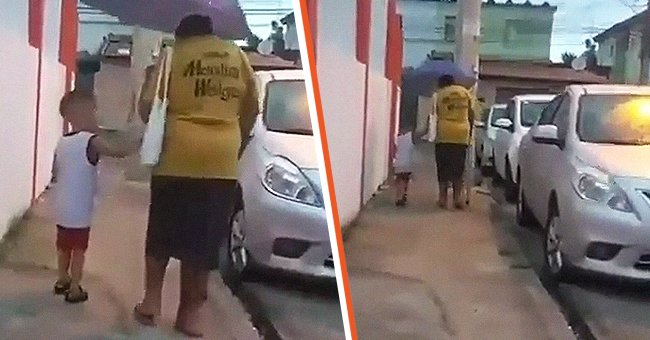 twitter.com/GoodNewsMoveme3
4-Year-Old Boy Notices Elderly Woman Walking in the Rain, Rushes to Help
A young boy with a heart of gold went out of his way to make someone else's day, reminding everyone of the purity of a child's heart.
In a rushed world, where many walk past beggars in the street without a thought in the world or don't think twice about passing that elderly lady struggling to move, it's sometimes difficult to believe in the future of humanity.
However, in one child's case, he tackled this negative perspective, choosing to go out of his way to help a fellow human being without a second thought.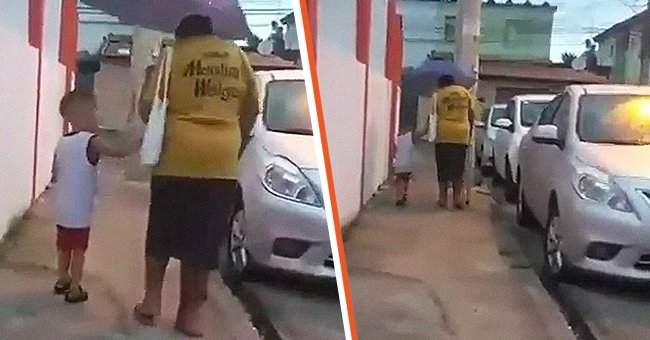 Four-year-old boy helping elderly woman walk in the rain. │Source: twitter.com/GoodNewsMoveme3
GROWING UP KIND
Four-year-old Leo could be seen in a video helping an elderly lady walk in the rain by allowing her to lean on his arm. The mom penned:
"I realized that Leo wanted to help her, so I encouraged him. He took her right up to the door of the church."
The mother went on to express how proud she was of her son. She expressed how at such a young age, he was already an inspiring individual. The elderly lady huddled slowly with an umbrella as he patiently walked with her.
Individuals' comments on a Twitter post by GoodNewsMovement. │Source: twitter.com/GoodNewsMoveme3
LITTLE PRAISE
Although touching and sweet, this Twitter clip wasn't highly popular and hasn't gone viral, only accumulating 9 Retweets, 3 Quote Tweets, and 78 Likes.
However, the few people in the comment section indeed found the act of kindness beautiful, with one remarking on how the mother brought her child up well.
MORE FAITH IN HUMANITY
Although only a few netizens witnessed Leo's Good Samaritan moment, these don't always go unseen. After seeing a young boy's compassionate act in Missouri in 2019, Officer Holt began looking for him so he could buy him a free meal as a reward.
After he stopped at a parking lot, Holt was taken aback when he saw a young man leave a van, take his jacket off, and put it over an old lady as he guided her to the car in the pouring rain. The officer took a picture of the incident, wanting to catch the gesture as it happened.
You May Also Like: Parents Receive Note about Their Kids' Good Manners Instead of the Check in a Restaurant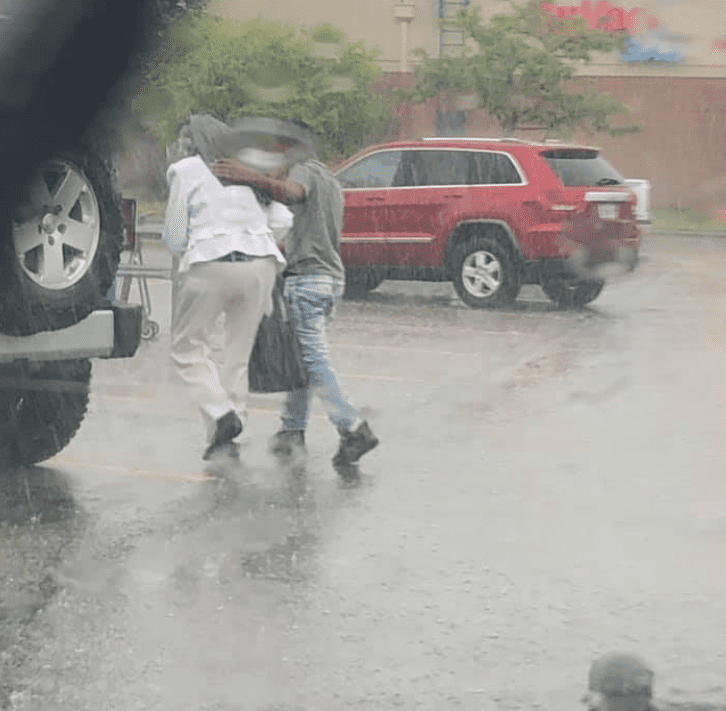 A young boy helping an elderly lady to her car in the rain. │Source: facebook.com/ipdinfo
FOOD AS THE BEST REWARD
After the child returned to the van, the officer made a point of letting the mother know, who was in the vehicle, that she had a wonderful child. The officer complimented her on her parenting skills. Holt expressed:
"He's the hero. I'm just the photographer in this situation. So it's wherever he wants to go. It's on my dime. So he can pick."
These two boys have proved that, although we constantly hear negative stories on the news, there are still many good people out there, doing what they can to make the world a better place.
Please fill in your e-mail so we can share with you our top stories!