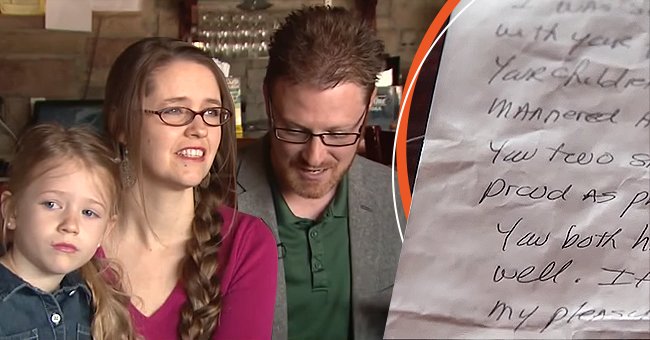 youtube.com/KPRC 2 Click2Houston
Parents Receive Note about Their Kids' Good Manners Instead of the Check in a Restaurant
Parenting is a tough job, and so when one mother and father were complimented on their skills, the duo was elated. Of course, the free food was a lovely bonus.
In 2016, Maggie and Ryan Bokrost from Woodlands, Texas, were having a nice night out, eating dinner with their five children, between ages 4 to 14, at Rico's Hacienda.
The family of seven were minding their own business and enjoying their food. However, a stranger was about to turn their night upside down.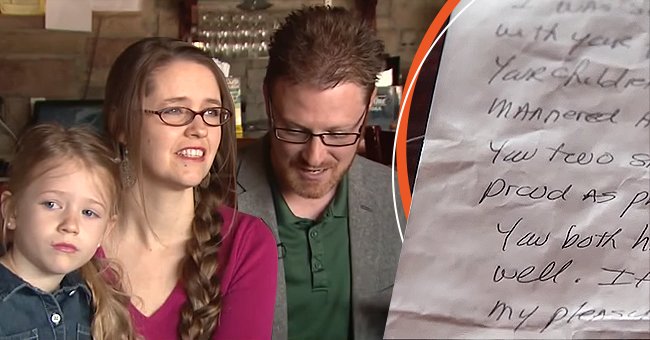 Maggie and Ryan Bokrost with one of their children [left]; A letter [right]. │Source: youtube.com/KPRC 2 Click2Houston
A PALATE FOR KINDNESS
The father eventually asked for the bill, but upon receiving it, he was wholly confounded at what he found in place of what was meant to be a check. Ryan recollected:
"The waiter brought me the little booklet with the note in it. I was speechless and not quite sure what was going on."
Upon reading the note, which was completely anonymous and unsigned, the dad discovered that this stranger had paid the entire bill. The reason why, which the letter outlined, was even more touching than the money this stranger had spent.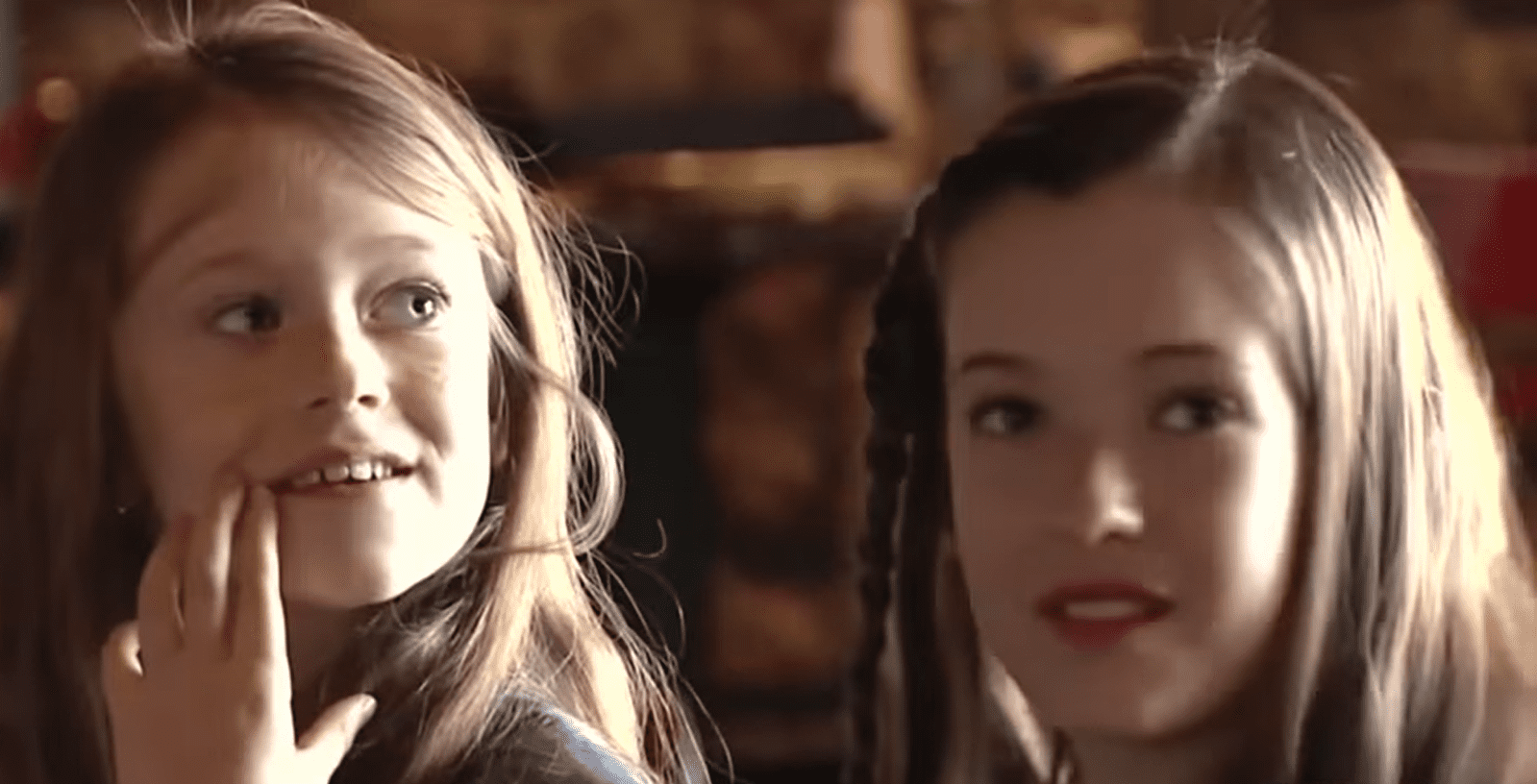 Two of Maggie and Ryan Bokrost's daughters. │Source: youtube.com/KPRC 2 Click2Houston
THE REASON BEHIND THE RECIPE
On the piece of paper, the mysterious individual wrote that they chose to settle the check due to the well-mannered nature of their children. They let Maggie and Ryan know that they should be proud of how they have raised their kids. This anonymous person penned:
"Your family is truly a breath of fresh air in the days of children screaming and running around. Have a blessed day and week."
Commenting on this, the dad said that he and his wife merely teach their kids to behave acceptably, especially in public. Simple as he may say it is, whatever methods these parents are using seem to be working out for them and their courteous children.
AVOIDING HUMILIATION
Maggie and Ryan were truly blessed to have found someone who appreciates their effort in parenting their kids. However, many mothers and fathers are shamed, no matter how hard they try, with many people making assumptions about their approach to raising their children.
You May Also Like: Police Officers Buy Food for Mom Caught Stealing Groceries for Her 3 Starving Children
Well aware of this tendency, in April 2020, single mom MaryAnn Fausey Resendez, afraid of being judged, did something unusual. Due to the COVID-19 pandemic, people have been advised to stay inside as much as they can. However, for Resendez, this was not an option.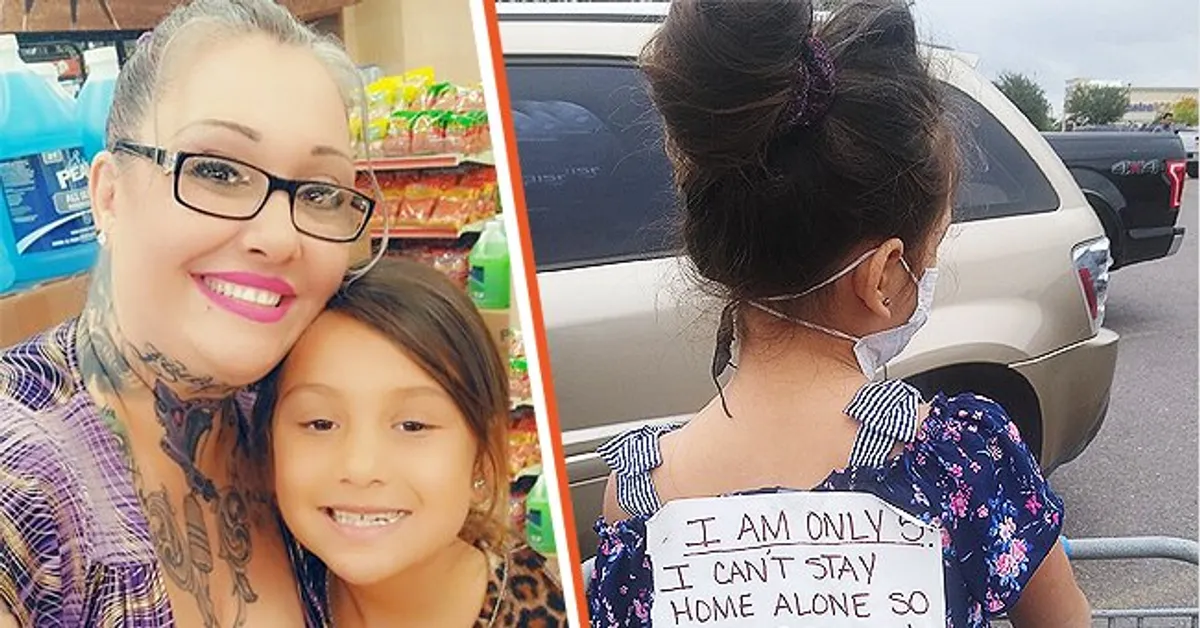 A single mother took her daughter along to the supermarket with a note attached to her back explaining why she could not leave her at home | Photo: Facebook/LadyINKmaryJ
Having to go to the supermarket, and as a single mom with no one to look after her child, she needed to take her 5-year-old with her. Therefore, she taped a sign on her baby's back explaining why her child was accompanying her. Resendez shared a picture of this on social media as well.
Are you a parent? What have your experiences been with people judging or complimenting you in public? If you are not, have you ever found yourself judging mothers and fathers, and why?
Please fill in your e-mail so we can share with you our top stories!