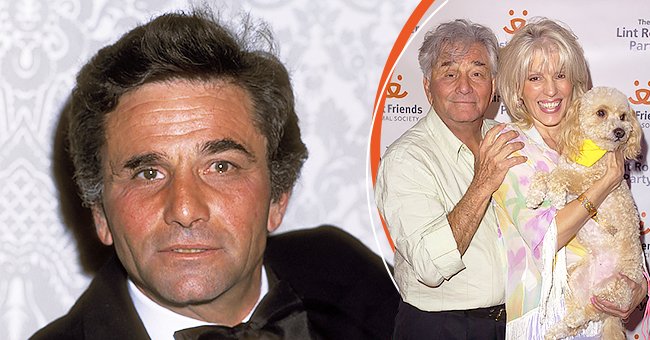 Getty Images
Peter Falk Left Multi-Million Fortune to His Wife & His Daughter Was Banned from Dad's Funeral

Peter Falk played the rumpled and seemingly distracted yet brilliant TV detective, "Columbo," for a little over three decades. He had no recollection of the crime drama television series that made him who he was towards his final months.
Before becoming an actor, Peter Falks always wanted to be a rifleman and a spy but was rejected because he had only one eye. His other one was glass, having lost his natural eye to a malignant tumor.
Albeit successful, his film career started very reluctantly, especially after his father warned that acting meant making a fool of himself. His agent also warned that he would be rejected on account of his one eye.
MAKING ACTING A CAREER
But determined to make something out of his career, Falk immersed himself into the role of "Columbo." Despite not being the producer's first choice, he fit the role perfectly, with his peculiarities and quirks.
Falk also took on other roles amid his appearances on "Columbo," but his entire career was built fundamentally on his role as the detective, and he loved it.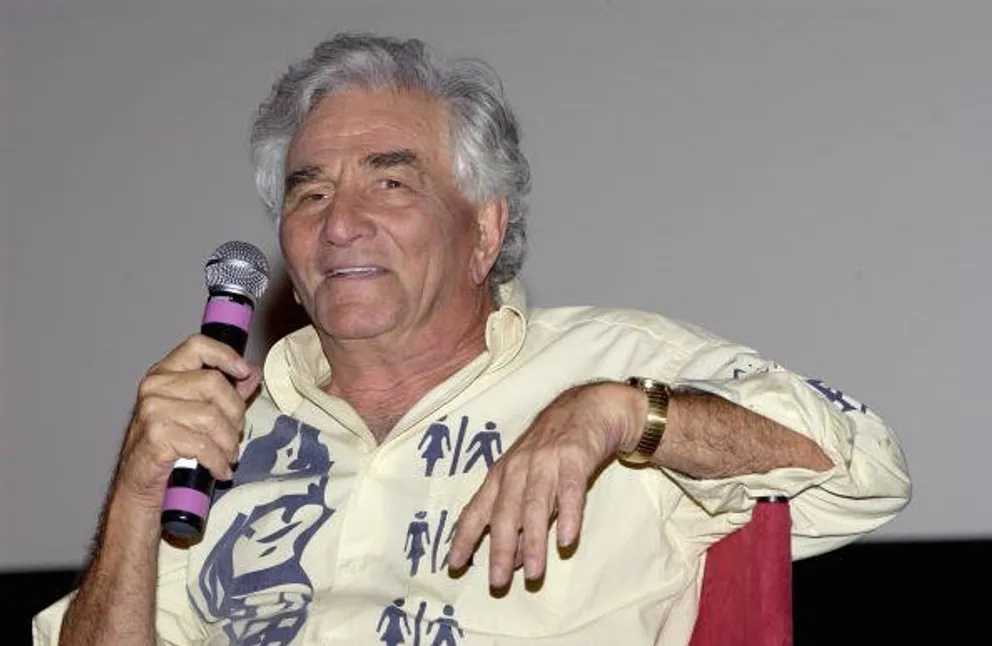 Peter Falk on October 3, 2005, in Hollywood, California. | Source: Getty Images
The character cruised around in a beat-up Peugeot, chewing on his stogie and almost always accompanied by his Basset hound named "Dog." He was ceaselessly polite and was often quoted referencing his wife's wisdom.
The seemingly forgetful figure in a crumpled raincoat went on to win two Oscar nominations and appeared in about 58 films. At the peak of his on-screen career, he was earning up to 300,000 dollars per episode.
He was an unforgettable character, forever embedded in the hearts of his fans for generations. And yet, in real life, he preferred much more discreditable vices.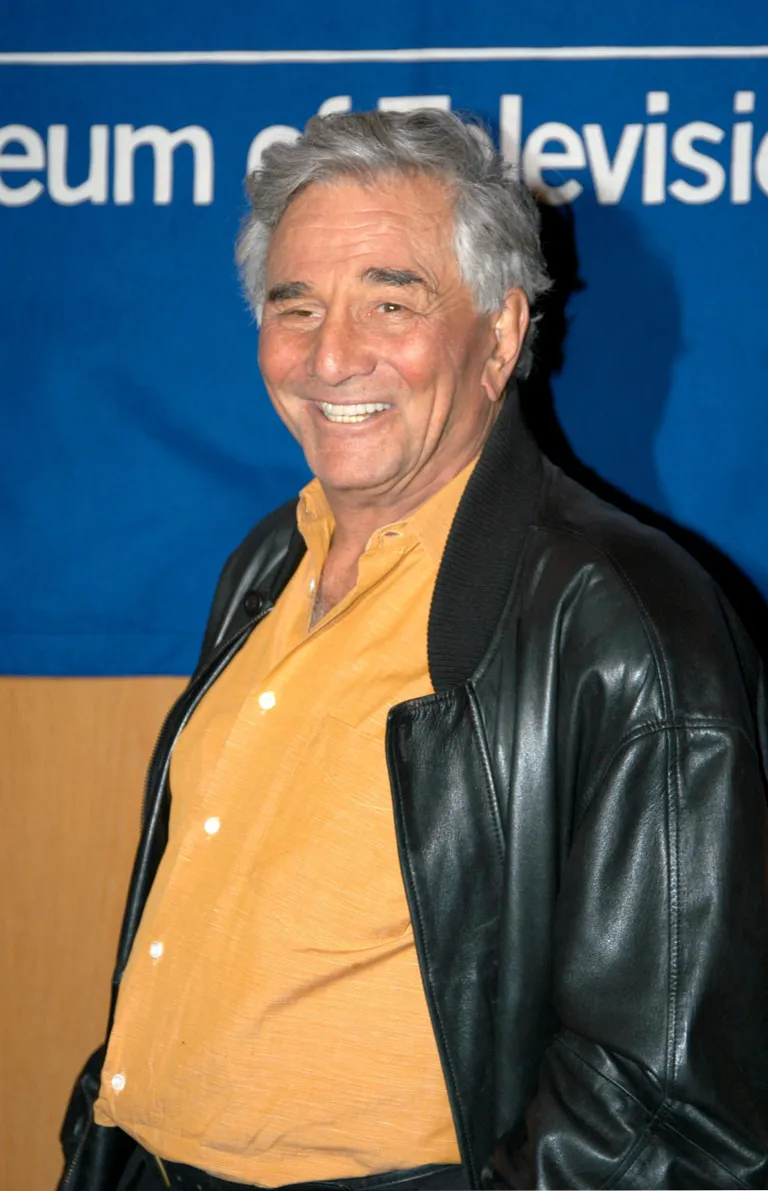 Peter Falk during The 20th Anniversary William S. Paley Television Festival Presents "Columbo" at Directors Guild of America in Hollywood, California, United States | Source: Getty Images
Falk loved his drink and smoked ceaselessly, but his most scandalous undoing yet was his love for women. In a new biography, William Birnes and Richard Lertzman say, as reported by Express:
"He was a negligent husband and an absentee father. Yet he became one of the most iconic stars of his generation."
FALK'S AFFAIRS
Falk married fellow Syracuse University Student Alyce Mayo in 1960, after dating for 12 years. Together, they adopted two daughters, Jackie and Catherine, but marital life for Mayo was anything but smooth.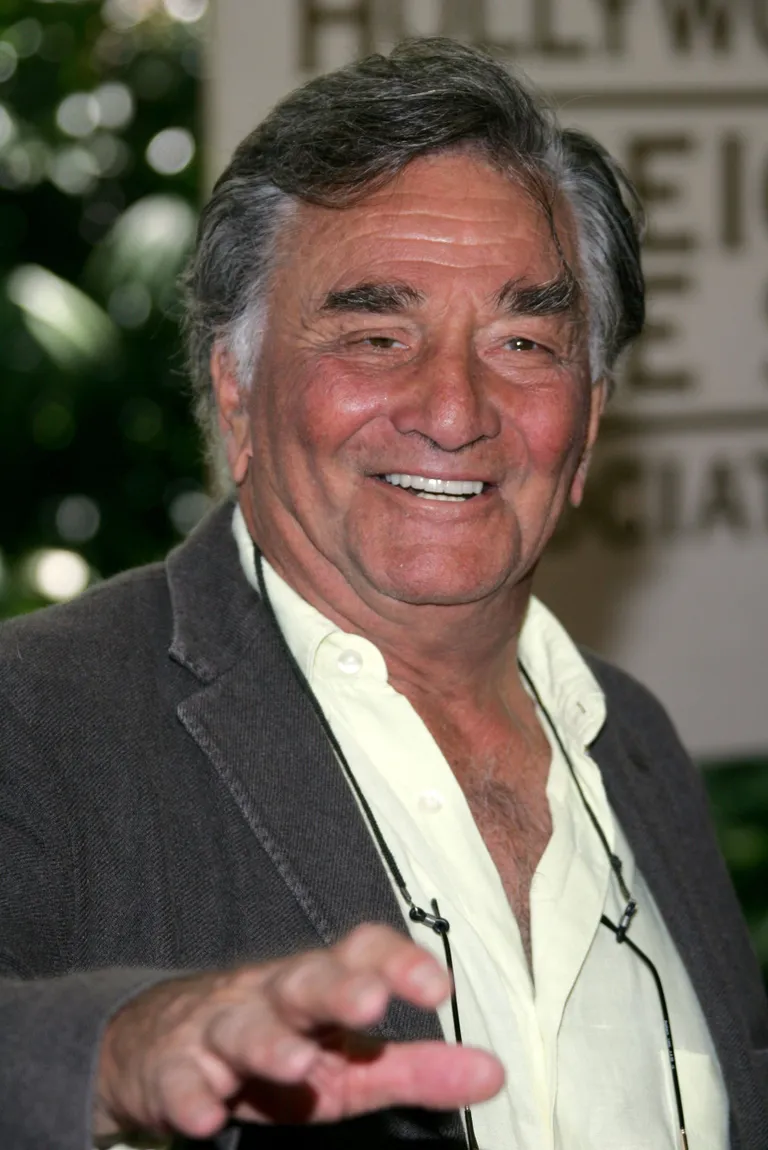 Peter Falk on August 9, 2007, in Beverly Hills, California. | Source: Getty Images
Falk loved, more than his "Columbo" character, women. His eye was always wandering, and even though it did not sit well with Mayo, she turned a blind eye to his philandering ways.
Lertzman referred to Falk as an irreparable adulterer, declaring that he would pursue other women whenever he was on a film set. Mayo finally had enough, and in 1976, they went their separate ways.
Falk married Actress Shera Danese the following year, who he'd met three years earlier in Philadelphia. Upon meeting Danese, Falk chased her down the streets, begging her for a date.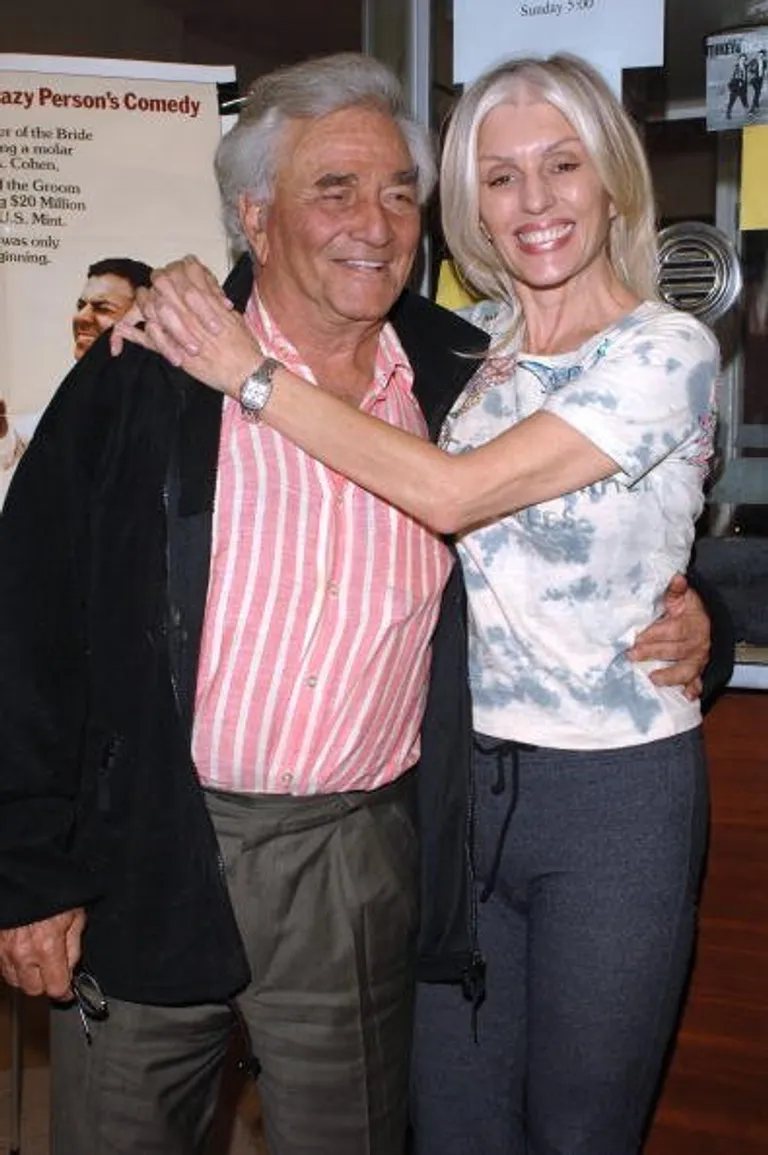 Peter Falk and his wife Shera Danese on October 14, 2005 in Santa Monica, California. | Source: Getty Images
Twenty-two years younger than Falk, she had initially declined anything to do with him, but Falk was persistent, and she finally agreed to date him. But still, Falk continued with his wayward ways.
The two were known around Hollywood circles as the Fighting Falks. They were perpetually arguing and breaking stuff, but they would always reconcile.
During their marriage, Danese made appearances in several episodes of "Columbo" alongside her husband. Some episodes include 1978's "Murder Under Glass," 1991's "Murder of a Rock Star," and 1997's "A Trace of Murder," among many others.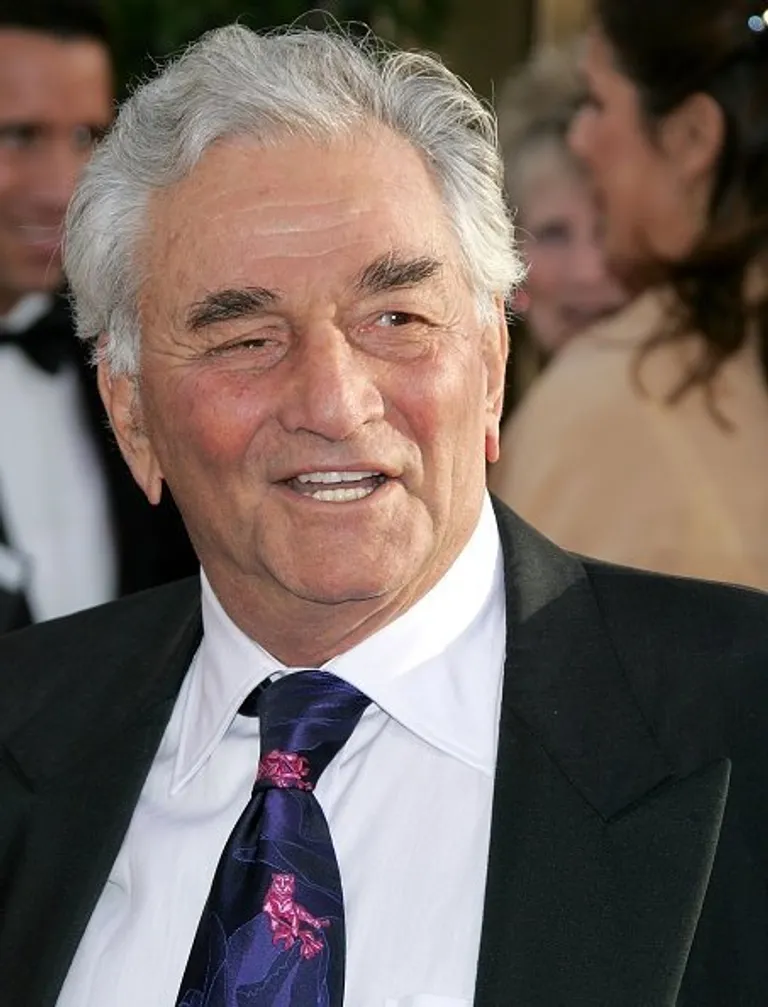 Peter Falk on January 16, 2006, in Beverly Hills, California. | Source: Getty Images.
CONTINUED INFIDELITY
Danese later confessed that their marriage had been rough, and they'd never seem to agree on anything. But she added that they seemed to reach a concession when they accepted each other's bad habits.
Their marriage weathered the storms and lasted an unbelievable 32 years and two divorce filings despite the constant fighting.
FALK'S HEALTH ISSUES
Reports released in December 2008 revealed that Falk had been diagnosed with Alzheimer's Disease. In a conservatorship trial in Los Angeles, Dr. Stephen Read, Falk's physician, said that Falk had quickly slipped into dementia.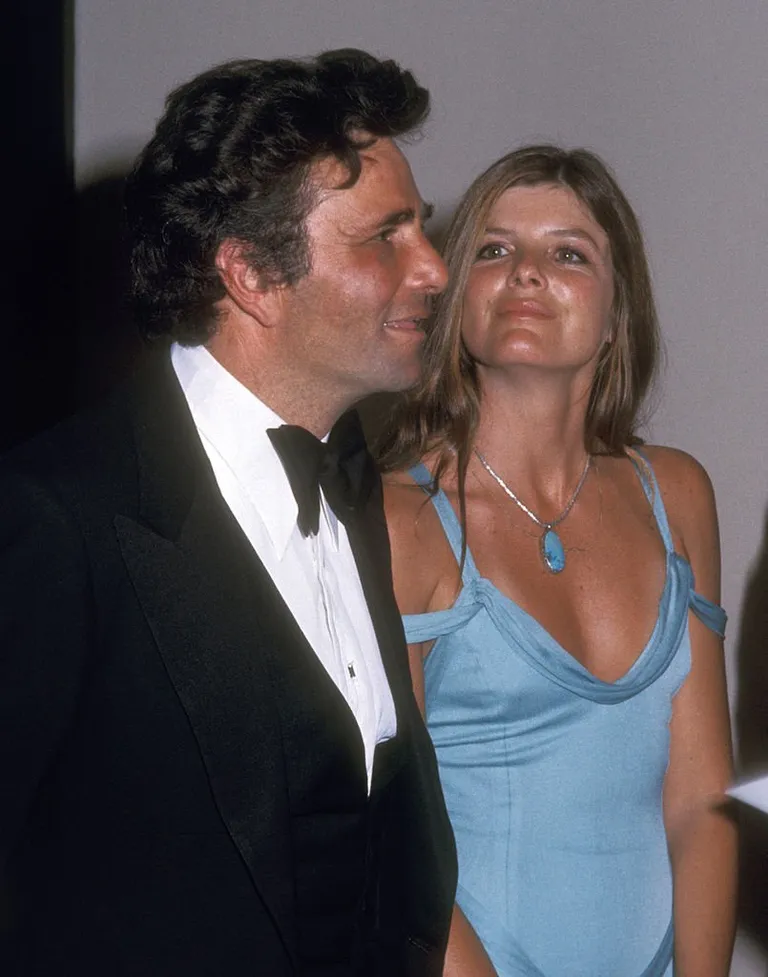 Peter Falk and Katherine Ross at 47th Annual Academy Awards on April 8, 1975 | Photo: Getty Images
Thought to be a reaction to anesthesia, Falk's condition is reported to have worsened after he underwent several dental surgeries in 2007. His wife of many years, Danese, was appointed as his conservator.
FEUD OVER CONSERVATORSHIP
Following Danese's appointment as Falk's conservator, Falk's adoptive daughter came out guns blazing, claiming that she should have been made his legal guardian. She further claimed that her stepmother had denied her access to her father.
Catherine claimed that her father had run his car into a building six months prior and suffered head injuries. On top of being his primary caregiver, she sought to be his financial caretaker, claiming that he could easily be deceived into fraud due to his condition.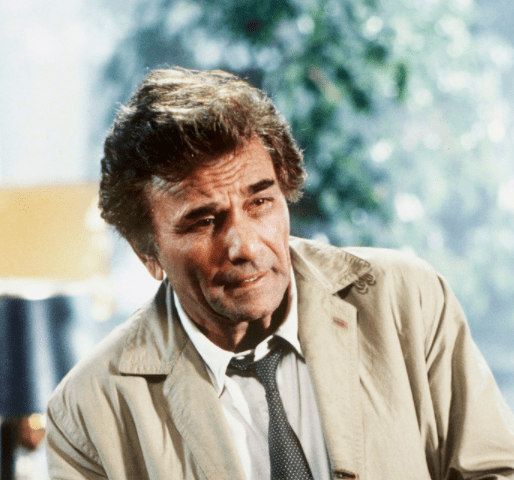 Peter Falk on an episode of "Columbo" - Columbo Goes to College in March 1990 | Source: Getty Images
One of Hollywood's most beloved and famous fictional detectives, Falk, passed away on June 23, 2011, at his Beverly Hills, California home. He was 83 at the time of his passing.
INHERITANCE AND FAMILY RIFT
His departure meant a lot of mourning for everyone that watched his show over the 35 years. For years he marshaled actorly tics to provide his fans with the most beloved character of his career.
His demise also meant that there would be a rift in his family regarding his multi-million dollar estate. Catherine, estranged from her father years back, was bound to contest the will.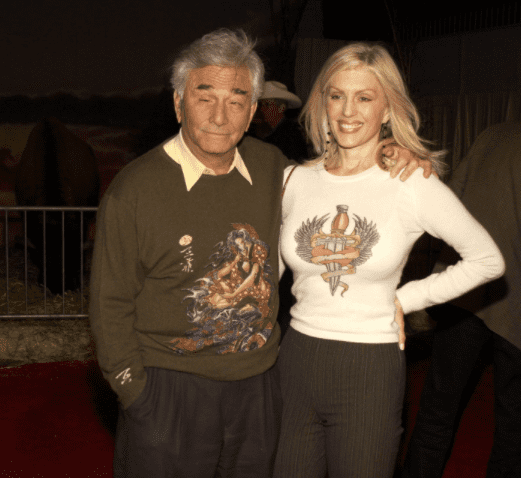 Peter Falk and Shera Danese during "Dreamkeeper" ABC All-Star Winter Party at Quixote Studios in Los Angeles, California, United States | Source: Getty Images
She had filed a lawsuit against Falk years back for refusing to continue paying college fees for her. Even though she claimed they were long reconciled, there was still a bit of animosity between father and daughter.
Falk, however, had left the bulk of his estate to his wife, including investment accounts, artwork, and their house. He is reported to have set up a trust fund way before he got his diagnosis.
A source also disclosed that Falk left a six-figure inheritance for his two daughters. However, he presented the amount alongside a clause that would see them lose their inheritance if they contested the will.
BANNED FROM HER FATHER'S FUNERAL
In the wake of her father's passing, Catherine had several things to be upset about. On top of losing her father, she had been banned from attending his funeral. Devastated, she opened up to Inside Edition, saying:
"I haven't been able to grieve for my dad's passing because I've been filled with so many different emotions, so much anger, so much sadness, so much pain. I am in a state of shock."
Falk was laid to rest at the Westwood Memorial Park. In a bid to find closure, Catherine visited the newly covered grave to pay her respects to the beloved actor.
Please fill in your e-mail so we can share with you our top stories!