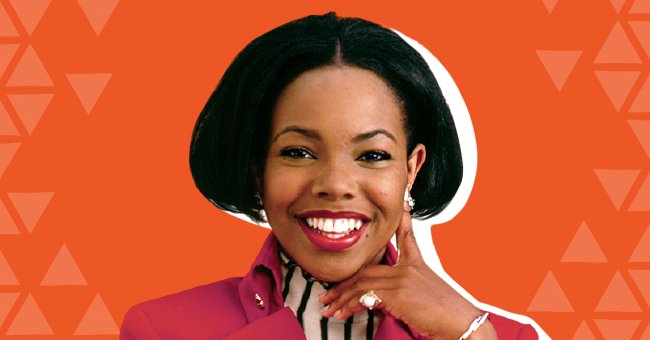 Getty Images
Kellie S Williams Reunites with TV Mom on Set of Child's 1st Film after Acting Break for Family
After dazzling and warming her way into the hearts of many TV fans, Actress Kellie S Williams returns with a bang. Many can't wait to see what her new movie is all about.
American Actress Kellie S Williams was born in Washington DC on March 22, 1976. She started in the entertainment industry as a children's fashion model.
She appeared in a couple of TV commercials as well as stage plays like "Butterfinger Angels," "The Coloured Museum," "Goin' Home," and "Come and Gone" by Joe Turner. Williams attended the University of California, located in Los Angeles.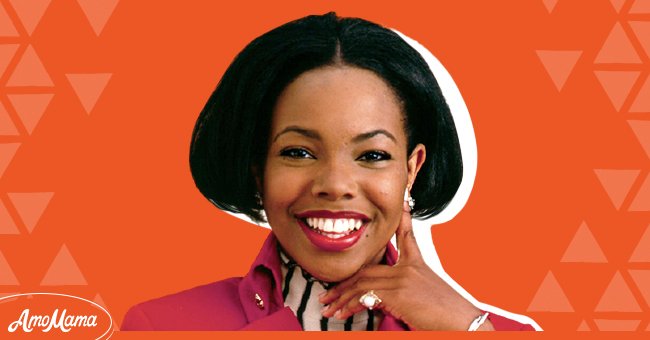 Picture of actress Kellie S Williams on "Family Matters" | Photo: Getty Images
The actress had a big break when she appeared as Laura Lee Winslow in the 1989 TV series "Family Matters." The series was about the Winslow family and their neighbor Steve Urkel.
The series was originally a spin-off of another sitcom titled "Perfect Strangers." However, it became much more popular than the latter as it won over fans and became a stellar part of ABC studios' TGIF programming.
"Family Matters" also tackled topics of family issues as well as racial profiling. The show ended in 1998 after it had aired for nine seasons.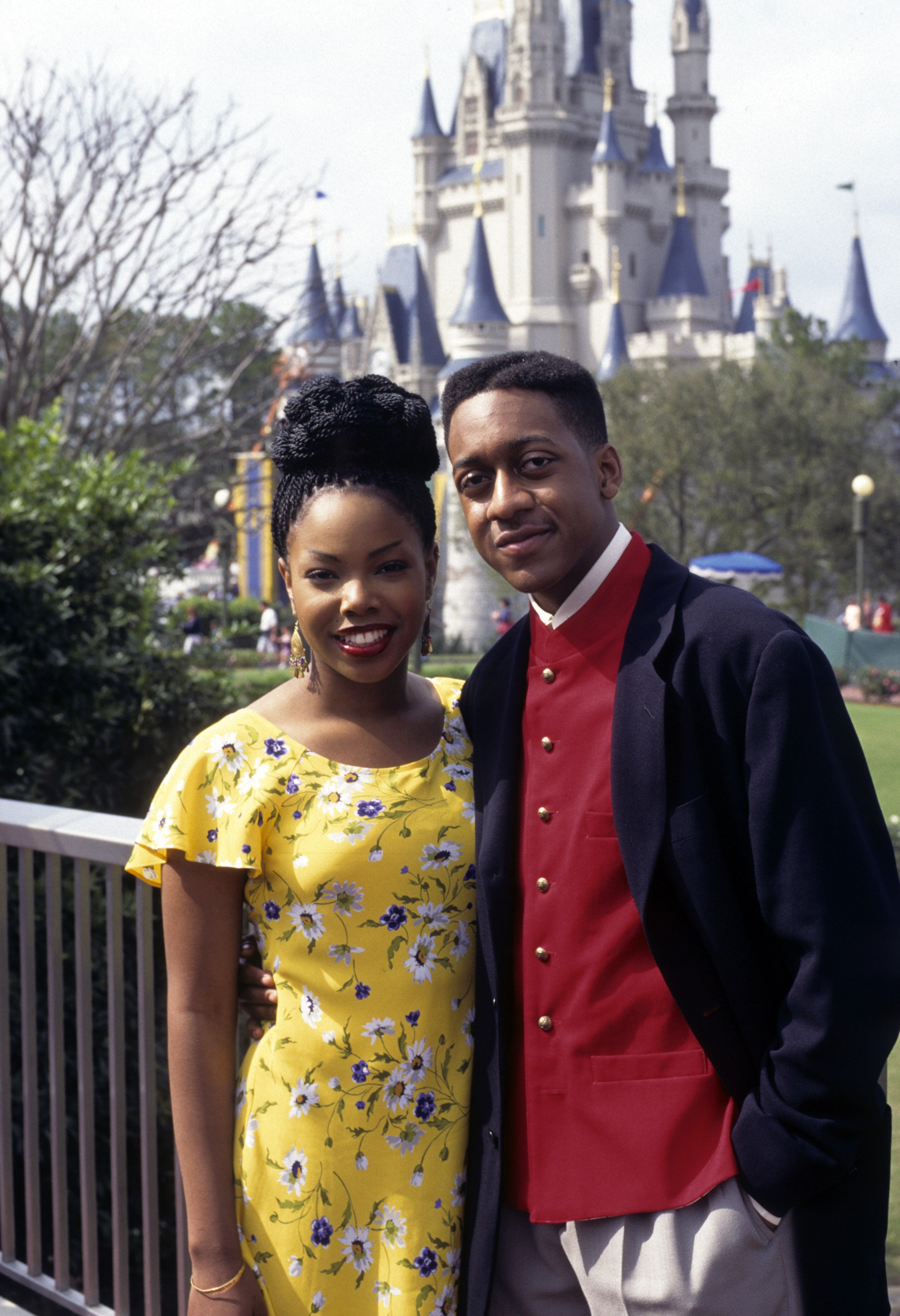 Kellie S. Williams and Jaleel White on the set of "We're Going to Disney World" that aired on April 28, 1995 | Photo: Getty Images
Williams co-starred with actors like Reginald VelJohnson, who played her father on the show. Darius McCrary played her brother Eddie Winslow while Jo Marie Payton portrayed her mother, Harriette Winslow. Jaleel White starred as Steve Urkel, the noisy neighbor.
Also appearing in the series was Shawn Harrison as Waldo Geraldo Faldo, Telma Hopkins as Aunt Rachel, and Bryton James, who played little Richie Crawford.
LIFE AFTER THE SHOW
The actress got married to Hannibal Jackson, a former military reservist. They met through a mutual friend in 2007, and their wedding ceremony was held at Ebenezer AME Church in Ft. Washington on September 5, 2009.
Present at the ceremony included the cast of the TV series "Family Matters," most notably Telma Hopkins, who played Aunt Rachel. The couple has two children together.
Williams also appeared in the TV series "What Happened To Joan'' as Alice Adams on all 21 episodes. After that, her TV appearances became sparse as she was seen on TV every year or two. She eventually took a hiatus in 2011 to focus on taking care of her family.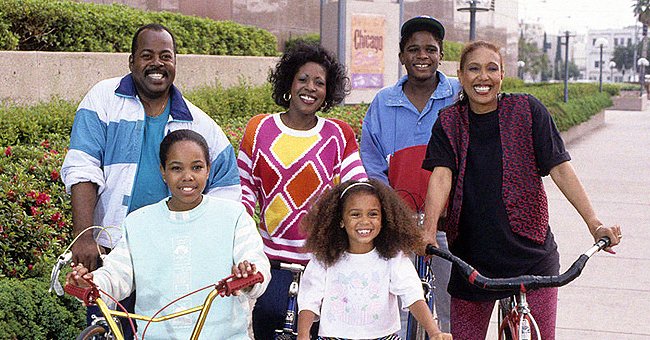 Reginald VelJohnson, Kellie Shanygne Williams, Jo Marie Payton, Valerie Jones, Darius McCrary, and Telma Hopkins on the pilot episode of "Family Matters," September 22, 1989 | Photo: Getty Images
During her break, the actress focused more on her "Kellie Williams Programs," a fine arts program she started in 2006. The program was inspired by her time with the Howard University Children's Theatre.
She also enjoyed working on projects like "Hollywood For Children," "Great Beginnings For Black Babies," "Youth Ambassadors," and "Famous Friends."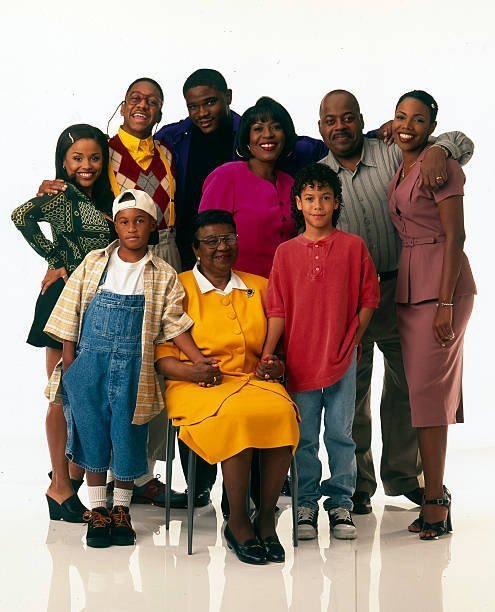 Kellie Williams in a photo with cast of "Family Matters" taken on September 16, 1996. | Photo: Getty Images
RETURNING TO TV AND FRIENDSHIPS
Willams returned to TV in 2020 when she appeared in the television film "Christmas In Carolina." She appeared alongside Actor Darius McCrary who portrayed her on-screen brother on "Family Matters."
In an interview with ET's Melicia Johnson, both actors revealed details about the movie in which they were set to reprise their roles as siblings.
The actress explained that McCrary was her first choice to play her brother in the movie, which she also co-produced under Dream Merchant Media, her family's production banner.
She explained that she decided to cast McCrary as her brother immediately after reading the script. He seemed like the perfect choice since she has great chemistry with him, and fans love seeing them together.
Williams and McCrary met while filming "Family Matters" as kids and have remained friends since. She explained she enjoyed being around him.
The actress declared they have always had a good time together, and it does not matter if they were having a barbecue or on a set working together; they always have fun.
McCrary, on his part, explained that being on set with Williams again felt so awesome and natural. He described the process of them working together as similar to riding a bicycle since they had no problems falling into character because of their chemistry.
He also explained how easy working with Williams is and further praised her generosity, professionalism, and kindness.
They also addressed the issues of whether or not there would be a revival of their famous "Family Matters" series. McCrary explained he could not confirm or deny the rumors.
The actor admitted there had been talks about it, but the process is much more complicated than people might think. He explained that some legal angles needed to be checked, and that may hinder a revival.
McCrary confessed that it had to do with issues regarding intellectual property and that there is a possibility they would be seen on TV again.
Willams added that even though they may never revive the series, the cast has kept in touch since the finale, which is one of the reasons she cast McCrary on "Christmas In Carolina."
DAUGHTER'S TV DEBUT AND CAST REUNION
Williams's daughter Hannah Belle Jackson follows in her mother's footsteps after landing her first movie role in the holiday movie "Merry Switchmas."
The movie is about identical twin sisters who switch places during their parents' annual Christmas celebration. The film then sees the family learn some details about themselves before the night ends.
Even though Williams did not specify Hannah\s particular role in the movie, she was very excited and supportive of her daughter for the opportunity. The veteran actress posted a picture on her Instagram handle to celebrate her daughter, which she captioned:
"Three generations (Me, Jo Marie, and my daughter) on the set of Merry Little Switchmas."
Present in the picture was Williams, her daughter, and Actress Jo Marie Payton who played Harriette Baines Winslow, Williams' mother on "Family Matters."
The photo sent fans into a frenzy as they flooded her comment section with demands for a revival of the "Family Matters." Even though there has not been any indication that the series would be revived, the fans are still hopeful.
The movie "Merry Switchmas" is written by Gabrielle Collins and directed by the legendary Christopher Nolan. The film is due to be released on December 9, 2021.
Please fill in your e-mail so we can share with you our top stories!