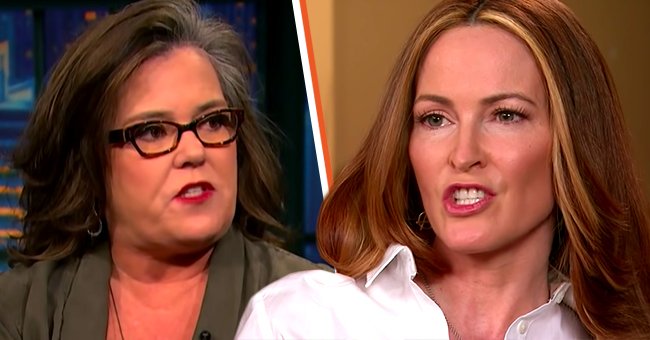 Youtube.com/Late Night with Seth Meyers, Youtube.com/Entertainment Tonight
Rosie O'Donnell's Ex Wanted No Money but Was Accused of Using Their Kid for 'Her Own Gain'
When Rosie O'Donnell and Michelle Rounds met in 2011, things were all optimistic. After they got married in secret in 2012, the couple didn't know there would be 'trouble in paradise.'
Shortly after their marriage, they adopted a daughter named Dakota. However, as their relationship came to an end, they both wanted sole custody of their child.
In the legal battle that followed, Rosie O'Donnell accused Michelle Rounds of wanting their child for "her own gain." However, Michelle Rounds refuted the claim saying she didn't want any money.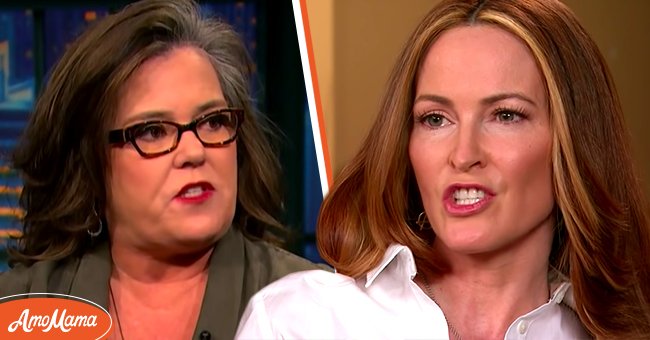 Rosie O'Donnell in an interview (left), Michelle Rounds in an interview (right) | Photo: Youtube.com/Late Night with Seth Meyers, Youtube.com/Entertainment Tonight
ABOUT ROSIE O'DONNELL
Born in 1962, the actress, author, activist, television personality, and comedian began her comedy career while still a teenager. At 22, O'Donnell got her big break on the talent show "Star Quest" in 1984.
She then made her series debut on "Gimme a Break!" in 1986. In 1988, she became a part of VH1's lineup of veejays before hosting "Stand-up Spotlight."
In 1992, O'Donnell starred in "Stand By Your Man" before making her feature film debut in "A League of Their Own." She has appeared in "Sleepless in Seattle," the film adaptation of "The Flintstones," and more television programs throughout her career.
In 1996, she became the producer of her TV show: "The Rosie O'Donnell Show," which won several Emmys. Her show also earned her the nickname "The Queen of Nice."
In 2006, O'Donnell became a co-host and moderator of "The View." By May 2007, she was mentioned in Time magazine's list of the 100 most influential people.
O'Donnell married Kelli Carpenter in 2004 in San Francisco. Six months later, their marriage was annulled by the California Supreme Court. Hence, they didn't have to go through a divorce.
On June 9, 2012, she got married to Michelle Rounds after dating for about a year. O'Donnell filed for divorce in February 2015, and they settled their divorce in October of the same year.
O'DONNELL AND ROUNDS
O'Donnell and Rounds, a consultant, met in 2011 at Starbucks. After a few months of romance, the two women were married in June 2012. They originally planned their marriage for August 2012.
However, after Rounds was diagnosed with desmoid tumors, they decided to move their wedding date before Rounds' first surgery scheduled on June 14. Desmoid tumors are a rare disease that only affects three out of every million people.
In January 2013, the couple adopted their first child together, a baby girl, Dakota. Before their adoption, O'Donnell had four children with her ex, Carpenter.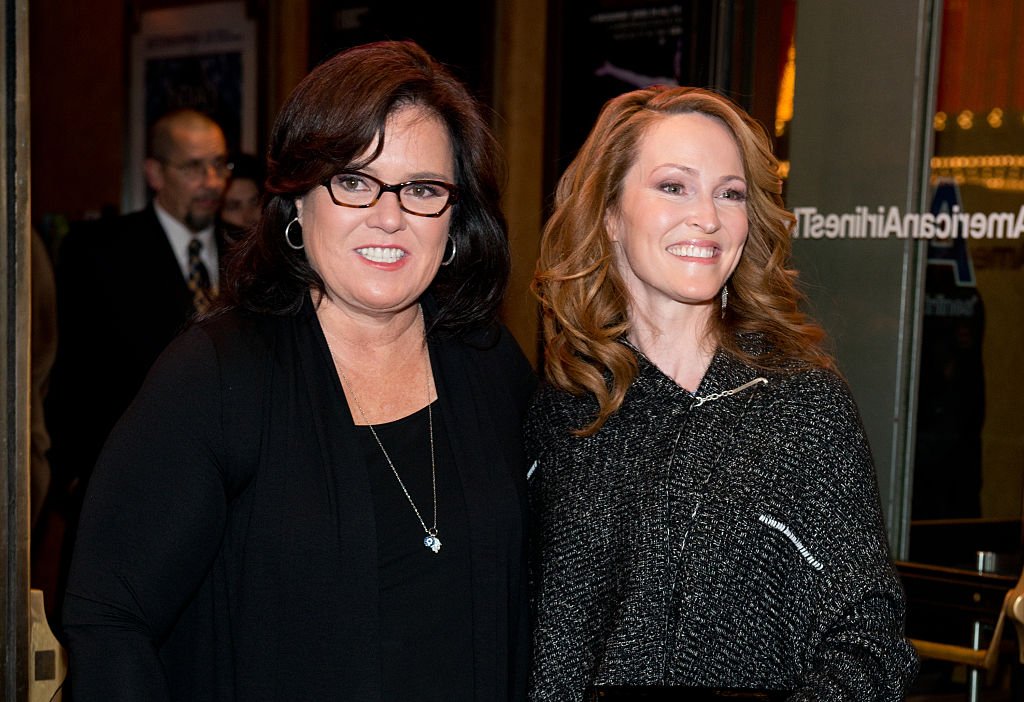 Rosie O'Donnell and Michelle Rounds at the opening night of "The Real Thing" on October 30, 2014, in New York | Photo: Getty Images
Their relationship went sour, and by November 2014, O'Donnell and Rounds had separated. O'Donnell announced their separation in February 2015 when she announced that she was leaving "The View."
After her announcement, O'Donnell filed for divorce from Rounds on the grounds of "an irretrievably broken relationship." By April, Rounds requested sole custody of their daughter.
Rounds didn't want their child to have a nanny because she wanted to be fully involved in her life. She revealed that their daughter had a nanny all day because O'Donnell was an absentee mother.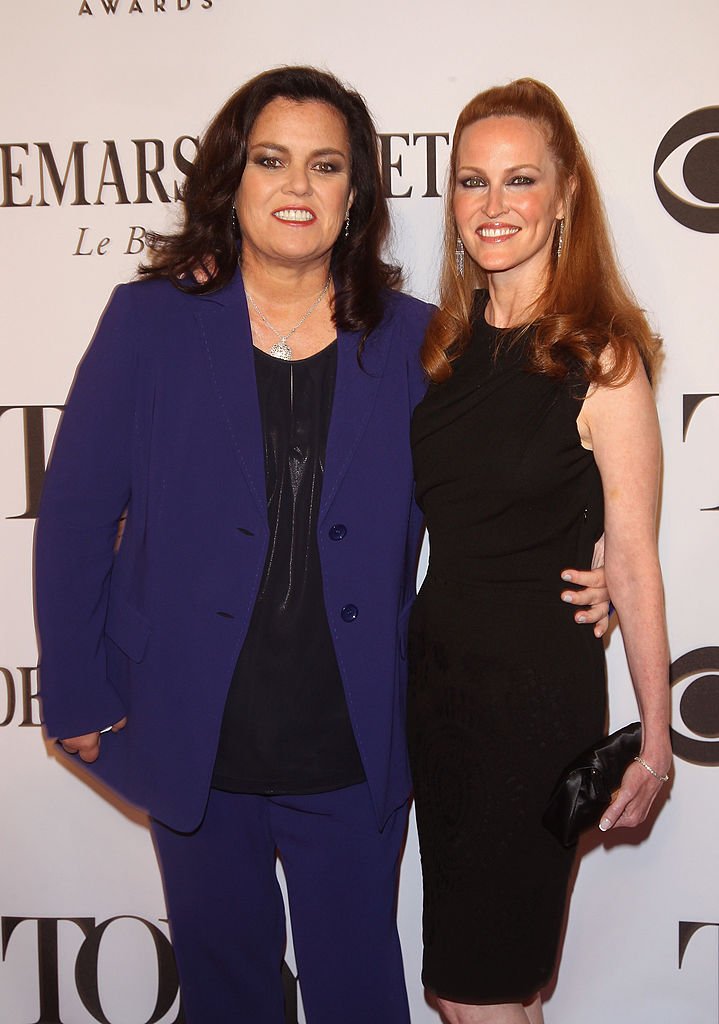 Rosie O'Donnell and Michelle Rounds at the 68th Annual Tony Awards on June 8, 2014, in New York | Photo: Getty Images
However, O'Donnell believed that Rounds sought sole custody to use their child for her gain. This belief roused speculations that Rounds wanted more money from their divorce. To this, Rounds said:
"I don't need Rosie's money; I don't want Rosie's money. The prenup money means nothing to me. I will walk away from the prenup if Rosie will give me full custody."
Rounds also claimed that O'Donnell drank and smoked too much. This claim was coupled with the fact that she believed O'Donnell was carefree in raising their daughter.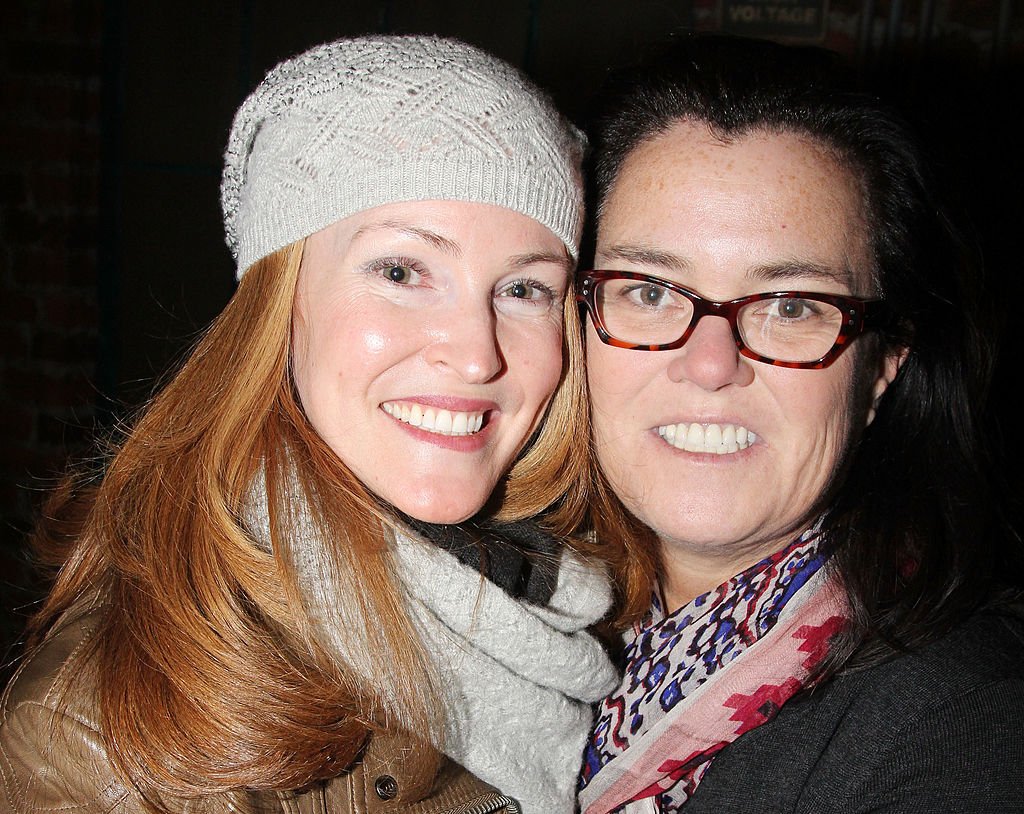 Rosie O'Donnell and Michelle Rounds at the hit musical "Kinky Boots" on February 6, 2014, in New York | Photo: Getty Images
By seeking full custody, Rounds said she wanted their daughter to grow up in a healthier environment. She said she also wanted their daughter to have a normal life.
After their split, Rounds said she was happy she was out of the chaotic and hostile environment. She also revealed in an interview that she felt "more alive" than she had ever felt in her life.
Rounds, who suffered from depression, made her first suicide attempt in September 2015, less than a year after her split from O'Donnell.
Despite their tensions, after Rounds was involved in an apparent overdose, O'Donnell wanted to keep a good relationship with her ex. She stayed in contact with Rounds until she got to the hospital.
In October 2015, they settled their custody battle after a three-hour court appearance in New York. They later announced that they agreed on joint custody of Dakota.
However, when a fan asked O'Donnell if she shared custody of Dakota, O'Donnell said she didn't. She replied that she had sole custody of Dakota.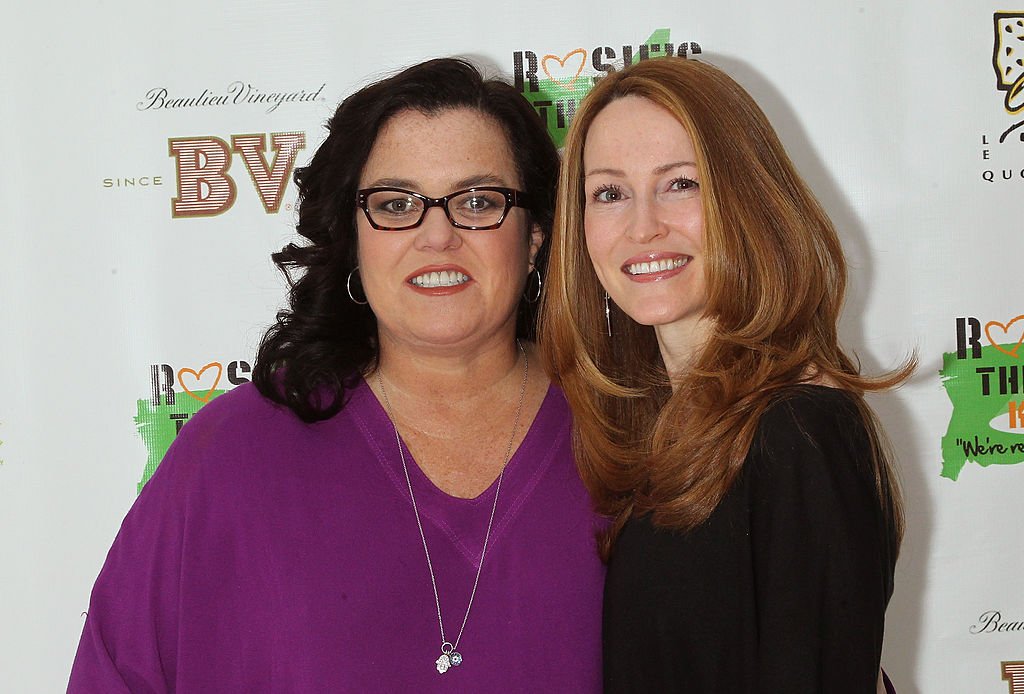 Rosie O'Donnell and Michelle Rounds at the 2013 "Passing It On: An Evening Of Mentorship " on April 23, 2013, in New York | Photo: Getty Images
In March 2016, their divorce was finalized. On the morning of September 11, 2016, Rounds was found dead in an apparent suicide. When they found her body, there were prescription pill bottles nearby.
When O'Donnell heard about Rounds' death, she said she was saddened about the tragedy. She further said that mental illness is a very serious issue affecting many families.
O'Donnell also revealed that she had suffered from major depressive disorder and had been on medication since 1999. She also alleged that Rounds' previous hospitalization was a suicide attempt.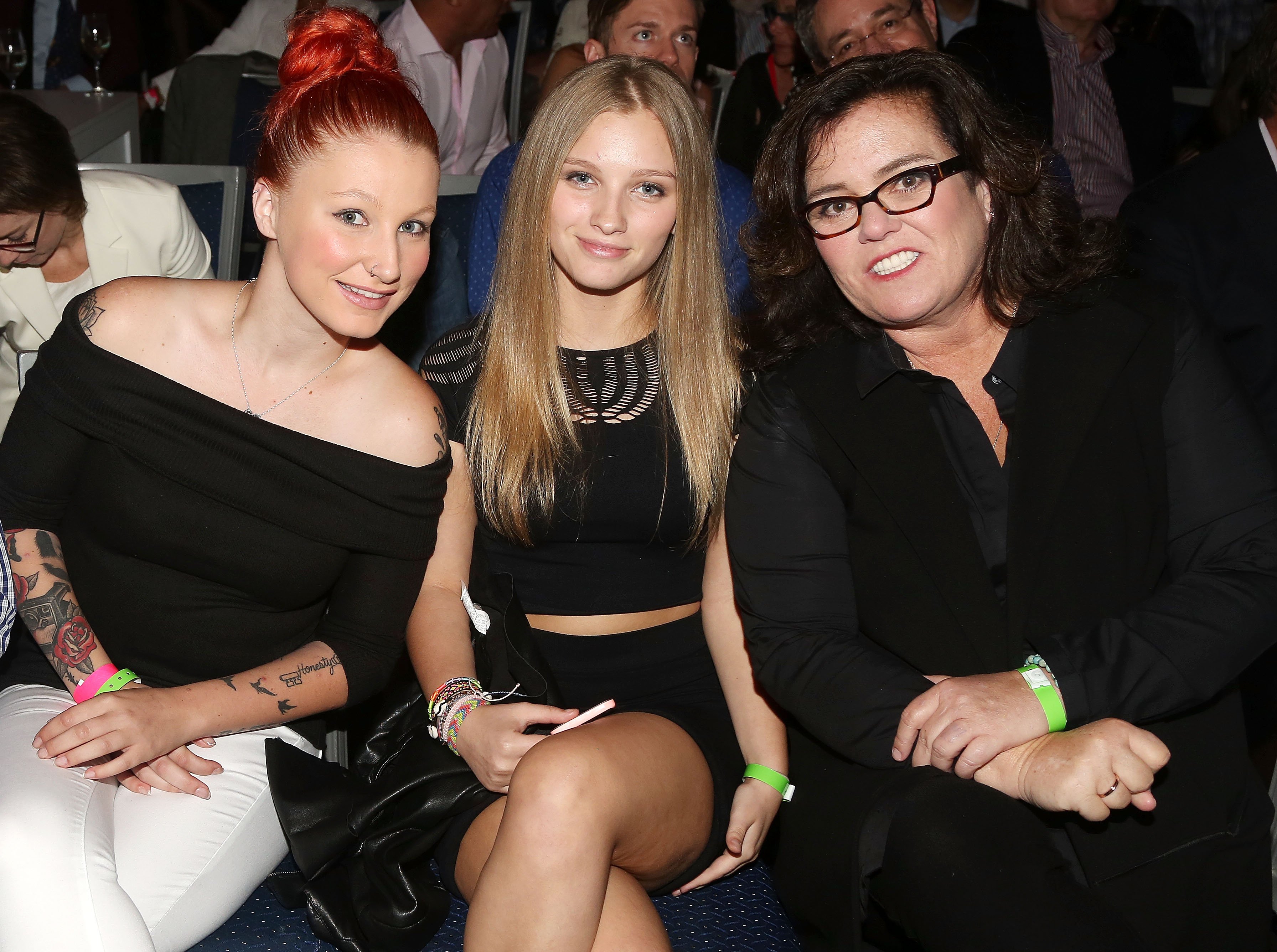 Chelsea Belle O'Donnell, Vivienne Rose O'Donnell, and Rosie O'Donnell at the "2nd Annual Fran Drescher Cancer Schmancer Sunset Cabaret Cruise" on June 20, 2016, in New York | Photo: Getty Images
ABOUT O'DONNELL'S CHILDREN
O'Donnell has always taken pride in being a mother of five kids. She adopted her first child Parker, who was born in 1995. Two years later, Chelsea joined the family, followed by Blake in 1999.
However, in 2002, she welcomed a daughter Vivienne with her then-partner, Carpenter, via artificial insemination. Years after starting their family, O'Donnell and Carpenter walked down the aisle before their marriage was annulled.
In 2013, O'Donnell adopted her fifth child, Dakota, with her then-wife, Rounds. After they finalized their divorce, O'Donnell got full custody of Dakota.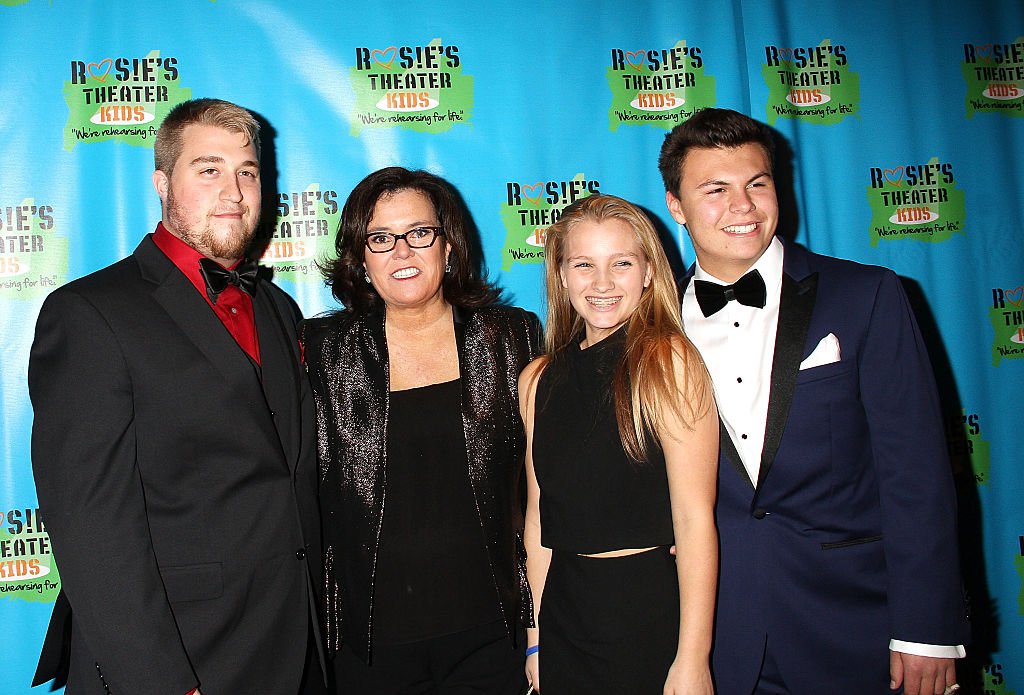 Parker O'Donnell, Rosie O'Donnell, Vivienne O'Donnell, and Blake O'Donnell at the Rosie's Theater Kids' 12th Annual Gala Celebration on November 2, 2015, in New York | Photo: Getty Images
Her first son Parker is currently in the Marines. In December 2018, her first daughter Chelsea welcomed Skylar Rose, making O'Donnell a grandmother.
Even though O'Donnell had a rocky relationship with Chelsea in 2015, the pair have reconciled. O'Donnell's third child Blake keeps away from the media, and little is known about him.
Her fourth child, Vivienne, loves performing and seems to be following O'Donnell's Hollywood footsteps. O'Donnell loves spending time with her last child, Dakota, who's still young.
If you or someone you know is considering suicide, please contact the National Suicide Prevention Lifeline at 1-800-273-TALK (8255), text "help" to the Crisis Text Line at 741-741, or go to suicidepreventionlifeline.org.
Please fill in your e-mail so we can share with you our top stories!