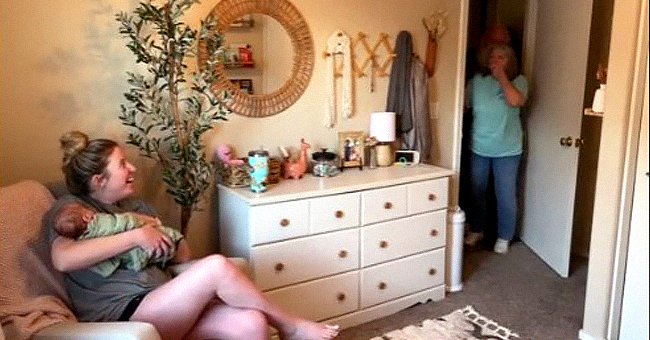 tiktok.com/ashfadden
Grandma Enters the Room, Doesn't Expect to See Her Granddaughter with Baby in Her Arms
A grandmother's reaction upon seeing her great-grandchild for the very first time has become an instant viral sensation and is melting hearts.
While becoming parents is a joy that compares to nothing else, being upgraded to the status of grandparents or great-grandparents has its own charm.
It's often said that grandparents tend to shower their grandchildren with a love far greater and deeper than that of their parents, and many of us have experienced this beautiful feeling in our lives too.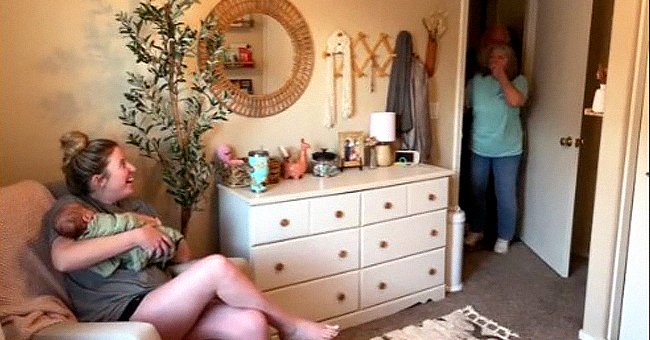 Great grandma Meme was awestruck after walking inside the room and seeing her great granddaughter. | Photo: tiktok.com/ashfadden
THE GRAND SURPRISE
A TikTok user who goes as @ashfadden on the popular video-sharing platform shared a heartwarming video where her grandma got to meet her great-granddaughter for the first time. The caption of the video said:
"Surprising my grandma with her great granddaughter."
The video, which was shared on November 1 this year, has amassed over 2.9 million views so far, with several comments and likes from netizens.
GRANDMA MEME'S HEARTWARMING REACTION
In the 33-second video clip, the TikTok mother is sitting on a sofa with her baby girl in her arms. Suddenly, the door opens, and her grandmother casually walks inside, only to freeze before she could take even a single step further.
As soon as gran sees the baby in her granddaughter's arms, she's awestruck. Her excitement reaches an all-time high, and she starts jumping up and down with her hands on her mouth.
Beside her is the little angel's great-grandpa, who tries his best to calm down his over-excited wife. He enjoys teasing her but can be seen flashing a big wide grin after being upgraded to the status of a great grandfather.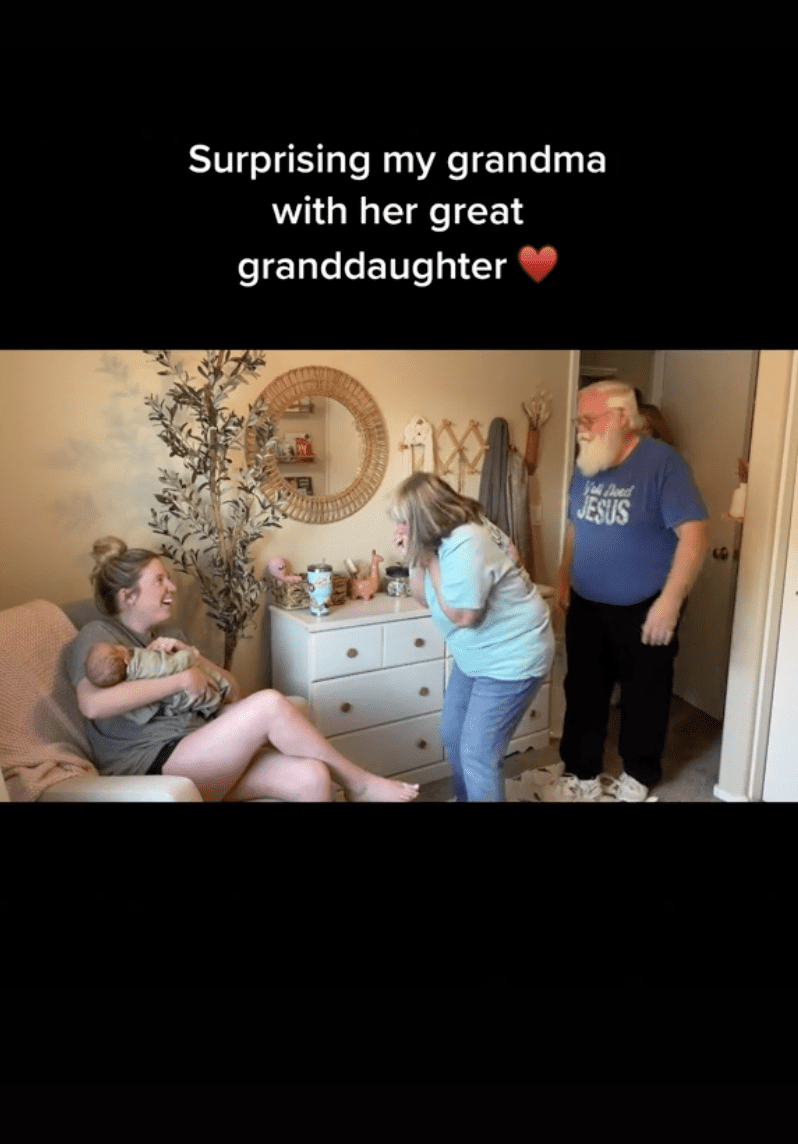 The moment great-grandma and great-grandpa saw their great-grandchild for the first time. | Photo: tiktok.com/ashfadden
The ecstatic granny then walks inside the room to have a closer look at her great-granddaughter. Even when inside, she can be seen cheering and celebrating like a young child.
She then asks the TikTok mom when the child comes home, to which the latter replies, "Wednesday." In a subsequent video shared by @ashfadden, grandmother Meme can be seen cradling her great-granddaughter in her arms.
The TikToker posted the video in response to a netizen's request, who had asked her to share a clip of great-grandma Meme holding her great-grandchild.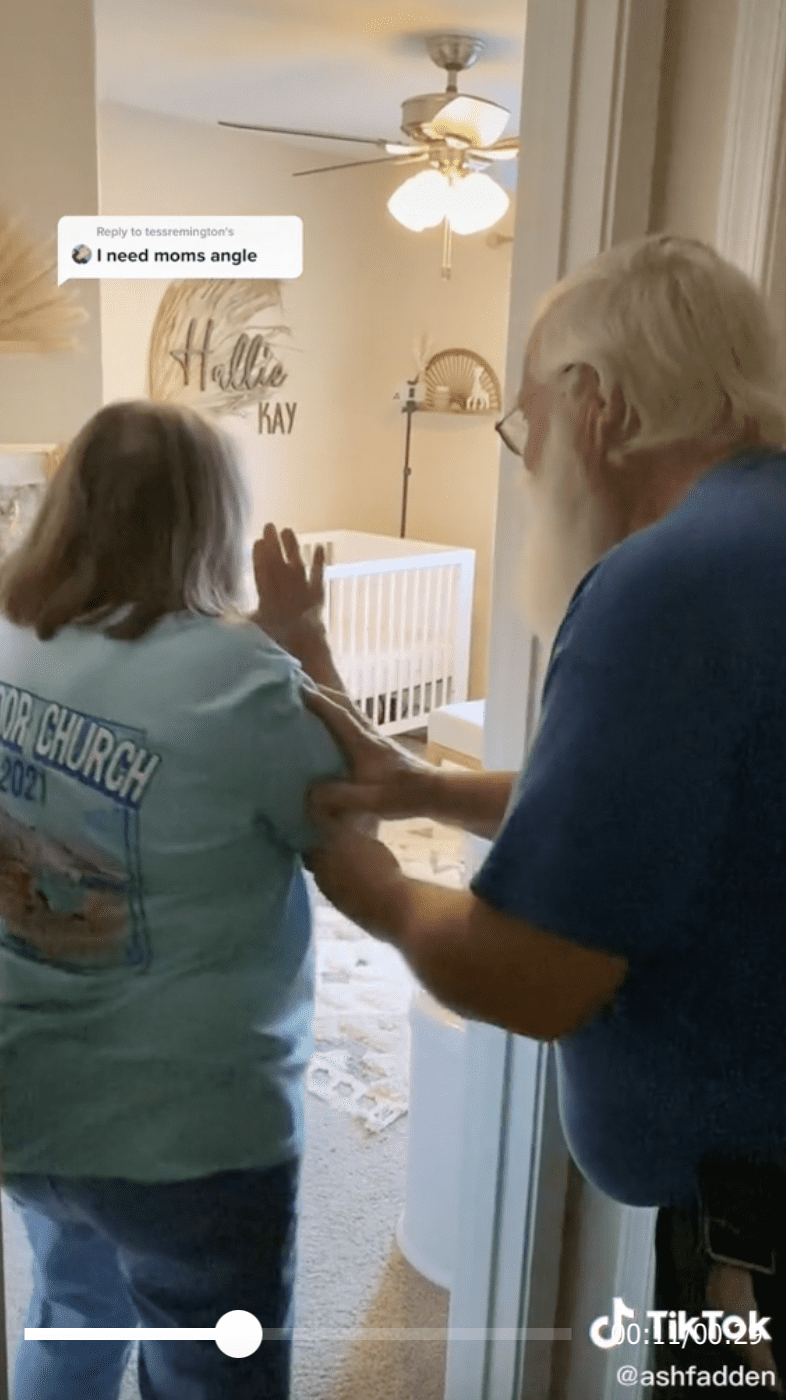 Great-grandmother Meme was extremely excited after seeing her great-grandchild for the first time. | Photo: tiktok.com/ashfadden
Moreover, the young TikTok mom also shared the same video from a different angle. The short clip showed Meme's sheer ecstasy the moment she entered the room and discovered that she was a great-grandma.
The TikTok user shared the video following a request from a netizen that said: "I need mom's angle (sic)." The heartwarming clip also shows the baby's great-grandpa as he follows his wife inside the room to have a look at their great-grandchild.
In one of the videos, the TikToker revealed that her grandma knew about her pregnancy. However, because the baby arrived early and spent 6 weeks in the NICU, she didn't know that they were finally back from the hospital.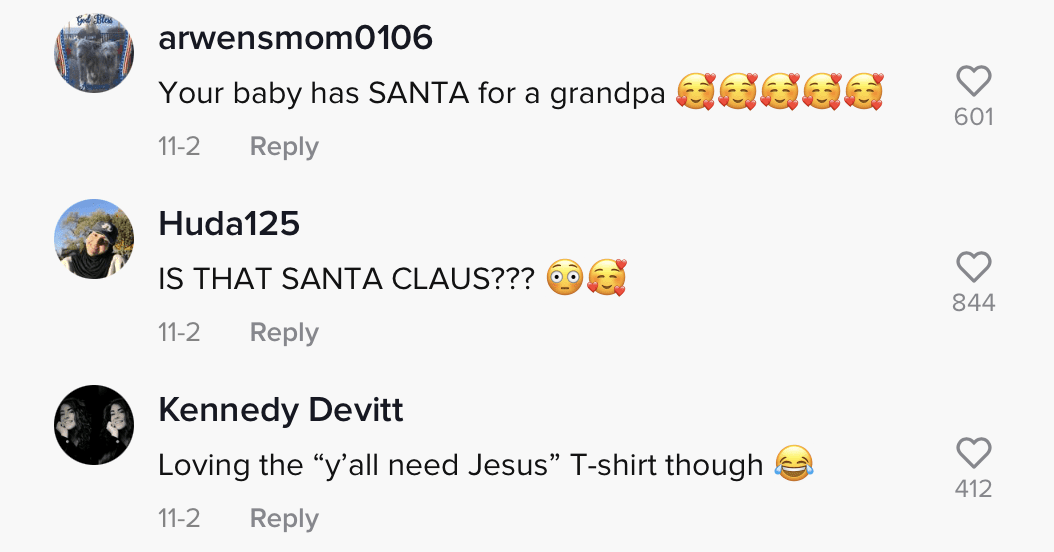 Netizens left heartwarming comments on TikTok mom's viral video showing her grandma's reaction. | Photo: tiktok.com/ashfadden
NETIZENS REACT
Several netizens left sweet comments on the adorable video clips. Many of them called the baby lucky for having a great-grandpa who resembled Santa Claus. One user wrote:
"I refuse to believe this isn't mr and mrs santa claus (sic)."
A second user commented: "You can always count on Meme for the best reactions." A third user said: "I love how she's trying not to squeal to loud and disturb the baby (sic)." No wonder, grandma Meme nailed her heartwarming reaction.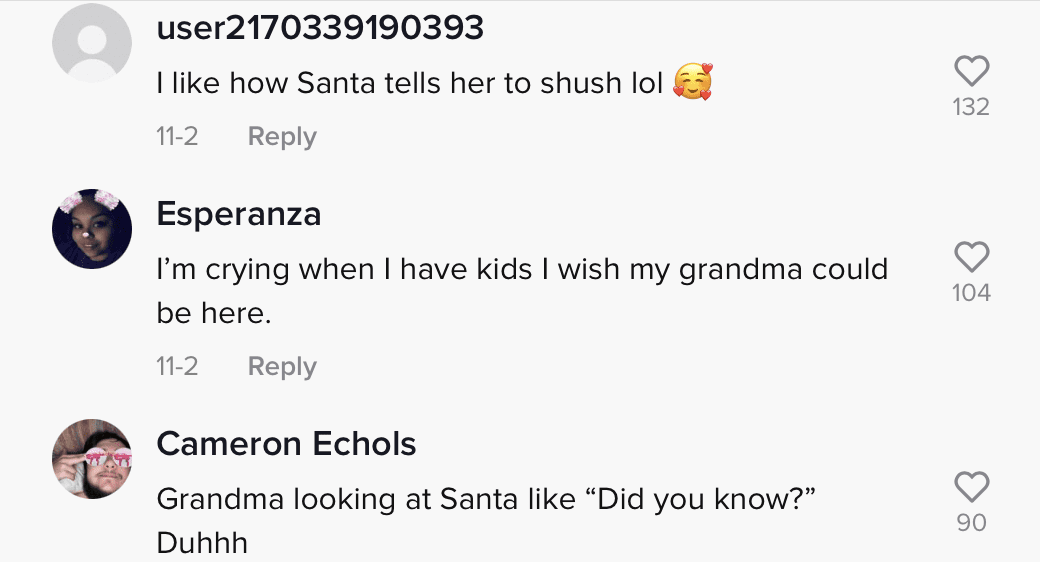 Netizens left heartwarming comments on TikTok mom's viral video showing her grandma's reaction. | Photo: tiktok.com/ashfadden
BEING UPGRADED TO GRANDPARENTS
It seems that grandma Meme isn't the only one who knows how to melt hearts with her adorable reaction after seeing her great-grandchild for the first time. These grandparents will warm your soul with their extremely touching reactions.
The video comes courtesy of Peaches and shows expecting parents surprising their moms and dads with brilliant surprises. Some couples choose cute gifts like t-shirts, balloons, and placards with the happy news, and their parents' reactions are priceless.
Others opt for breaking the news all of a sudden or leaving subtle clues in the form of birthday messages or heartfelt notes. As soon as the elderly folks read the news, they can't contain their excitement, with the new grandmoms jumping with sheer joy.
Having a new addition to the family, especially a little angel, can multiply joy and happiness for anyone, and elderly folks like grandmother Meme and these adorable grandparents have their own cute way of celebrating such moments.
Please fill in your e-mail so we can share with you our top stories!