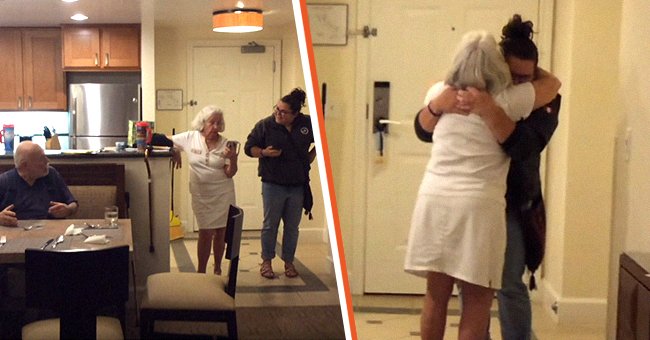 facebook.com/LightWorkersOfficial
Grandparents Can't Hold Back Tears after Getting a Surprise Visit from Their Granddaughter

If you've ever been separated from family for a long period of time, you know how difficult it can be when all you want is a warm hug from the ones you love. When two grandparents were granted this wish, they couldn't stop bawling.
Grandparents are a gift to be cherished. However, in some instances, many grandchildren, especially when they are adults, forget to spend quality time with them.
However, in 2019, one granddaughter was not about to let her affection for her grandfather and grandmother go to waste. She went the extra mile to let them know how much she loved them.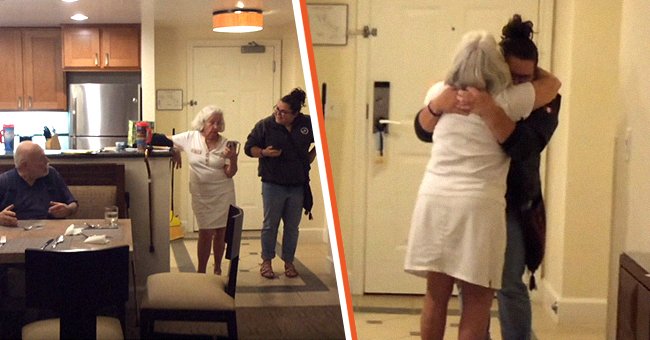 A granddaughter attempting to surprise her grandparents [left]; A granddaughter giving her grandmother a hug [right]. | Source: facebook.com/LightWorkersOfficial
COMPLETELY UNAWARE
A grandmom was in her house with her husband while she spoke to her grandchild via her cellphone. The grandmother asked her how she was doing, to which she strangely replied:
"I'm good. I actually, I really have to go to the bathroom. I'm so sorry grandma."
The grandparent stayed on the phone with her granddaughter as the grandchild snuck in the door behind her. The granddaughter repeatedly asked if there was a bathroom there. Neither grandparent noticed their grandchild coming into the house.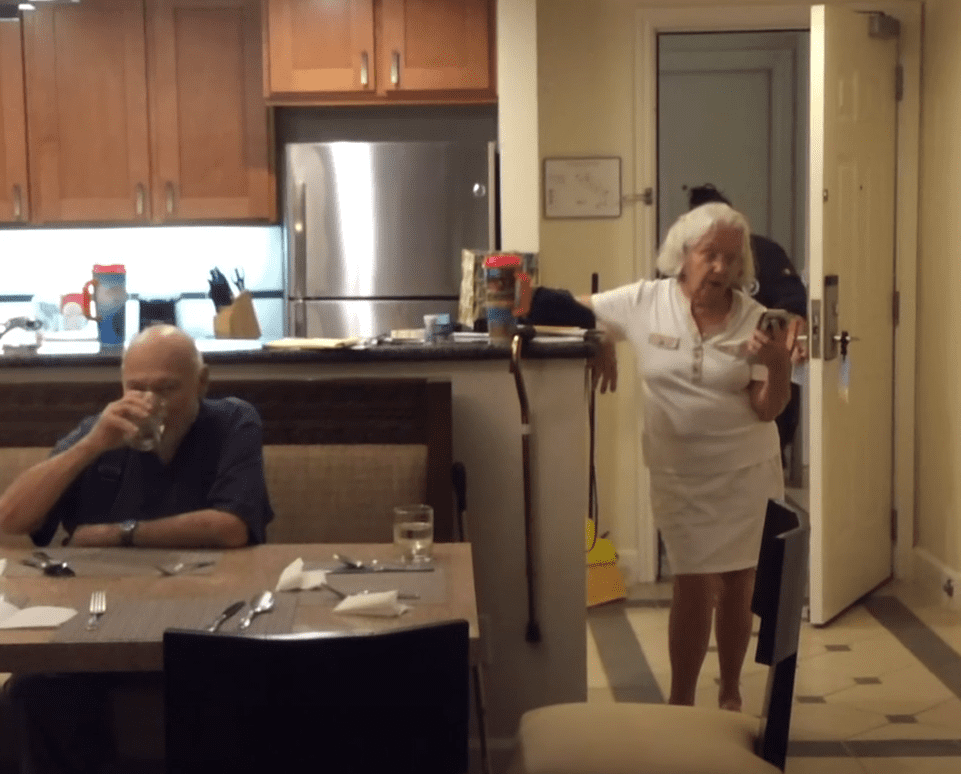 A granddaughter attempting to surprise her grandparents. | Source: facebook.com/LightWorkersOfficial
A HEARTFELT SURPRISE
Suddenly, the grandma caught sight of her standing right there and screamed gleefully while hugging her granddaughter tightly. The grandfather, meanwhile, jokingly stated that he was having a heart attack. The grandmother expressed:
"You couldn't bring me a million dollars and it wouldn't be as good."
Both grandparents were in tears as they said that their grandchild was the best present they could have ever wanted. After two years apart, this family finally came together again.
COMING TOGETHER AGAIN
The bond between granddaughters and their grandparents is unbelievably deep, which is why their reunions are always filled with heartening sobs. New York Times reporter David Gelles caught another one of these moments from his own family, sharing the adorable clip on Twitter.
You May Also Like: Grandma Can't Stop Crying after Walking into Room to Find the Brother She Hadn't Seen in Years
In the Tweet, Gelles explained that he and his daughter Franny surprised their mother and grandmother on her 75th birthday. Using the same technique as the previous granddaughter, Franny and her father slowly crept up to the unaware 75-year-old.
When Gelles's mother finally saw them and took in that her son and granddaughter were right next to her, she lit up immediately. Franny ran to hug her grandma as they both squeezed one another tightly.
How close are you to your grandparents, do you miss them, and how long has it been since you have seen them in person?
You May Also Like: Toddler Gets Abducted at a Railway Station, Reunites with His Father 58 Years Later
Please fill in your e-mail so we can share with you our top stories!