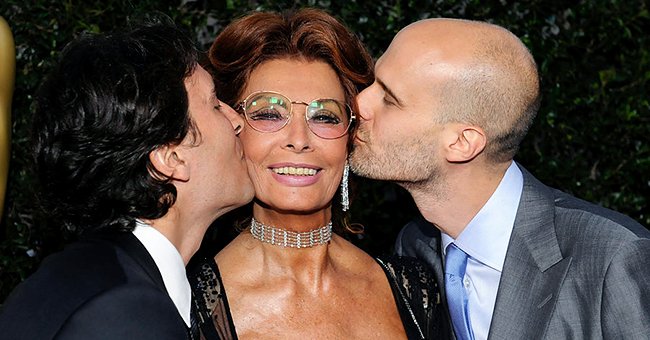 Getty images
Sophia Loren Remained Steadfast after Miscarriages & Jail Stint When Her Sons Were Teens
At 87 years, the beautiful Sophia Loren has defied age and still turns heads wherever she goes. She has an air about her that leaves not only fans but celebrities awestruck. And yet, her journey has not been without its challenges.
Today Sophia Loren enjoys a fulfilling life, full of bliss and success, but it did not come easy. She had to wade through the murky waters that life threw her into for her to come out the other side strong and victorious.
Her journey began in the heart of Clinica Regina Margherita in Rome. Loren was one of two children her parents shared, even though they were never married. Her mother raised them single-handedly, as her father was married to another woman.
Left: Carlo Ponti (L) and director Edoardo Ponti (R) kiss actress Sophia Loren at AMPAS Tribute To Sophia Loren at AMPAS Samuel Goldwyn Theater on May 4, 2011 in Beverly Hills, California. Right: Sophia Loren and her children in 1983 | Source: Getty Images
Life as a young girl was riddled with abject poverty, and she grew up smack in the middle of World War II. Hers was a sad start in life, but things began looking up when she was 14.
She tried out at a beauty contest which went so well she ended up a finalist. During that moment, she captured a man's attention that would make all the difference in her career and love life.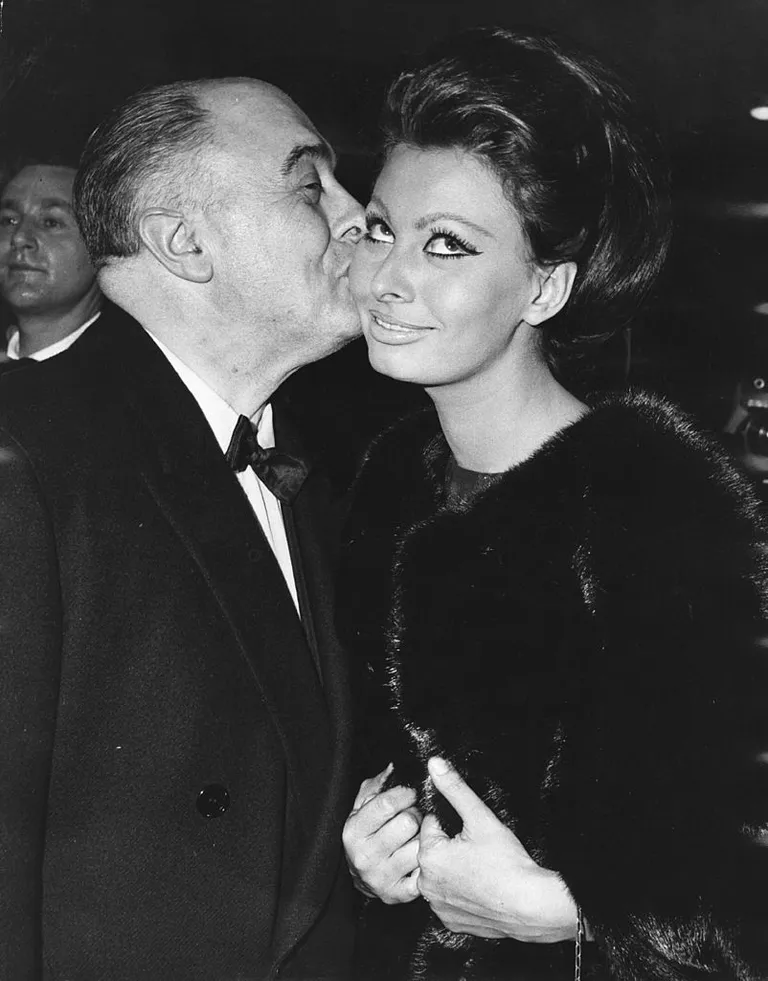 Italian film producer Carlo Ponti kisses his wife, actress Sophia Loren after she received the first Alexander Korda award, naming her 'International Star of the Year', at the world premiere of her new film 'Lady L' at The Empire, Leicester square. | Source: Getty Images
MEET CARLO PONTI
Ponti was 22 years older than Loren and was already well established in the industry. He was a film producer and spotted the talent in Loren, even before she knew she had it in her. He once said of Loren, according to People:
"I knew immediately she was someone remarkable. Something played off her that gave her a kind of illumination."
But more than his guidance in career matters, he became the father figure that Loren never had growing up. Through his support, she landed her first role as an extra in the 1950 film "Le sei Mogli di Barbablù."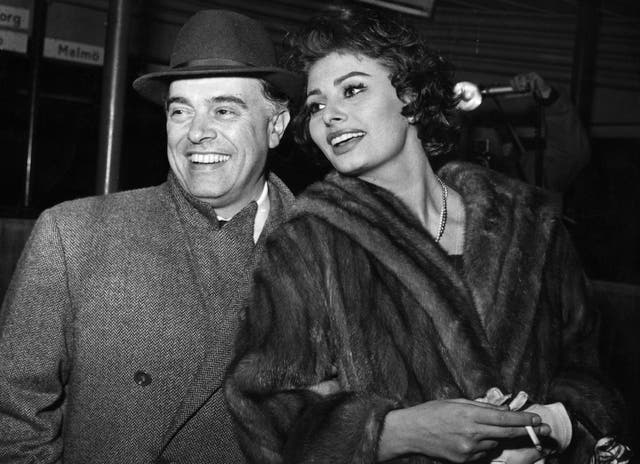 Carlo Ponti, the Italian film director and his wife Sophia Loren, the film actress arriving in Copenhagen en route from Rome to Los Angeles. | Source: Getty Images
Theirs was a match made in heaven, and the collaboration bore numerous movies and two sons. Ponti was long separated from his first wife when they met, but they were not legally divorced.
Ponti and Loren tied the knot in September 1957, but their marriage was annulled in 1962 on bigamy grounds. They, however, continued to live as "husband and wife," and in 1965, they obtained French citizenship.
The French citizenship allowed Ponti to divorce his first wife in France and later marry Loren for a second time — this time legally — in April 1966. Their marriage remained strong for over four decades until Ponti's passing in 2007.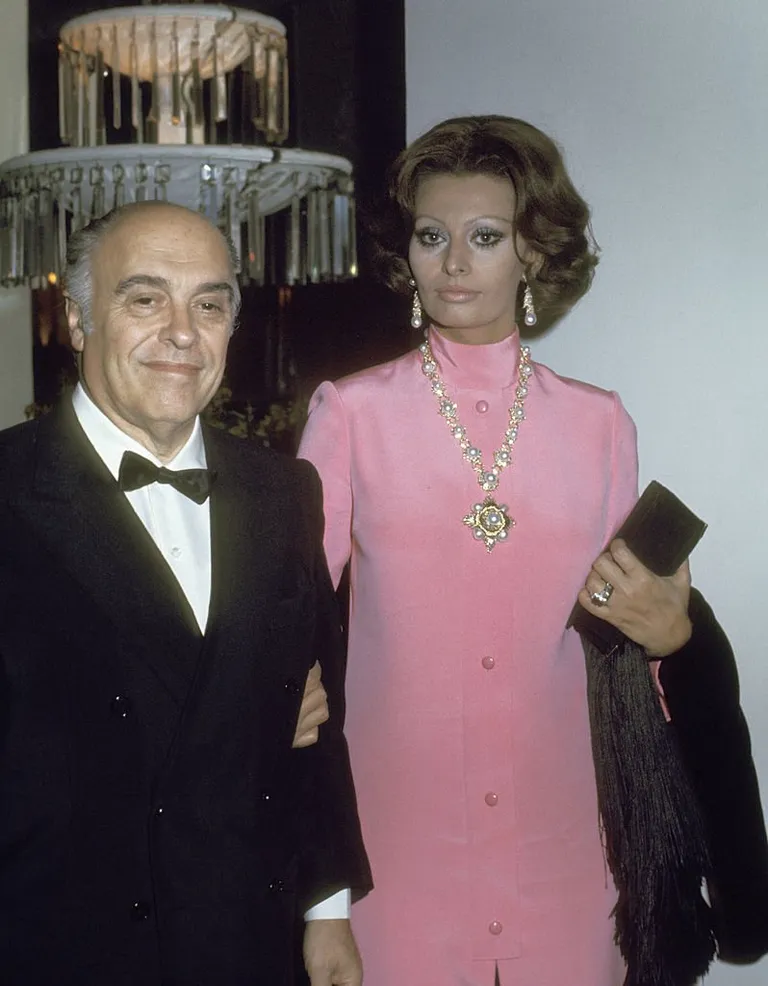 Sophia Loren and Carlo Ponti , New York City - September 24, 1970. | Source: Getty Images
HER OTHER ICONIC MOVIES
For someone who was considered "impossible to photograph "at the beginning of her career in film, Loren's come a long way. By the time she was hitting her late teens, she was already starring in many Italian movies.
Some of her most charming films include "La Favorita" and 1953's "Aida." And yet, her love for the big screens was not limited to the Italian audiences.
She spread her wings and became an international sensation, featuring in American films such as the 1957 "Boy on a Dolphin," "Legend of the Lost," and "The Pride and the Passion."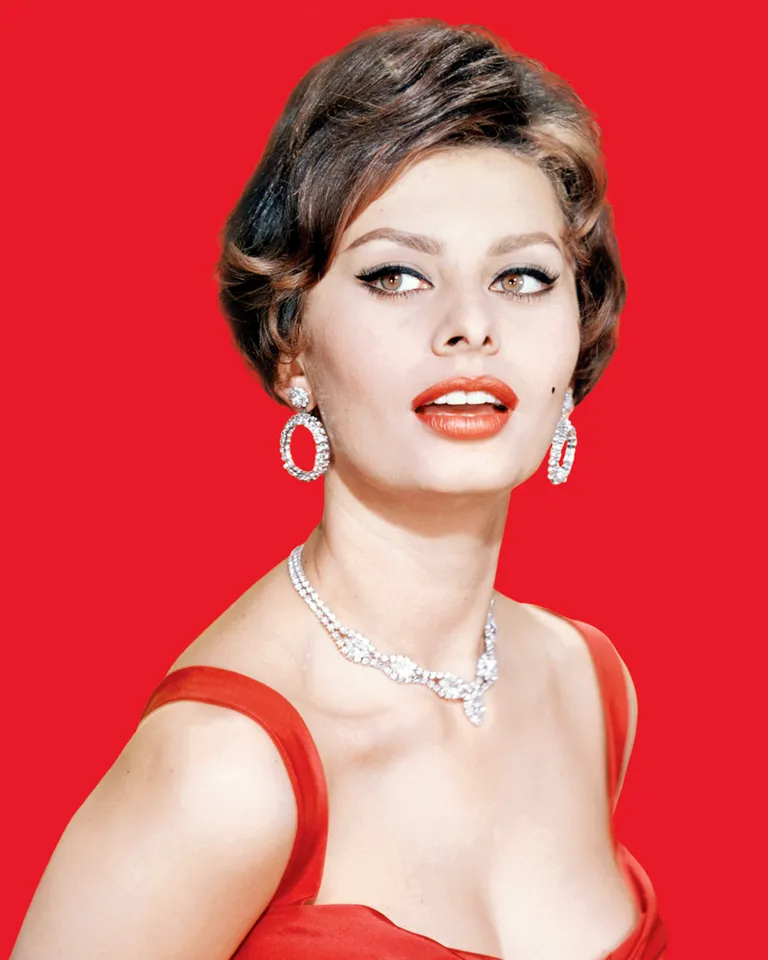 Italian actress Sophia Loren, circa 1960. | Source: Getty Images
Other roles credited to her name were the iconic "Desire Under the Elms," "The Key," "Heller in Pink Tights," "It Started in Naples," "The Millionaires," and "A Breath of Scandal."
In 1960, she returned to Italy and filmed the movie that would propel her to substantial commercial success, "Two Women." The film featured Loren as a mother trying to protect her daughter from the grit of war-torn Italy.
The film won 22 international awards, including the Academy Award for Best Actress and the Cannes Film Festival for best performance. Still, she continued to scale the heights of on-screen success.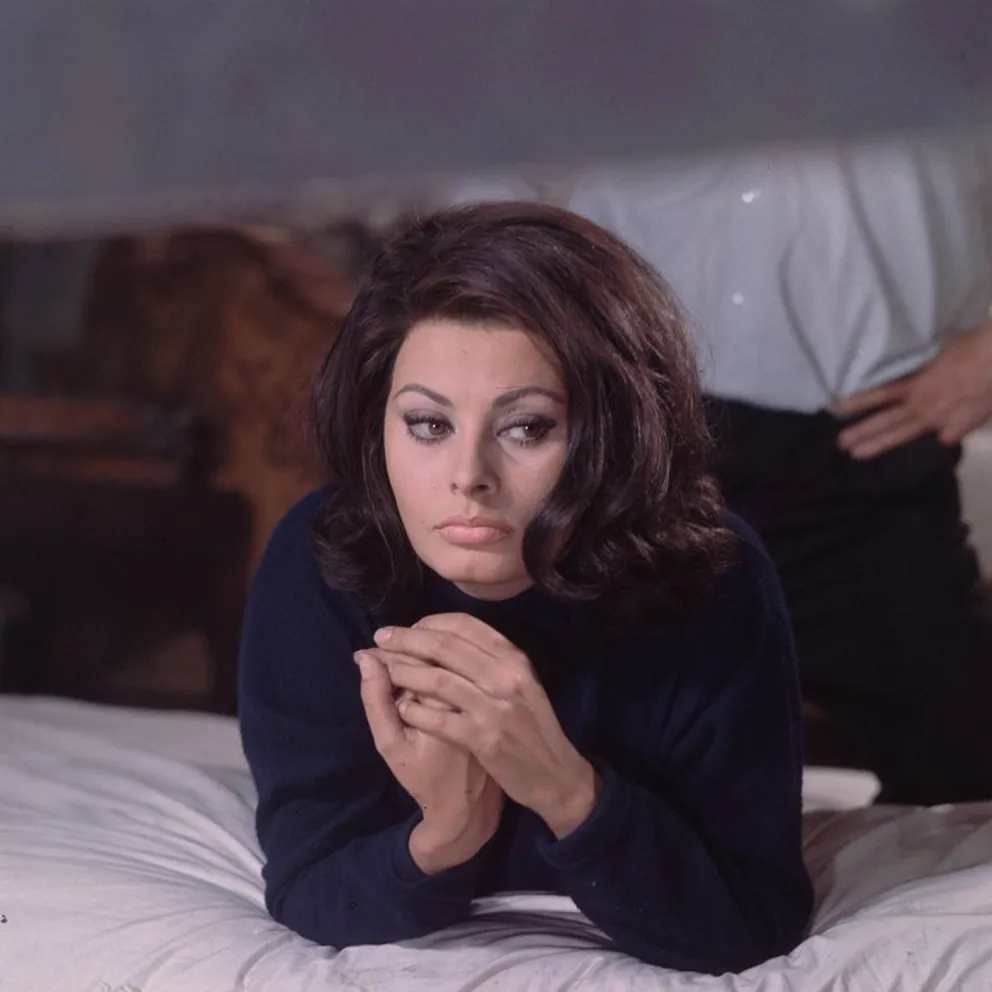 Sophia Loren in London, England circa November 1964 | Photo: Getty Images
In 1964, she was offered 1 million dollars for her appearance in "The Fall of the Roman Empire," then a second Academy Award in 1965 for her role in "Marriage Italian Style."
BECOMING A MOTHER AND UNFORTUNATE LOSSES
Loren always knew she wanted to be a mother someday, and when she married the love of her life, Ponti, she wanted to start her family right away. Their first attempts, however, led to two miscarriages.
Due to the complications accompanying the miscarriages, Loren was required to have complete bed rest throughout her successful pregnancies.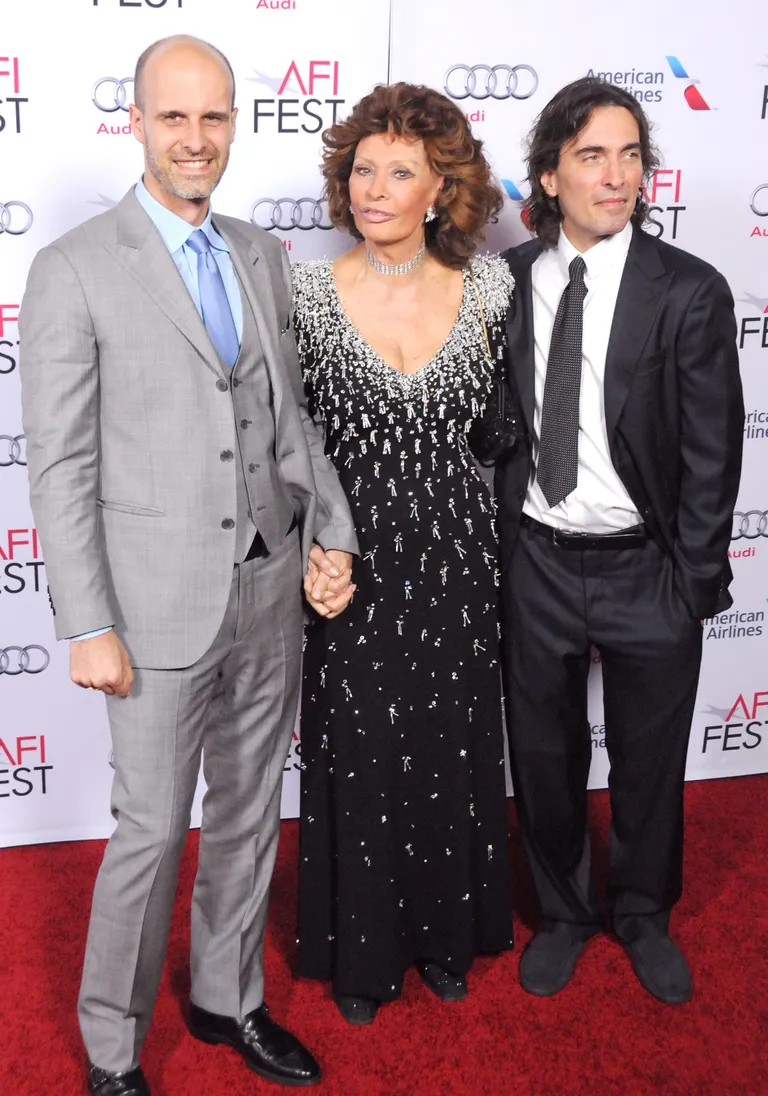 Actress Sophia Loren with her sons, Director/actor Edoardo Ponti (L) and conductor Carlo Ponti Jr. (R) at Dolby Theatre on November 12, 2014, in Hollywood, California. | Source: Getty Images
Dedicated to being a mother, Loren disclosed that if push came to shove, she would give up her career to be a better mother to her babies. She would later say of motherhood, as reported by Closer Weekly:
"Nothing, not even winning an Oscar, can compete with the pleasure and sense of accomplishment it has given me."
In 1968, the couple had their first son, Carlo Ponti Jr, and five years later, their second son Edoardo Ponti. Carlo Jr. worked with the Russian National Orchestra as the associate conductor between 2000 and 2018.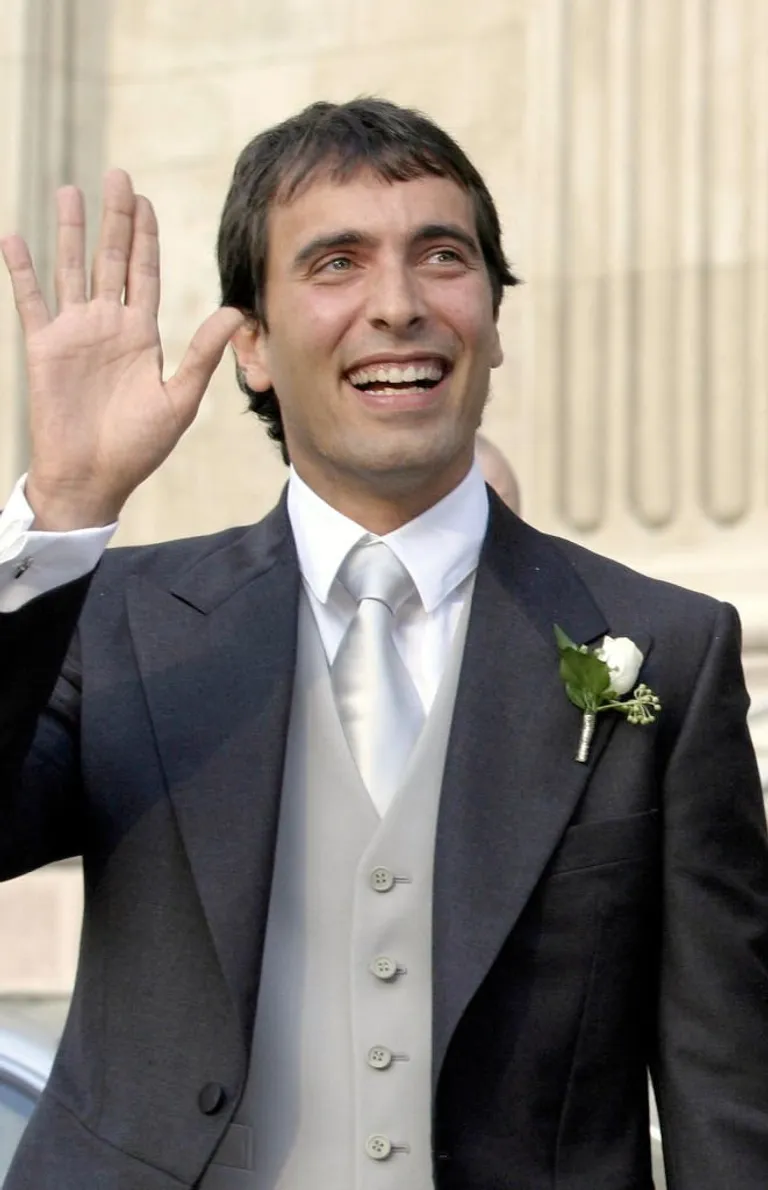 Carlo Ponti Jr leaves St. Stephen's Basilica with his wife Andrea Meszaros September 18, 2004 | Photo: Getty Images
He was also the San Bernardino Symphony principal conductor from 2001 to 2013. Today, he works as the music and artistic director for the Los Angeles Virtuosi Orchestra, which he founded in 2013.
Away from his professional work, Ponti Jr. is a family man, married to longtime wife Andrea Meszaros. Together, they have two children, Vittorio and Beatrice.
Loren's second son, Edoardo, followed in his parents' footsteps, earning his place in Hollywood as a film creator and writer. He has worked on projects such as "Between Strangers," "The Nightshift Belongs to the Stars," and "Human Voice."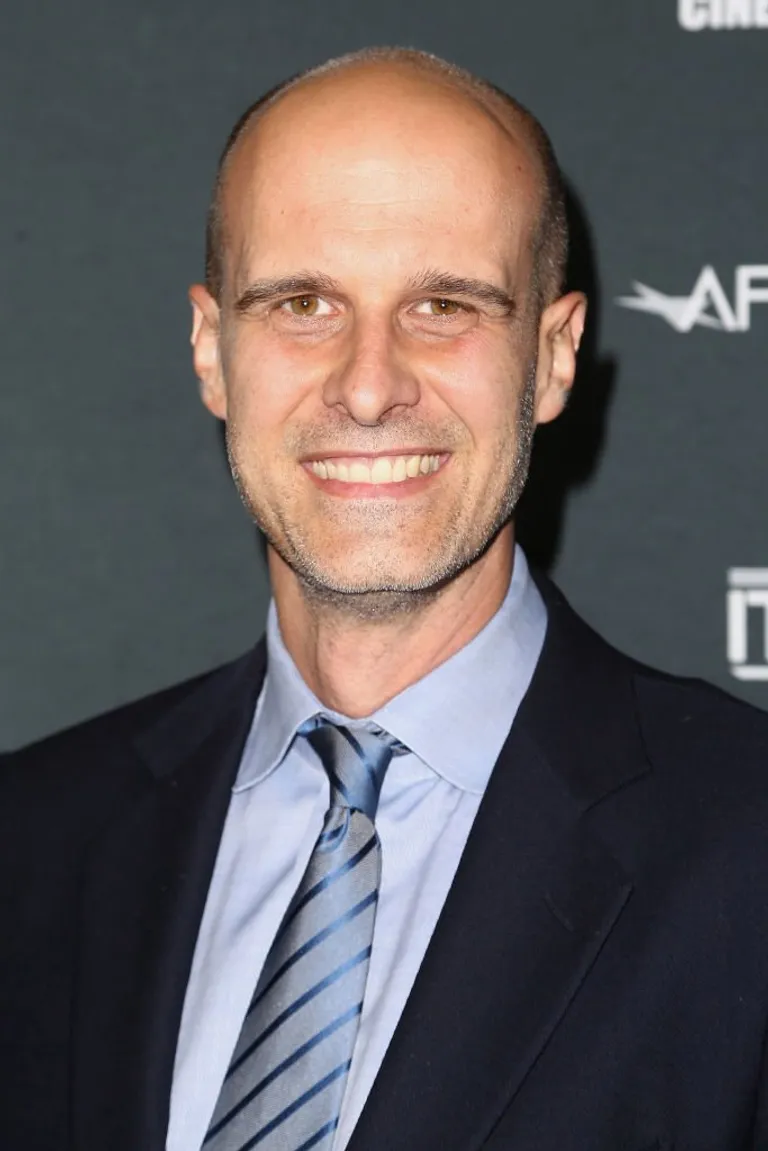 Edoardo Ponti at the Cinema Italian Style '17 Opening Night Gala Premiere Of "A Ciambra" at the Egyptian Theatre on November 16, 2017 | Photo: Getty Images
Besides his excellent work behind the cameras, he is also an actor known for his roles in "Qualcosa di Biondo" and "The Girl from Nagasaki."
Edoardo is also a family man and has been married to his wife Sasha Alexander since 2007. They have two beautiful children, Leonardo and Lucia.
JAIL STINT AND HEALTH SCARE
Away from the big silver screens, Loren is also a businesswoman and is named the first actress to launch her own design and fragrance of eyewear.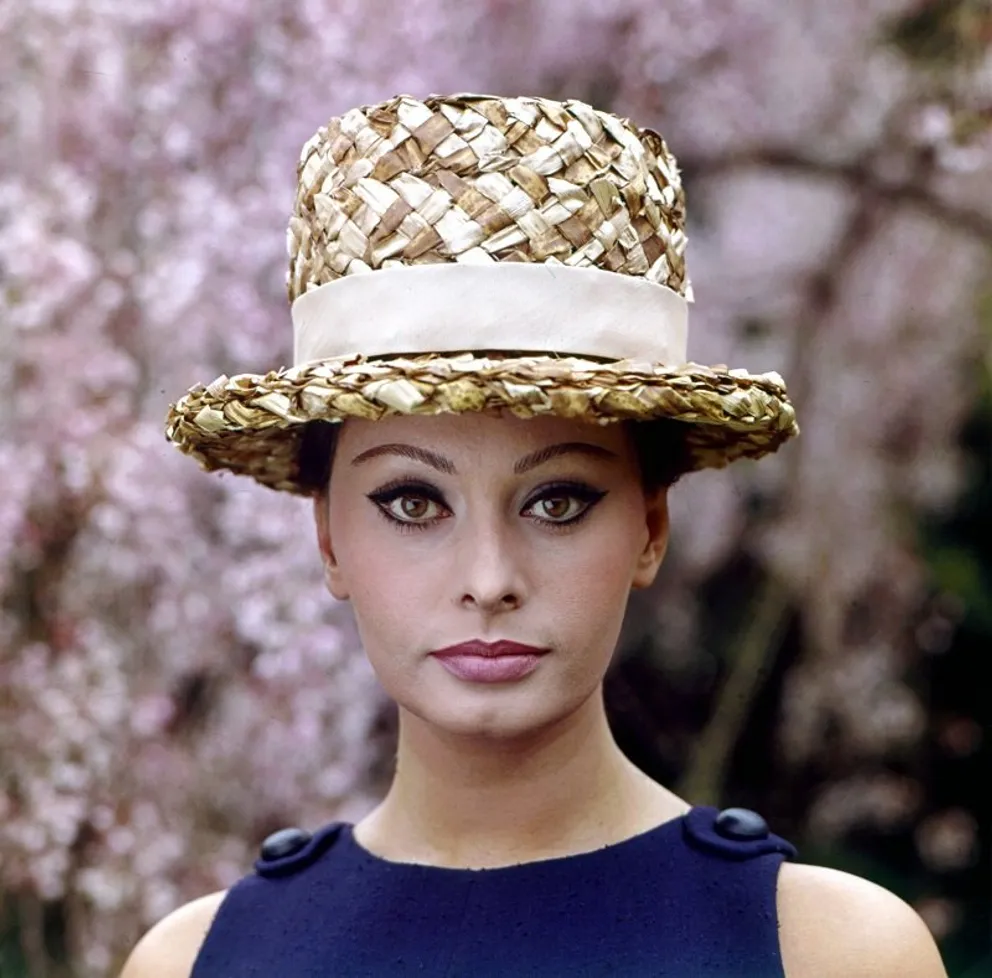 Sophia Loren in Italy circa 1964 | Photo: Getty Images
But her journey, albeit exciting, has not been without its struggles. In 1982, the acclaimed actress voluntarily spent 18 days in an Italian jail for tax evasion.
In 1998, Loren had a medical scare when she was hospitalized for an irregular heartbeat. She says she had been overworking, and the health problem had been a result of stress.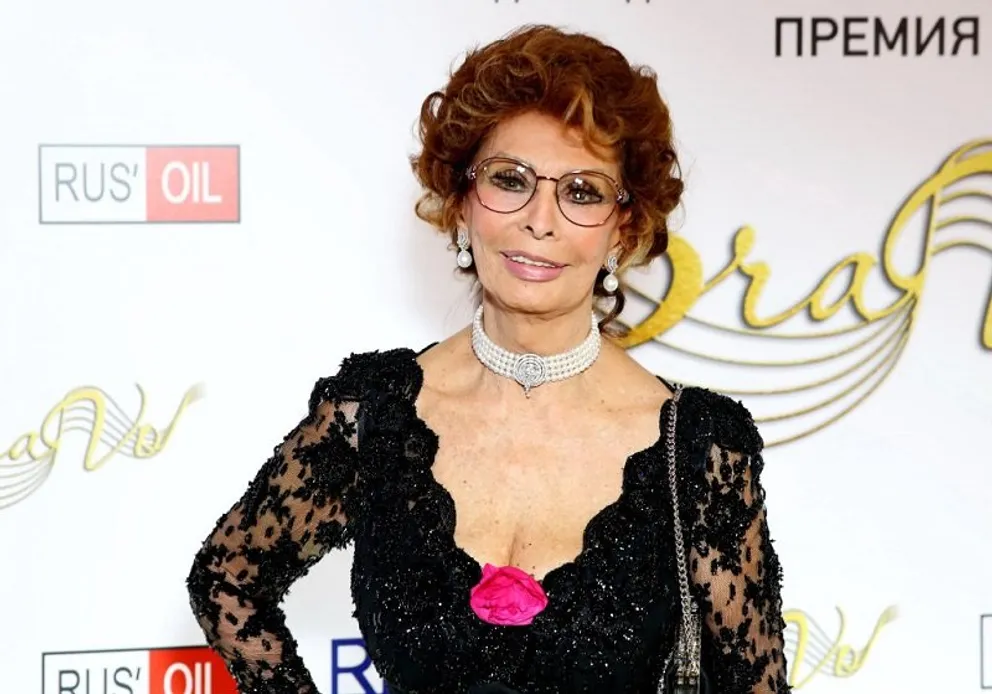 Sophia Loren on November 14, 2017 in Moscow, Russia | Photo: Getty Images
LOREN TODAY
Today, Loren enjoys her life in Switzerland but visits the United States frequently to see her sons and their families. And despite the years passing, she remains the indomitable queen of the screens.
After being denied roles unless she changed her looks, she beat the system to become one of the most stunning and beloved figures in the international film industry.
Please fill in your e-mail so we can share with you our top stories!