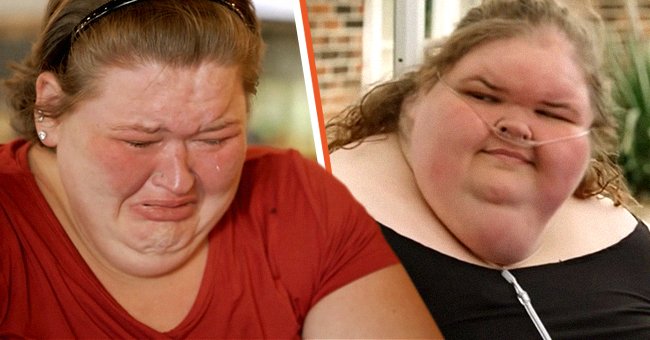 youtube.com/TLC
'1000-LB Sisters' Amy Slaton Once Asked for Funds for Tammy's Funeral amid Her Hospitalization
Amy and Tammy Slaton from "1000-LB Sisters" have had their fair share of public controversy. These include an instance when Amy told fans her sister might die and asked for funds to cover the costs.
"1000-LB Sisters" Tammy and Amy Slaton rose to fame by sharing their weight loss journey on the TLC reality show. They also gained fans from their YouTube channel.
Like most people who live a life in the public eye, the Slaton Sisters have had their fair share of controversies and rumors spread about them.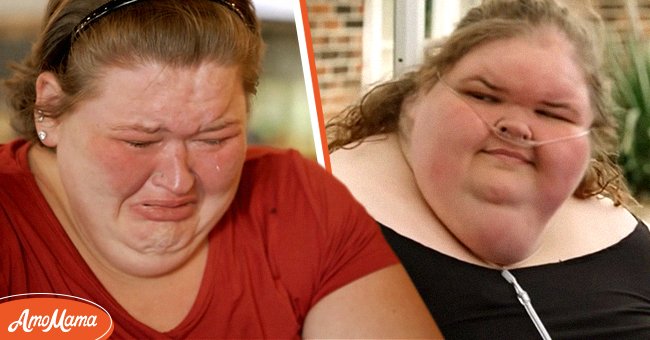 Amy Slaton pictured on TLC in 2021 [Left] | Tammy Slaton pictured on TLC in 2021 [Right] | Photo: YouTube/TLC
One such controversy occurred when Amy made a heartbreaking video about her sister. She told her fans that Tammy was in the hospital and her health condition was worsening.
In the since-deleted video, Amy told the sisters' YouTube fans that Tammy was in the hospital and being treated for pneumonia. Amy made it seem that Tammy's odds of surviving were not good as she said:
"Yesterday at 10 am Tammy went into the hospital. She has pneumonia and she can't breathe… I don't know what to do if I lose my sister."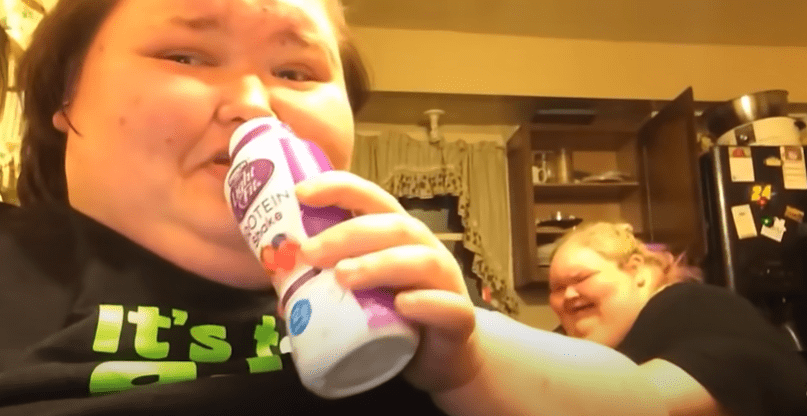 Amy Slaton and Tammy Slaton pictured in a YouTube video Primink shared in 2018. | YouTube/Primink
Amy shared that she was preparing for the worst and asked her fans to contribute to a GoFundMe page set up to help cover the costs of a funeral and an extra-large casket.
Amy even said that if Tammy did not pass, she would use the money to cover any remaining medical bills. She further explained that although Tammy was on a "medical card," there could be other medical bills.
A YouTube channel called Primink, which made a detailed video of the situation, stated that the GoFundMe campaign raised over $1000 to help the Slaton family.
However, a few days later, Tammy recovered from her stay in the hospital. Consequently, a few fans were confused and angered as they assumed Amy had misled her fans to believe Tammy had died.
The Primink video explained that Amy later told her fans that she gave the GoFundMe money to their mother and covered other household bills.
Interestingly enough, this incident would not be the last time rumors that Tammy had died circled the internet and among the sisters' fan base.
Tammy confronted the rumors head-on on her Instagram account after a social media user commented on a photo of hers that she died. Tammy clapped back at the user and replied:
"Just because I stopped posting does not mean I died..."
The rumors might have sparked from Amy's old video, or most recently, when Tammy tested positive for Covid-19. She tested positive for the virus earlier in 2021 and was taken to the hospital.
Doctors put her on oxygen to get her levels back to safety. Once home after her stay in the hospital, Tammy posted a one-minute video clip on YouTube to update her fans on her condition.
In a close-up video where her oxygen pipe was visible, Tammy shared that she had been in the hospital for two weeks but was now home and "doing great."
She admitted that she was on oxygen, but it was more of a precaution to get her lungs "sturdy" and help strengthen them after testing positive. Tammy said candidly in the video:
"I mean yes, I'm on oxygen. That's just to keep my lungs sturdy, strength — I won't be on oxygen much longer. I was on 15 liters of oxygen and now I'm on three."
Besides the confusion and frustration with dealing with rumors of her death, Tammy had created her own controversy after fans believed she had lost weight when she had not.
According to the TV Show Ace, in July 2021, during the second week of season two of "1000-LB Sisters," Tammy posted photos and videos of herself without her oxygen.
Fans then believed she was making progress in her weight loss journey and started to praise her as they felt that she was losing weight because she did not need her oxygen.
However, fans quickly realized that was not the case. Many pointed out Tammy possibly removed the oxygen pipes to snap a few photos and videos.
Later, she also revealed that she was dating a notorious "Chubby Chaser," so fans worried she would not lose weight or, worse, possibly gain weight to please him.
Then, it was revealed she had gained weight, weighing 665 LB in the second season of her reality TV show. Tammy took responsibility for not doing what she was supposed to for her health during the show.
Her doctor, Dr. Eric Smith, commended her for taking responsibility for her action instead of blaming the weight gain on her hospital stay and COVID-19 diagnosis. Dr. Smith said during the episode:
"I'm really proud of you for the fact that you just admitted, 'I don't know how to stop,' because that's the first step in asking somebody to try to help you learn to stop."
Furthermore, he said that although Tammy was not closer to getting the weight loss surgery she needed, taking responsibility for the weight gain was a step in the right direction.
Although Tammy's weight loss journey has been relatively slow, her sister Amy has made great strides in her quest for a healthier lifestyle. She went through a significant transformation after undergoing life-changing surgery.
Amy has come a long way in her weight loss journey. Recently she saw the fruits of her labor as she and her husband, Michael Halterman, welcomed their son, Gage, via a c-section.
The couple first found out Amy was pregnant only four months after her surgery, leaving her and Tammy worried and scared about what that meant for her health.
When Tammy found out her sister was expecting, she explained she felt "mad and sad and worried" because she was nervous about Amy's health and safety. After all, she fell pregnant soon after surgery.
Later, while reflecting on the day Amy told her the news, Tammy told People that she was excited for her sister to have kids because it was something Amy had always wanted.
Fortunately, her pregnancy did not lead to any complications, and she gave birth to a healthy baby. The mother and son seem to be doing well as Amy regularly shares photos of him online.
Please fill in your e-mail so we can share with you our top stories!
The information in this article is not intended or implied to be a substitute for professional medical advice, diagnosis or treatment. All content, including text, and images contained on news.AmoMama.com, or available through news.AmoMama.com is for general information purposes only. news.AmoMama.com does not take responsibility for any action taken as a result of reading this article. Before undertaking any course of treatment please consult with your healthcare provider.