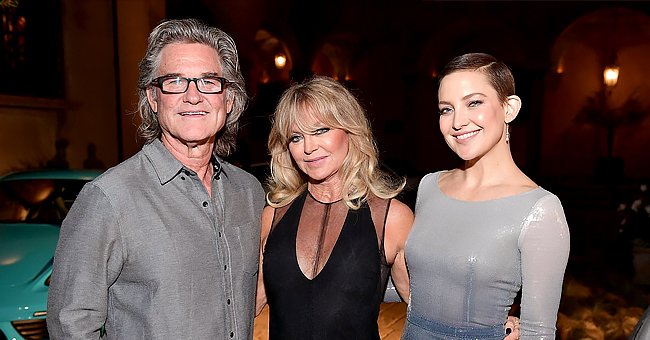 Kurt Russell, Goldie Hawn, and Kate Hudson | Source: Getty images
Kate Hudson Was Raised by Mom's Partner & Estranged from Dad Who Claimed He Fought for Her
Kate and Oliver Hudson were raised by their mother Goldie Hawn and her partner Kurt Russell for most of their lives. Their biological father, Bill Hudson, however, disclosed that he fought for them with no success.
Kate and Oliver Hudson have considered Kurt Russell as their father for the longest time. Behind the scenes, however, their biological father's attempts at being in their lives have all turned out futile.
A mother of three children, all with different dads, Kate understands the complex dynamics of her family. She opened up about her estranged relationship with her musician dad.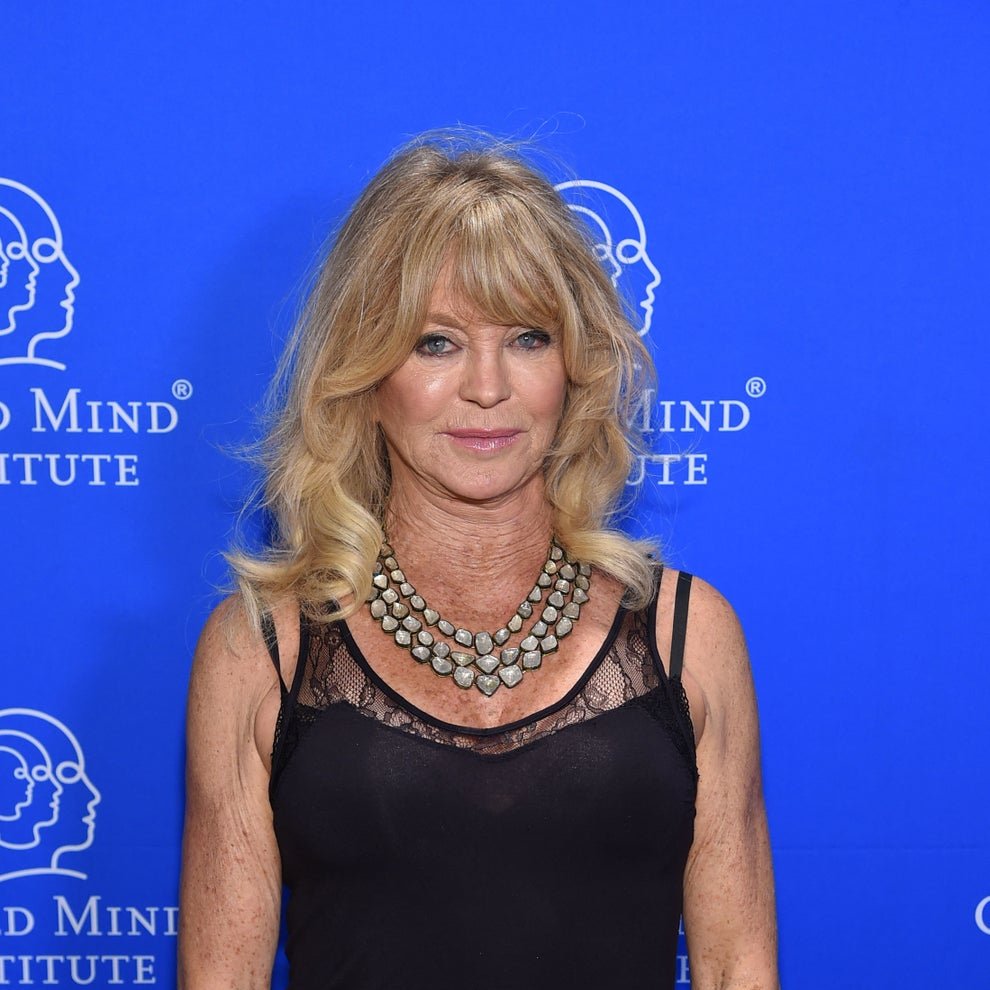 Honoree Goldie Hawn attends the Child Mind Institute's 2019 Change Maker Awards at Carnegie Hall on May 01, 2019 in New York City. | Source: Getty Images
She is, however, thankful that she has a loving step-father who took over the baton and raised her and her brother as his own after Bill and Hawn separated. She, however, says that it is still painful having no relationship with Bill.
BILL AND HAWN'S RELATIONSHIP
Before all the complications in their love life took a toll, Bill and Hawn were one of the happiest couples in town. The two met in 1975 on a flight from New York to Los Angeles.
Bill played for the "Hudson Brothers" band with his brothers Mark and Brett, had their TV show, and often tours with David Cassidy and The Osmonds.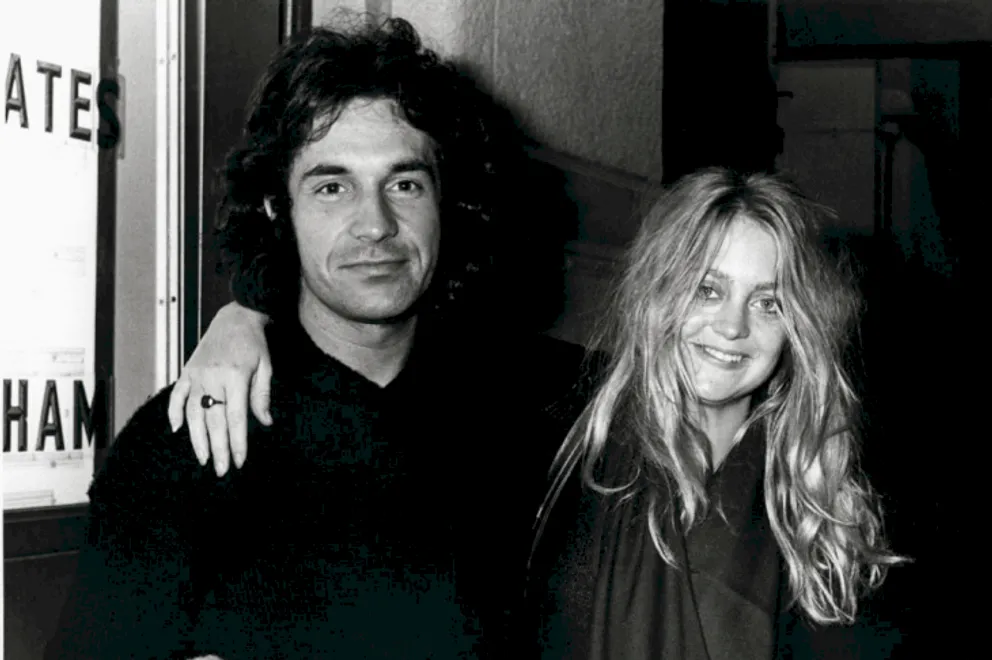 Bill Hudson and Goldie Hawn pictured on November 20, 1976. | Source: Getty Images.
A successful young star, Bill was not new to high-profile affairs. He'd been with some of Hollywood's most beautiful young women, such as Candice Bergen and Ali MacGraw.
Hawn, on the other hand, was already a prominent comedian, earning up to a million dollars a movie for her roles in comedy movies such as "Shampoo," "The Sugarland Express," and "There's A Girl In My Soup."
They were both flying first-class on the day they met, but Bill spent most of the flight in economy drinking with the band. Thirty minutes to landing, an attendant asked him to return to his seat while Brett challenged him to speak to Hawn.
Not one to turn down a challenge, Bill went to speak to Hawn, and their connection was instant. They agreed to meet up for dinner that same evening.
The date was, however, far from what Bill had in mind. As soon as they settled down, Hawn spotted a gentleman sitting at a table nearby.
In what Bill says would have been the brightest red flag of all time, he later learned that the rude gentleman was Hawn's husband. He soon realized that Hawn loved to have multiple lovers at a time.
Bill recalls Hawn's father warning him that Hawn was incapable of being with one man, but Bill was so in love he thought he'd change her. The two married the following year in a wedding that was a dream come true for Bill.
The "Hudson Brothers" star was marrying one of the world's most famous and beautiful women, and the icing on the cake was that she was a month shy from bringing forth their first child together. Bill said of his wedding:
"I was consumed with love. I didn't think life could get any better. I had just married the woman I loved, and I felt like the luckiest guy on earth."
In the years that followed, Hawn had several affairs, and then one night in 1980, Bill had enough and walked out. Soon after, they got divorced, and Hawn began a relationship with Russell.
Bill says the moment Russell entered the scene; he took over the role of a father to Bill's children. Then began his decades-long struggle trying to regain the title.
The "Hysterical" actor says Hawn manipulated the narrative to make it seem like he walked out on his family. Opening up for the first time, he said that he would often arrange to pick up the kids, but they would not be there when he got to the meeting point.
He tried fighting for custody of his children but was not successful. According to him, Hawn did everything in her power to keep his children away from him.
Bill later married actress Cindy Williams and had two more children with her. He says he would love for all of his children to get to know each other. However, their relationship remains severed over four decades later.
KATE'S RELATIONSHIP WITH RUSSELL
In several Father's Day posts on her Instagram, Kate has gushed over Russell, saying how wonderful a father he is to her and her brother.
She also reminisces about all the fun stuff they do together, such as dirt biking, boat racing, and motorcycle riding. Often, Oliver has resonated with the posts, adding how much he also loves Russel.
A far cry from all the love Russell receives, all Bill ever got was a controversial Father's Day post from Oliver, captioned "Happy Abandonment Day." The post featured a photo of Bill and his two children from more than thirty years ago.
To add insult to injury, Kate responded to the post with a throwback photo of herself posing with Russell captioned with a sweet Father's Day message.
Angered by his son's post, Bill declared that he had set his children free. He went on to say that out of his five biological kids, he now only considers two of them as his.
He would no longer recognize Kate and Oliver as his. Speaking to The Mail, he asked them to stop using the "Hudson" name, adding that they were subsequently dead to him. He added:
"They are no longer a part of my life. Oliver's Instagram post was a malicious, vicious, premeditated attack. He is dead to me now. As is Kate."
Wounded, Bill reacted, saying that if all his children wanted was to push him away from their lives, they'd succeeded, and he no longer wanted to see either of them, ever again.
Please fill in your e-mail so we can share with you our top stories!