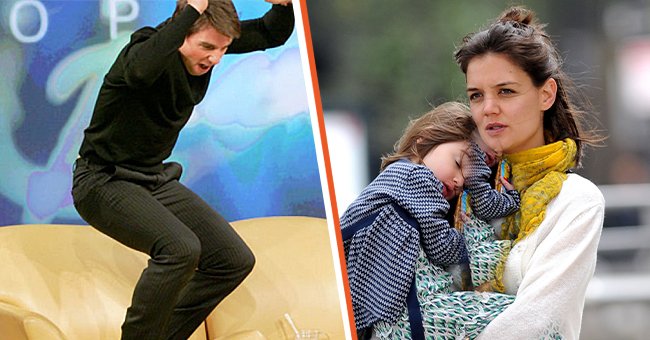 Twitter/HuffPost | Getty Images
Tom Cruise Once Jumped on Sofa over Love for Katie Holmes Who Divorced Him to Protect Their Child
Hollywood romances often make headlines, but Tom Cruise and Katie Holmes took things to a new level when he even jumped on Oprah Winfrey's sofa! Holmes eventually left him to protect their daughter.
Words have power, and Katie Holmes knows it firsthand. Like many other people, Holmes had a crush on "Top Gun" star Tom Cruise back in the 1980s, when she was just a kid.
Holmes eventually became an actress herself, met Cruise, and married him. Although becoming Mrs. Cruise was nothing short of a dream come true, their relationship was far from perfect, and she left him to protect their child.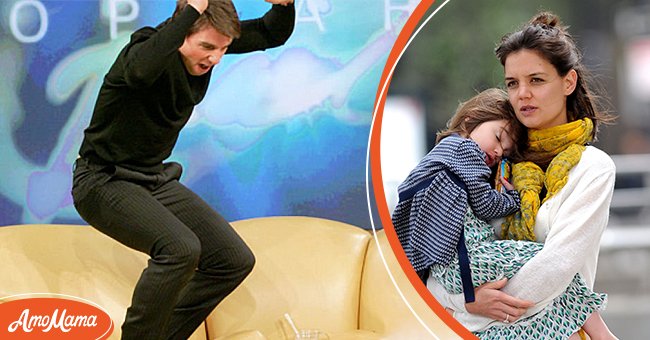 Tom Cruise jumping on Oprah Winfrey's couch in May 2005 [left]. Katie Holmes and Suri Cruise on October 10, 2009 in Boston, Massachusetts [right] | Photo: Twitter.com/HuffPost - Getty Images
The first time that Cruise and Holmes's names appeared in the same sentence was October 2004 when Seventeen magazine interviewed her following her successful portrayal of Joey Potter on "Dawson's Creek."
Holmes admitted that, just like every other little girl, she had dreamed about her wedding. In her case, she used to think she would marry Cruise.
They say that the universe works in mysterious ways: in April 2005, six months after professing her love for Cruise, Holmes met him for the first time, and they hit it off right away.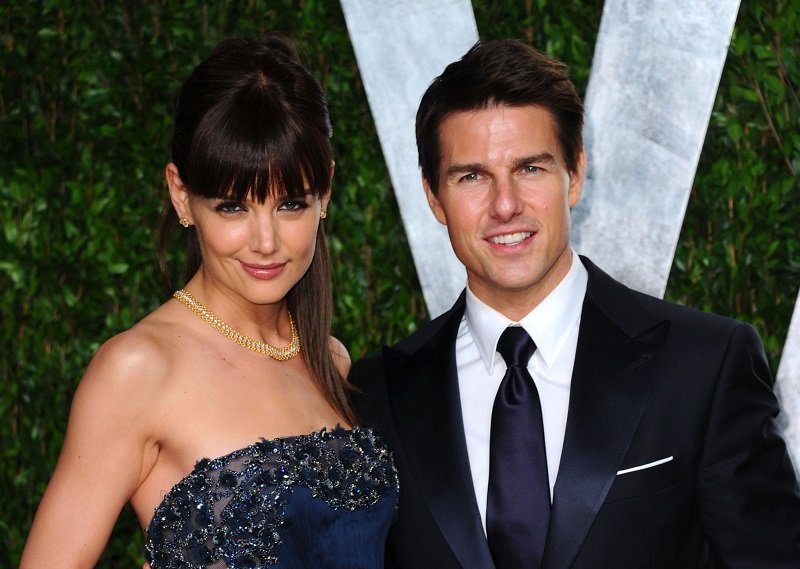 Katie Holmes and Tom Cruise on February 26, 2012 in West Hollywood, California | Photo: Getty Images
However, some rumors suggest that there was nothing fortuitous about their relationship. Reports claim that the Church of Scientology arranged everything.
Before meeting Holmes, Cruise had already gone through two marriages (Mimi Rogers and Nicole Kidman). He also dated Penelope Cruz, but their relationship was short-lived.
The Church of Scientology supposedly tried to find a worthy wife for Cruise, its most famous member. Sofia Vergara and Scarlett Johansson were two possible candidates, but they were scared off.
Holmes probably attracted the Church's attention with her Seventeen news article as she and Cruise made their red-carpet debut in Rome in late April 2005. After that, things moved pretty quickly.
Winfrey was as shocked as her audience, and she revealed she had never seen Cruise like that.
UNUSUAL OPRAH WINFREY'S INTERVIEW
Only one month after making their relationship public, Cruise appeared on "The Oprah Winfrey Show" in what is now considered one of his most headline-grabbing interviews. He said:
"I'm in love, and it's one of these things where you want to be cool, like, 'Yeah I like her'… that's not how I feel. I admired her, and I thought I wanted to meet her."
Cruise then admitted he kept hearing what a special person Holmes was, making him want to meet her even more. Once he did, he noticed she was "extraordinary."
The "Mission: Impossible" star declared his love for Holmes while punching the floor, grabbing Winfrey's hands, and jumping on the couch.
Winfrey was as shocked as her audience, and she revealed she had never seen Cruise like that. "He's gone," she joked. Cruise then pulled Holmes out from backstage to make his "couch jumping" episode even more memorable.
Holmes eventually converted from Catholicism to the Church of Scientology, and in June 2005, he popped the question at the Eiffel Tower. It is essential to point out that they had met each other for only eight weeks.
That October, the couple revealed they were expecting a baby. Suri Cruise was born in April 2006 in Santa Monica, California. One of the aspects of Suri's birth that attracted more attention was that Cruise and Holmes allegedly opted for a silent delivery.
In November 2006, Holmes and Cruise tied the knot in Bracciano, Italy. It is fair to say that Will and Jada Pinkett-Smith, Victoria and David Beckham, Jennifer Lopez, and the rest of the wedding guests saw Holmes's childhood wishes come true.
The former couple held the reportedly $3-million ceremony in a 15th-century castle and even had musician Andrea Bocelli singing for them. Giorgio Armani, who also attended the event, designed the two dresses Holmes wore.
[Cruise] said his daughter didn't need protection from his religion.
Sadly, Cruise and Holmes's marriage didn't stand the test of time as they parted ways in 2012 after only six years together. He once admitted he didn't expect Holmes would file for divorce.
Still, the separation process ran smoothly, and in just 11 days, both actors had already settled. It's been almost a decade since Cruise and Holmes parted ways, and the reason for their separation is still unknown.
However, it's been rumored that Holmes was not entirely on board with Cruise's religion. She allegedly wanted to free Suri from the constraints of Scientology when filing for divorce.
During Cruise's deposition for his defamation case against Bauer media, he admitted to being offended when asked if Holmes broke up with him in part "to protect Suri from Scientology."
Initially, the actor said his daughter didn't need protection from his religion. When lawyers repeated the question, though, Cruise said, "That was one of the assertions, yes."
SEEMINGLY BROKEN RELATIONSHIP
Holmes was granted primary custody of their daughter, and although Cruise has vast visitation rights, he supposedly rarely sees her. Back in 2016, sources claimed he had not seen or spoken to Suri in over two-and-a-half years.
A person leaving the Church of Scientology (like Suri did) is considered a "suppressive person." According to the religion's rules, they are cut off from all church members, including their immediate family.
Just like most details of their relationship, Cruise and Holmes have kept the information about their post-marriage lives away from the spotlight.
It's been rumored that their divorce settlement included a clause that banned Holmes from publicly dating anyone for five years. Still, Holmes and her rumored boyfriend Jamie Foxx were photographed together a few times. They never confirmed or denied their relationship.
Suri turned 15 in April 2021, and Holmes shared never-seen-before photos of her daughter to celebrate her birthday. In the black-and-white images, Suri appeared sitting with two young boys at a birthday party and being hugged by her mom.
The birthday tribute understandably surprised Holmes's fans as she is pretty private about Suri. At the moment, it's unclear if the actress is dating someone. Her last rumored boyfriend was Emilio Vitolo Jr., but they parted ways in early 2021.
Please fill in your e-mail so we can share with you our top stories!