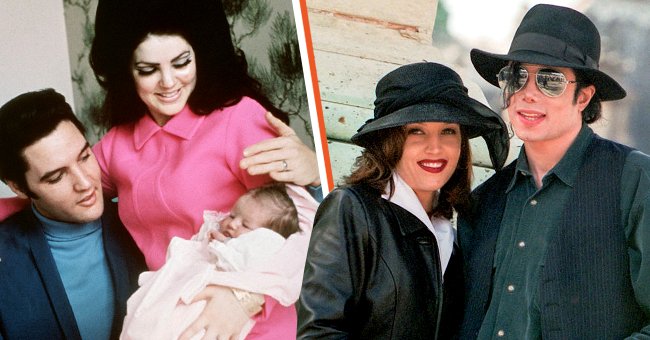 Getty Images
Priscilla Presley Was against Daughter's Marriage as She Thought 'History Was Repeating Itself'
Priscilla Presley saw parallels between her marriage to Elvis Presley and her daughter Lisa Marie Presley's marriage to Michael Jackson and was against them tying the knot. Find out about Priscilla and Lisa's famous marriages.
Elvis Presley was an iconic singer and actor who continues to be regarded as one of the most significant cultural icons of the 20th century.
He became known for his energized interpretations of songs and his sexually provocative performances. He combined those qualities with a potent mix of influences and enjoyed much success in his career.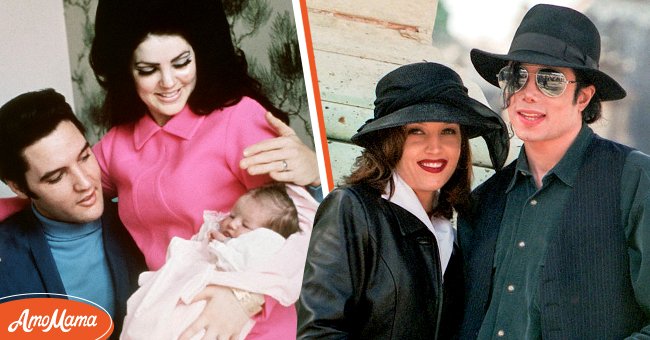 Elvis Presley and his wife, Priscilla, prepare to leave the hospital with their new daughter, Lisa Marie. Memphis, Tennessee, February 5, 1968 [left]. Lisa Marie Presley and Michael Jackson pose at the "Chateau de Versailles" on September 5, 1994 in Versailles [right]. | Photo: Getty Images
Elvis lived a short life as he died at 42 on August 16, 1977. Even so, he led an impactful life, both personally and in his career.
Elvis was married to Priscilla Presley, with whom he shared a beautiful daughter, Lisa Marie Presley. Later, Lisa had a marriage that resembled that of her parents. Find out about Elvis and Priscilla's marriage and how it resembled their daughter's.
HOW PRISCILLA AND ELVIS MET
Elvis and Priscilla met when he was 24 and already a superstar, and she was 14. Their big age difference did not matter to Elvis as he believed he could mold Priscilla into his ideal woman.
Then, Elvis was stationed in West Germany while serving with the U.S. Army. Priscilla arrived in West Germany in 1959 as the Air Force had transferred her dad there.
She was walking with her younger brother when a service member approached her and asked to accompany him and his wife to meet Elvis.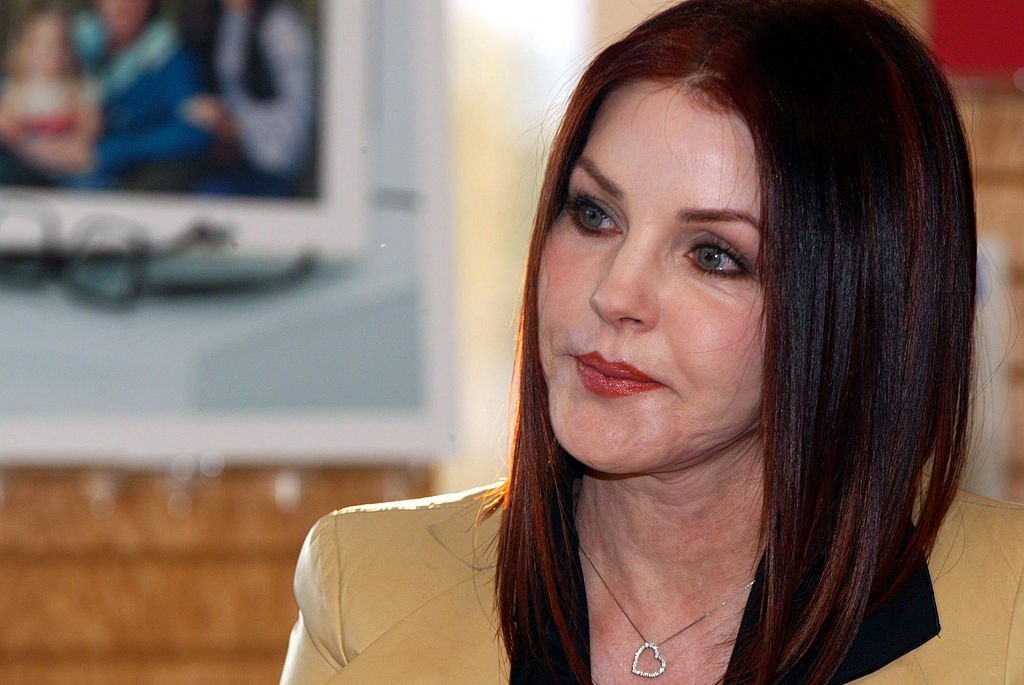 Priscilla Presley signs copies of her new book "Elvis by the Presleys," the companion CD and book at Borders Books on June 10, 2005. | Photo: Getty Images
Priscilla went with the man after getting approval from her father. When she met Elvis, he was immediately captivated by her despite her admitting she was a ninth-grader.
Elvis entertained Priscilla with several songs trying to impress her. After leaving, she assumed they would not meet again, but she was wrong.
The singer felt Priscilla resembled his recently deceased mother, Gladys. He told his friend that she was young and he could train her any way he wanted. Therefore, he wanted her to visit again.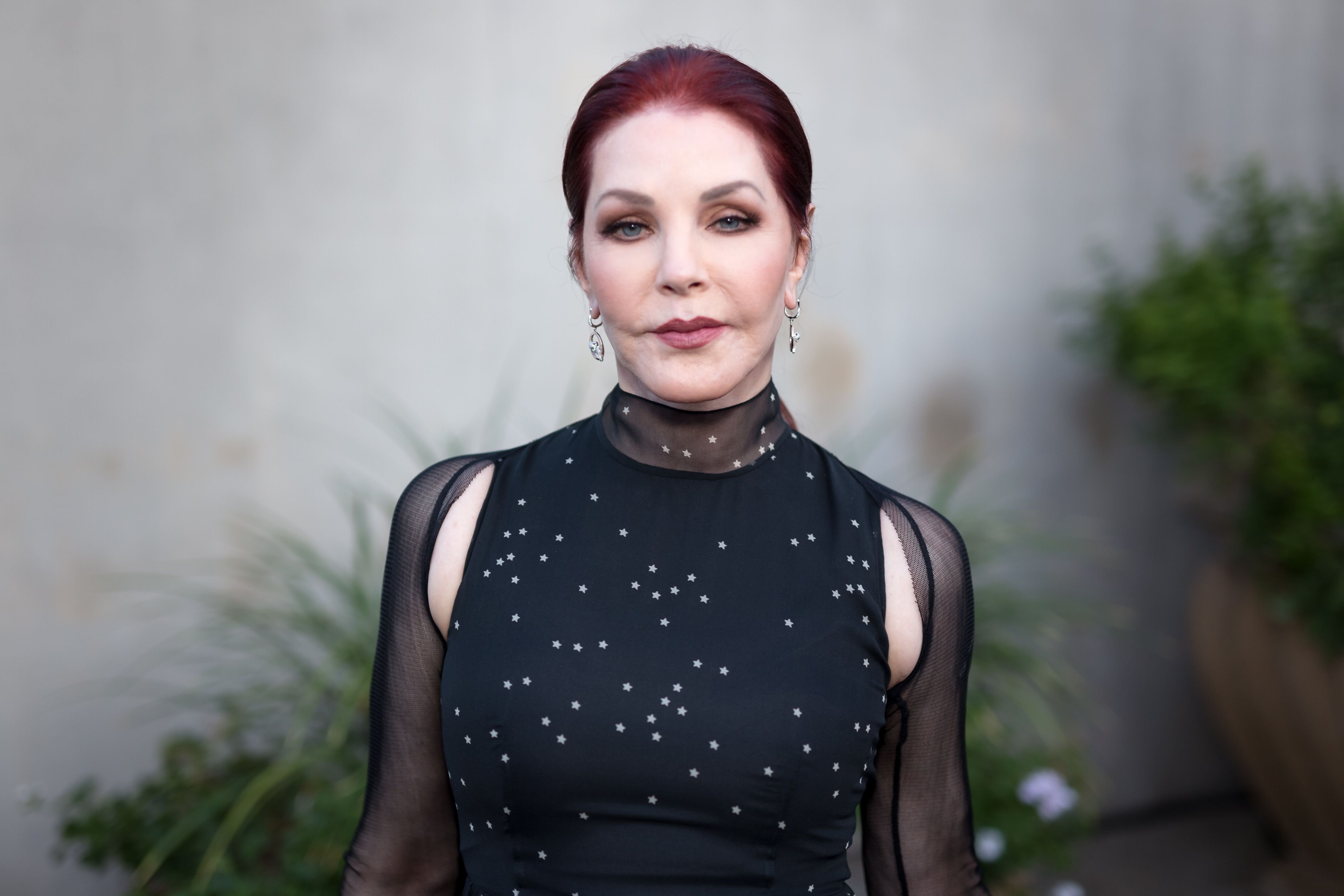 Actress Priscilla Presley at for the Annual Brent Shapiro Foundation For Alcohol And Drug Prevention Summer Spectacular at a Private Residence on September 9, 2017 | Photo: Getty Images
When they met the second time, he invited her to his room, and they shared a kiss. After going on four dates, Elvis wanted an in-person meeting with Priscilla's parents even though they objected.
When the meeting eventually occurred, Priscilla's dad asked Elvis why he was interested in his teenage daughter. The musical star responded by saying he was fond of Priscilla as she was much mature than her age, and he enjoyed her company.
Elvis also assured her parents that she would be safe with him, and they allowed him to continue seeing her. However, her age meant they could not go out in public though they often saw each other.
Despite seeing each other often, they never had sex. Priscilla wanted to, but Elvis assured her they would do so someday, but she was still too young.
In an interview with The Guardian, Priscilla revealed she met Elvis when he was lonely and had just lost his mom. Therefore, he was still grieving, and their relationship was based on bonding through his sorrow and fears.
After Elvis finished his enlistment, he left Germany and returned to the United States. Meanwhile, Priscilla remained in Germany. The lovebirds kept in touch via letters and long phone calls. However, they did not see each other until 1962.
ELVIS AND PRISCILLA'S MARRIAGE
Throughout their pre-marital relationship, Elvis and Priscilla never had sex as he valued her purity. However, he had affairs with other women.
During their relationship, he also remade her to suit himself. Priscilla later described herself as "Elvis's living doll to fashion as he pleased."
Priscilla was often left in his Graceland estate while he went off to make movies or record songs. Over the years, she was referred to as a "live-in Lolita."
Elvis's controlling manager, Colonel Tom Parker, feared there would be a potential fallout if he did not marry Priscilla and prodded him to do so.
Elvis proposed to Priscilla before Christmas in 1966. Although he felt pressured about the whole arrangement, they eventually married on May 1, 1967, when she was 21. Their wedding night was the first time they consummated their relationship.
Priscilla got pregnant immediately after they married, which devastated her as she believed she would no longer look attractive.
Priscilla revealed that her pregnancy was also hard for Elvis as he was a sex symbol and apprehensive about what his fans would think about him being a father. He also worried about how fatherhood would affect his status as a sex symbol.
The couple welcomed Lisa on February 1, 1968, nine months after tying the knot. Elvis was not a hands-on dad as Priscilla could not domesticate him and accepted that. However, motherhood changed her life and brought her and Elvis closer.
ELVIS AND PRISCILLA'S DIVORCE
Priscilla found out Elvis was reluctant to sleep with her after she gave birth to Lisa. He told her he wanted to give her the time to recover.
However, she later wrote that he mentioned before they married that he had never been able to have sex with a woman who had once given birth.
Elvis slept with other women during this period just as he did before marrying Priscilla. He spent late nights, and she eventually grew tired of waiting for his return. She had a short affair with a dance school owner.
Elvis and Priscilla seemed to have found a solution to their issues as they renewed their vows in Hawaii. However, it did not bring an end to what she was experiencing in the marriage.
She remained unfulfilled and had an affair with her Karate instructor, Mike Stone. Finally, in 1972, she told Elvis she wanted to leave him.
Elvis made attempts to save their marriage, but Priscilla felt they were too late. When he found out about her affair with Stone, he thought about hiring an assassin to kill him but eventually decided against it.
Priscilla and Elvis finalized their divorce on October 9, 1973. It was amicable, and they shared custody of their daughter and regularly saw each other.
Elvis died on August 16, 1977. Priscilla was devastated by his death and wrote in her memoir "Elvis and Me" that she wanted to die. In September, she spoke to People about her late husband, revealing the difficulties she experienced while living with him.
Priscilla said she had to learn everything, adding that women gravitated towards him, making her nervous about him going to places alone. She revealed:
"I would even go with him to get his teeth cleaned! I always had an eye on him because everyone in the world was after him."
Priscilla said she truly cherishes the great times with Elvis. She admitted that one has fears and insecurities as they grow up but understands it all as they get older.
Priscilla later married Marco Garibaldi in 1984. They divorced in 2006 but shared a son named Navarone Garibaldi, who they welcomed in March 1987.
LISA AND MICHAEL JACKSON'S RELATIONSHIP
Priscilla saw her and Elvis's relationship repeating itself when Lisa and the late "King of Pop," Michael Jackson, began a relationship.
Lisa and Jackson married in 1994, 20 days after Lisa's divorce from her ex-husband, Danny Keough, with who she shares two children, daughter Riley and son Benjamin Storm.
Lisa and Jackson first met in 1975 when she was seven years old and attended several of the pop star's concerts in Las Vegas. Their adult relationship reportedly began in November 1992 in Los Angeles.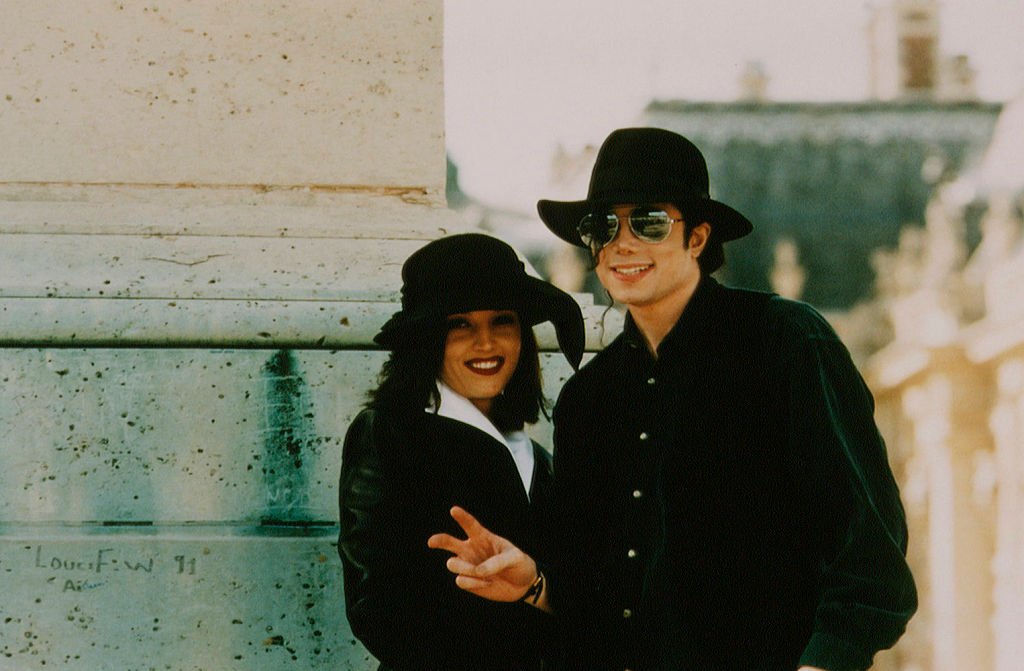 Michael Jackson and Lisa Marie Presley pose for a photo in France in September 1994 | Photo: Getty Images
Jackson found himself entangled in child molestation accusations, which became public, and he was dependent on Lisa for emotional support.
She was concerned about his failing health and drug addiction and believed he was innocent of the accusations against him. Lisa started falling for him and felt she could save him.
Shortly after their marriage, she tried persuading Jackson to settle his allegations out of court and go to rehab for recovery, which he eventually did. However, Priscilla was not happy about Lisa's marriage to Jackson and had issues over it.
The concerned mother explained she felt that way because of her experience marrying someone with a similar iconic status to Jackson. Thus, strangely, she felt history was repeating itself. She said:
"It's true she [Lisa] grew up in Graceland and then lived with Michael Jackson in Neverland, and Michael was like a child and just wanted to have fun all the time. How do you not gravitate to that?"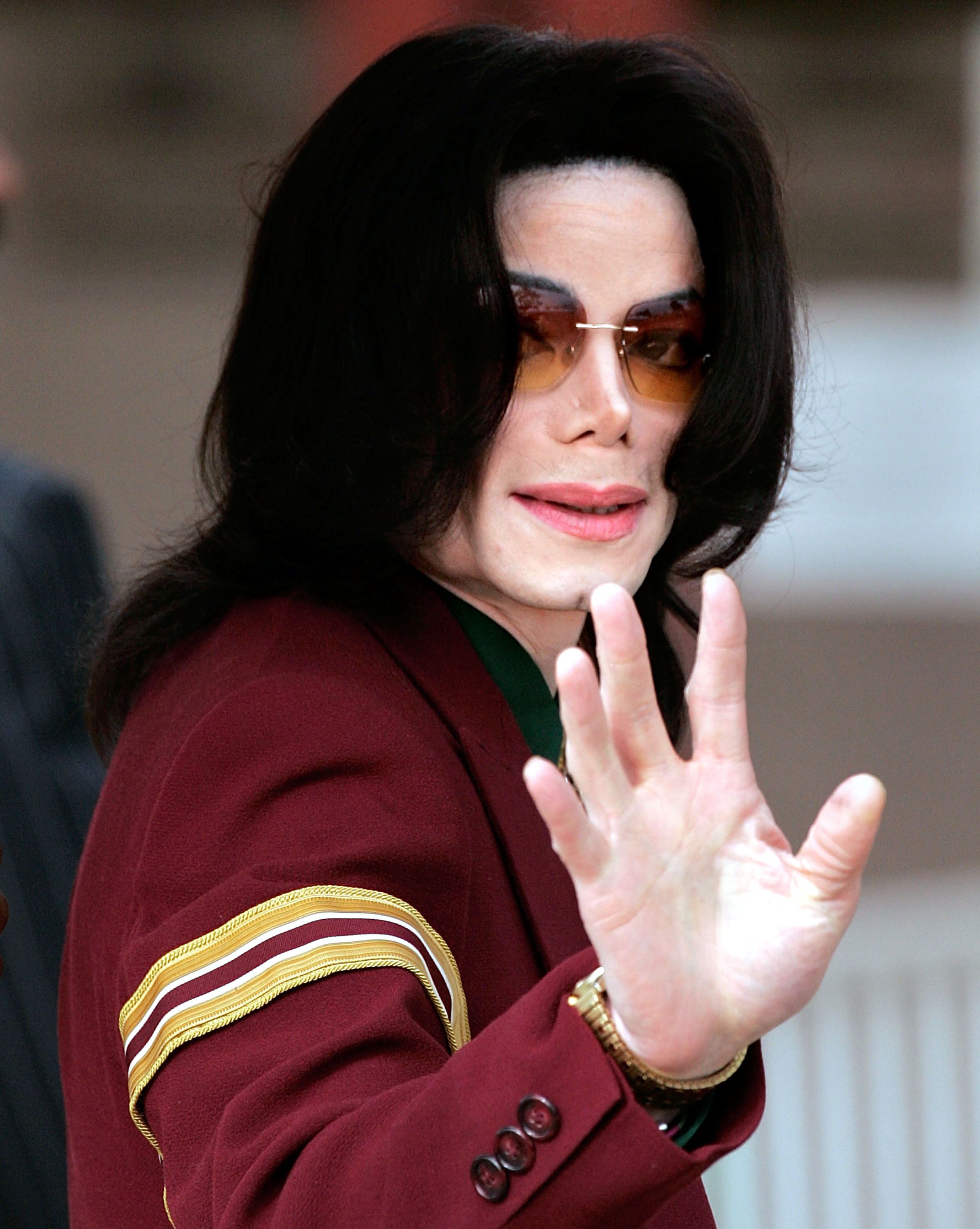 Michael Jackson arrives at the Santa Maria Superior Court for testimony during the third week of his child molestation trial March 17, 2005 in Santa Maria, California | Photo: Getty Images
Priscilla said Lisa probably saw something of her dad in Jackson. However, as her mom, she was concerned because she could see their relationship could be a disaster.
Priscilla admitted that the right thing she should have done at that point would have been to bite her tongue but said she did not do so.
Just like she predicted, Lisa and Jackson's marriage did not last long. Lisa filed for divorce from Michael on January 18, 1996, citing irreconcilable differences. They finalized their divorce on August 20, 1996.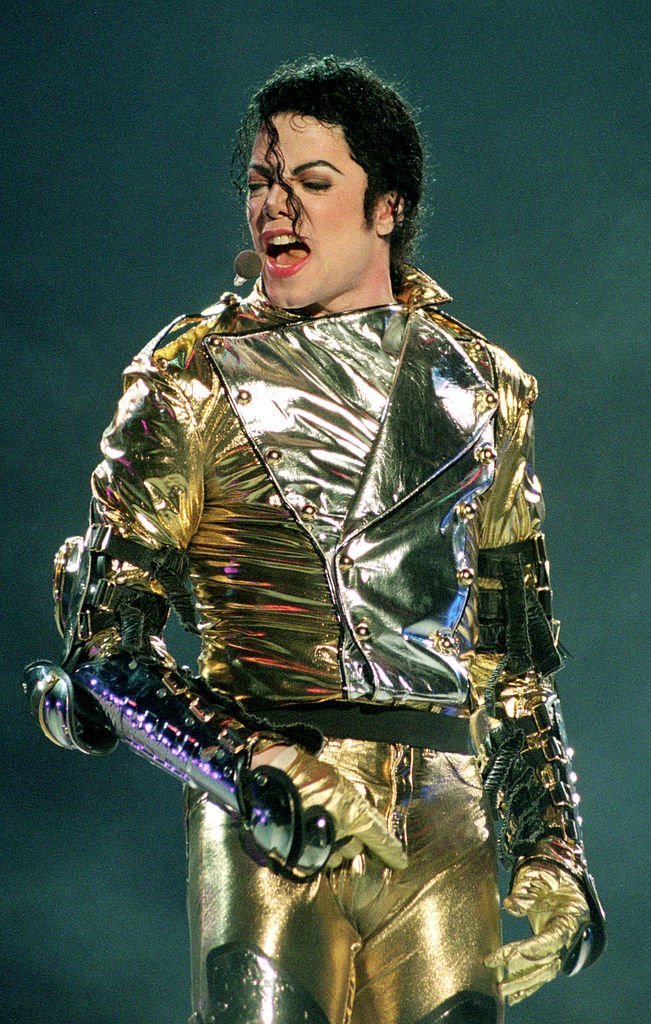 Michael Jackson performs on stage during is "HIStory" world tour concert at Ericsson Stadium, November 10, 1996 | Photo: Getty Images
Afterward, Jackson married nurse Debbie Rowe on November 14, 1996. With her, he had two children, Prince and Paris. However, they divorced on June 25, 2009.
Meanwhile, Lisa had a short-lived marriage with actor Nicolas Cage. She later married her guitarist Michael Lockwood in January 2006 and shared two children, twins Harper and Finley, with him. They divorced in June 2016.
Please fill in your e-mail so we can share with you our top stories!
news.AmoMama.com does not support or promote any kind of violence, self-harm, or abusive behavior. We raise awareness about these issues to help potential victims seek professional counseling and prevent anyone from getting hurt. news.AmoMama.com speaks out against the above mentioned and news.AmoMama.com advocates for a healthy discussion about the instances of violence, abuse, sexual misconduct, animal cruelty, abuse etc. that benefits the victims. We also encourage everyone to report any crime incident they witness as soon as possible.