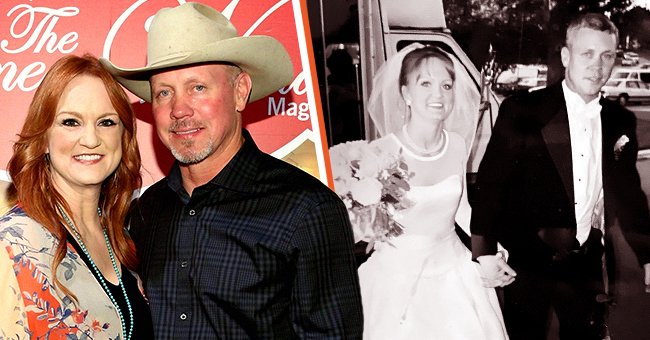 Instagram/thepioneerwoman | Getty Images
Ree Drummond Shares 25 Years and 5 Children with Her Husband Though She Almost Gave It Up
Cookbook author and one of the beloved Food Network stars, Ree Drummond, and her husband, Ladd Drummond, recently celebrated their 25th wedding anniversary.
Even though they are happily married with five children, Ree Drummond was once ready to give up on her husband for a life far away from him.
Ree Drummond, who had considered herself a city girl, never imagined living her life on a ranch. Meeting her husband changed that, and she is happy that her life turned out so differently than she thought it would.
ABOUT ANNE MARIE "REE" DRUMMOND
Born Anne Marie Smith on January 6, 1969, she was nicknamed Ree and grew up in Bartlesville in Oklahoma. After Ree graduated from Bartlesville High School in 1987, she left Oklahoma to attend college in Los Angeles.
She graduated in 1991 from the University of Southern California, where she first studied journalism before switching to gerontology. She had hoped to study law in Chicago, but her plans changed after marriage.
On September 21, 1996, Ree married Ladd Drummond, a fourth-generation Oklahoma cattle rancher, whom she refers to as the "Marlboro Man."
After her marriage, she gave up the city life to live on the ranch with her husband. Her decision earned her the nickname "The Pioneer Woman." Together, the couple has four biological children and one foster son.
In 2006, Ree started blogging under her new nickname, "The Pioneer Woman." She began by writing about her life on the ranch and homeschooling her kids. After a year, she posted her first food recipe.
She became famous for her detailed cooking instructions and fantastic food photography. In 2009, her blog was listed as one of TIME Magazine's "25 Best Blogs" globally.
That same year, she published her first cookbook, "The Pioneer Woman Cooks: Recipes from an Accidental Country Girl." From children's books to more cookbooks and recipes, Ree has published over a dozen more books.
On August 27, 2011, Ree launched her daytime television series on the Food Network. In 2016, Ree and Ladd opened a restaurant retail store called The Mercantile.
ABOUT LADD DRUMMOND
Ladd Alexander Drummond was born into a family of ranchers on January 22, 1969. His ranch, which covers 433,000 square miles, is one of the largest ranches in the United States.
Even though he spent all his life in Pawhuska in Osage County, where their ranch is located, he got his degree at Arizona State University. The lover of football still supports Arizona State.
Ladd is known as the "Marlboro Man" on Ree's blog because she once believed that no one should put their real name on the internet. However, she didn't originally come up with this nickname for him.
One time, she invited friends over to their ranch house for the first time when she hosted a baby shower for her best friend, Hyacinth. Ladd was seated outside, and one of the guests had referred to him as the "Marlboro Man" in admiration.
Besides being a great rancher and a football lover, Ladd is also a skier who loves Dr. Pepper, loves to watch movies with Ree, and is also a great griller.
His grilled tenderloin recipe has become a legendary recipe in their household. When he's not in the kitchen, he loves to play pranks on Ree while she's going about her daily business.
REE AND LADD'S RELATIONSHIP
When Ree first met her husband, Ladd, she was struck. The couple met at a bar in Oklahoma. On the day they met, Ree made a last-minute decision to join her friends at the bar for a Christmas break drink.
Just as she settled in with her friends, she saw him across the room in his jeans, cowboy boots, looking tall, strong, and mysterious while sipping bottled beer.
After a few minutes of staring at him, Ree wanted to see his hands, and when she saw that they were big and strong, she decided to talk to him.
After two hours of talking, Ladd told her he had to leave. It was after he left that Ree realized that she didn't know his name. However, she had expected him to call her the next morning, but he didn't.
For over a month, he didn't call, and even though she was disappointed, she consoled herself with the fact that she was going to the city to start a new life and didn't want to get attached to a cowboy.
She had her brother's wedding to look forward to and even ended up with her brother's best friend Walrus as a date for the wedding. After the festivities of the wedding, her phone rang late Sunday afternoon.
Ree had assumed it was Walrus calling from the airport because he had been the perfect date. When she picked up the phone, she realized it was her "Marlboro Man."
It had been four months since they first met, and seeing as she was already planning her trip to Chicago, she decided to sound casually over the phone. But Ladd had left an indelible mark on Ree's psyche.
He asked her out to dinner, and she agreed even though she felt there was no point to it. He picked her up, both of them talked all through dinner. Ladd dropped her off, and he decided to walk her to the door.
On the sidewalk, the spike heel of her boot got caught in-between the slabs. Just as she was about to fall, Ladd caught her. At that moment, they shared a kiss that changed her life.
As she revealed in her book "The Pioneer Woman: Black Heels to Tractor Wheels—a Love Story," by the time the kiss was over, her life as she had always imagined it was over, too. But she didn't know it just yet.
Although it took them several months to start dating, they both knew they were right for each other. Yet, Ree had never imagined settling on a ranch because she wanted to be a big city girl.
Ladd, Ree was ready to put her city dreams aside in favor of this new dream: to marry Ladd. When they got married, Ree had to adjust to life on the ranch. She admitted that while it was worth it, it wasn't that easy.
THE DRUMMOND FAMILY
After their wedding in September 1996, Ree and Ladd welcomed their first daughter Alex on June 25, 1997. On May 1, 2021, Alex got married to her University sweetheart Mauricio Scott.
On October 31, 1999, the Drummonds family grew as they welcomed their second daughter, Paige. She's currently at the University of Arkansas. The couple welcomed their football-playing son, Bryce, on September 17, 2002.
Bryce, recruited to play quarterback at the University of North Texas, has a younger brother Todd born on June 4, 2004. Todd is still in high school, but he is also a football player.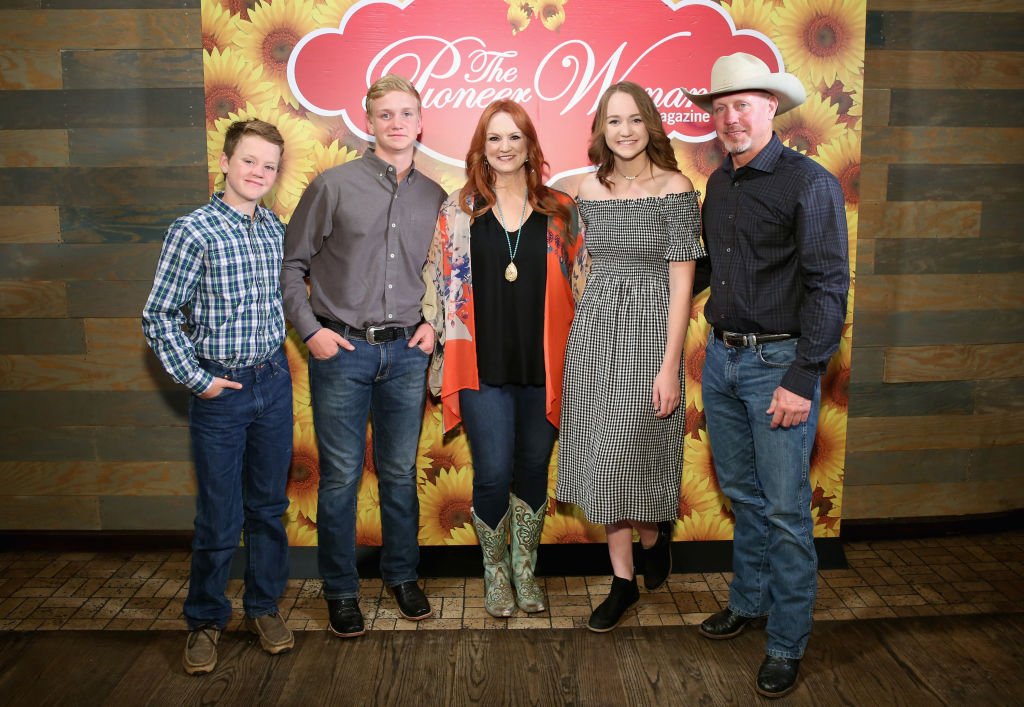 Todd Drummond, Bryce Drummond, Ree Drummond, Paige Drummond, and Ladd Drummond at The Pioneer Woman Magazine Celebration on June 6, 2017, in New York | Photo: Getty Images
The fifth addition to their family was Jamar, who became their foster child. Ree didn't share information about him on social media until he turned 18 because it was against the state agency's policy.
Ree and Ladd had never thought about fostering before Jamar came into their life. However, his circumstances were unique, and they opened their home to him.
The couple loves their large family, and Ree confesses that Jamar, whom she's proud of, has become an inextricable part of their wacky family.
Please fill in your e-mail so we can share with you our top stories!