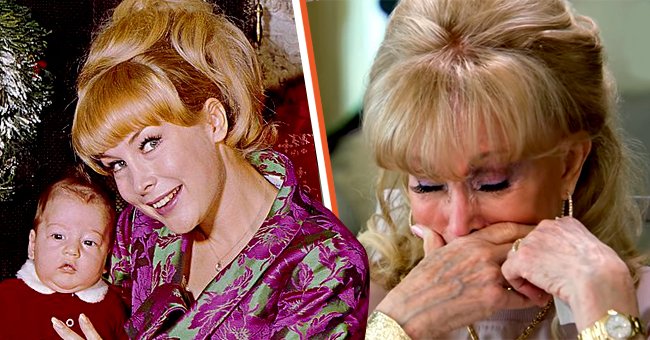 YouTube/TLC | Getty Images
Barbara Eden Was 'Basically Ignorant' in Recognising Signs of Her Teen Son Matthew's Addiction
Veteran actress, Barbara Eden, lives in constant regret about her only child's upbringing. Her son got addicted to drugs from a young age, a habit that continued into his adult life and led to his death years later.
In her memoir, "Jeannie Out of the Bottle," Barbara Eden details the harrowing events that greatly impacted her son Matthew Ansara's childhood. She writes:
"It is only now that I've been finally able to look back and piece together the full, horrifying saga of my son's tragic descent into drug addiction."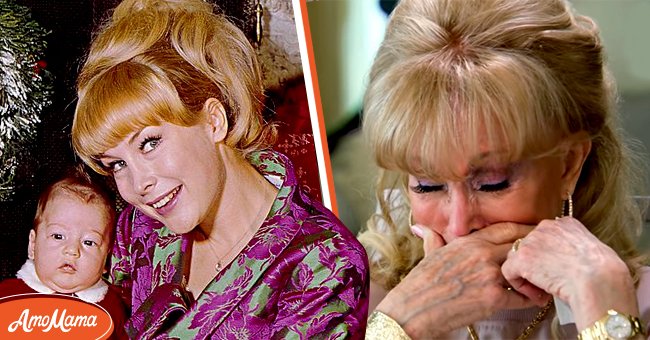 Actress Barbara Eden pictured with son Matthew Michael Ansara during Season 1 of the TV sitcom "I Dream of Jeannie" | Photo: Getty Images
MATTHEW'S CHILDHOOD
Eden shared it all started in 1974 when she and her then-husband Michael Ansara and their son Matthew lived in their ranch-style home in the San Fernando Valley.
She describes the neighborhood as a community with well-heeled and educated residents. However, only one individual living nearby was a bad influence on the kids:
"A wealthy hippie, a man with children of his own, was growing pot in his garden and smoking it with the neighborhood kids."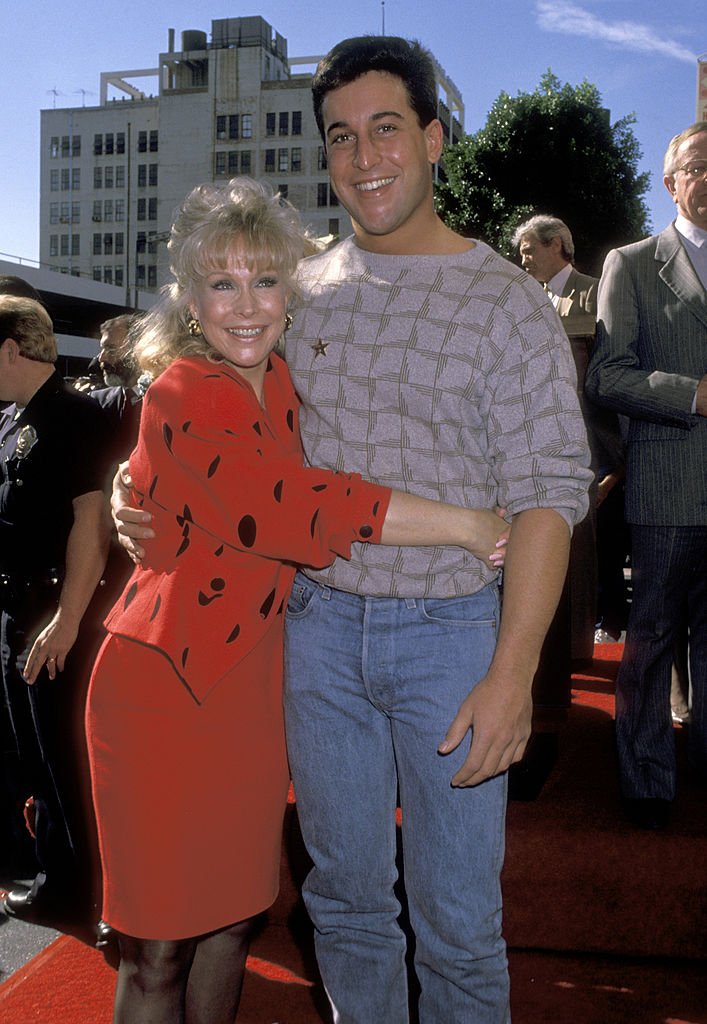 Singer Barbara Eden and son Matthew Ansara attend the "Hollywood Walk of Fame Ceremony Honoring Barbara Eden with a Star" on November 17, 1988 at 7003 Hollywood Boulevard in Hollywood, California | Photo: Getty Images
Eden explains that she and her spouse were unaware of what was going on at the time and stated perhaps the man thought he was fun by enticing minors with such substances.
"If I ever came face-to-face with him, I'd happily kill him," she notes. Eden then writes, saying she previously wondered if they lived in a different neighborhood would their child have fallen prey to substance abuse.
The "I Dream of Jeannie" alum writes that Marijuana can be highly addictive. She explains the addiction intensifies when a child experiments with it from a young age and has a marked genetic predisposition to addiction.
She then reveals that Matthew fell in both categories while disclosing a history of alcohol addiction from her family and Michael's family.
The TV star adds her son's early addiction to Marijuana easily led to an addiction to harder drugs later. Eden notes that one other factor that may have contributed to his drug abuse was her divorce from Michael:
"Another factor, one for which I will blame myself to my dying day, is that Matthew was only nine when I asked Michael for a divorce, and he never really recovered from having his hitherto happy home broken up."
Eden says her son wanted both his parents to be together forever, adding she denied him that "and will feel guilty about that for the rest of my life."
She states that if given a chance to turn back the hands of time, she would have done things differently and stayed with Michael just until their baby boy was old enough to handle their split.
The Arizona native explains she never imagined the effect their divorce would have on Matthew at the time. However, as years went by, her little boy seemed like a happy child. She mentions that he slept a lot, but she never dreamed of him doing drugs.
Eden shares she and Michael were not neglectful or permissive parents; instead, they were the opposite. She always checked out her children's friends and even visited their homes to ascertain that everything else was fine.
"Of course, I didn't know what a Marijuana bush looked like," she writes. Eden says, looking back, one of the issues was the way she was raised, which she says discouraged her from looking into Matthew's drawers or snooping into his closet.
She says if she had to go through the difficult time again, she would do it because it is her responsibility as a parent to leave no stone unturned instead of carrying on being oblivious.
Eden admits, "Despite my foray into the world of party drugs with Chuck, I was basically ignorant about drugs and addictive behavior."
Their son experienced weight loss, had bouts of unexplainable temper, was sluggish, slept hours on end, and had a personality change. The singer says it was because she and Michael partly lived life in a bubble, having a child who adored them.
But they soon realized that love is not enough when it comes to addiction. Neither of them knew that Matthew was secretly using drugs and spent most of his nights in his bedroom doing nothing.
However, things became more apparent in 1984 when their child was nineteen and was studying at City College in the San Fernando Valley. But it was only according to his parents' knowledge:
"Each morning, I watched proudly as he set off for college, his books in hand, eager to start a day of studying, or so I fondly imagined."
Then came a day when their bubble eventually got burst. Eden writes that Matthew had forgotten his books on top of the kitchen counter, and she found them and decided to hurry to campus to give them to him before his class started.
When she arrived, she looked all over for him but could not find him and, in desperation, headed to the administrator's office and explained the situation. After that, she asked directions to his class, and to her dismay, the administrator shook her head and said:
"I'm sorry, we don't have a Matthew Ansara at this college."
Being in denial, Eden says she asked her to check again, and she gave her the same response afterward. That is when she realized that her son never registered at the institution, nor had he ever set foot on the premises.
Eden describes her emotions at the time as sad and afraid. She says she drove back home and waited there for him, trembling with mixed feelings of anger and fear.
When Matthew arrived home, she confronted him about not going to college, lying, and pretending to be going there while he was not. She explains that her generally sweet and kind boy became enraged at that moment.
Eden says she did not even manage to get an explanation from Matthew, he did not make any excuses, did not apologize, and there was not even a glimmer of remorse from him. After that, he stomped off into the night.
Eden and Michael summoned a drug counselor who gave them a long list of all the drugs Matthew had been consuming regularly. His reaction was astonishing as he lunged for the list screaming for the counselor not to hand the list to his parents:
"Don't hurt my mom and dad! I don't want them to know anything about what I've been doing."
But it was already too late for his plea because they eventually read it, and their worlds were turned upside down upon learning the truth. Eden says she and Michael were in disbelief but that their son had been using every hard drug in the world and not in small quantities either.
The "Loco Love" star writes that she started crying at that moment, and Matthew promised he would kick the habit, but the nightmare had only begun. Over the next few years, he fought against his drug addiction, but it was a losing battle.
At the time, Eden and Michael were already divorced, but they united in support of their son. She says they prayed every night that he would overcome the battle of drug use.
The now-90-year-old shares she also tried her best to help Matthew and that one of the hardest lessons came from when he went to yet another rehab. She found out that he was using again and locked him out of the house.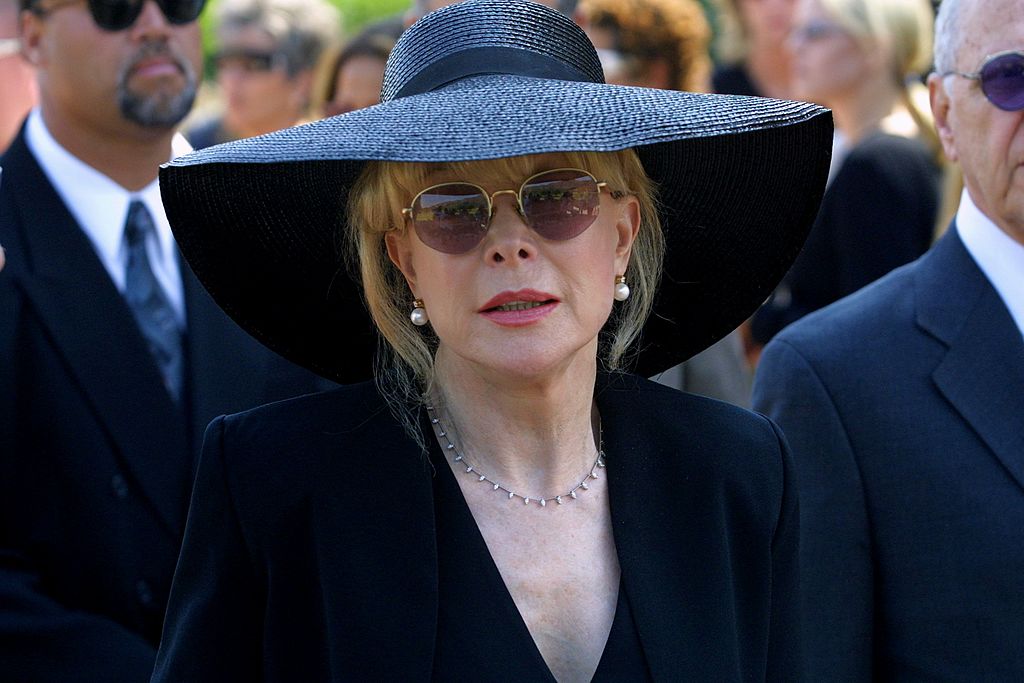 Barbara Eden attends the funeral for her son Matthew Ansara July 2, 2001 in Hollywood, California | Photo: Getty Images
MATTHEW'S DEATH
Over fourteen years, her child was in and out of rehab constantly. Every time he went, she would stand there crying and praying to God for the process to work this time around, hoping for him to kick the habit before it destroys him eventually.
Sadly, it did. After suffering from drug abuse his entire life, Matthew tragically died on June 26, 2001, at age 35 from a drug overdose. Regarding his passing, Eden shared:
"Our joy was boundless, and our hopes that he would live a healthy and happy life were unlimited. Matthew meant everything to both of us and always would."
Despite it being more than twenty years since he passed, Eden still honors his memory by ensuring she does not pretend like he never existed. She told Closer Weekly in August 2021 that she has pictures of him all around while complimenting his character.
In October, she told People that when her son was clean and sober, he was a "beautiful human being inside and out." Of his passing, she said she does not think of anything worse than one to lose their child.
Eden admitted that she was always on the edge of tears after Matthew's death, adding that he was still her baby even though he was in his thirties. She and Michael welcomed their son in August 1965 in Los Angeles, California.
EDEN'S HUSBANDS
The former couple was married for sixteen years before parting ways. Eden and the stage actor tied the knot in 1958 and divorced in 1974. She later remarried in 1977, walking down the aisle with Charles Donald Fegert, a Chicago Sun-Times executive at the time.
The pair were married for five years before they divorced in 1982. After that, Eden enjoyed the single life for several years before she got married for the third time to Jon Eicholtz in 1991, an architect. The two are still married to date.
As a TV star, Eden made her debut in 1956's "Back from Eternity," a role followed by several films throughout the 1950s and 1960s.
In 1965, she became a household name playing genie in the bottle on the TV sitcom "I Dream of Jeannie," the popular show that ran for five years.
Please fill in your e-mail so we can share with you our top stories!
The information in this article is not intended or implied to be a substitute for professional medical advice, diagnosis or treatment. All content, including text, and images contained on news.AmoMama.com, or available through news.AmoMama.com is for general information purposes only. news.AmoMama.com does not take responsibility for any action taken as a result of reading this article. Before undertaking any course of treatment please consult with your healthcare provider.