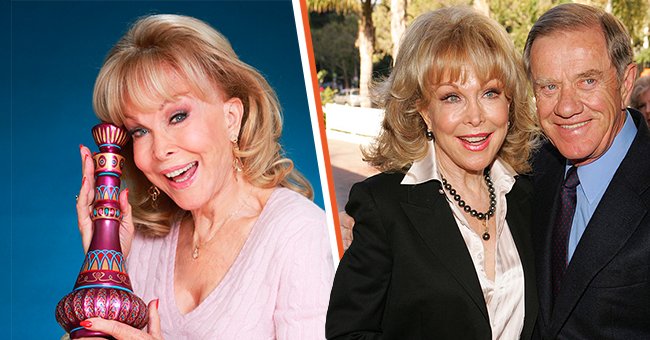 Getty Images
Inside Barbara Eden's Lavish Mansion Where She Lives with Her Husband of 3 Decades
Barbara Eden captured hearts for years as the 2000-year-old lovesick genie on the show "I Dream Of Jeanie." However, she laid claims to only one of those hearts and had been married to him for the last three decades.
If the video tours were anything to go by, actress and producer Barbara Eden sure lives in paradise with her longtime husband, John Eicholtz.
Aside from the lavish layout and decor, sharing such a magnificent space in the heart of Los Angeles with the love of her life is the best anyone could hope for, especially after two failed marriages.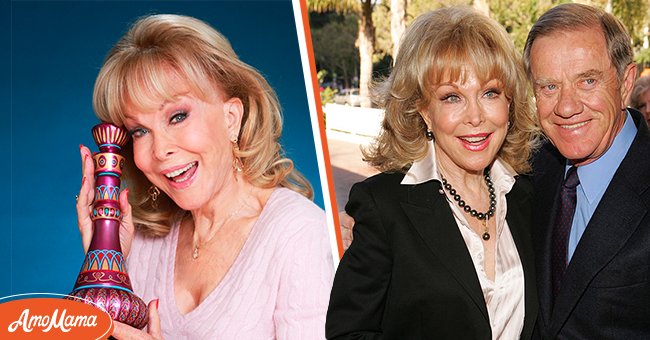 Actress Barbara Eden poses for a portrait in 2016[left] Barbara Eden and Jon Trusdale Eicholtz during Red Buttons "A Celebration of Life and Laughter" at The Century Club [right] | Photo: Getty Images
EDEN'S ROMANTIC HISTORY
The Jeanie roleplayer has been married thrice, with her first two marriages ending in divorce. In her memoir, "Jeanie Out Of The Bottle," the actress opened up about her failed marriages and their impact on her life as a whole.
Her first marriage was to actor Michael Ansara in 1958; it lasted for fourteen years before the duo went their separate ways. They had one son together, Matthew Ansara, who died of a drug overdose in 2001 at 35.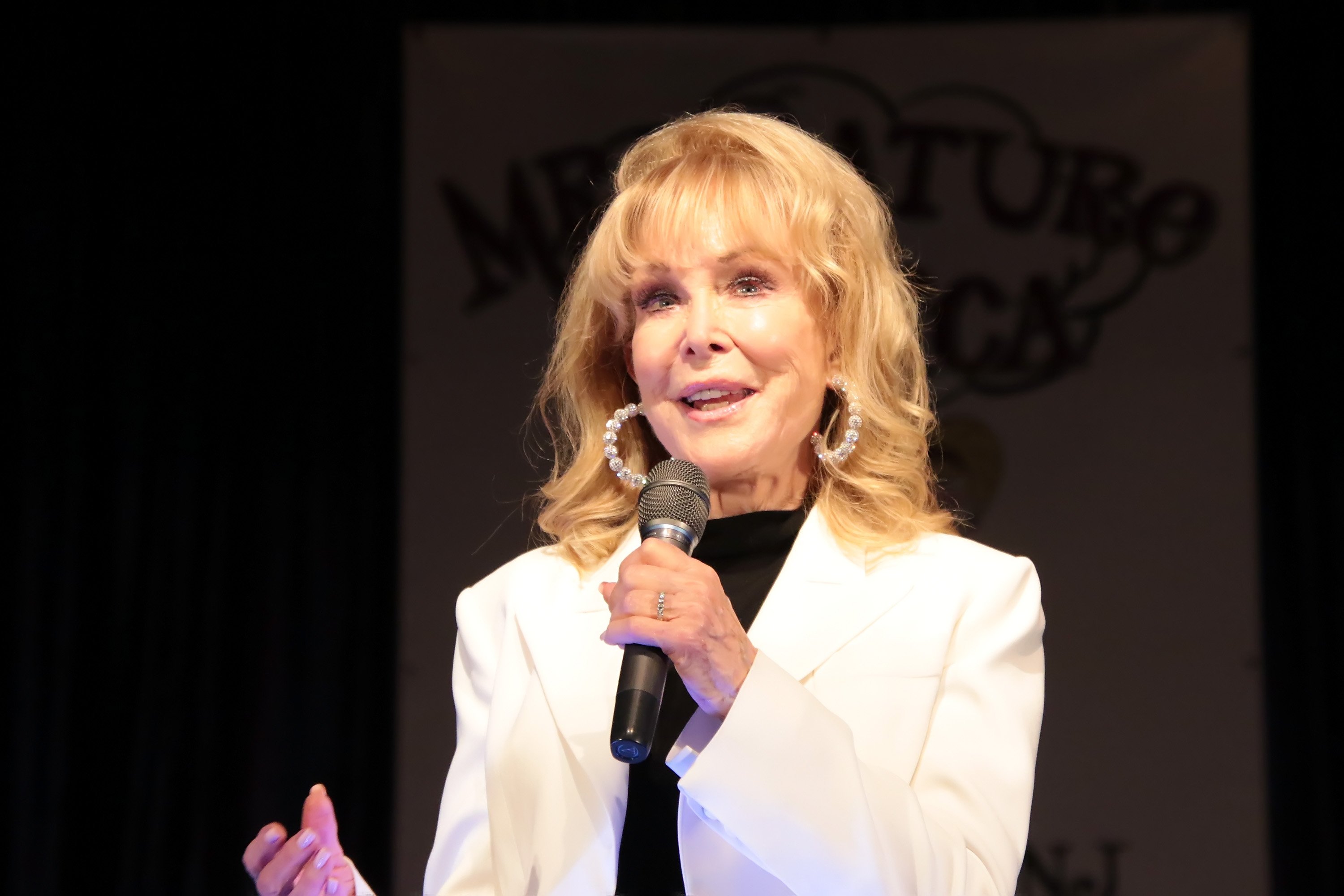 Barbara Eden, Special Guest & Emcee hosts the 2019 Mr. Mature America Pageant at the at Ocean City Music Pier on April 13, 2019.| Photo: Getty Images
Shortly after the divorce, Eden found love in realtor and architect Charles Ferget. They exchanged vows in 1977, marking the beginning of their five-year union.
Following her 1982 split, the star resigned herself to a single life, focusing on her career while raising her only child.
Finally, she proved the third time was a charm when she met and married Jon Echoltz in 1991. They have remained a couple, enjoying marital bliss to date.
MEET JON EICHOLTZ
Jon Eicholtz is an architect and a real estate developer who captured the heart of Hollywood sweetheart Eden in the nineties, ultimately making her his wife.
While he has no career in showbiz, the Kansas University graduate is best known for his marriage to the "I Dream Of Jeannie." Notwithstanding, he attained impressive success in his field, building a successful career.
Despite their varying professional paths, Eden and Eicholtz have a lot in common, including their love for traveling around the globe and making memories.
THE SECRET BEHIND THE LASTING UNION
Although Barbara Eden and Jon Echoltz seem like two people from different realms given their career paths, they have strived to stay united in love, forging a lasting union.
The star has been open about the secret to their marriage and how they have managed to remain a couple even after thirty years. She once disclosed:
"I think you have to like each other a lot. No, you really do."
In a previous interview, the Hollywood legend offered a more detailed insight into their lasting marriage and the secret to sustaining a healthy relationship.
She said,
"You should walk in the other person's shoes if you're having a little problem. Try to see their side of it. It's not easy! But try." That approach is one indispensable key that has kept the twosome's marriage thriving to date.
LOVE IN PARADISE
Even more fascinating than spending the rest of her life with her soulmate by her side, Eden gets to spend it in her luxurious Beverly Hills home in Los Angeles County.
The producer once gave fans a peep into her lavish abode, taking People on a tour of the property ahead of her interview for the October 2021 issue of the magazine.
She commenced the tour with a dive through her study, which housed a collection of priceless artifacts and pictures collected over the years.
DECADES OF MEMORIES
On one side of the shelf, the star displayed her collection of genie bottles of all sizes and shapes, mostly gifted to her by fans.
The excitement and fondness radiating through her eyes as she showed off the unique pieces were unmistakable, proving she was quite the collector.
She cheerfully explained the origin of each piece she picked up before settling on one of her dearest possessions, the original genie bottle.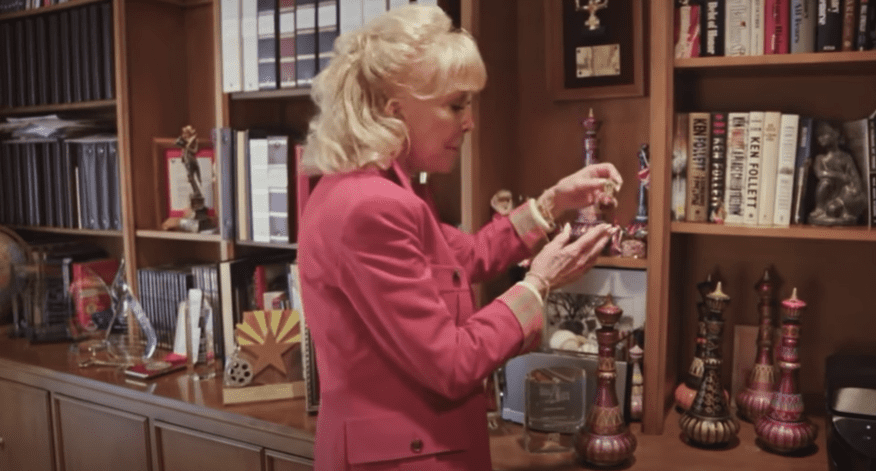 A picture of legendary entertainer, Barbara Eden showing off her collection of genie bottles | Photo: Youtube/PEOPLE
Holding up the priceless purple and gold bottle used in the 60s sitcom, the icon explained she usually kept it in a bank. The piece bore a few nicks and wears around it as a telltale sign of age, but the memories held with the iconic bottle, as well as its significance, made it one priceless jewel.
She proceeded to flaunt some of the awards and recognitions she had acquired over the years, including the Hollywood Star Walk of Fame and the first Hollywood Beauty Award.
These priceless memorabilia lay scattered across her shelf in specific positions. As she displayed each one, she recounted some of the memories built around them, making it somewhat emotional.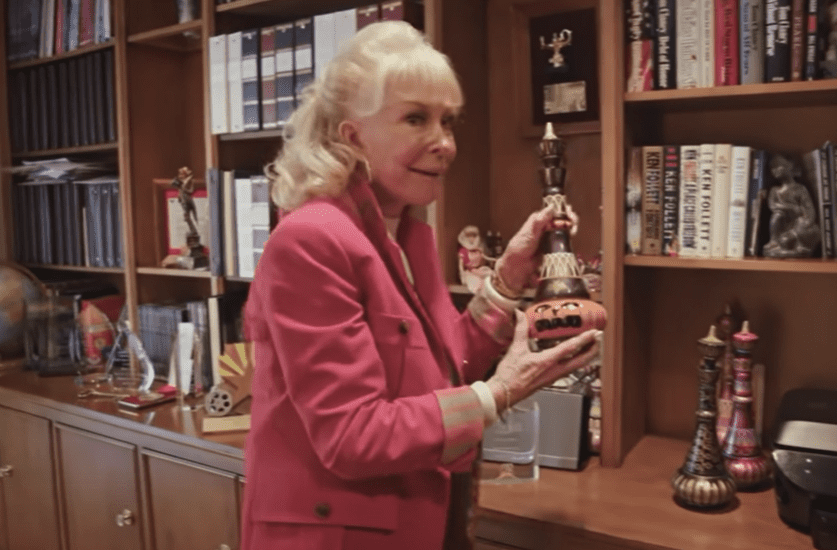 A picture of legendary entertainer, Barbara Eden showing off her collection of genie bottles | Photo: Youtube/PEOPLE
A LIFETIME IN PICTURES
Eden's next stop was a wall lined with photos from top to bottom, which depicted her decades-long career.
From photos of herself on the set of some of her most iconic movies like "Your Mother Wears Combat Boots" to pictures taken with Elvis, dozens of black and white pics covered the wall, like relics from every point in her last seven decades in showbiz.
Hopefully, more pictures will join the collection soon enough, as the 90-year-old has been vocal about her intentions not to retire anytime soon.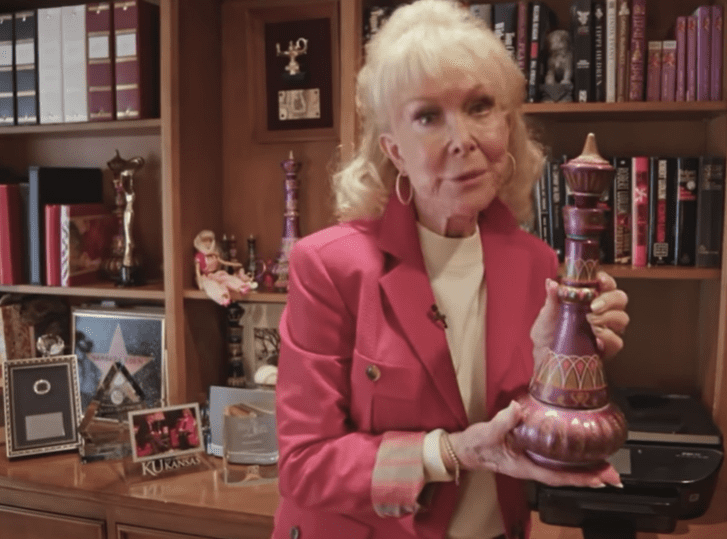 A picture of legendary entertainer, Barbara Eden showing off her collection of genie bottles | Photo: Youtube/PEOPLE
TWO FAVORITES
The photo display concluded the tour of the office. The star then led the group outside, where her husband stood in wait with their labradoodle Bentley.
Her eyes lit up upon seeing her, two favorite companions. She quickly retrieved the pup from her husband, excited to show him off to her guests and the rest of the world.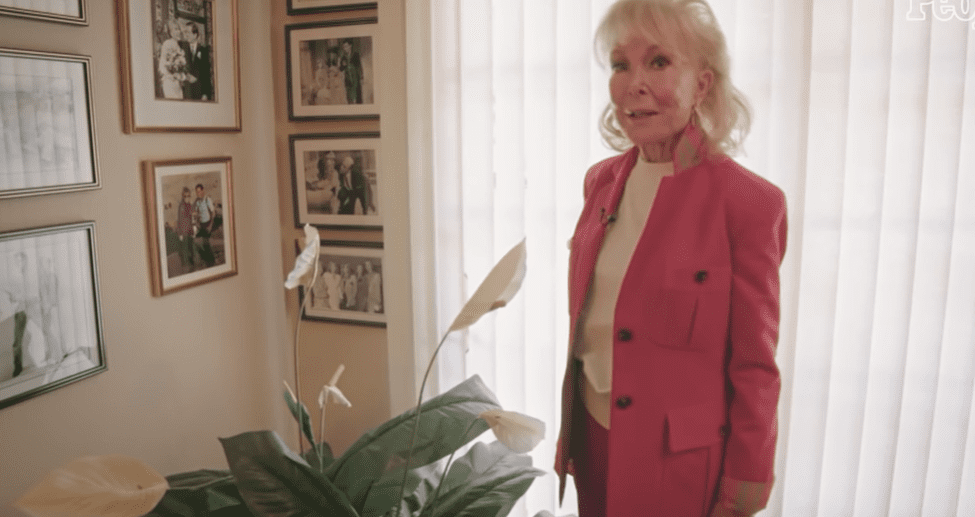 The legendary entertainer, Barbara Eden giving a tour of her beautiful mansion in Beverly Hills. | Photo: Youtube/PEOPLE
THE TALE BEHIND THE DECK
She led the labradoodle to another treasured part of her home, which held memories like the rest, mostly of her mother. The camera panned the yard, capturing the exotic view, the fenced-in areas, a line of flowers and shrubs, and a narrow pool.
Eden explained that what she loved most about her yard was the view, which was breathtakingly beautiful, open, private, and close to her heart.
Going further, she recalled how her mom used to live with her when she first bought the house. Her mom encouraged her to include a deck in the yard, which she did.
However, the inclusion landed her in a confrontation with the homeowners, who claimed she never got a permit. Everything turned out well eventually, and she got to keep her deck.
Better still, the turn of events encouraged more people in the neighborhood to include decks in their properties, and soon, the decked-in narrow pool became a common feature in homes within the serene Beverly Hills neighborhood.
Please fill in your e-mail so we can share with you our top stories!