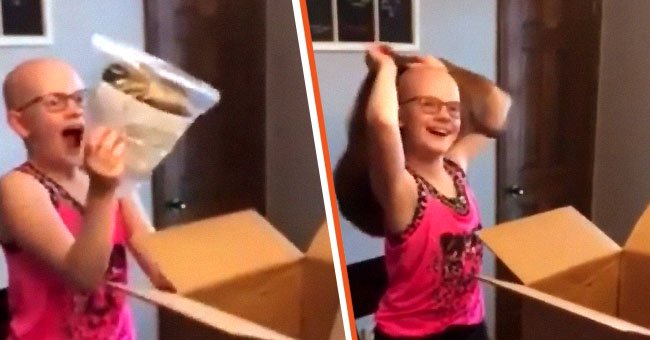 facebook.com/SupportWigsForKids
'No One's Gonna Recognize Me!': Bald Girl Can't Stop Beaming as She Tries on Wig for the First Time
What does hair mean to you? We don't tend to think about it, but our tresses can form a massive part of our identity. Although Taylor most likely already had a good idea of who she was, her new gift helped her explore this just a little bit more.
Childhood is a beautiful phase of life. With barely any responsibilities, one has all the time to spend with their friends, play video games, or have fun outside.
However, as many know, kids can be cruel, and if you look different, you might get bullied, which can lead to low self-esteem and lifelong scars, physical or emotional.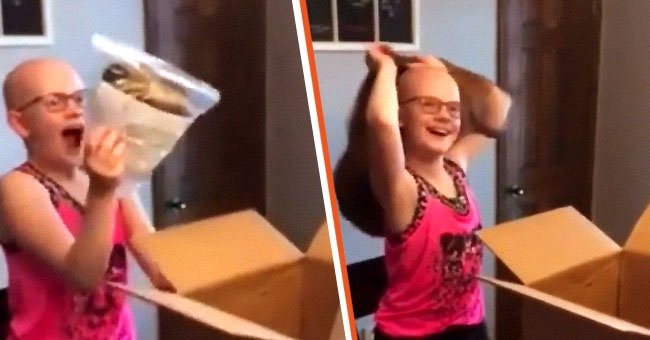 Taylor taking a wig out of a box [left]; Taylor trying on a wig [right]. │Source: facebook.com/SupportWigsForKids
A PRESENT FOR A PRINCESS
A young girl Taylor was different, or rather unique and beautiful, having grown no hair, but she opted for a wig to make herself feel better.
In 2018, a video was shared on Facebook that showed the bald and beautiful young Taylor slowly pulling a package out of a box. She shimmered with excitement as she did so.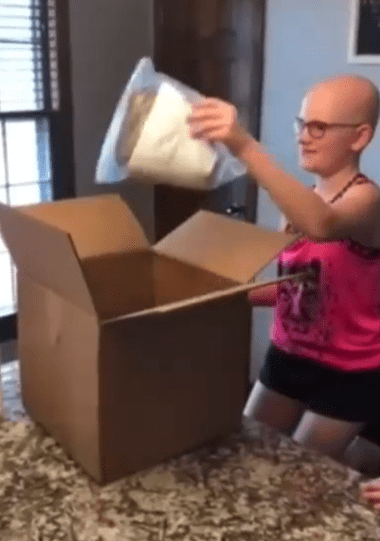 Taylor taking her new wig out of a box.│Source: facebook.com/SupportWigsForKids
A BEAUTIFUL MOMENT IN TIME
Once she opened the package and pulled out the shiny brown bob, the young girl went quiet in complete awe, expressing:
"It's so beautiful. This is so beautiful! This is beyond what I thought it was going to be."
Taylor then began to put the chestnut wig on, still stuck in amazement as she did so. Once she managed to fit it on properly, her mom, who was filming, told her baby girl that she looked beautiful.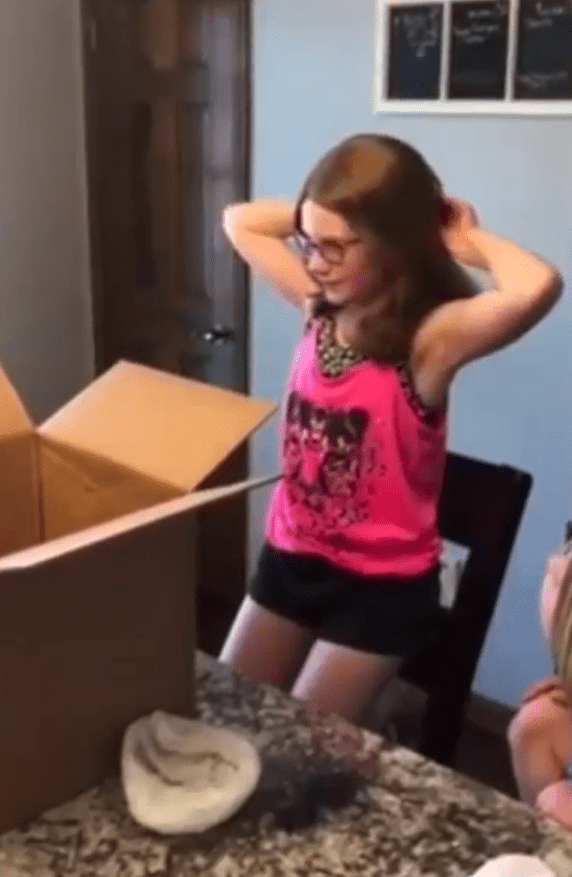 Taylor fitting her new wig on.│Source: facebook.com/SupportWigsForKids
CLOWNING AROUND
Squealing with joy, the girl eventually ran to the mirror, looking at her new tresses. She continuously exclaimed in disbelief that she "actually" had hair. Looking into the mirror, Taylor said:
"Nobody is going to recognize me with this on."
Then tuning into her sassy personality, the young girl humorously struck a cute pose while looking at herself over her shoulder in admiration.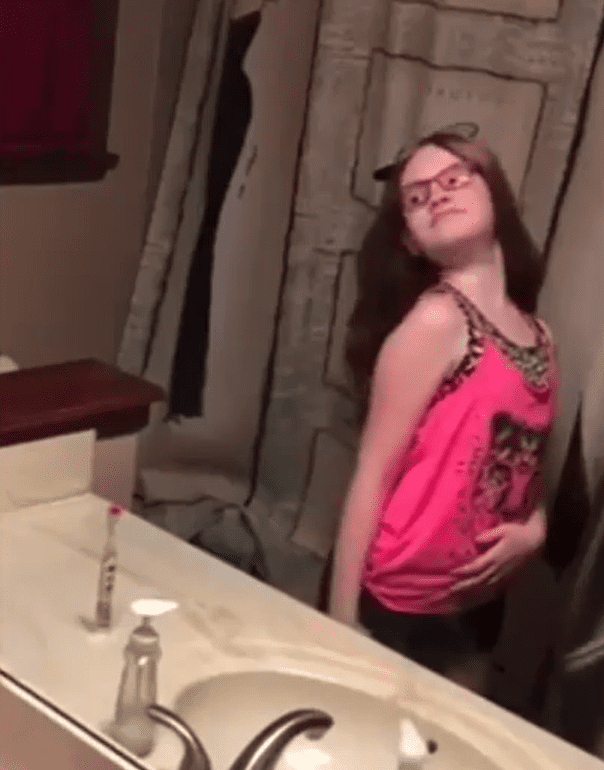 Taylor posing in the mirror.│Source: facebook.com/SupportWigsForKids
EVERYONE REJOICES
Taylor's little brother, who had now joined in on the fun and was very happy for his sister, began laughing along with the mother as his sibling fooled around. Taylor jokingly whipped her hair over in a model-like fashion.
Just like Taylor, she was over the moon.
Beyond her family, the online world was also thrilled to see how elated the young girl had become because of her new wig. The clip went viral and has reached 6000 reactions, nearly 600,000 views, and just over 600 comments so far.
THE GIFT OF GIVING
This wig was delivered and given to Taylor for free via "Wigs for Kids," which was started to provide children with cost-free wigs if they required them. The foundation relies on donations via everyday people getting their hair cut or shaved.
Turning these donations into actual wigs is quite complex, from sorting to brushing, hand-tying each strand of hair into the wig one at a time, and much more.
However, on the other side of the process, donating one's hair when getting it cut at the hairdresser is incredibly simple, and the results are phenomenal.
You May Also Like: Woman Cries after Receiving Diamond Made with Her Late Mother's Ashes
SIMPLE YET REVOLUTIONARY
In 2015, one little girl with alopecia named Bridget experienced these results when provided with a "Wigs for Kids" hairpiece. Just like Taylor, she was over the moon, with her mom exclaiming:
"It may not seem like a lot in the big scheme of things, but to a little girl, it means a whole lot, so I really thank the people who donated."
Hair is a form of expression, from brown, blonde, black or blue, short, long, and shoulder-length. Why not give those who lack this in their lives the chance to show off their essence and identity in this specific way?
Please fill in your e-mail so we can share with you our top stories!
The information in this article is not intended or implied to be a substitute for professional medical advice, diagnosis or treatment. All content, including text, and images contained on news.AmoMama.com, or available through news.AmoMama.com is for general information purposes only. news.AmoMama.com does not take responsibility for any action taken as a result of reading this article. Before undertaking any course of treatment please consult with your healthcare provider.