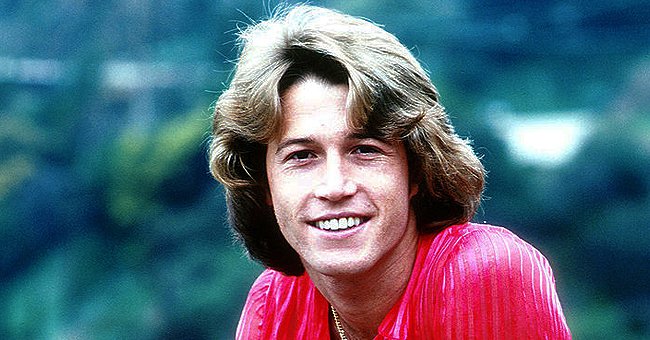 Getty Images
Andy Gibb AKA 'Baby Bee Gee' Left His Daughter Fatherless When He Died Penniless at 30 in 1988
Andy Gibbs was the youngest of the four Gibb brothers. He was never officially a part of the Bee Gees group, but his unique talent made him a huge success and earned him the nickname "Baby Bee Gee." Sadly, he died broke, leaving his young daughter fatherless.
Andy Gibb was a notable singer who set the trend with his rhythmic voice and a blend of soft love lyrics. He became famous at an early age, after learning the art of writing and singing from his famous brothers, who formed the group Bee Gees.
Despite not being a member of the famous group that ranked as one of the best during their heyday, the artist distinguished himself by making peculiar music that was widely accepted.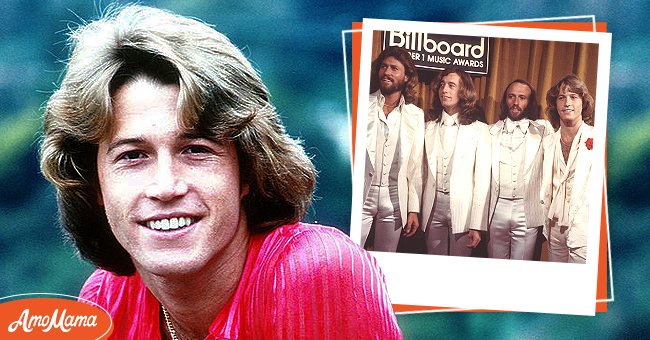 Portrait photo of Andy Gibb [left]. Members of the "Bee Gees," Barry Gibb, Robin Gibb, Maurice Gibb and Andy Gibb at Billboard Music Awards, circa 1977 [right]. | Photo: Getty Images
In the end, Andy, who faced fame early and never really knew disappointments died a broke man, leaving his young child to grow up without a father.
RISE TO STARDOM
Andy was an Australian native, and he grew up in a musically inclined family with three older brothers who knew their way around the craft.
The boys were groomed by their parents, who were also familiar with the concept of making music. Gibb's matriarch Barbara was a former singer in a prominent band; her husband was also an ex-drummer.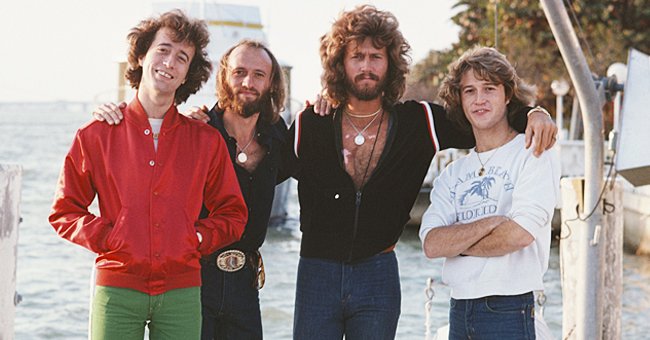 Andy Gibb and his older brothers, the band members of The Bee Gees pictured in Miami in 1978. | Photo: Getty Images
Before their youngest son turned 15, the Bee Gees was a steaming hot band and could afford a luxurious lifestyle for the entire family. The family moved to Spanish pleasure Island in Ibiza, so Andy changed his school.
At school, the young man was often picked up and dropped off in a Rolls Royce, making him an object of ridicule, as other kids began to pick on him. At age 13, he dropped out.
This decision turned his life around dramatically. After accepting a guitar gift handed by Barry, one of his older brothers, Andy became so obsessed with singing that he tried out his talent at a local bar.
All he wanted to do was qualify for a spot next to his famous brothers as a Bee Gees member, but after noticing the uniqueness of his voice, his family advised him to go solo, and he did.
In no time, hits started rolling in, some were scripted with the help of the connoisseurs, and Andy successfully redefined the disco era. Before the end of the 1970s, he was signed by Roberts Stigwood, the man who managed the popular Australian band.
As his fame extended globally, many referred to him as the "Baby Bee Gee." The singer did not like the title, but it was nearly impossible to change the name. At age 19, he already bagged two Grammy nominations for his song, "I Just Want to Be Your Everything."
Andy made a fortune within a short time by selling about 15 million records before reaching 21. He also established a groundbreaking record as the only solo artist to have his first three singles top the chart.
MARRIAGE AND FIGHT WITH INNER DEMONS
While the world saw a baby genius in "Baby Bee Gee," the megastar never did appreciate himself. He was talented but not confident enough to look in the mirror and bask in his awesomeness.
The singer felt he never measured up to his brothers, and that emptiness corrupted his soul so much that he began to abuse drugs.
At 19, he married Kim Reeder, and they lived in a concise apartment in West Hollywood. Shortly after their union, Andy became withdrawn and preferred to be alone; he was also depressed and paranoid.
By 1978, when Reeder became pregnant, she relocated to their motherland. In Australia, she began a new life with their daughter, Peta, after divorcing the singer.
Two years later, Peta saw her dad when she and her mom traveled back to the US for the first time. The father of one gave his ex-wife a customized bracelet and disappeared from their lives again. This time, it was permanent.
ANDY'S RELATIONSHIP WITH VICTORIA PRINCIPAL
After Reeder's exit from his life, Andy never really made sense of anything. He could not keep a job because of his lackadaisical attitude and drug obsession.
When he met a Dallas actress named Victoria Principal, a woman eight years his senior, he fell for her, and the future looked bright. However, Andy's life came crashing after the relationship ended.
He picked up old habits. The "I Just Want to Be Your Everything" crooner could not resist consuming hard drugs, which he spent an excessive sum to acquire.
He also locked himself up and refused to attend meetings or work with producers. Before his death, Andy blamed his decline on the relationship with the actress.
HOW THE SINGER WENT BANKRUPT
Being addicted to cocaine made it easy for him to spend unreasonably on the substance. It contributed to him having an empty pocket despite making millions.
Apart from drugs, he traveled by hiring private planes because of his paranoia. The singer was also quick to cancel a tour whenever he felt depressed or not up to the task. All these affected his earnings.
By 1985, he chose to redirect his steps by seeking help. The following year, Andy was sober, and he moved to Miami into his eldest brother's luxurious penthouse. There, he filed for bankruptcy, stating that he earned $24,727 in 1985 and carried a $1.5million debt.
While living in debt, his family rallied around to support him emotionally and financially. They gave him a steady weekly allowance and helped in designing his home.
In that house, he became a loner, reading often and making very few appearances at charity events—he played the guitar to back up his siblings. As far as his romantic life was concerned, Andy never seriously dated any woman after Principal.
HOW ANDY GIBB DIED
Andy died shortly after turning 30. He visited the John Radcliffe hospital to complain about some abdominal pains. He stayed in the facility for a few more days to run tests but could not complete them because he slipped into unconsciousness and died.
The autopsy reported that the one-time prolific singer suffered from an inflammation of the heart. When he died, he was sober, but medical experts claimed that his chronic use of cocaine could have caused his death.
Sadly, Andy never got to fulfill his wish of seeing his child. However, he established a relationship with her throughout the eight years of his absence, the singer scheduled a visit to Australia to see her through phone calls.
When news of his death reached Reeder, she admitted to not being shocked. She added that it was only a matter of time with Andy's lifestyle before something tragic happened. According to her:
"I always knew that one day I'd get a call with news like this. It was only a matter of time."
WHAT ANDY'S DAUGHTER SAID ABOUT HIM
Peta might not have had a close bond with her dad, but that is something she wishes had happened. While speaking to a news outlet, she said:
"I didn't get the chance to know my father as well as I should have. As I grew, I learned that he was famous...but for me, he was just a guy on the end of the telephone line."
Andy's only heir, who worked on a project called "The Gibb Collective" alongside her cousins, added:
"I always wished we had more of a chance to get to know each other. I wanted to be close to him like any daughter wants with her father. But outside forces conspired against us."
Andy was the golden child who did not experience disappointment before reaching fame. Although he seized the opportunity to leave a lasting mark with his music, in the end, he did not live to enjoy his gift, following the inner demons that overwhelmed him.
Please fill in your e-mail so we can share with you our top stories!