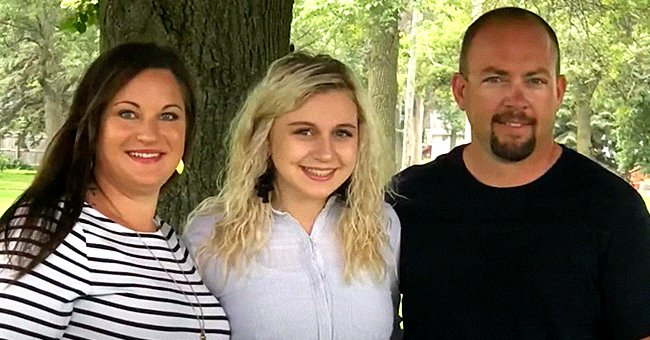 youtube.com/KELOLAND News
Girl, 18, Who Aged Out of Foster Care Is Unexpectedly Adopted by a Family with 4 Kids
One girl waited years to be adopted out of the foster care system, but sadly no one took her into a forever home. One day a family unexpectedly adopted the 18-year-old and changed her life forever.
In Sioux Falls, South Dakota, a youngster was finally adopted into a loving home after years of rejection and loneliness. While kids no longer require a legal guardian after 18, many young adults still need love and support.
Sadie Schmieg was one such young adult. She grew up without parents that were there to comfort her and guide her through the stages of adolescence.
THEY WERE WILLING TO ADOPT
Sadie never imagined she would eventually find her dream family, but this year she finally did. Proud parents Rachel and Blake Schmieg already had four kids when they met Sadie.
The family agreed to look after her until she graduated from high school. However, her stay soon turned permanent. The father shared: "We expressed our interest and our wiliness to adopt her if that was something that she wanted."
NOT GOING TO MISS ANYTHING
Sadie was emotional and couldn't believe it. She expressed:
"I was in awe that somebody who barely knew who I was and barely knew anything about me wanted to be a part of my life and my upbringing."
While the family didn't see Sadie take her first steps, they are excited to be there for her now. Rachel said: "We're not going to miss a second of your life from this moment on."
LOTS OF CHALLENGES AND RESPONSIBILITIES
The parents had no experience with teenagers. All of their kids are under the age of seven. However, they were up for the challenge. The father knew it was a big responsibility.
Blake expressed: "When you're officially a parent through adoption, you take on all the responsibilities that a parent has. The expenses, the college stuff, the happy days and the sad days."
THEY CHANGED THE LAW
There was a legal obstacle in their way that made the adoption process tricky. South Dakota law put forward that Sadie did not qualify for adoption because she was over 18. The family decided to challenge this.
They worked with lawmakers and changed the requirements and rules. The official adoption was a long time coming, and when it was finally successful, it made the victory that much greater.
LOOKING FOR A FOREVER HOME
Sadie expressed: "Having that peace and just the harmony of belonging to somebody and knowing that somebody wants you back ... that's just the greatest feeling." There are still many children who need a forever home.
The Schmieg family hopes to raise awareness and encourage other parents to open their hearts and homes to kids in need by sharing their story.
Please fill in your e-mail so we can share with you our top stories!