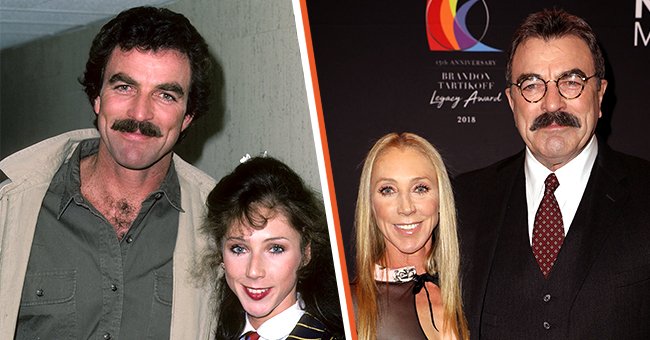 Getty Images
Tom Selleck's Bond with His Wife became 'More Satisfying' After their 'Infatuation' Period
Hall of Famer Tom Selleck believes as he aged, the love between him and his wife, Jillie Mack, only deepened. The actor has been married twice, and his first marriage ended because of fame, which he disputed.
During a 2014 interview with GQ, Tom Selleck was asked whether aging affects his love life. He responded that as a man, he as only aged once:
"I've only aged once. I think love has gotten deeper. Simpler. I have a wonderful wife."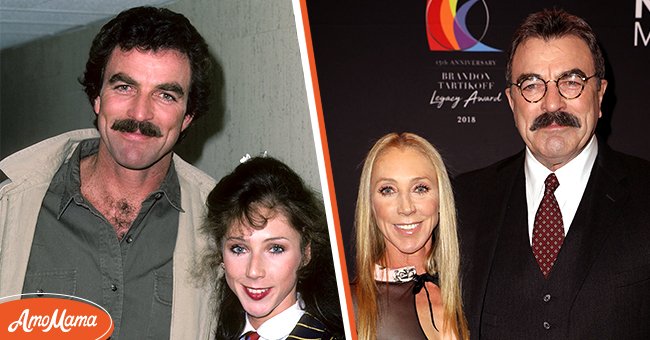 (L) Actor Tom Selleck and girlfriend Jillie Mack visit "Late Night with David Letterman" on May 23, 1985 at Studio 6A, NBC Studios, 30 Rockefeller Plaza in New York City. (R) Actress Jillie Mack and Tom Selleck at the Brandon Tartikoff Legacy Awards at NATPE 2018 at the Fontainebleau Hotel on January 17, 2018 in Miami Beach, Florida | Photo: Getty Images
SELLECK'S MARRIAGE TO MACK
When asked what he meant that life is now simpler, he explained, "We know we love each other. We both keep busy with stuff. Both of us get mid-up with whether our anniversary is 8/7/88 or 8/8/88."
Selleck added it helps that his beloved wife Jillie Mack understands the nature of the type of business they are in because she is also in showbiz.
"It just grows more, kind of, satisfying. You become true, I think, partners. This is my personal experience. I think some of that comes with age," he said.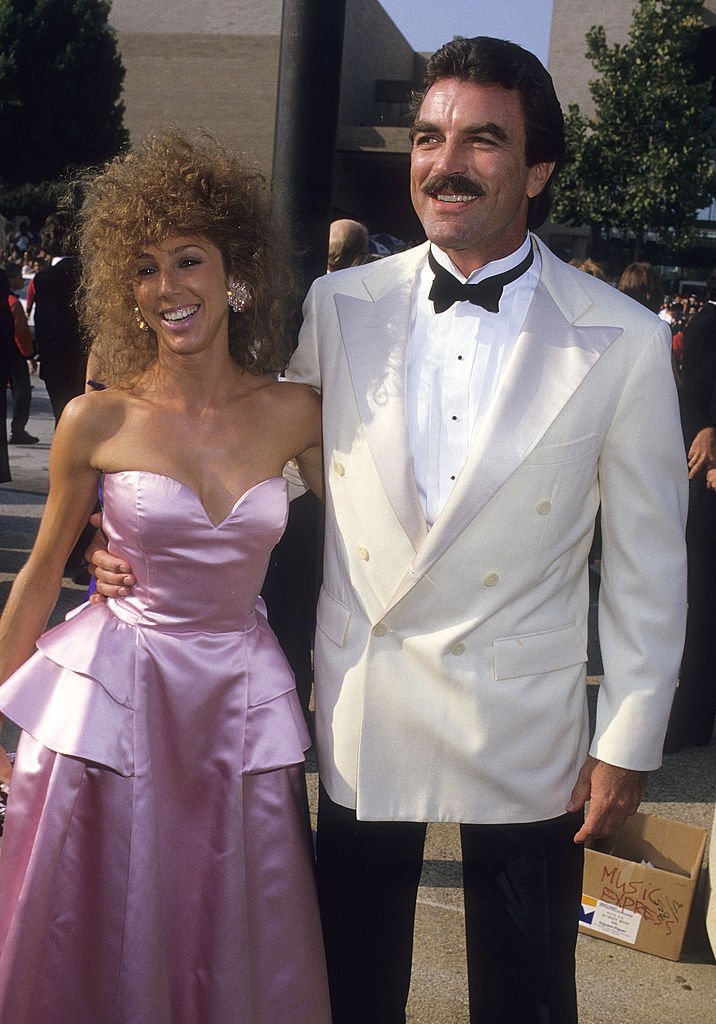 Film producer Tom Selleck and wife Jillie Mack attend the 39th Annual Primetime Emmy Awards on September 20, 1987 at the Pasadena Civic Auditorium in Pasadena, California | Photo: Getty Images
The now-76-year-old shared that a part of that comes with familiarity as well, saying he does not think the infatuation stage of any relationship lasts forever but that it can grow into something, adding:
"I just find that I had no problem with the infatuation stage with Jillie, but I think it's probably because our relationship's more satisfying."
As for intimacy in their marriage, he mentioned how private the matter is when asked if sex changed in their union after agreeing that it does change.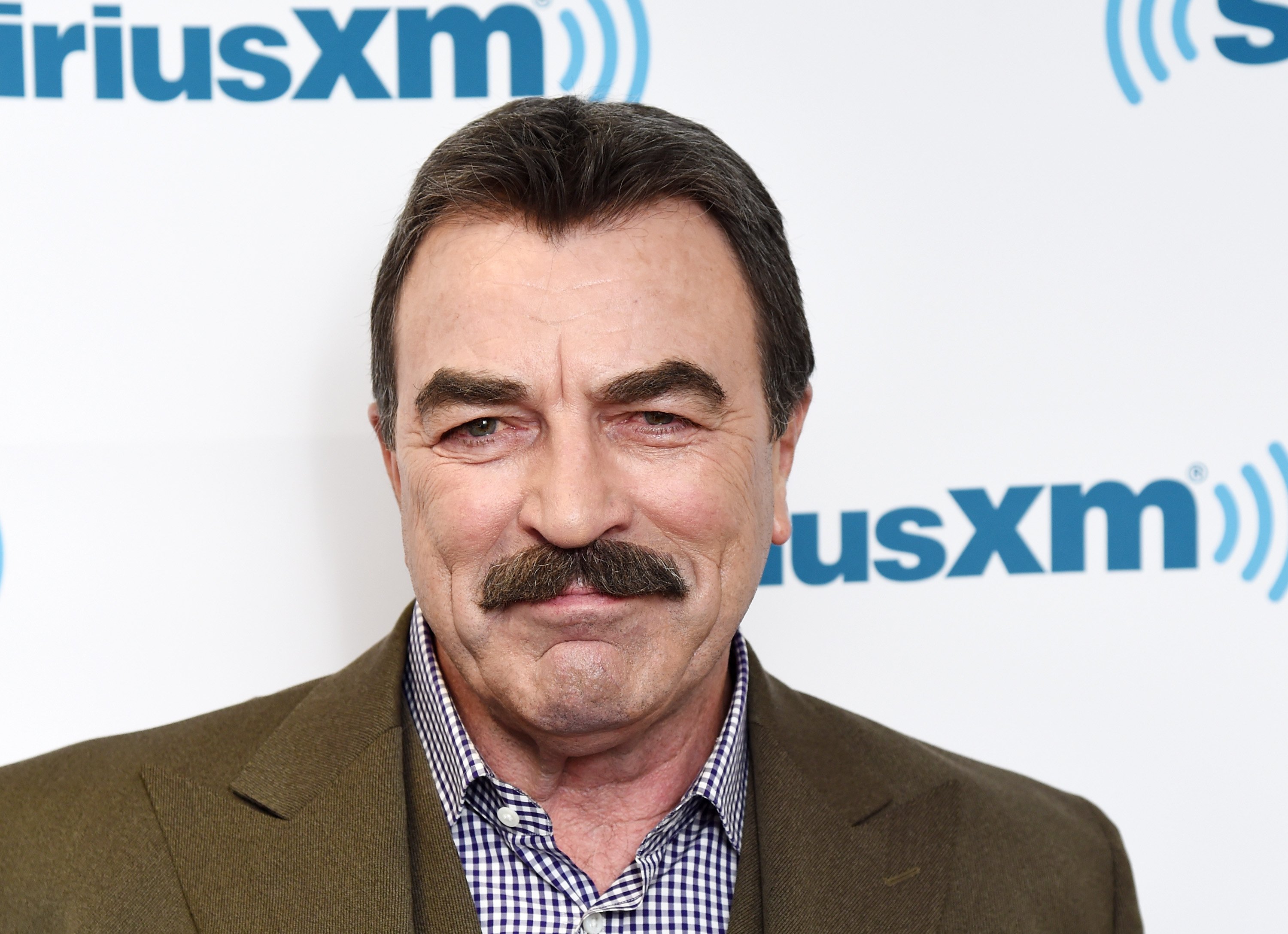 Tom Selleck visits the SiriusXM Studios on October 15, 2015 in New York City | Photo: Getty Images
HIS MARRIAGE TO RAY
As for his previous marriage, Selleck felt his world was turned upside down. Amid the height of his career in the '90s, his marriage to Jacqueline Ray crumbled.
At the time, he starred on the hit T.V. show "Magnum P.I.," and when it hit the screens in December 1980, Selleck revealed to People, "My whole life did a flip-flop."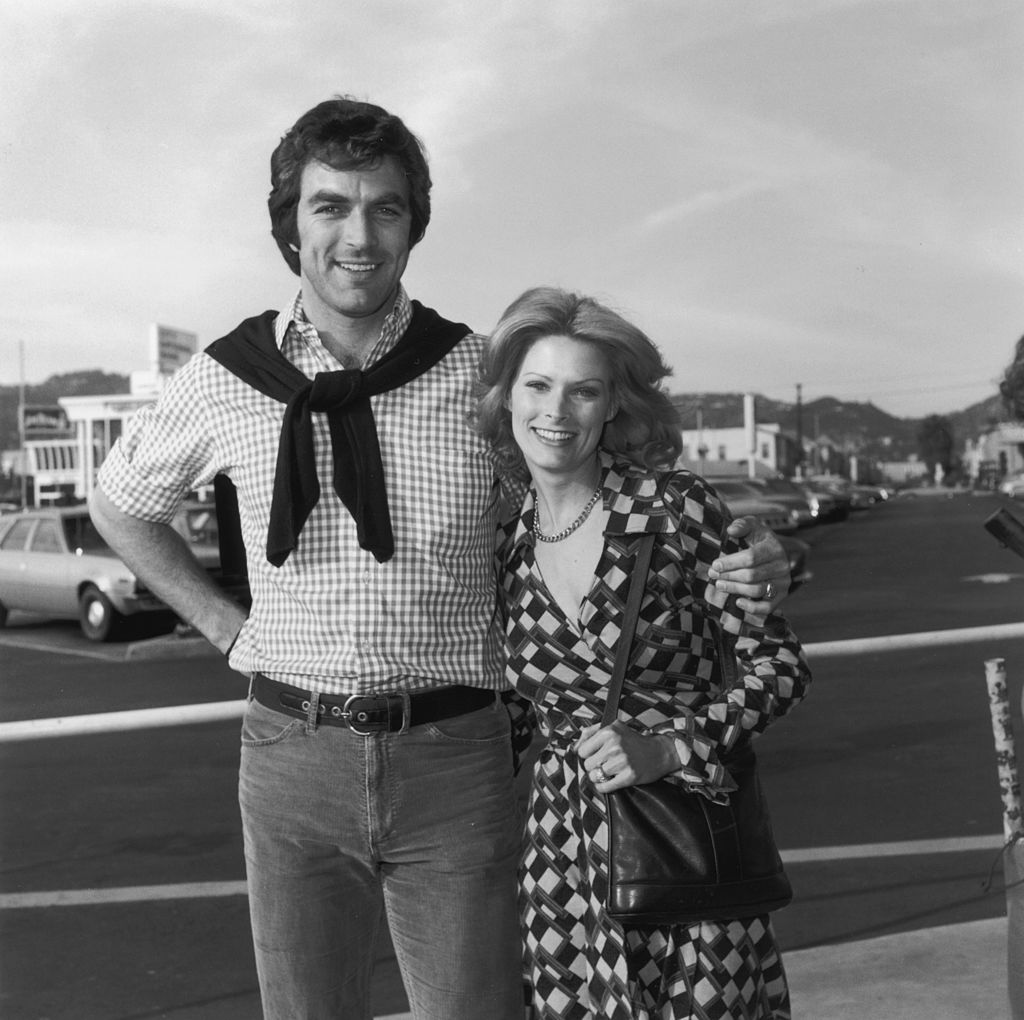 Tom Selleck poses outdoors with his first wife, actor Jacquelyn Ray, in December 1974, Los Angeles, California | Photo: Getty Images
He and Ray, his wife of ten years, had been separated since 1979 and could not figure out which step to take next. The film producer explained:
"It's one of the greatest sorrows of my life that we can't be together. I'd always planned to be married for the rest of my life. We're still very close, still on good terms."
Selleck shared they had agreed to live separately but had not decided on a divorce. He expressed his despair about being away from his then-14-year-old adopted son Kevin from Ray's previous marriage. Selleck called the youngster the only child he had.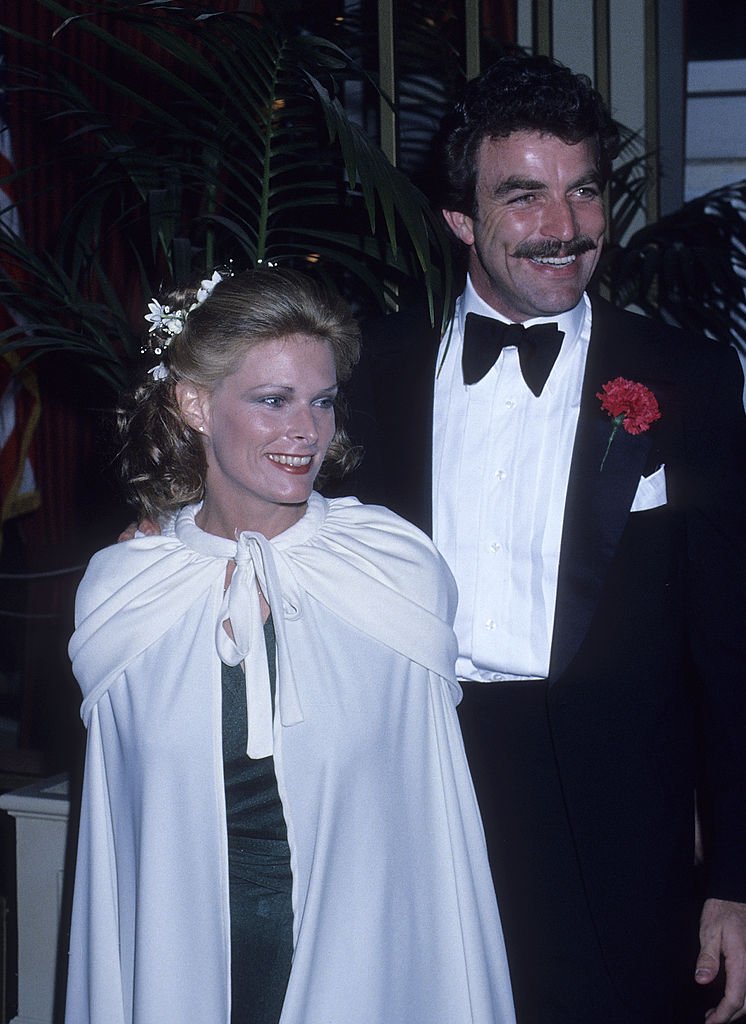 Tom Selleck and Jacqueline Ray attend the 35th Annual Golden Globe Awards on January 28, 1978 at the Beverly Hilton Hotel in Beverly Hills, California | Photo: Getty Images
The Michigan native also addressed the speculations by a report that he left Ray when the T.V. series became a success, arguing that the claim holds no basis:
"That's the cliché, that's the meaty story, 'Spouse Dumps Spouse After She Gives Him the Best Years of Her Life.' But that's not true, and it's not nice. We separated a full six months before I even shot the pilot of 'Magnum.'"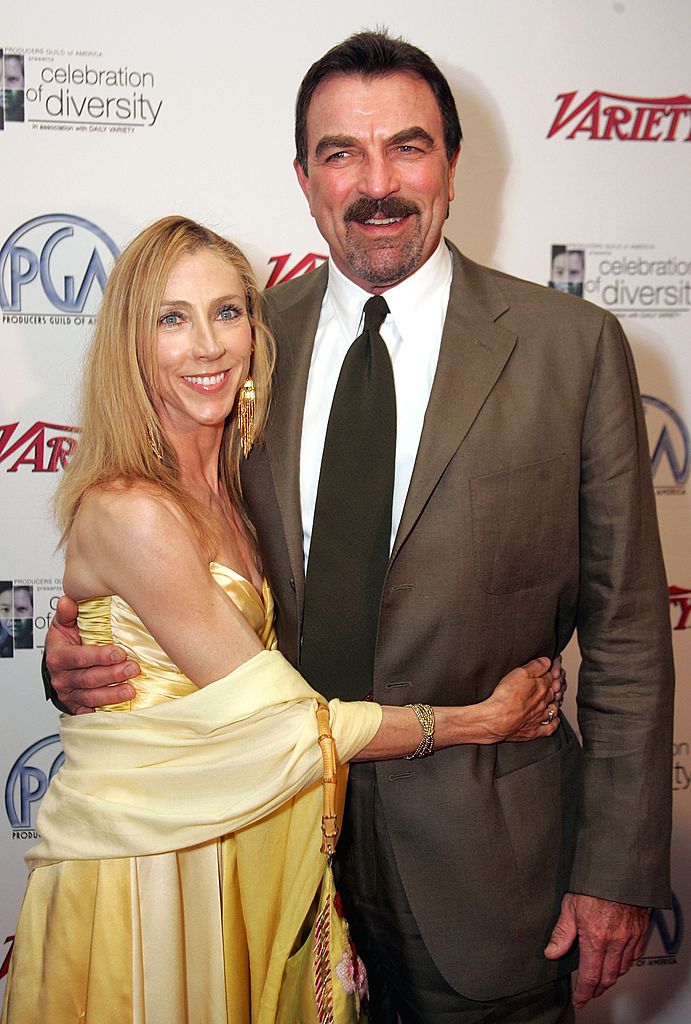 Tom Selleck and his wife Jillie Mack attend the Producers Guild Of America Presents 2006 Celebration of Diversity May 9, 2006 at the Beverly Wilshire Hotel in Beverly Hills, California | Photo: Getty Images
SELLECK & MACK'S WEDDING & ROMANCE
Selleck and Ray got married in 1971 and divorced in 1982. After a whirlwind romance, the "Blue Bloods" star later remarried Mack in a secret ceremony in 1987. The couple tied the knot in a Nevada chapel in Lake Tahoe.
He met the English actress in 1983 at a musical play called "Cats" in England, where Mack starred as Rumpleteazer. It was love at first sight for Selleck, who met the dancer backstage.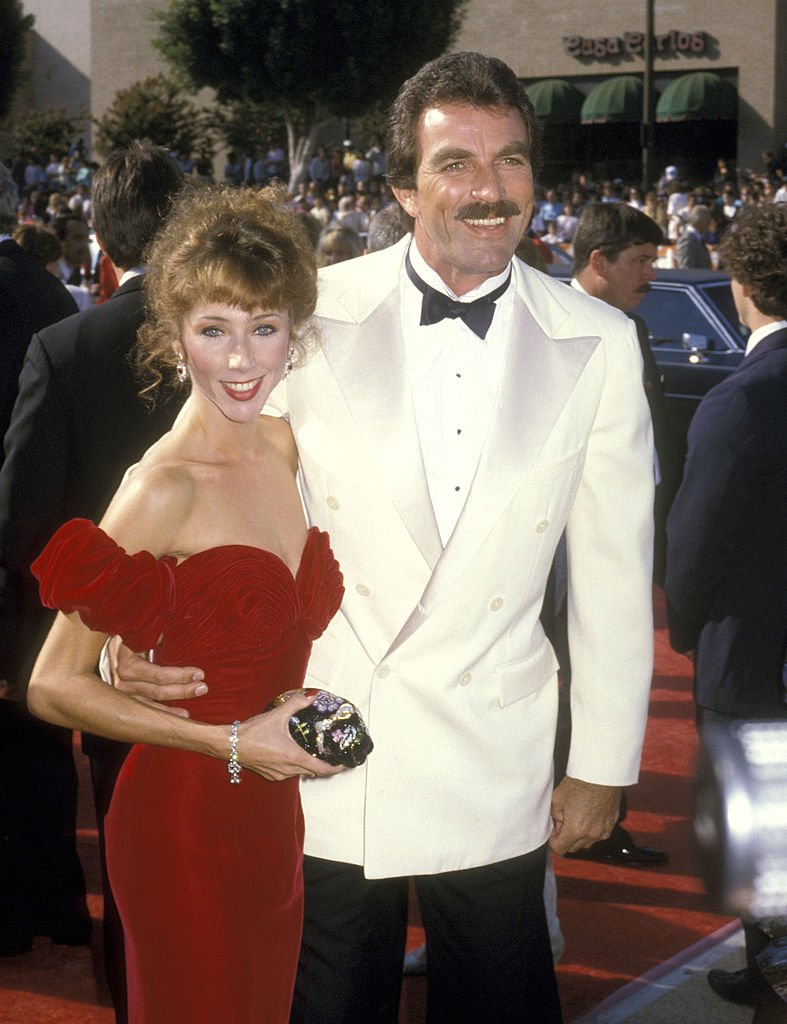 Tom Selleck and Jillie Mack during 38th Annual Primetime Emmy Awards at Pasadena Civic Auditorium in Pasadena, California | Photo: Getty Images
The lovebirds went out for dinner, and their romance blossomed from thereon. When Mack's contract ended in her homeland, she upped and moved to the U.S. and has been with Selleck ever since.
Selleck ensured their nuptials remained top-secret and news of their wedding only broke 27 days later. Those in attendance were his brothers and parents. The pair have been married for 34 years.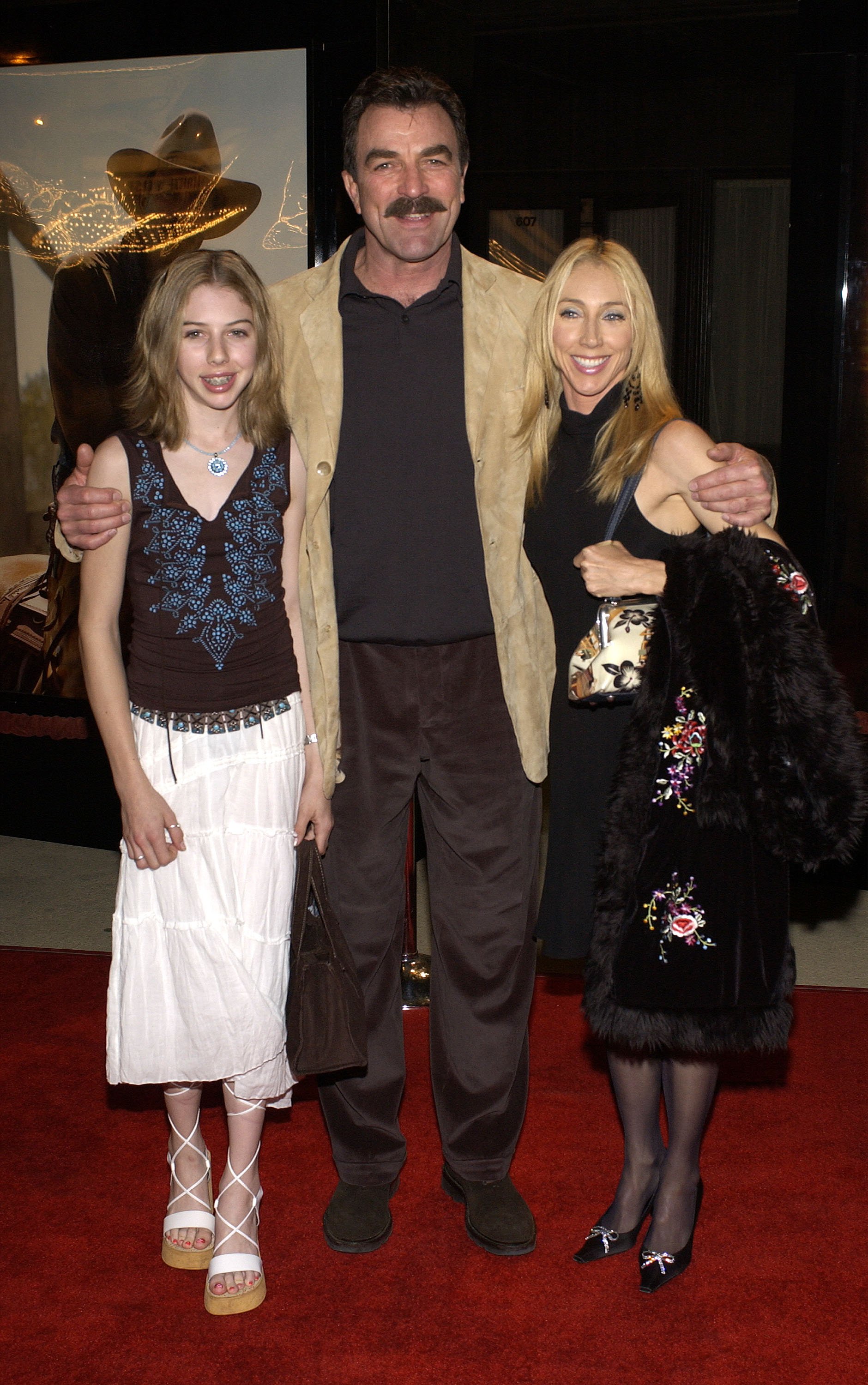 Tom Selleck with wife Jillie Mack and daughter Hannah attending the premiere of "Monte Walsh" on January 8, 2003 at the Warner Bros. Studios in Burbank, California | Photo: Getty Images
FACTS ABOUT MACK
While Selleck was born in Detroit and ultimately raised in Sherman Oaks, California, Mack was born on December 25, 1957, in Devizes, England.
Like her husband, Mack is also a Hollywood star, having starred alongside her love in "Magnum P.I." and has acting credits on the medical drama "E.R."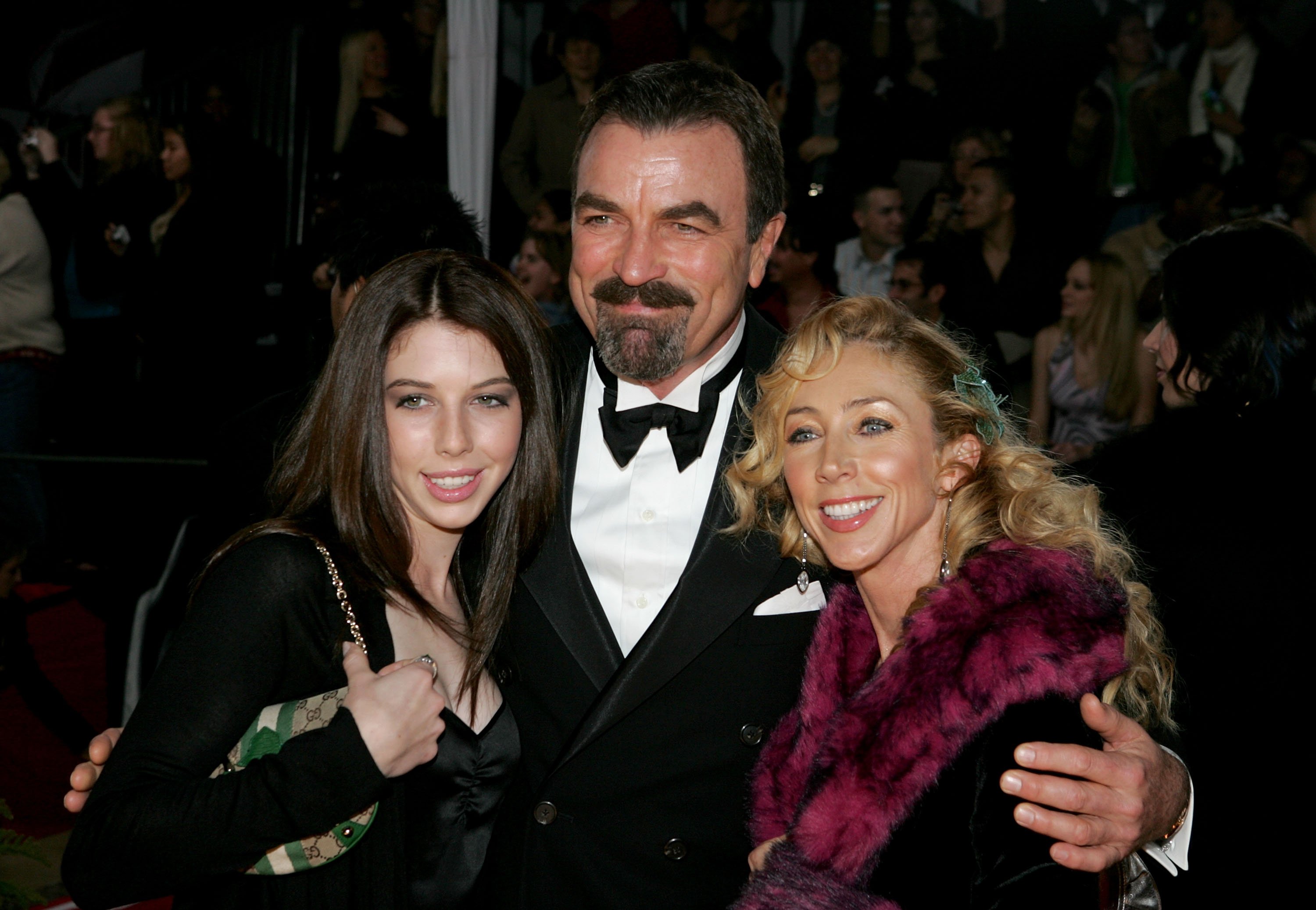 Tom Selleck with Jillie Mack and daughter Hannah arriving at the 31st Annual People's Choice Awards held in the Pasadena Civic Auditorium on January 9, 2005 in Pasadena, California | Photo: Getty Images
FAMILY LIFE
She and Selleck share an only child, a 32-year-old daughter named Hannah, whom they welcomed on December 16, 1988, a year after their wedding.
The family of three reside at a 65-acre ranch in Ventura County, California. Selleck even put his career on the back burner to spend more time with his wife and infant daughter at one point. He told People in 2012:
"I quit Magnum to have a family. It took a long time to get off the train, but I try very hard to have a balance, and this ranch has helped me do that."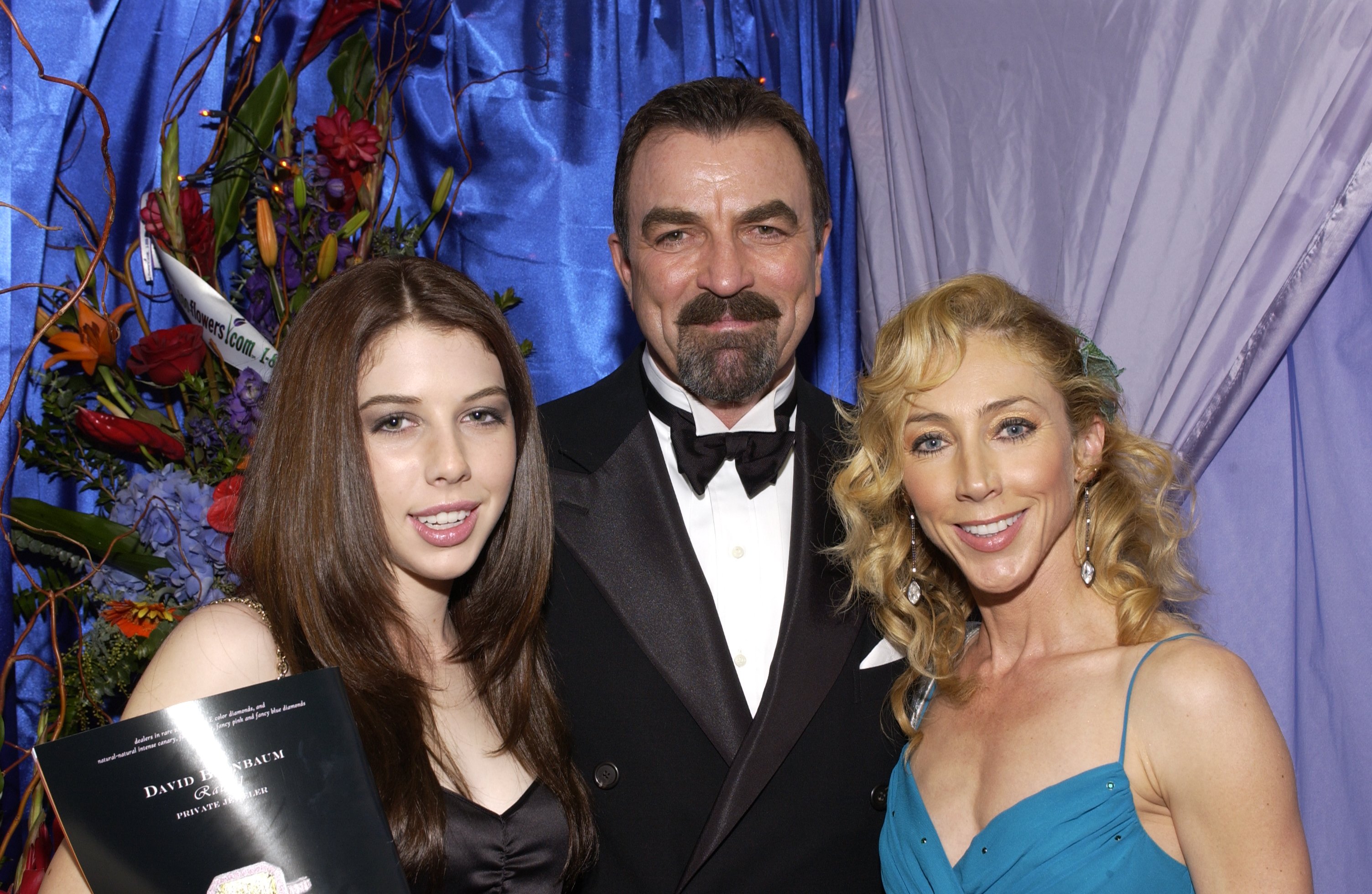 Tom Selleck with daughter Hannah and wife Jillie Mack are seen at the Distinctive Assets Gift Lounge during the People's Choice Awards at the Pasadena Civic Auditorium on January 9, 2005 in Pasadena, California | Photo: Getty Images
He added that he and his spouse found it befitting for their daughter to grow up in that environment. Notably, in April 2020, the star opened up to the publication about life on the ranch and choosing family over fame.
Selleck shared that he is a private person and has "always treasured the balance between work and time with my family. It's always about them."
THEIR DAUGHTER HANNAH
Hannah is an equestrian by profession, a horse lover like them. she started riding horses at the age of four, even though her parents encouraged her to explore other activities. By age 12, Hannah already knew horse riding was her passion.
When she turned fourteen, she was good at ballet and riding and chose between the two. "My love was with the horses. That's when I became very serious about it," she told the Hollywood Reporter in 2015.
When asked if she ever felt like she missed out on anything after devoting herself to the sport, Hannah said it was quite the opposite because her parents encouraged her to stay at school and not opt for homeschooling.
In that sense, she could find a balance between school activities and even went to prom. "Finding that balance has been important to have longevity in the career for me," Hannah emphasized.
She maintained the same structure even through college, revealing that when she enrolled at Loyola Marymount University, she decided to live nearby with her trainer to practice five or six times a week.
Please fill in your e-mail so we can share with you our top stories!