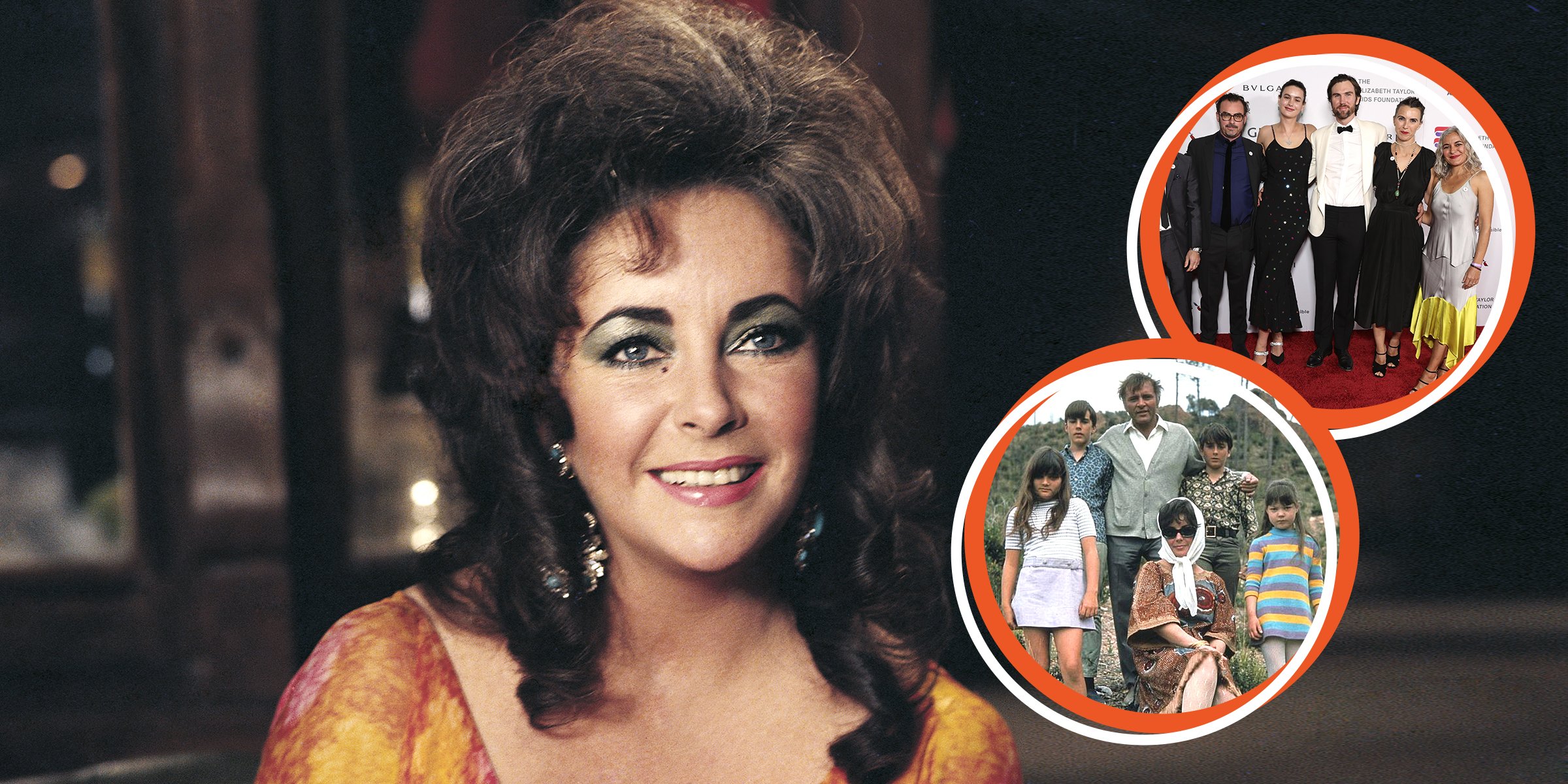 Getty Images
Elizabeth Taylor Felt 'Responsible for Raising' Her 10 Grandkids —Meet Her Heirs Who Follow Her Footsteps
Elizabeth Taylor ruled the 1950s as one of the most popular stars of classical Hollywood cinema. But at 39, she received another title of grandmother, one that she fully embraced. Meet the trailblazer's grandchildren.
The world recognizes Elizabeth Taylor as a glamorous Hollywood icon best known for her activism, business sense, and beauty. She became the first celebrity to start a fragrance empire, a course she remained loyal to until her final days.
Most undeniable, however, was her string of headline-worthy romances that saw her get married eight times — twice to the same man. From her numerous marriages, Taylor became a mother to four and a grandmother to ten, some of who became entertainers like herself.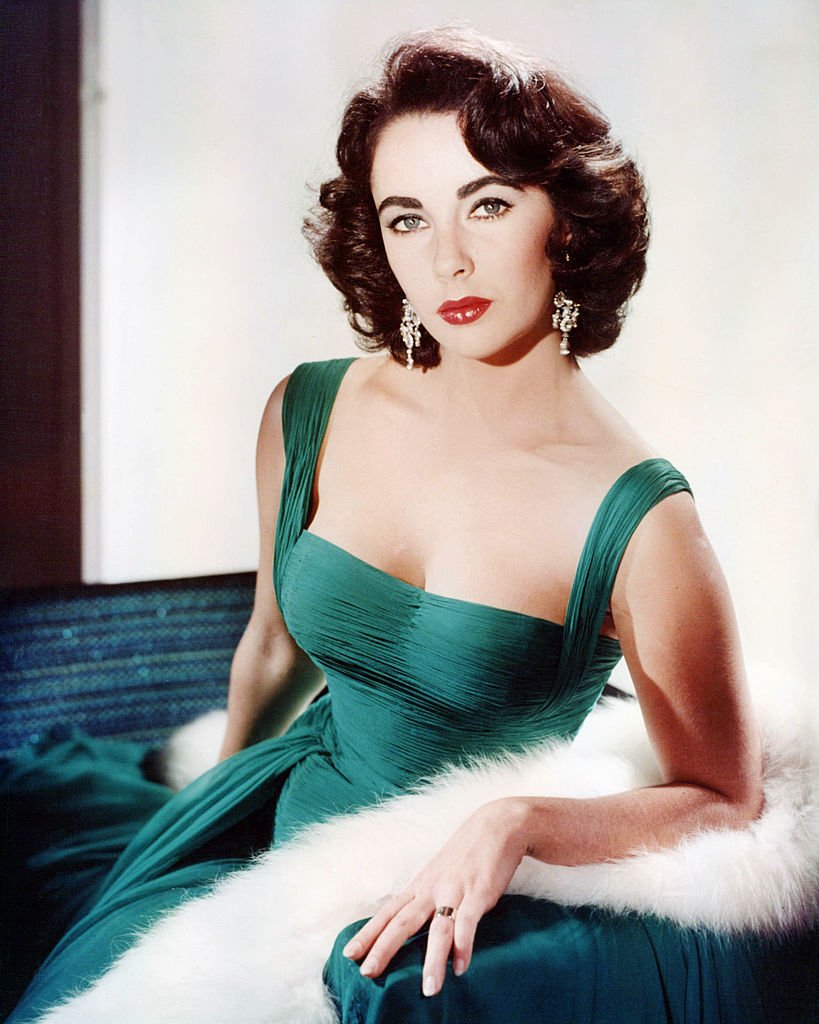 Actress Elizabeth Taylor, circa 1950. | Source: Getty Images
However, many of them did not consider the "A Place in the Sun" actress a Hollywood superstar or style icon like everyone else did. They instead thought of her as the "loving, squishy, delicious" grandma who was always welcoming to her grandchildren.
She fully embraced the responsibility of raising her grandchildren, who describe her as a woman who tried to make the world a better place by eliminating injustices. One of her granddaughters, Laela, would say:
"She was that person who saw injustice and started talking about it and never stopped talking about it."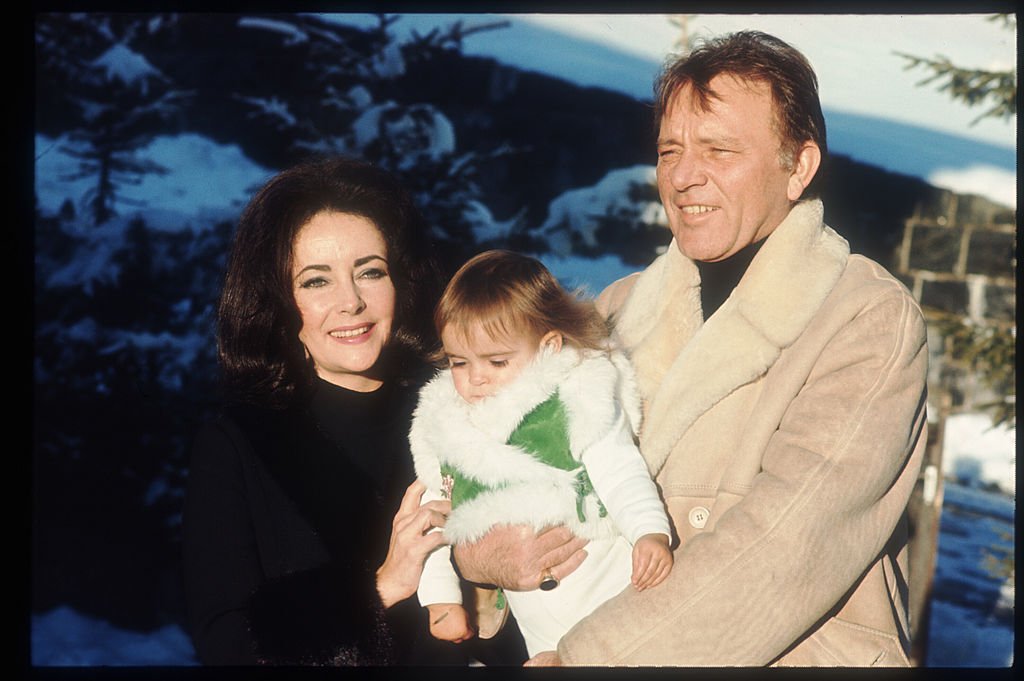 Elizabeth Taylor and Richard Burton hold their granddaughter Laela January 15, 1973 in Gstaad, Switzerland. | Source: Getty Images
LAELA'S MEMORIES OF HER GRANDMOTHER
Laela Wilding, daughter of Taylor's son, Michael Wilding Jr., holds nothing but beautiful memories of her grandmother. She remembers Taylor as an adoring woman and a matriarch who continues to be an inspiration to many women worldwide despite her demise years ago.
Additionally, Laela speaks fondly of the "The Girl Who Had Everything" actress and especially retells how her grandmother gifted her a boxful of party dresses that she often wore to dinner.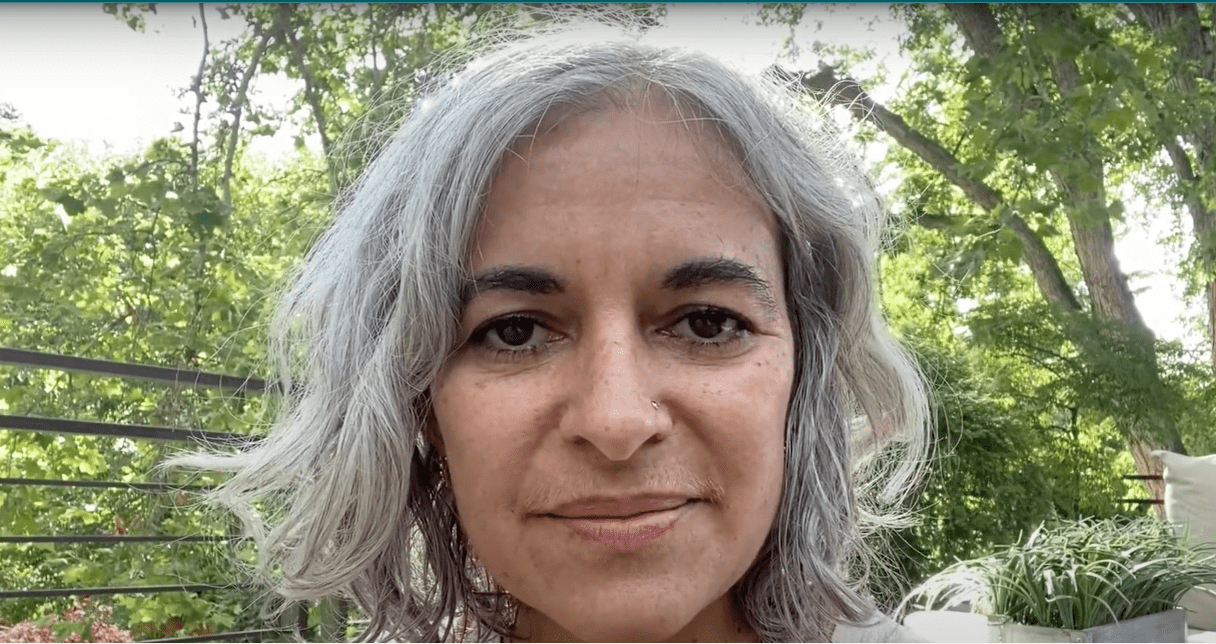 Elizabeth Taylor's first granddaughter Laela Wilding | Source: YouTube/International AIDS Conference
But she also remembers her grandmother gifting her a necklace she bought herself when she became independent. And on Laela's wedding day, Taylor gave her another necklace that she thought was special. She recalled:
"It was a gift that she had received from our grandfather, Michael Wilding. So that was very precious to me."
Laela is today a yoga instructor and graphic designer in Portland, Oregon. She also works closely with the Elizabeth Taylor AIDS Foundation, just as her grandmother had done during her tenure.
MEMORIES FROM HER CHILDHOOD
Naomi deLuce Wilding, the "Cleopatra" actress' second grandchild, also thought highly of her grandmother. Even though she did not experience Taylor as an actress, she holds her in high regard for her dedication to activism.
"I remember sitting on the floor of her dressing room and just watching her get ready — just [watching] this sort of transformation unfold. Just because somebody is a superstar doesn't also mean that they can't be a loving, squishy, delicious grandma who was always welcoming us in." She shared with Today.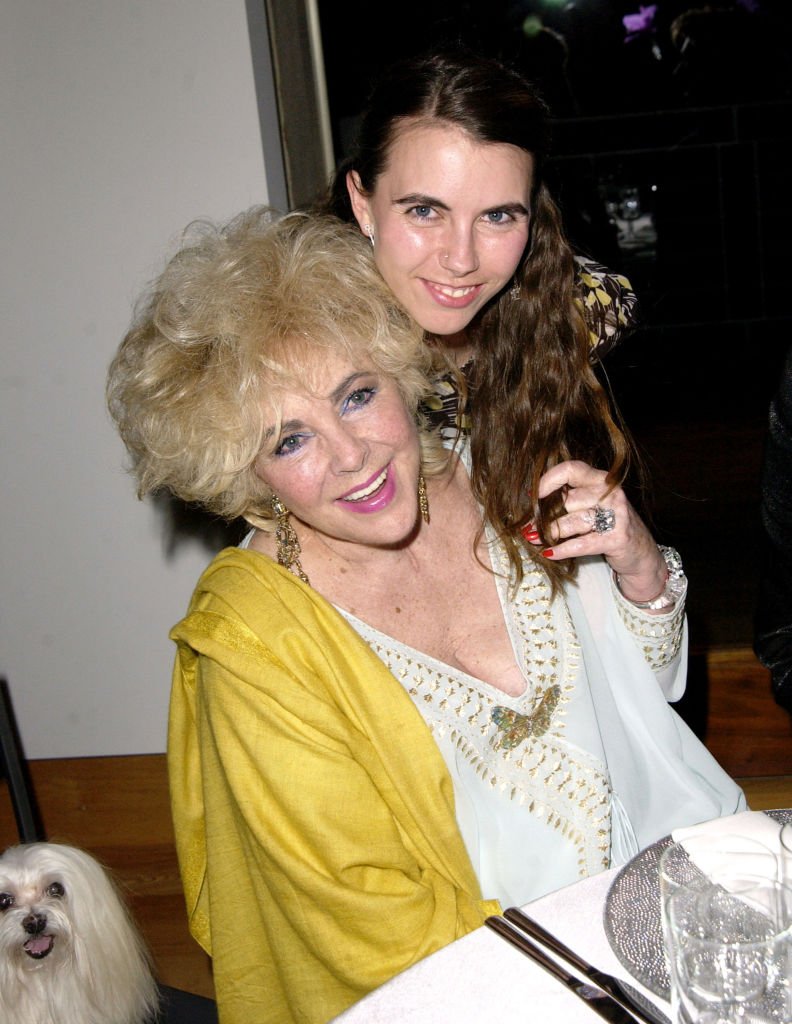 Actress Elizabeth Taylor with her granddaughter Naomi Wilding | Source: Getty Images
Today, Naomi is an ambassador for the Elizabeth Taylor AIDS Foundation and runs the Wilding Cran Gallery in Los Angeles alongside her husband.
MEET ELIZABETH CARSON
She may not carry Taylor's blood in her veins, but Elizabeth Carson is just as much Taylor's granddaughter as Laela and Naomi. Carson is the daughter of Taylor's adopted daughter, Maria.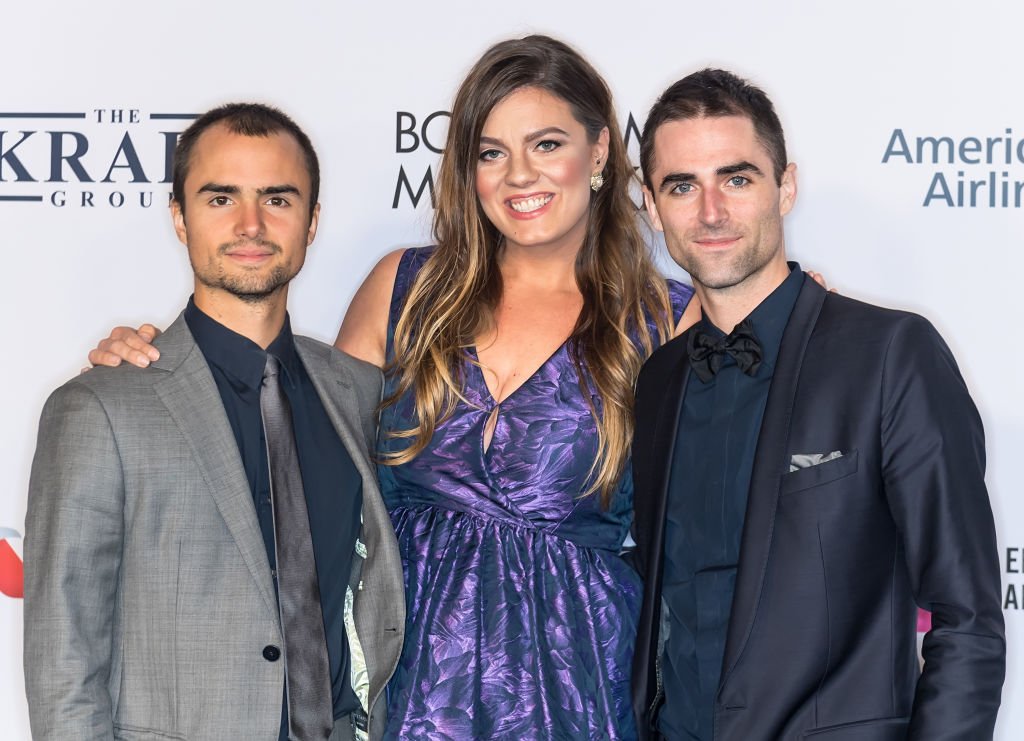 Actress Elizabeth Taylor's Grandchildren, Rhys Tivey, Elizabeth Carson and Quinn Tivey at Cathedral of St. John the Divine on November 7, 2017 in New York City | Source: Getty Images
And just like the rest of the icon's grandchildren, Carson holds unparalleled memories of her grandmother. She remembers her grandmother doing her makeup and hair for prom saying, according to Hollywood Life:
"For my junior and senior prom, she did my hair and makeup."
Today, Carson, besides serving as an ambassador for the Elizabeth Taylor AIDS Foundation, also has a job as a social worker in New York.
CALEB AND ANDREW WILDING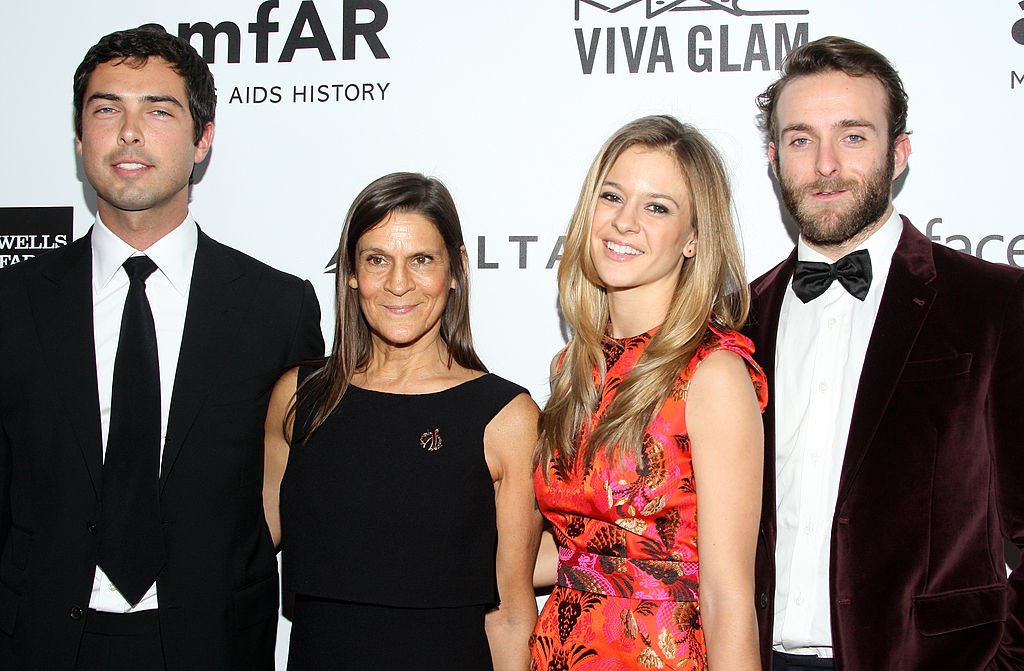 Caleb Wilding, Aileen Getty, Alexandra Wilding and Andrew Wilding at Milk Studios on December 12, 2013 in Los Angeles, California [Left-Right] | Source: Getty Images
Caleb Wilding is Taylor's first grandson, adopted by her son Christopher Wilding and his wife, Aileen Getty. Christopher and Getty took the adoption route after Getty experienced several miscarriages.
Fortunately, shortly after adopting Caleb, Getty fell pregnant, and this time, she carried it to term and welcomed a beautiful boy they named Andrew Wilding.
Caleb has managed to stay out of the spotlight, and even though reports say he is a motorcycle superfan, little else is known about him. Andrew, however, followed in his grandmother's filmmaking footsteps but preferred the behind-the-camera works. Today many recognize him for his cinematography and producing work.
QUINN TIVEY
Quinn Tivey at the Chateau Marmont on October 27, 2011 in Los Angeles, California. | Source: Getty Images
Tivey is the superstar's sixth grandchild, born to Liza Todd Burton and Hap Tivey. Like his cousins, Tivey has nothing but beautiful memories of his grandmother. However, Tivey remembers her as a carefree spirit, one he could lie in bed with, in their pajamas, and watch movies. He mused, as The List reports:
"I remember going to her house and getting into bed with her, wearing my pajamas, watching 'Law & Order,' eating [peanut butter and jelly] sandwiches."
He is also involved in his grandmother's foundation alongside many of his cousins as a co-trustee. He says that he can see how much Taylor's initiative has touched people's lives. For a living, Tivey is an artist.
TARQUIN WILDING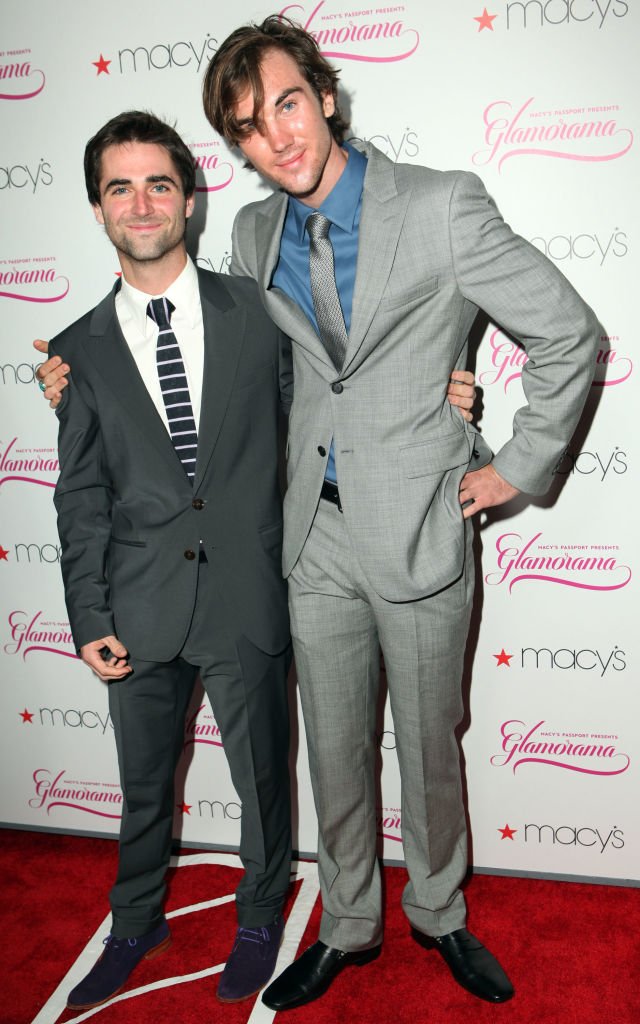 Quinn Tivey [Left] and Tarquin Wilding at the Orpheum Theatre on September 23, 2011 in Los Angeles, California. | Source: Getty Images
Tarquin Wilding is Laela and Naomi's brother and the seventh of Taylor's grandchildren. Like his grandmother, he is also in the film industry and is an ardent filmmaker. He looks back on his grandmother for her boundless generosity and is grateful that he gets to honor her legacy. He shared, according to The List:
"I often think about how lucky I am to have been born into a group of such wacky, caring, sensitive people."
LOWELL WILDING
Lowell Wilding is constantly in awe of his grandmother's legacy and what she accomplished in her lifetime. Therefore, he chose to preserve her memories and keep alive her legacy by creating the Elizabeth Taylor Archive.
RHYS TIVEY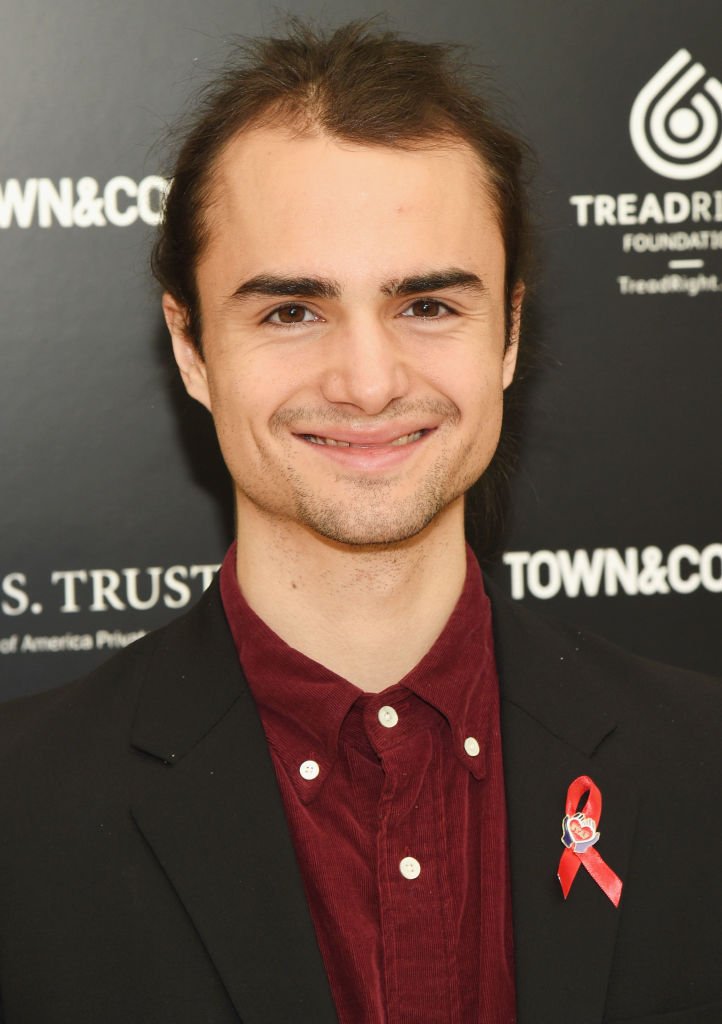 Rhys Tivey of the Elizabeth Taylor AIDS Foundation at Hearst Tower on May 9, 2017 in New York City. | Source: Getty Images
The ninth of Taylor's grandkids, Rhys, has also followed in her footsteps and is involved in the performing arts. After studying for a Bachelor of Music in Jazz Performance at the New York University Steinhardt School of Culture, Education, and Human Development, he became a trumpeter, vocalist, and songwriter.
He has also taught yoga and music to middle school children in several parts of the city, including the Bronx, Manhattan, and Brooklyn.
He admires his grandmother's legacy and, like her, believes in "acknowledging the soul of every person... and treating them with great respect" regardless of "color, culture, or class." He is also a vegan, hell-bent on reducing his carbon footprint.
THE BABY OF THE ICON'S FAMILY
Richard McKeown is the youngest of Taylor's grandkids, and while not much information is available about him, the drama surrounding his childhood puts him on the map.
When he was still a baby, his mother, Maria Burton, filed a restraining order against his father for alleged verbal abuse, which led to his father claiming that Maria hadn't been "functioning as a mother." However, despite his shaky childhood, McKeown turned out fine and is living his best life.
Please fill in your e-mail so we can share with you our top stories!