Getty Images
Roseanne Barr Gave Week-Old Daughter up for Adoption Because She Was Sure They Would Reunite
Award-winning actress, Roseanne Barr, endured hardships in the early years of her Hollywood career but falling pregnant at eighteen then giving up her newborn for adoption was more painful than anything else.
Roseanne Barr fell pregnant at age 18 and planned on keeping the baby. Seeing that she was unmarried and no one else would care for her and the infant, she got on welfare and rented a room for $50 a month.
The room was bug-infested, and drunks were lined outside of the building. Because Barr's family was unsupportive, the comedian relocated to Denver.
THE HARD DECISION
While in Denver, Barr stayed at the Salvation Army home for single moms. Only nine days after she moved to the city, the writer welcomed her daughter on May 16, 1971. After the birth, Barr made the difficult decision and gave up her baby daughter to be adopted by a Jewish Family.
The lucky family that adopted her baby had waited seven years for a Jewish baby. Even though leaving her baby to be raised by another family was unbearable, she knew that she would see her again.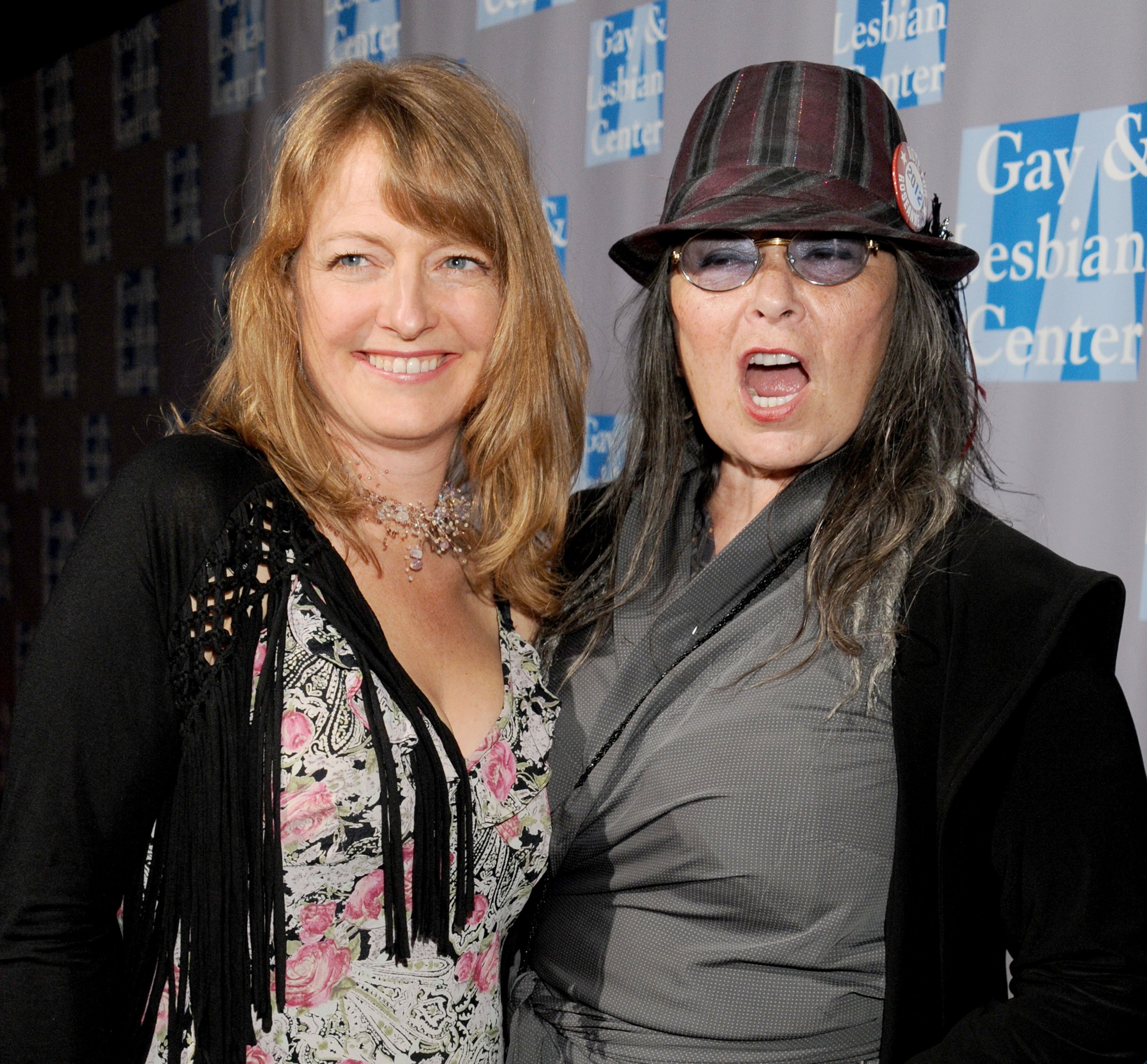 Actress Roseanne and daughter Brandi Brown arrive at the L.A. Gay & Lesbian Center's "An Evening With Women" at The Beverly Hilton Hotel on May 19, 2012 in Beverly Hills, California | Photo: Getty Images
In a 1989 interview with People, Barr revealed that when the Jewish family came to take her newborn, she whispered in her ears and told her:
"You remember this. I'll see you when you are 18."
NEW FAMILY & MARRIAGE
Three years after the adoption, the Utah native married her first husband, Bill Pentland. The former couple had three children: Jessica, Jake, and Jennifer, and they lived a private life until 1988.
The hit TV series "Roseanne" debuted on ABC, landing Barr and her family in the spotlight. The producer's fame started gaining momentum at the time, and it spilled over to her marriage, causing issues.
After she and Pentland attempted to resolve their differences, they decided to end their union. In addition to their marriage falling apart, their eldest child, Jessica, also started drinking.
Barr had a busy work schedule leading to time away from the family, and, in the process, it affected her mother and daughter relationship with her then-14-year-old child.
She revealed that Jessica used to sneak out of the house at night with her car, unaware of it all. Barr blamed herself for her daughter's reckless behavior, sought her help, and enrolled the teen to receive treatment at Westwood center.
THE LIFE-CHANGING PHONE CALL
Around that time, Barr's life turned out for the better when she received a call from the tabloids telling her they found the daughter she gave up for adoption. Upon hearing the news, the "Roseanne" alum said that she was shocked:
I had left information, allowing her to find me when she turned 21. I had even told my kids about the adoption a year earlier because I knew she was 17 and might try to find me."
Because the publication knew where to find her child named Brandi Brown, Barr hired a private investigator to help track her down.
They knew everything about her, including where she lived, her school, and who her adoptive parents were. The mission became a success when two days later, the 69-year-old called her daughter, who Gail and Stanely Brown in Denver adopted:
"I'm so glad I found her. So glad she came home."
THE HEARTFELT REUNION
The following month, Barr and her long-lost daughter reunited at the Westwood Marquis Hotel, and according to the "Home on the Range" star, the reunion was emotional yet happy:
"We looked at each other, and we started running toward each other. We embraced and wouldn't let go of each other, hugging and crying."
Barr shared she looked into her child's eyes, sobbing, and told her how much she missed her. The Golden Globe winner also commended Gail and Stanley for raising Brandi, saying they did a good job.
BARR'S CHILDREN & THEIR ADULT LIFE
Like her famous birth mother, Brandi also followed in her footsteps in showbiz. She has been part of several productions, including "Roseanne" (1988), "The Jackie Thomas Show" (1992), and "The Dr. Oz Show" (2009).
As a mother of five, Barr's four other kids, Jessica, Jennifer, Jake, and Buck, are also successful in their respective fields as most of them pursued Hollywood careers.
JESSICA PENTLAND
Born in 1975, Jessica is the second oldest child of Barr and has worked as a writer, producer, and researcher. Per IMDb, she helped write one episode of "Childhood Thoughts" in 2017, including her mom's show "Roseanne" in 1997.
The 47-year-old mother of one's producing credits includes TV shows such as "The Real Roseanne Show" and "Black Girls Heart Charlie."
JENNIFER PENTLAND
Her sister Jennifer Pentland arrived a year later in 1976. Like her big sister, Jennifer is also a writer and a producer with credits on "Roseanne" and "Childhood Thoughts."
Like Jessica, Jennifer has also worked as a researcher on her mother's talk show "The Roseanne Show" in 1998. The 46-year-old is married and a mom of multiple kids.
JAKE PENTLAND
Barr welcomed her first son Jake in 1978, who, per IMBd, is also a writer, producer, director, and editor, among other things. He has worked alongside his mom on "Rockin' with Roseanne" and "Roseanne's Nuts."
Aside from his professional life, Jake, 44, is also a doting dad. His mother revealed in an Instagram post on April 2021 that he welcomed a baby daughter.
BUCK THOMAS
Barr welcomed her youngest child, son Thomas in 1995 with her third husband, Ben Thomas, whom she was married to from 1995 to 2002. Thomas lives his life away from the limelight as the youngest family member.
Though he has yet to decide on a career, he has featured several times on his mother's social media. One post, in particular, was a tribute to him on his graduation day from high school, and his mom could not be proud of him for that milestone.
In May 2018, the Emmy award-winning actress shared a picture of her and her beloved lastborn flashing as she celebrated his achievement.
Please fill in your e-mail so we can share with you our top stories!