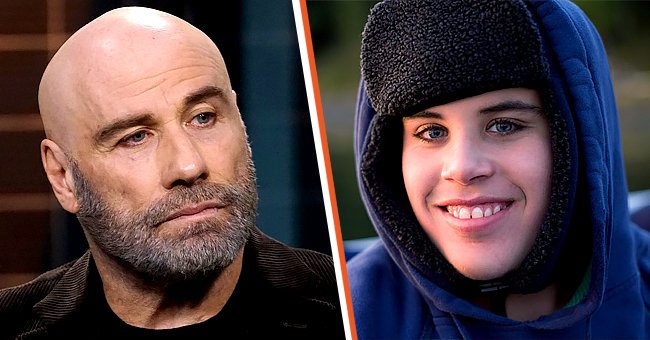 Getty Images
Daily Mail: John Travolta Tried to Command Son Jett's Spirit Back into His Body after a Seizure
John Travolta reportedly used a Scientologist technique, hoping it would rejoin his son, Jett's spirit, with his body when he passed away following a seizure. His ties with the religion are reportedly weakened.
"Pulp Fiction" star John Travolta and late actress Kelly Preston had a beautiful relationship for almost three decades. Still, things were not always easy, especially with their eldest son, Jett, who dealt with health issues his entire life.
Travolta and Preston's lives changed forever when Jett passed away. The actor was so devastated that he allegedly tried to bring his son back to life with a Scientologist technique.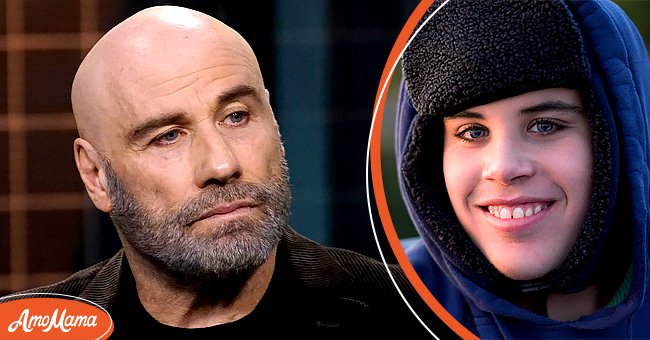 John Travolta at Build Studio on November 25, 2019 in New York City [left]. Travolta and Kelly Preston's son, Jett [right] | Photo: Getty Images
LIFE-CHANGING TRAGEDY
Jett was born in 1992, only one year after Travolta, who has been a member of the Church of Scientology since 1975, married Preston. Unfortunately, the boy suffered from persistent seizures his whole life.
Travolta and Preston never admitted Jett had autism. Scientologists supposedly do not recognize the condition, so the couple claimed Jett had Kawasaki syndrome caused by regular exposure to carpet cleaner.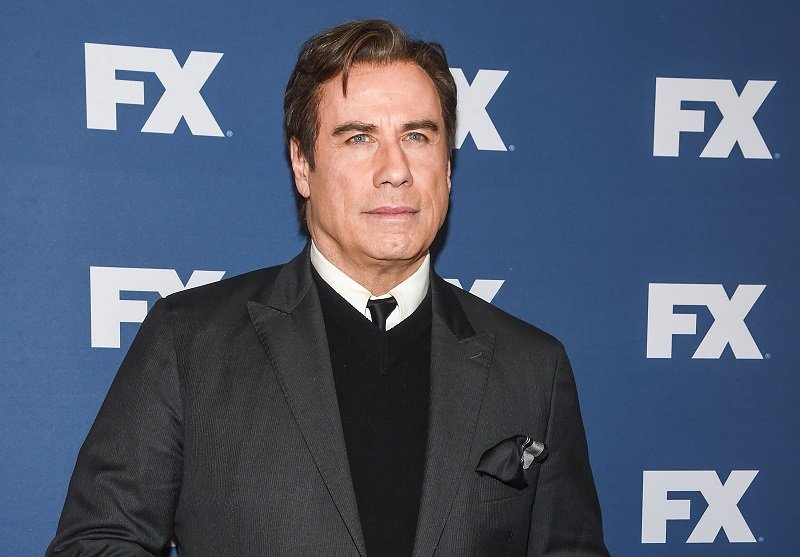 John Travolta on March 30, 2016 in New York City | Photo: Getty Images
Tragedy hit their lives in January 2009. During a family holiday in the Bahamas, Jett had a severe seizure that made him fall in the bathroom and hit his head, which led to his death. He was just 16 years old.
After describing Jett's death as the worst experience of his life, Travolta said he wasn't sure he could deal with the pain. Over the years, he has been candid about his grieving process and has repeatedly credited his church for helping him.
He confessed the Church of Scientology never left his and Preston's sides for two whole years. Without their support, he probably wouldn't have made it through.
BLACKMAIL AFTER JETT'S DEATH
If dealing with a child's death wasn't hard enough, Travolta was also the victim of a millionaire blackmail plan. The actor confessed that the ambulance driver that helped Jett blackmailed him over an indemnity form Travolta signed.
According to the driver and his legal team, Travolta was worried about the circumstances surrounding Jett's death and wanted to take him to a medical center in Florida (where the Church of Scientology's HQ is located).
Travolta supposedly did what Domingo described as a "Bring Back to Life" assist.
The driver then asked Travolta to sign an indemnity form, and the actor supposedly did it but quickly changed his mind and agreed to take Jett to a hospital 15 minutes away.
Still, the driver allegedly asked Travolta for money in exchange for the form. After a short legal battle, Travolta dropped the case because he didn't want to return to the Bahamas. His family also wanted to move on.
BRINGING JETT BACK TO LIFE
In July 2019, Jett's passing made headlines again after Samantha Domingo, Placido Domingo's daughter-in-law and former Scientologist shared some details about it.
According to Domingo, one of the Church's VIP members for 22 years, Travolta hopped into the ambulance transporting Jett's body to the hospital and tried to bring him back to life.
In Scientology, the spirit is known as the "Thetan." Followers of that religion believe that the spirit Thetan doesn't pick up a body until birth, so a stillborn is considered "just an empty shell, nothing to worry about." Domingo added:
"It's the same with death. To [Scientologists], once your body is of no use, your Thetan can just go out and pick up a new body and carry on right where you left off."
In a desperate attempt to bring Jett back to life, Travolta supposedly did what Domingo described as a "Bring Back to Life" assist, meaning that he ordered Jett's Thetan to return to his body. His attempt failed, sadly.
Since Preston and Travolta's youngest son, Ben, was born almost two years after Jett passed away, Domingo claimed the family believed Jett's Thetan was in Ben.
By choosing to have regular cancer treatments, Preston and Travolta defied the Church.
Apart from that, Domingo admitted she saw how Scientologist officials were constantly "brainwashing" Preston at the Church's global HQ in Clearwater, Florida, following Jett's death. However, Travolta's representative eventually said Domingo's allegations were "false and ridiculous."
TRAVOLTA'S BELIEFS AFTER PRESTON'S DEATH
Unfortunately, Jett's passing is not the only hardship Travolta has faced in life. On July 12, 2020, Preston passed away only two years after being diagnosed with breast cancer. She was just 57.
Shortly after her death, Travolta thanked and praised Preston's doctors and nurses at MD Anderson Cancer Center and the other medical centers that tried to help.
Her illness showed the world a not-so-public aspect of Scientology. Preston and Travolta defied the Church as founder L. Ron Hubbard was against chemotherapy and radiation by choosing to have regular cancer treatments.
In his November 1959 lecture, Hubbard famously said that cancer needed a "second-dynamic or sexual upset" – like losing a child – to appear. So other Scientologists would tell Preston that she got cancer because of Jett's passing.
Jeffrey Augustine, another former Scientologist, claimed that Travolta's statement fully supporting the medical staff suggested that he and his family "backed away" from the religion. Augustine added:
"There's no acknowledgment in that statement of Scientology, David Miscavige, or auditing, there's nothing – that's critical, he took care of it in his own hands."
Following Preston's death, Domingo said that the actor could either get spiritual counseling to "talk to" Preston or realize that his Church didn't make him happy anymore and couldn't help save Preston's life.
In August 2021, Travolta himself added fuel to the rumors about him leaving Scientology by selling his Florida mansion – located a mile away from the Church's Clearwater headquarters – for $4 million.
So far, he has not publicly admitted his departure from the Church. Despite the hardships, Travolta is still active in the entertainment industry. Apart from appearing in "Die Hart," he is expected to work in "Paradise City" next to Bruce Willis. Way to go!
Please fill in your e-mail so we can share with you our top stories!
The information in this article is not intended or implied to be a substitute for professional medical advice, diagnosis or treatment. All content, including text, and images contained on news.AmoMama.com, or available through news.AmoMama.com is for general information purposes only. news.AmoMama.com does not take responsibility for any action taken as a result of reading this article. Before undertaking any course of treatment please consult with your healthcare provider.