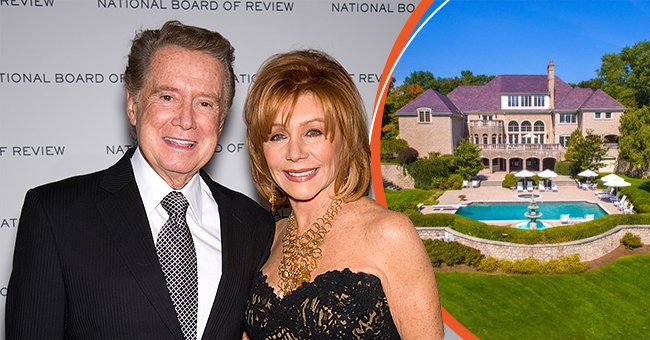 Getty Images | twitter.com/WSJRealEstate
Inside Regis Philbin & Wife Joy's Home of 22 Years That They Sold before He Passed Away
Weeks before Regis Philbin passed away at 88, he and his wife of 50 years decided to sell their beloved Connecticut mansion for over $4 million. Here's a glimpse into the actor's life and beloved home.
Regis Philbin had a successful career in Hollywood that spanned decades. Through his hard work and determination to become a star, he built a fortune that included a mansion in Greenwich, Connecticut.
Here, he made memories with his second wife, Joy Philbin, and their children. Sadly, weeks before Regis Philbin died, he and Joy decided to sell their mansion, which she viewed as their favorite.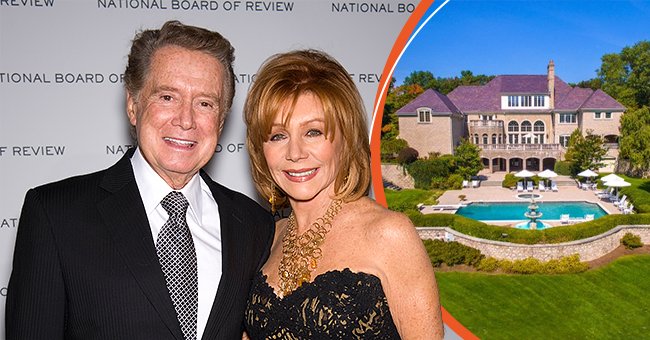 Regis Philbin and Joy Senese at the 2010 National Board of Review Awards Gala at Cipriani 42nd Street on January 12, 2010 in New York City. | Source: Getty Images twitter.com/WSJRealEstate
EARLY LIFE AND CAREER
Born on August 25, 1931, Regis Francis Xavier Philbin was the eldest son of Frank and Florence Philbin. He graduated from the University of Notre Dame in 1953 with a degree in sociology and immediately joined the U.S. Navy.
Soon after his discharge, the actor began his career in the entertainment industry, beginning with several entry-level jobs, such as a film-delivery man at KCOP-TV.
Regis Philbin was born on August 25, 1931, as Regis Francis Xavier Philbin. He was an American media personality, actor, and singer who rose to prominence by hosting talk shows and game shows since the 1960s.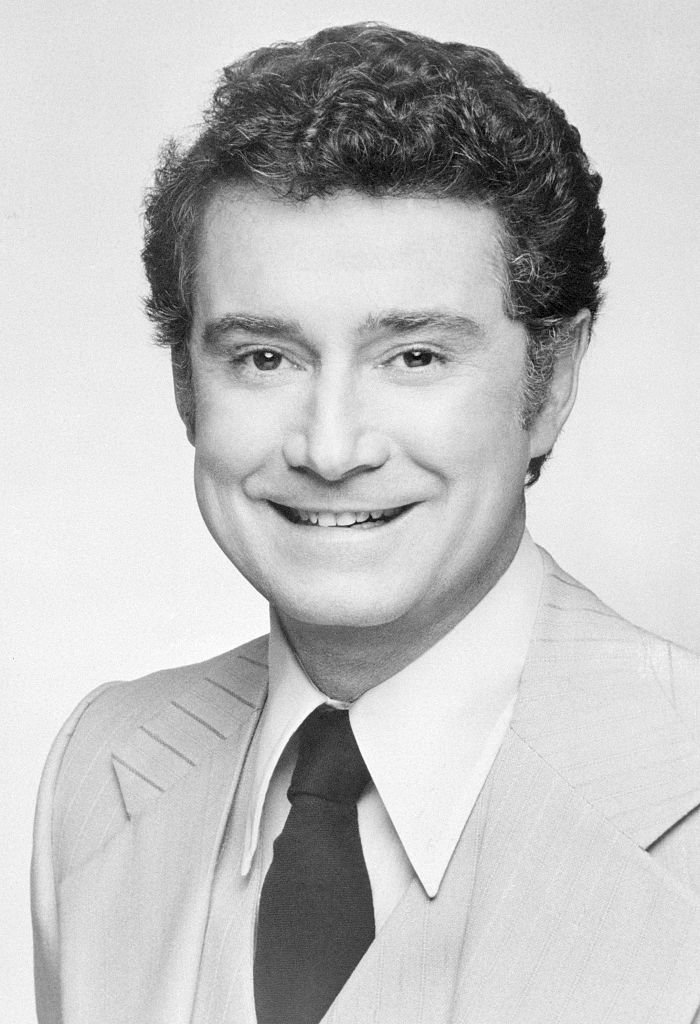 Portrait of Regis Philbin circa 1976 | Photo: Getty Images
After several reporting jobs in radio and television, Regis got his first talk show, "The Regis Philbin Show," on KGTV-TV leading to an Emmy-winning Los Angeles show called "Philbin's People."
In 1967, he gained national exposure when he became the sidekick on "The Joey Bishop Show." Unfortunately, he was not happy with his stint on the show as the star would throw jokes that humiliated Regis.
In 1983, he joined Cindy Garvey on "The Morning Show," which soon carved the path to his stardom. Two years later, Kathie Lee Gifford replaced Garvey, and the show was renamed "Live! With Regis and Kathie Lee." The show was a massive success and earned Regis seven Emmy nominations.
A HOLLYWOOD STAR
The duo's popularity led to avenues for Regis to earn a fortune, such as their co-authored books, "Entertaining with Regis and Kathie Lee" and "Cooking with Regis and Kathie Lee."
Throughout his career, Regis also co-hosted "The Miss America Pageant" and became the first host of the U.S. "Who Wants to Be a Millionaire" game show. In 2004, he set the Guinness World's Record for Most Hours on Camera, with a total of 15,188 hours.
After almost three decades, Regis announced his retirement from the weekday talk show "Live With Regis and Kelly" in 2011. The show was the biggest thrill of his life, but everything always had an end.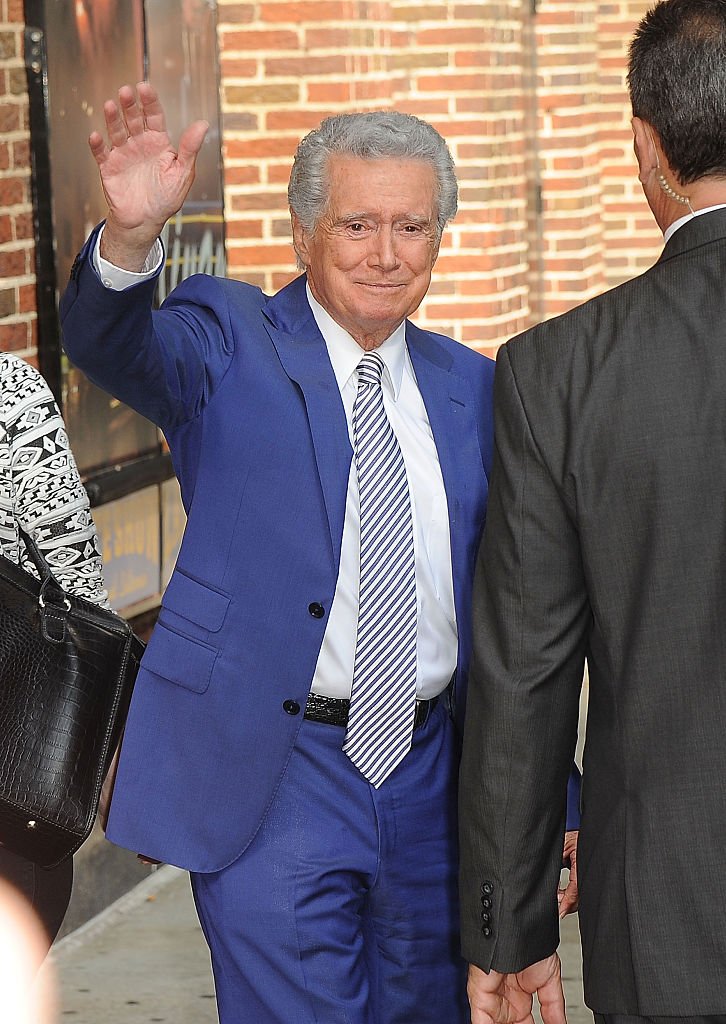 Regis Philbin visits "Late Show With David Letterman" on May 19, 2015, in New York | Photo: Getty Images
REGIS BEHIND THE SCENES
While Regis was making a name for himself on television, he was also building a family behind the scenes. In 1955, he married Catherine Faylen and welcomed two children, a daughter, Amy, and a son, Daniel. Sadly, their marriage only lasted 13 years before the divorce.
In 1970, the actor tied the knot with Joy née Senese, whom he met in 1967 when she worked as his assistant on "The Joey Bishop Show." Three years later, the pair welcomed a daughter, Joanna, followed by another girl, J.J.
Together, the couple and their kids made beautiful memories, some of which were in the Connecticut mansion they sold before Regis' passing.
THE CONNECTICUT ESTATE
Their Greenwich, Connecticut home is a 13,661 square-foot estate, sitting on a 2.59-acre land. It was sold for $4.015 million but had initially been on the market for $4.595 million at a 35 percent loss. The property, listed with Joseph Barbieri of Sotheby's International Realty, had a pool, tennis court, and a guest house.
When asked the secret to the longevity of their marriage, Joy revealed that Regis always had something new on the horizon, and it kept their lives active and fun.
Built in 1997, the mansion also featured plenty of space for entertaining, a billiards room, a pub room with a full bar and a wine cellar, and a home theater. Other amenities included a gym, sauna, sunroom, five-car garage, and mahogany-paneled library.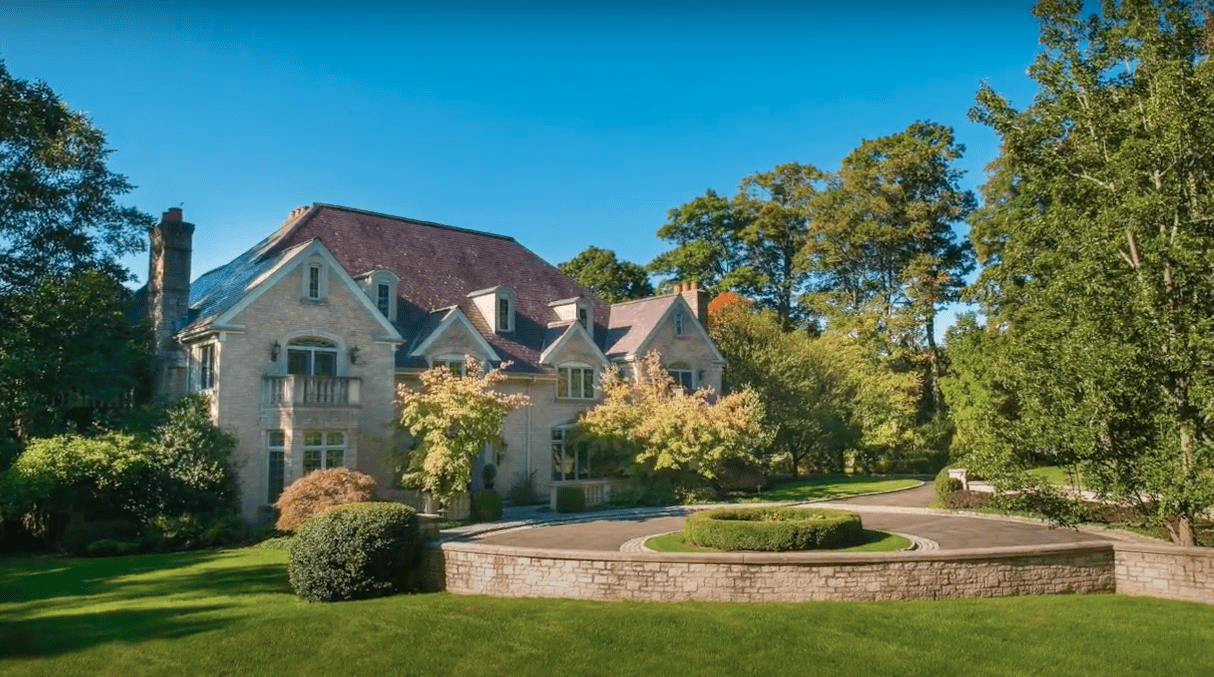 Regis Philbin's Connecticut mansion. | Source: Youtube/Top10RealEstateDeals
Regis decided to sell the home so he and his wife could spend more time with family in California. According to Joy, the Connecticut mansion was their favorite home, boasting six bedrooms and nine bathrooms. She previously shared, as told by People:
"We've moved around a lot and lived in many houses together, but this house will always be our favorite. We celebrated many birthdays and holidays."
Sadly, it wasn't long after the sale that Regis passed away due to natural causes. He was 88 at the time of death. In his family's statement, they revealed that Regis let everyone into his life and was able to turn minor daily annoyances and happiness into a story.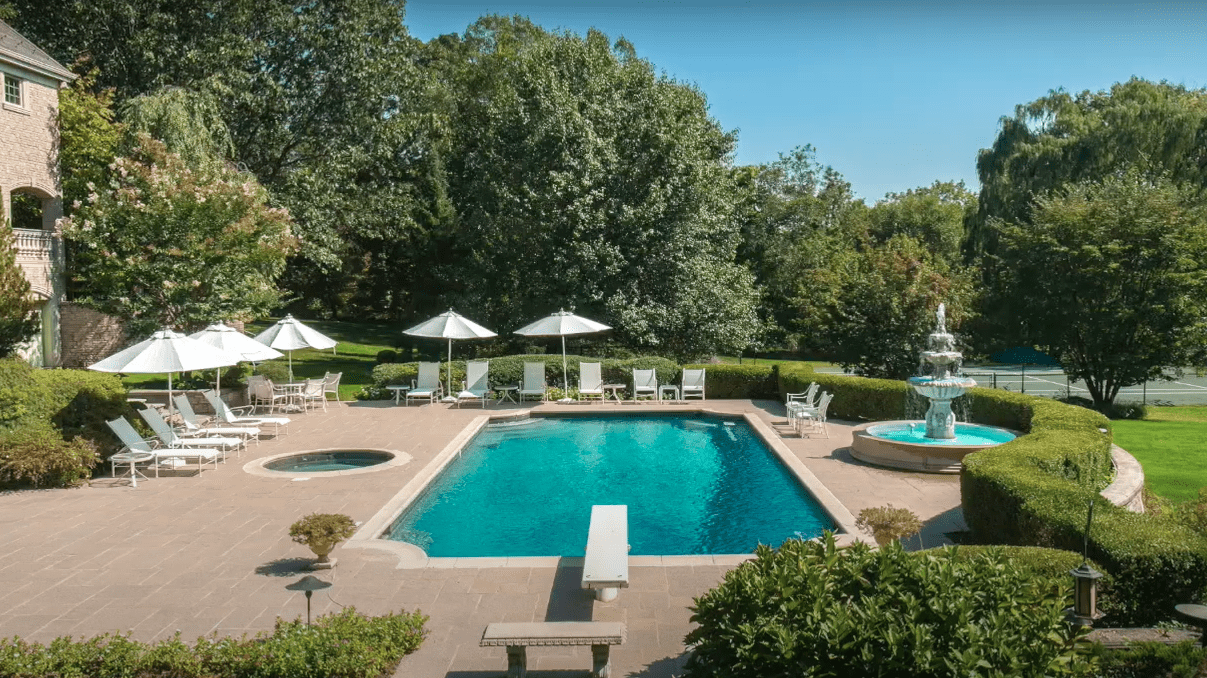 Regis Philbin's Connecticut mansion. | Source: Youtube/Top10RealEstateDeals
REGIS' DEATH
His family revealed that Regis could always make every day into something worth talking about. He was laid to rest at his alma mater, the University of Notre Dame, which held a special place in the actor's heart. He was also honored with a Studio Theater in his name in their performing arts center.
Regis regaled millions on air through the years, often sharing a passionate love for his alma mater with viewers," the school's President, Rev. John I. Jenkins, C.S.C., said.
Fortunately, Regis and Joy were able to celebrate one special occasion before his passing – their 50th wedding anniversary.
GOLDEN YEAR
The couple's union is one of Hollywood's longest-lasting marriages. When asked the secret to the longevity of their marriage, Joy revealed that Regis always had something new on the horizon, and it kept their lives active and fun. She told her husband:
"You keep it interesting and I think that's one of the secrets. That's why I don't think you should ever retire!"
Regis is survived by his wife, daughters, and four grandchildren. His three girls grew up well, although not all followed in the entertainment industry.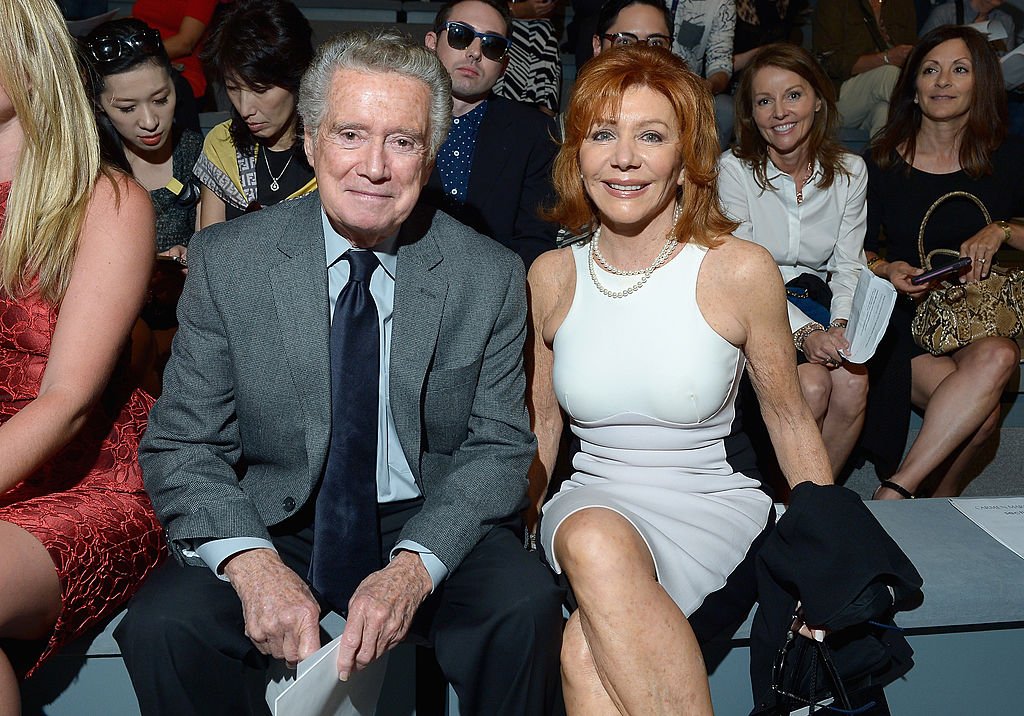 Regis Philbin and Joy Philbin at the Carmen Marc Valvo Spring 2014 fashion show during Mercedes-Benz Fashion Week on September 6, 2013, in New York | Photo: Getty Images
REGIS' DAUGHTERS
His first daughter Amy is among the less talked about celebrity kids, who was barely seen around her father growing up. She was said to have pursued a career in singing.
Meanwhile, Joanna received her Bachelor's degree from Brown University and her Master's degree from the University of Notre Dame. She became an accomplished author with books such as "The Daughters Take the Stage" series, "Rules of Summer," and "Since Last Summer."
His youngest child, Jennifer Joy "JJ," followed the actor's footsteps after receiving her Bachelors degree from the University of Notre Dame. She became a Hollywood producer and screenwriter known for her work on "The O.C."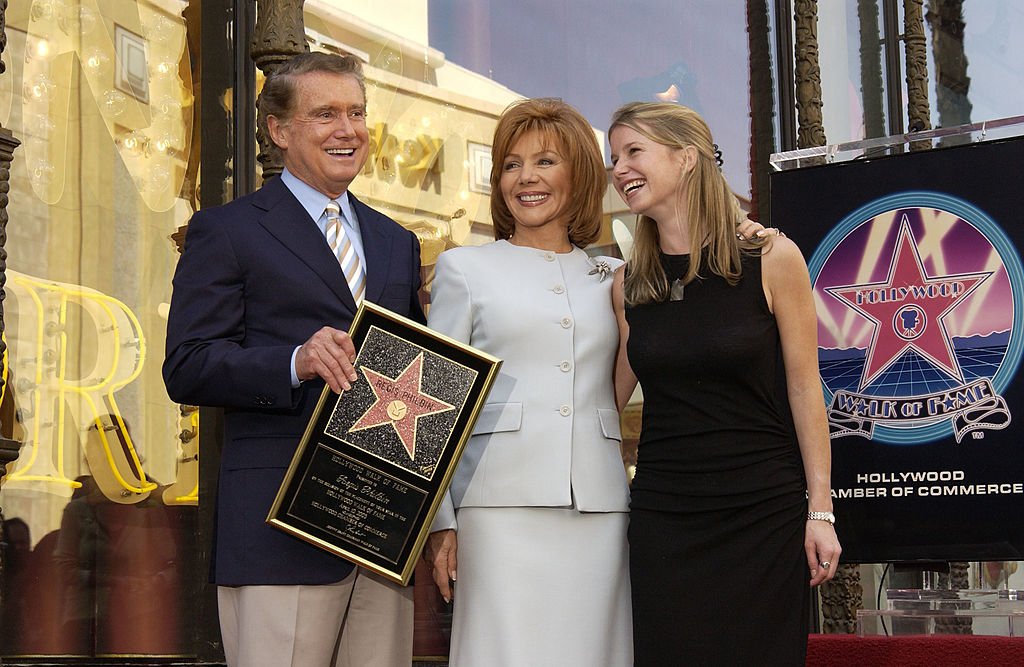 Regis Philbin, Joy, and JJ pose for a photograph after receiving a Star on the Hollywood Walk of Fame on April 10, 2003, in Hollywood | Photo: Getty Images
REGIS' SON
Like his eldest sister, Daniel stayed out of the limelight. Born with a spinal cord defect, Daniel spent most of his childhood at the Angel View Crippled Children's Foundation in California. He was also confined to a wheelchair throughout his life because his legs were amputated.
Despite his disability, Daniel aimed high for his educational pursuits and graduated with honors in high school. He went to California State University before earning a master's degree in political science from The Catholic University of America.
Sadly, he passed away on November 7, 2014, at 49. He left a legacy through his work for the Department of Defense as a writer-editor. At 37, he was honored by the Department of Defense for his help with the response to September 11, 2001 attacks.
Please fill in your e-mail so we can share with you our top stories!