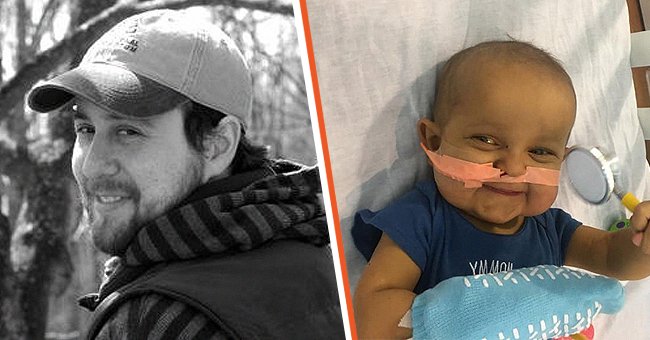 facebook.com/sean.kelley.9400
Dad Loses 40 Pounds So He Can Donate a Piece of His Liver to Save His Baby's Life
A New York father was told his one-year-old son wouldn't make it to his second birthday without a liver transplant. The desperate dad embarked on a four-month weight loss journey to qualify as a living donor to save his little angel's life.
Discovering your purpose in life is an incredibly enlightening experience. Often, we stumble upon our reason for survival at the most unexpected time, but the mere realization of having a direction and goal to work for can change us for the better.
A school professor and father of seven kids experienced these feelings when he saw his little son fighting for his life. While it took a while for the dad to figure out his role in the story, he saved his son's life just in time.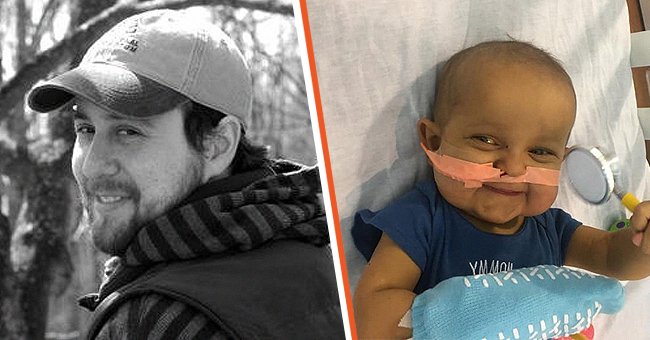 [Left] Sean Kelley. [Right] Sean and Josie Kelley's son, Sawyer. | Photo: facebook.com/sean.kelley.9400
THE KELLEY FAMILY
Sean and his wife, Josie Kelley, lived in West Almond, New York, with their seven children - Dylan, 19, Meara, 11, Christina, 11, Tristan, 5, Asher, 3, and 1-year-old twins, Silas and Sawyer.
Josie and three of their children suffered from a genetic disorder called Alagille syndrome. According to the National Institutes of Health, the genetic disease was likely to impact several organs in the body, including the heart and liver.
It could result in serious heart issues and liver damage in severe cases. The Kelley's had already gone through a hard time, with their son Tristan having open-heart surgery at three months old and their daughter Meara experiencing itchy skin.
SWEET SAWYER
Like his mom and two other siblings, Sawyer also had Alagille syndrome. However, his condition was such that he needed an immediate liver transplant, or he wouldn't live to see another birthday.
Following the challenging transplant, the father and son duo took their time to recover but were declared out of danger.
Following his health complication, Sean and Rosie began consulting different doctors. Soon they were referred to UPMC Children's Hospital in Pittsburgh by another hospital. Little Sawyer was also placed on a donor waitlist.
THE SELFLESS FATHER
Dr. George Mazariegos, chief of pediatric transplantation at UPMC, told the Kelleys that being on a waiting list could result in a long wait. Sawyer's best shot at living was to find a live donor. Thereafter, Sean stepped up to see if he was a match. He told GMA:
"You want to see them thrive. You want to see them happy. You want to give them every chance to succeed in life that you can. And this was an opportunity to do that."
But before Sean could qualify as a potential match for his son, he had to lower his BMI and shed some pounds. In August 2019, the desperate father embarked on a rigorous weight-loss journey. Within four months, he had lost 40 pounds.
SAVING HIS ANGEL
Sean was fortunate to have a supportive family, and his wife encouraged him immensely along the way. One day, he was in school when he received the confirmation that he had qualified as a perfect match for Sawyer. The happy father expressed:
"It was pretty overwhelming ... I had to literally sit down and just kind of take a few minutes (sic)."
Sawyer's liver transplant took place on December 19, 2019, where a piece of his father's liver was used to give him a new life. Dr. Mazariegos said the complex transplant concluded successfully.
SO HEARTWARMING
Following the challenging transplant, the father and son duo took their time to recover but were declared out of danger. Sawyer's mother, Josie, praised her husband for his selfless act in these words:
"I was just so proud of him and so happy that he was able to do that."
Undoubtedly, what Sean did for his little angel proves that parents would do anything to keep their children out of harm's way. Don't forget to share this heartwarming story with your loved ones.
Please fill in your e-mail so we can share with you our top stories!
The information in this article is not intended or implied to be a substitute for professional medical advice, diagnosis or treatment. All content, including text, and images contained on news.AmoMama.com, or available through news.AmoMama.com is for general information purposes only. news.AmoMama.com does not take responsibility for any action taken as a result of reading this article. Before undertaking any course of treatment please consult with your healthcare provider.