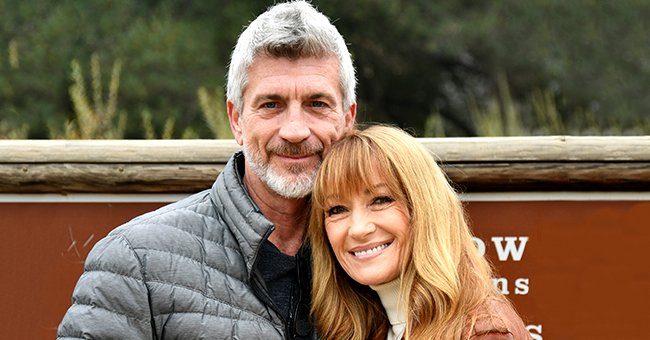 Getty Images
Jane Seymour and Joe Lando Are Close Again 23 Years after Breakup While Filming "Dr Quinn"
Jane Seymour and Joe Lando had a failed relationship just before "Dr. Quinn" and did not get along during filming. However, the pair are close again after over two decades.
British-American actress Jane Seymour is famous for playing the psychic Bond girl Solitaire in the James Bond movie "Live and Let Live." She is also renowned for her roles in many favorite films and TV series.
Seymour starred in one of the most popular series is "Dr. Quinn, Medicine Woman," wherein she played Dr. Michaela Quinn for six seasons.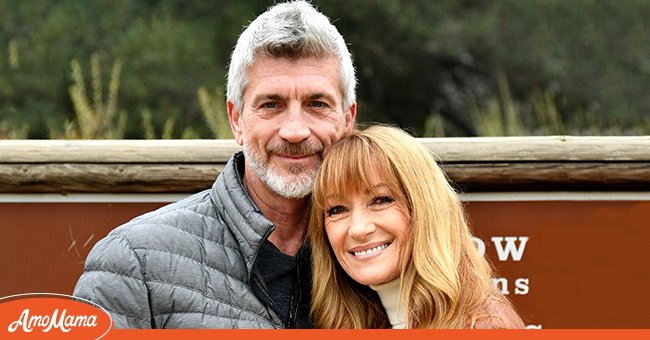 Hollywood stars Jane Seymour and Joe Lando in a picture hugging each other. | Photo: Getty Images
Besides her famous film and series roles, Seymour is also known for her multiple failed marriages. The actress first tied the knot with Michael Attenborough in 1971.
She was married to Attenborough's friend Geoffrey Planer from 1977 to 1978. In 1981, the actress tied the knot with David Flynn in 1981. They share two children: actress Katherine Flynn and son Sean Flynn. The couple divorced in 1992.
In 1993, Seymour married actor James Keach. The couple shares twin sons John Stacy and Kristopher Steven. However, they separated in 2013 before divorcing in 2015.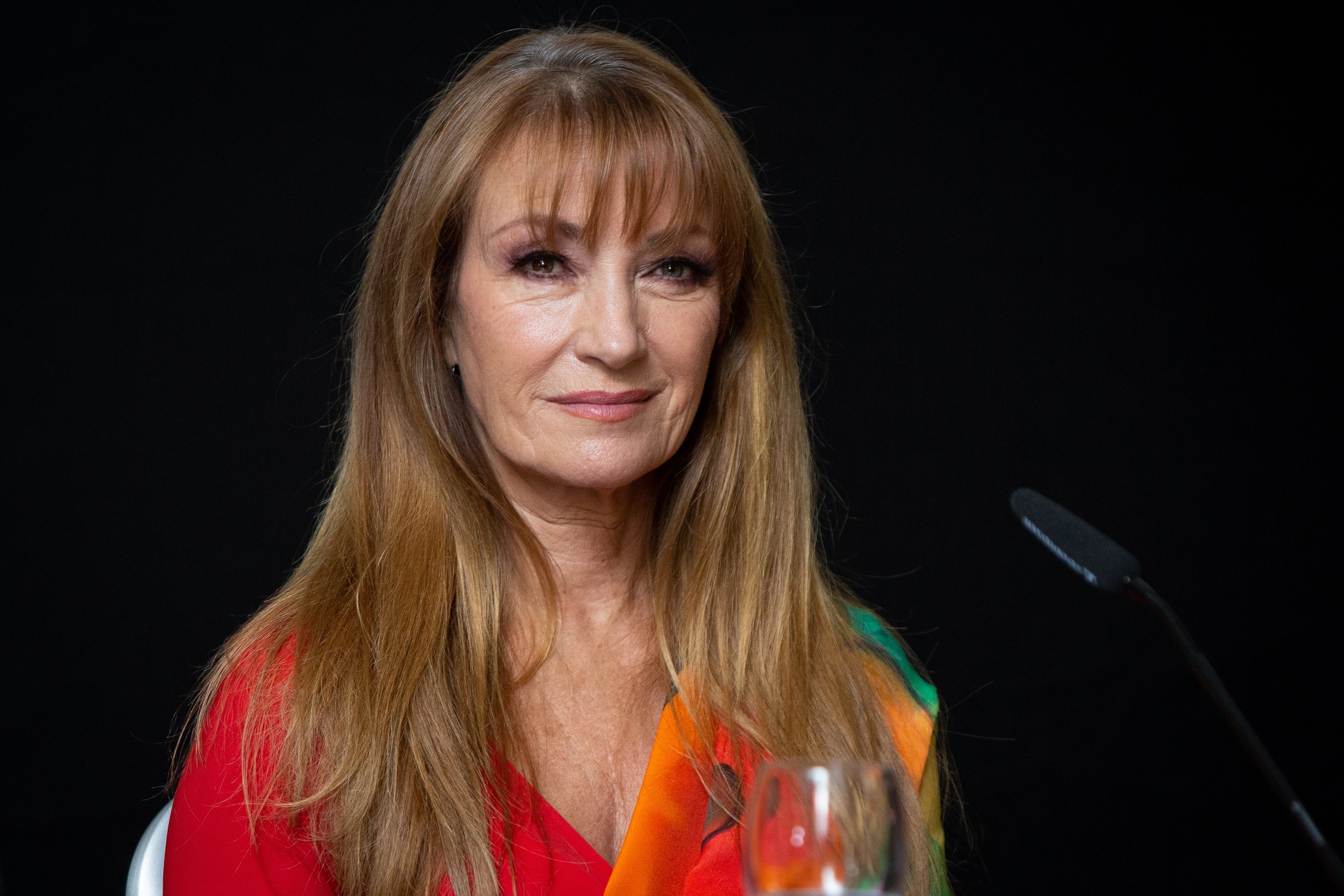 Jane Seymour attends "Glow & Darkness" photocall at The Westin Palace hotel on October 26, 2020 in Madrid, Spain. | Photo: Getty Images
Seymour, who at 67 became the oldest woman to be photographed for Playboy Magazine in 2018, is currently in a relationship with David Green.
Seymour's failed marriages are well documented, but not many know that she dated her "Dr. Quinn, Medicine Woman" co-star Joe Lando before the show began filming.
However, their relationship did not work out, which made them have difficulty getting along on set. Find out how it all transpired and about the former co-stars' relationship today.
SEYMOUR AND LANDO'S WHIRLWIND ROMANCE
While Seymour played Dr. Michaela Quinn in "Dr. Quinn, Medicine Woman," Lando portrayed her character's love interest, Byron Sully.
However, while there was nothing but love between the pair's characters onscreen, they found it hard to get along with each other on set.
It was because they had dated during the filming of the series' pilot episode in 1992. However, when the relationship failed, they dealt with post-breakup awkwardness. In a chat with Us Weekly, Seymour said of their relationship:
"We, obviously, clearly loved one another and realized we couldn't be actually in real-life together. I think we just played it [off] as Michaela and Sully."
WHY THINGS DIDN'T WORK OUT
Seymour revealed she and Lando did not talk to each other on set during the interview. They only did it during their dialogues or when their characters made out.
She suggested that their offscreen tensions might have given their characters some extra "sexual tension," which they would not have had if they had been playing happy households.
Landon and Seymour started dating unconventionally. She revealed a real flash flood on set that caused her car to be swept backward.
The actress could not get out of her vehicle because the person driving it was an intern and did not want her out of it. She recalled wounding down the window and jumping out of the car into Lando's truck. Afterward, they began a wonderful relationship.
While chatting with ET's Kevin Frazier, Seymour shared a piece of advice, saying, "Never fall in love with your leading man in the pilot and then break up before they pick it up."
There have been talks about a "Dr. Quinn, Medicine Woman" reboot, and Seymour weighed in on it during her chat with Frazier.
She recalled not talking to Lando on set, and they would then feed each other berries, kiss, jump off cliffs, and perform other romantic acts during filming.
Seymour also said her marriage to Keach, one of the regular directors on "Dr. Quinn," complicated things even further as he had to direct her and Lando's makeout sessions.
A TRILLION OF APOLOGIES
Seymour and Lando reunited in the 2020 film "Friendsgiving." During a chat with Page Six, she explained how their reunion in the movie came to be.
Seymour said they needed her to be with someone at the end, so she suggested Lando come and do it. So he did her a favor and came for one line, which turned out to be great fun.
Lando and Seymour are close friends these days despite their failed relationship and dislike for each other while filming "Dr. Quinn." She recalled their feuding days, saying:
"It was an absolute waste of time. He's apologized a trillion times and I've apologized."
Seymour also said the exciting thing is that if she and Lando had been a happy couple, their characters might not have had the amazing chemistry they had. She continued:
"I remember it was very difficult and very painful and a lot of tears were shed. The other side of it is we ended up with a great series."
A DR. QUINN REUNION
Seymour reunited with her "Dr. Quinn, Medicine Woman" co-stars during an early celebration of Lando's 60th birthday.
The 70-year-old actress shared two pictures on her Instagram page that showed her posing with Lando and their former castmates, William Shockley and Jason Leland.
The first photo showed Seymour embracing her former co-stars, who all smiled as they posed. The second snapshot showed the actress laughing excitedly as the men carried her in their arms. She captioned the post:
"Even after all these years they still carry me! 😄 My heart is full after spending time with these incredible humans. ❤️."
In the concluding part of her caption, Seymour said she, Leland, and Shockley got together to get an early start on celebrating Lando's milestone birthday.
There have been talks about a "Dr. Quinn, Medicine Woman" reboot, and Seymour weighed in on it during her chat with Frazier.
She revealed the show's original creator Beth Sullivan has scripted a follow-up that would pick up 26 years later, and the original cast is already onboard.
While fans will wait to see if the reboot eventually holds, one thing that would be certain is that Lando, who has been married to Kirsten Barlow since 1997, and Seymour would not have any offscreen tension between themselves.
Please fill in your e-mail so we can share with you our top stories!