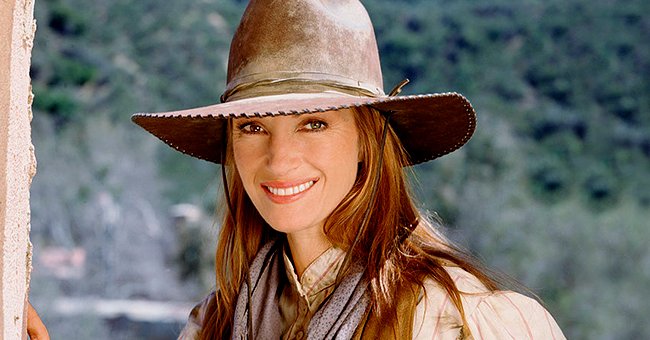 Getty Images
Jane Seymour Found New Love at 63 after Catching 4th Husband Cheating with a Familiar Woman
After experiencing four failed marriages, British-American actress Jane Seymour is not keen on settling down. Take a look into her relationship history and what she thinks about getting married again.
Since making her screen debut as an uncredited extra in the 1969 musical comedy "Oh! What a Lovely War," Jane Seymour has starred as a lead actress in some of Hollywood's biggest films.
She played a leading role in the TV series "The Onedin Line" and portrayed the psychic bond girl Solitaire in the 1973 James Bond movie "Live and Let Die."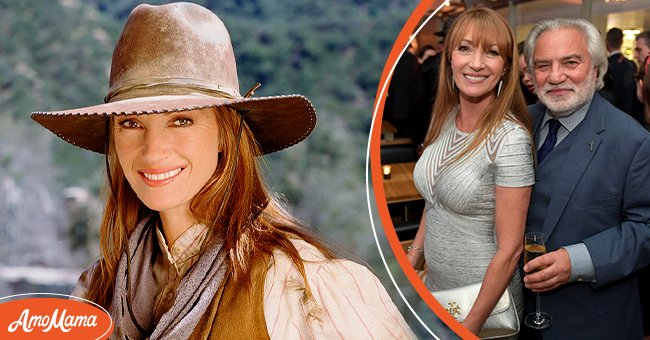 Promotional portrait of actress Jane Seymour as Dr. Michaela 'Mike' Quinn, in the made-for-tv 1999 movie 'Dr. Quinn, Medicine Woman: the Movie,' [left]. Jane Seymour (L) and David Green attend The Hollywood Reporter 6th Annual Nominees Night at CUT on February 5, 2018 in Beverly Hills, California [right] | Photo: Getty Images
Afterward, she became critically acclaimed and was nominated for the Primetime Emmy Award for Outstanding Lead Actress in a Limited Series or Movie for her role in "Captains and the Kings."
She won her first Golden Globe for Best Actress in the miniseries "East of Eden." The star also won a Primetime Emmy Award for Outstanding Supporting Actress in a Limited Series or Movie for playing Maria Callas in "Onasis: The Richest Man in the World."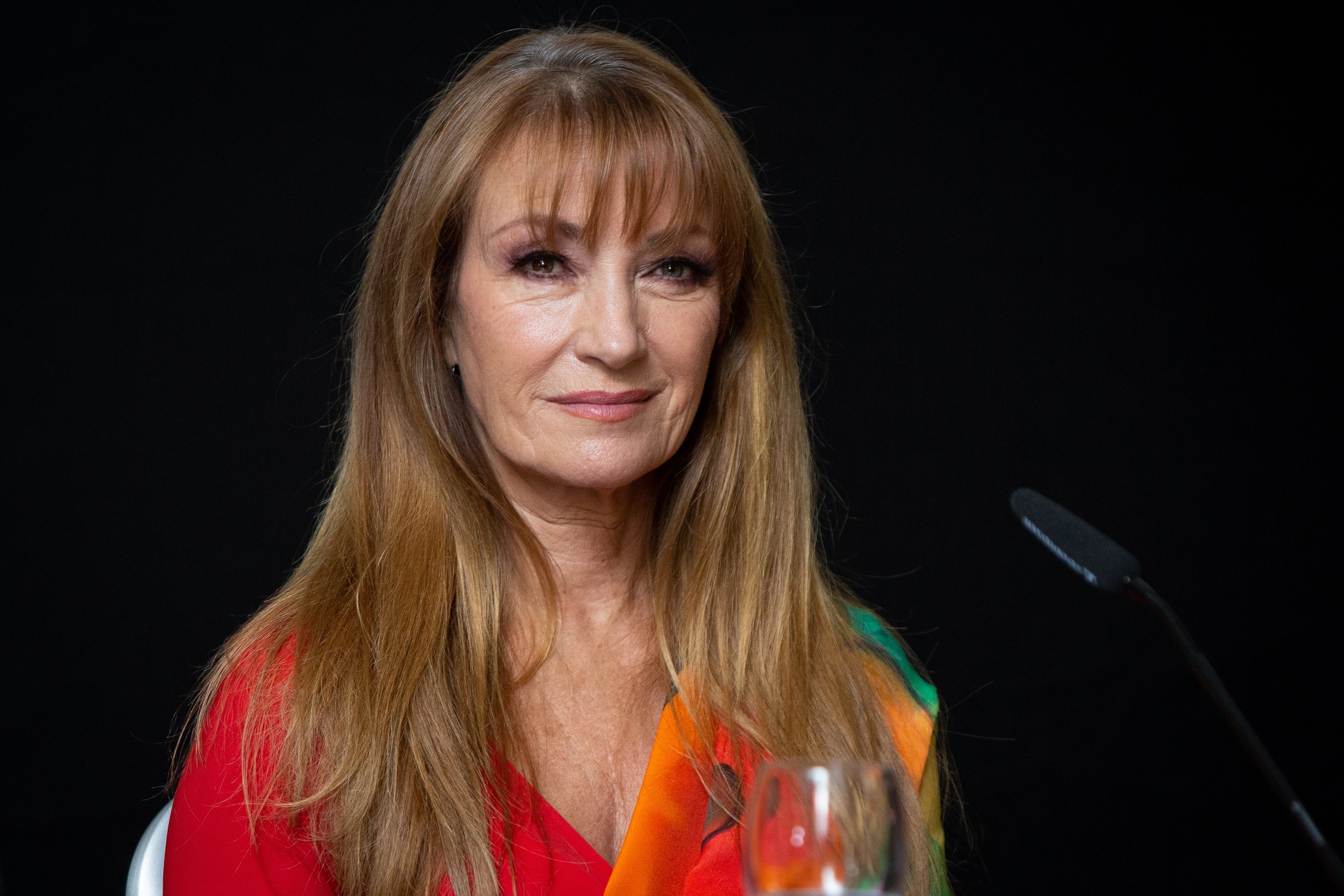 Jane Seymour attends "Glow & Darkness" photocall at The Westin Palace hotel on October 26, 2020 in Madrid, Spain | Photo: Getty Images
Seymour is also known for playing Dr. Michaela Quinn in the medical drama series "Dr. Quinn, Medicine Woman." Some of the other notable miniseries and movies she has appeared in include "War and Remembrance," "Wedding Crashers," "The War With Grandpa," and "Friendsgiving."
Besides starring in movies, she has also posed for Playboy magazine three times. The first time was in 1973, while the second time was in 1987. In 2018, she posed for the third time when she was 67, becoming the oldest woman to be photographed by the Magazine.
While Seymour's career has been one of many highs, she has not been so successful with her marriages. The beautiful actress has been married four times, with all of them ending in divorce.
Get inside the details of her failed marriages, her reactions to them, and finding new love. Also, find out her plans about getting married.
FAILED MARRIAGES
Seymour tied the knot for the first time in 1971 when she married Michael Attenborough, the son of film actor and director Richard Attenborough. Their marriage ended in 1973.
After Seymour's marriage to Michael failed, she wed his friend, Geoffrey Planer, in 1977. However, their union was brief and ended in 1978.
In 1981, she married for the third time to David Flynn, with whom she shares two children: daughter Katherine Flynn, a former actress, and son Sean Flynn.
David involved Seymour in the housing market, but it left her bankrupt. In a chat with ET, she revealed David had lost all their money and left her with a $9 million debt and multiple lawsuits from banks.
Seymour was homeless and destitute and had nothing to do. Hence, she called her agent and said she was ready to do anything. Her agent called the networks, after which she signed to star in "Dr. Quinn, Medicine Woman."
Seymour credited the series, which ran for five years, for saving her life. Through it, she could get a roof over her head, back on her feet, and fend for her kids. Meanwhile, Seymour and David divorced in 1992.
FOURTH HUSBAND'S CHEATING
Seymour's fourth marriage was to actor James Keach, who she married in 1993. The couple shares twins John Stacy and Kristopher Steven, who they welcomed on November 30, 1995.
Unlike her previous marriages, Seymour's marriage to Keach lasted long, but it eventually came crashing after they announced that they were divorcing on April 12, 2013. They finalized their divorce in December 2015.
Since the divorce, Seymour has opened up about her split from Keach. In a 2019 interview with Daily Mail, she revealed why they divorced and said she was devastated by the collapse of their marriage.
She said there were choices that she could not live with; Seymour always thought she and Keach would be married forever, but he made a choice unknown to her.
According to her, Keach found someone else, and it made her feel horrible and devastated. She further explained that she does not handle betrayal well.
The actress added that it would have been different if Keach had told her things were not good between them and they should separate. However, they never had that conversation. She also said:
"By the time I found out — entirely by accident — it had been going on for some time, so that was that. It was someone I knew, so that was very frightening."
Seymour revealed she tried to figure something out but realized that the marriage would not work. However, she and Keach remained good friends and were always determined to be good parents.
The timing of the divorce was terrible for Seymour as she felt very vulnerable and short of her self-confidence. She tried dating and got introduced to people by her friends. However, no spark resulted from those meetings.
OLD FLAME
After Seymour's marriage failed, her kids tried to get her on Tinder, but she refused. However, despite her not being too keen about dating after her split from Keach, she found love again at 63.
The actress found love with David Green, who she had known long ago, and like her, was also coming out of a failed marriage. Seymour told ABC:
"Accidentally I ran into somebody I knew 38 years earlier who had been in a long marriage and his marriage ended."
Seymour said it was not Green's choice that his marriage ended and also not her choice that hers ended. However, they randomly met accidentally 38 years later and realized they were free.
In a chat with Daily Mail, Seymour revealed she and Green had been friends first but fell for each other over lunch one day after being released from their marriages. She also said they were happy and described Green as the best.
While speaking with ABC, the 70-year-old actress compared her and Green's relationship to that of her character in "The Kominsky Method," Madelyn, who reconnected with an old friend, Norman, at a funeral following their spouses' deaths.
Seymour said she understands the situation of having a relationship with a contemporary as they both get to deal with older children, exes, and their future.
A FIFTH MARRIAGE?
With Seymour's relationship with Green going so well, some have wondered if she would walk down the aisle for the fifth time. During an interview with US Weekly, she said she was lucky to have connected with Green even though it took them many years to do so.
She described their relationship as remarkable because women her age do not get to find someone else. Even when they do, it is usually a much younger man and an uneven relationship. Seymour gushed:
"I think it's really wonderful I found a contemporary, someone I knew 40 years ago. We both had lives, and now we found one another, and we have another chance."
When asked if she had any plans of getting married in the future, Seymour quipped, "I'm just enjoying life and not tying knots. I don't think knots work for me. No. I'm keeping my heart open."
WHY JANE'S 4 MARRIAGES ENDED
Despite her long history of failed marriages, Seymour does not hold on to the negatives of her past. Instead, the biggest lesson from her past relationships is perspective.
In a chat with People, she said what she learned from her divorces is to let go, try to find a way to communicate, and keep the good things in the relationship.
While reflecting on all that has happened, she said she did the best she could. Seymour said she took her kids with her worldwide whenever she was working and had them with her when she was on set.
The mother of four said she found a way to joggle her career with motherhood but added that the men she was married to had different issues. She continued, "I never ended the marriages — they did, by finding other people!"
When asked how she dealt with multiple divorces and came out stronger, Seymour termed the process painful, depressing, and anger-making, adding that it took some perspective she learned from her mom to see her through.
She revealed she was brought up to see what she could do for others because it would give her a sense of purpose. Therefore, when she had a sense of purpose, she was able to deal with her issues.
Please fill in your e-mail so we can share with you our top stories!