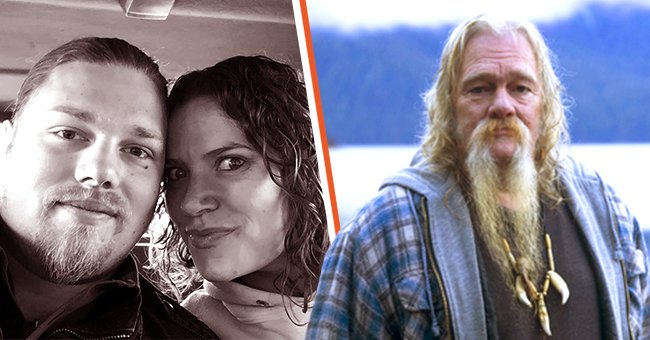 twitter.com/AlaskanBushPPL | instagram.com/noah_d_and_rhain_alisha
ABP's Noah Brown Shows off Sleeping Baby Son Almost a Year after Patriarch Billy Brown Passed Away
"Alaskan Bush People" patriarch Billy Brown passed away in February 2021. Unfortunately, it was not the only tragedy his son, Noah Brown, and his family has faced.
Noah Brown and his wife Rhain Alisha from Discovery's "Alaskan Bush People" shared an adorable new photo of their youngest son, Adam Bishop Brown, with their followers on their joint Instagram account this week.
The photo was a close-up of little Adam sleeping with his head rested on his arm. He looked adorable as he napped in a white onesie with animal footprints.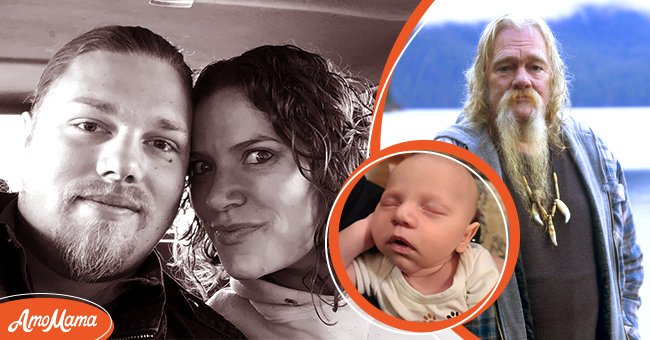 Noah Brown and his wife Rhain Alisha pictured on Instagram [Left] A portrait of Billy Brown shared by the APB Twitter page [Right] A close up of Noah and Rhain's son, Adam [Center] | Photo: Twitter/AlaskanBushPPL Instagram/noah_d_and_rhain_alisha
In the caption, Adam's doting parents wrote, "Hi, I will take some baby cuddles with a side of (oh my goodness he is sooooo cute) please." Many of the couple's followers agreed that Adam looked adorable.
One user wrote that Adam was the spitting image of his older brother, Elijah, who the couple welcomed in 2019. At the same time, another remarked that the couple has such a great family.
Noah and Rhain welcomed their second son at the end of October 2021. His birth was an incredible highlight for the couple because they have gone through a few tragedies over the last year.
In February, Noah's father, Billy Brown, passed away suddenly after experiencing a seizure at the family's homestead in Washington. Noah and his brother, Bear Brown, confirmed Billy's passing on Instagram.
Noah shared a photo of his father with his oldest son. Alongside the picture, he wrote that Billy was a loving and wonderful family member, and the family would miss him dearly.
Later Discovery shared the news on Twitter through the ABP Twitter page. The tweet said Billy was "a trailblazer, a lovely man" and one of a kind and that their heart was with his family and those who knew him.
Before BIlly's passing, the Palmer fire raged through their Washington homestead, which forced the family to leave temporarily. They have previously relocated to Washington State in 2017 after Billy's wife, Ami, was diagnosed with lung cancer.
Later in May 2021, after speculation that Noah and Rhian had moved away from his family, Noah shared they had moved to a rented house as he and Rhain "personally lost everything" in the wildfire.
Noah and Rhain married in 2018, a year after meeting in Alaska, while Rhain was on a trip. Later they welcomed their two sons. Fans can keep up to date with the family through their Discovery TV show or social media.
Please fill in your e-mail so we can share with you our top stories!