'ABP' Noah Brown Gives Update on Future Baby Months after News of Wife's Pregnancy Broke
"Alaskan Bush People" star Noah Brown and his wife Rhain Alisha shared some exciting baby news back in May. Eager fans have been flooding the couple's comment sections for updates since. 
Noah Brown and his wife, Rhain, announced that they were expecting their second child together, and their fans are ecstatic. The couple shared the news on Instagram with a sweet poem, making the announcement special. 
Fans of the TV personalities rushed to the Instagram comments to congratulate the couple on their fantastic news. Now, they are all eagerly awaiting the arrival of the newest edition to the Brown family. 
Brown recently took to Instagram to share a selfie of his gorgeous wife making a pouty face to the camera. The post's caption shows off the playful nature of the couple's relationship, as it reads: 
"When your Wife knows that her pouty face work on you" 
Although the picture shows Brown's wife in a more silly light, one cannot deny her beauty in the image. Many fans noticed Rhain's gorgeous blue eyes and beautiful facial features and praised them in the comments.
One fan even reminded Brown of how lucky he is to have such a stunning wife while complimenting her looks. Others even cheered on Brown's wife in the comments for making use of her stunning looks, referring back to the playful caption.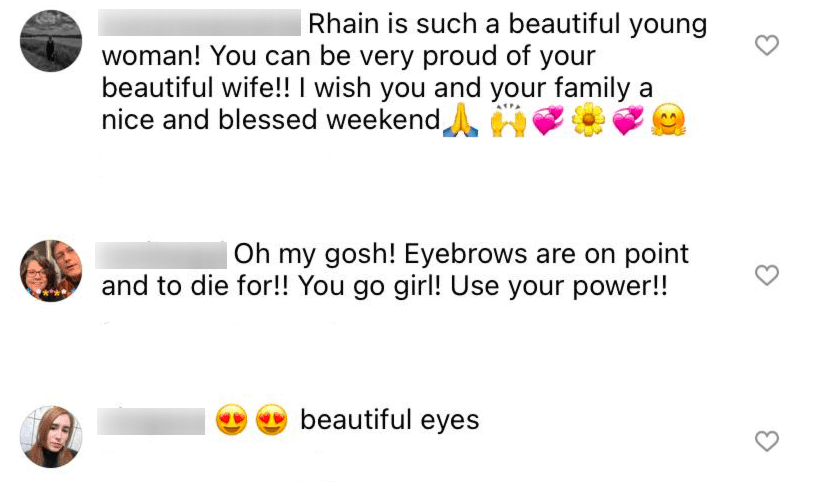 Although many fans were focused on Rhain's beauty, they were even more curious about her pregnancy. Numerous commenters asked for updates on the baby news the couple had shared with them months ago. 
One curious follower managed to get Brown's attention after plainly asking if the baby had arrived yet. Brown finally gave fans an update by simply replying "not yet" to the comment left by one of his fans. 

The excitement for the couple is endearing since their reaction is very similar to how the close Brown family operates. During her first pregnancy, Rhain revealed that the Brown family gets very excited about a new family member. 
The expecting mom shared how overprotective all of the Brown brothers got after finding out she was pregnant. She hilariously revealed how the brothers fuss over her while pregnant to People Magazine:
"Everyone's like, 'Don't lift anything over your head.' 'Oh, you need a break.' 'How are your feet?' 'Do you need to sit down?' 'Here, let me help you.'"
However, thanks to the Brown's fierce overprotectiveness, the couple welcomed their baby boy Elijah in 2019. Their first son came just six months after the couple married in an intimate ceremony in Idaho. 
Brown and Rhain tied the knot on their second anniversary, making the nuptials even more romantic. Rhain even had a blue stone ring in her bouquet from Brown's mother, Ami, for the memorable event. 
When Brown and Rhain married in 2018, they shared how excited they were to start their family, making their timing perfect. The pair also revealed that they planned on having three children, which they seem to be working on reaching soon. 
It is wonderful to see Noah expand his family with such ease and love, especially after fans witnessed his previous attempts at romance. The TV personality even famously performed a song about an ex during a first date. 
Thankfully, Brown was able to dig into his more romantic side when approaching his now-wife. The TV personality's sweet gesture of designing his wife's engagement ring indicated that Brown had finally found the one. 
Since their first son's birth, Brown and his wife have lived in
Colorado
, meaning they're apart from their close-knit Brown family. However, the excitement from fans and followers may be enough to keep the couple covered until they welcome their second.