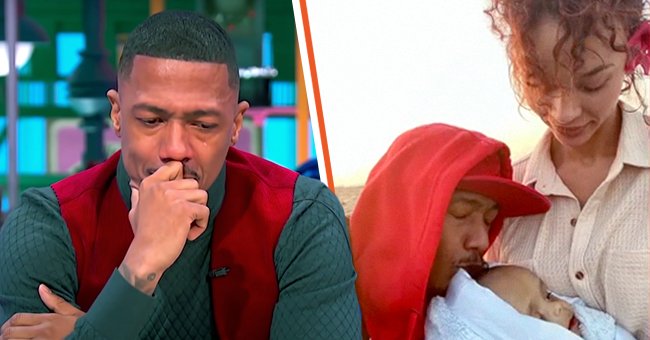 instagram.com/nickcannon
Alyssa Scott's Admits Her Kids Are Her 'World' on Last Pic of Her & Nick Cannon's Late Son Zen Alive
Nick Cannon revealed that his five-month-old son, Zen, passed away during his show this week. However, Zen's mother did not know he would share the devastating news of his loss on TV.
On December 7, 2021, Nick Cannon shared with his audience on "The Nick Cannon Show" that his son, Zen, had passed away after a battle with brain cancer.
The TV personality had first noticed something was wrong when Zen was two months old. Zen had a cough, "real interesting breathing," and a large head. So his parents took him to the doctor for what they thought would be a "routine process."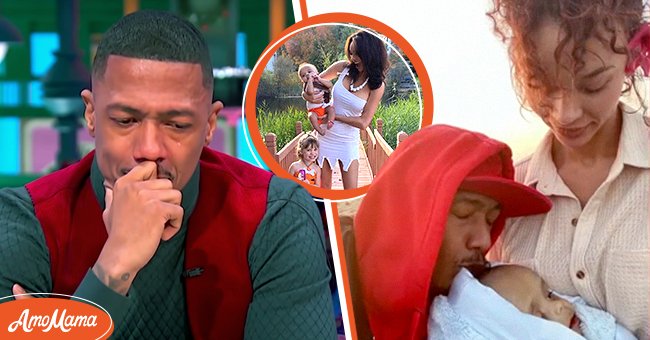 Nick Cannon pictured sharing the news of his son's passing on his show, "The Nick Cannon Show." [Left] Cannon, Alyssa Scott and their son, Zen, pictured together [Right]. Scott and her two children, Zeela and Zen pictured together [Center]. | Photo: instagram/nickcannon & instagram/itsalyssaemm
Zen's family learned Zen had hydrocephalus and had built up fluid on his brain. During surgery to place a stunt to drain the fluid, doctors found that Zen had a malignant brain tumor.
Scott's mother, Lisa, told The Sun that Scott was having a hard time but was strong. Lisa explained that her daughter does not like attention and did not know Cannon would announce her son's passing on TV.
Scott, who welcomed her son in July, is a model and shares glimpses into her family life and gorgeous photoshoots of her Instagram account.
One of the last photos Scott shared of her son was in November. Scott, Zen, and Scott's daughter, Zeela, were dressed up as characters from "The Flintstones," presumably for Halloween.
In the adorable Halloween picture, Scott posed in a white dress and a pearl necklace while she held Zen. Zeela was standing next to her mother and brother in an adorable orange and blue tutu.
The photo, which Scott captioned "My World," received several comments from other Instagram users sending their condolences and thoughts to Scott and her family following Zen's passing.
Cannon shares Lisa's sentiments that Scott is being strong while grieving the death of their son as he described her as one of the strongest people he had ever seen.
The father of seven explained that Scott never had an argument or was angry while dealing with their son's conditions but was emotional when needed. He stated she was always the best mom and would continue to be a great mother.
Cannon dedicated the Tuesday episode of his show to his son and explained that he went back and forth on what to do. However, he decided to do the show to prove he could fight through the heartbreak.
Please fill in your e-mail so we can share with you our top stories!