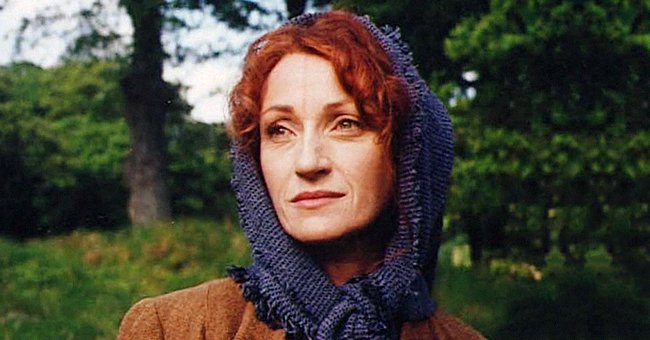 Instagram/janeseymour
Jane Seymour Once Decided to Quit Acting — She "Got Fat" and Went Back to Her Birthplace
As a child, Jane Seymour wanted to be a prima ballerina and left dance school to focus on drama, and that was how her acting career kicked off.
She adopted an American accent when she moved there from native England to further her career. Unfortunately, after an incident with a powerful producer, she decided to quit acting.
A move back to England soon followed as Seymour decided amid some weight gain that she was not prepared to put in the effort to get ahead. However, she got another role and has flourished ever since.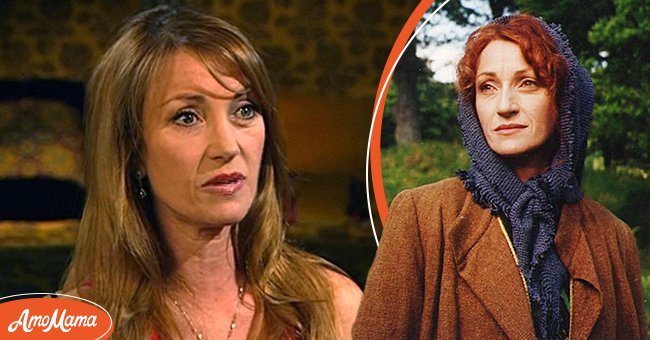 Photo of Jane Seymour in an interview (left), Photo of Jane Seymour from "Yesterdays Children" (right) | Photo: Youtube.com/HoustonPBS, Instagram.com/janeseymour
EARLY LIFE AND CAREER OF JANE SEYMOUR
Jane Seymour was born Joyce Penelope Wilhelmina Frankenberg on February 15, 1951. Seymour had a speech impediment and flat feet as a child, which required her to take a dance class and walk to develop arches in her feet.
With her dance lessons, she became hooked on ballet, decided to be the next prima ballerina, and loved acting drama, playing many instruments, and learning how to sing.
Eventually, she got a scholarship to one of England's best drama and dance schools. While training to be a ballerina, Seymour got injured in a dance class and transitioned to full-time drama in the same school.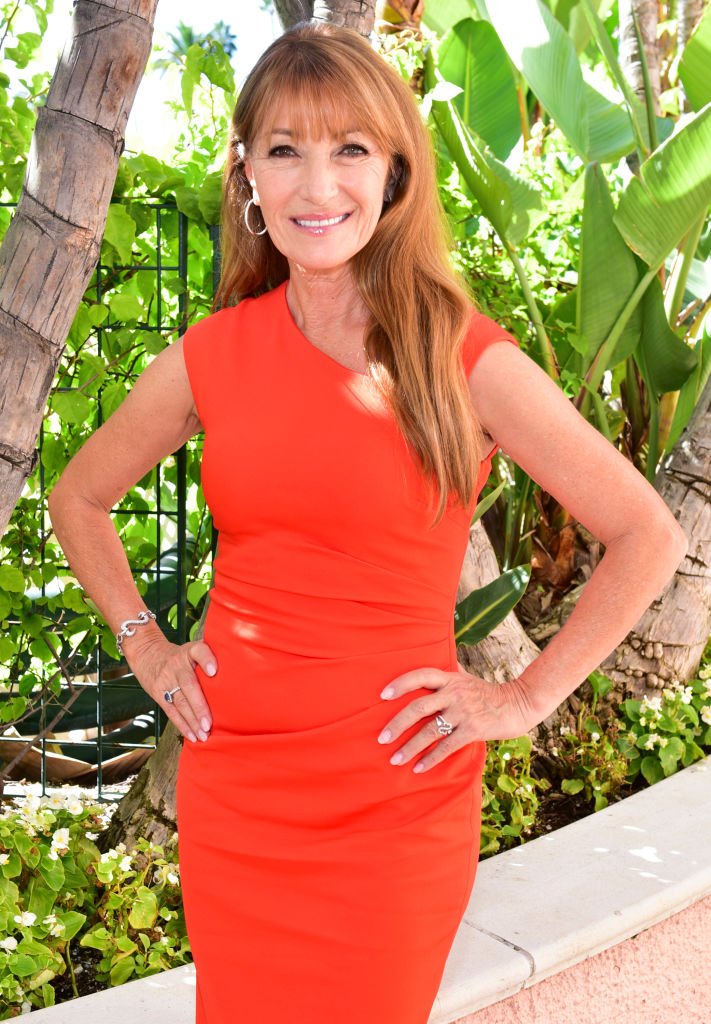 Jane Seymour attends John Wayne Cancer Institute Auxiliary Annual Membership Luncheon & Boutique at Beverly Hills Hotel on October 17, 2018, in Beverly Hills | Photo: Getty Images
After winning many competitions, Seymour started starring in movies and television and became an actress by default. At 26, Seymour moved from England to America because even though she was a terrific actress, she was told she looked too exotic.
Once her career had kicked off, she chose Jane Seymour as her screen name. They told her to drop her British accent on her arrival in America, and she had never stopped acting.
In 1973, she played the role of the main Bond girl, "Solitaire," in "Live and Let Die." In 1988, after her move to America, she played the role of Maria Callas in "Onassis: The Richest Man in the World."
The role got Seymour her first Emmy award. In the 1990s, Seymour took on the part of Dr. Michaela "Mike" Quinn in the series "Dr. Quinn, Medicine Woman." With this role, she got her second Golden Globes award.
Besides being a great actress, Seymour is also an accomplished portrait artist who had one of her paintings auctioned off at a high school benefit in Illinois.
INSIDE HER RELATIONSHIPS AND HEARTBREAKS
At 70, she has been married and divorced four times. Her relationships taught her a lot about love and loss to last her a lifetime. However, her biggest lesson has been perspective.
On July 10, 1971, Seymour married Michael Attenborough, the son of an actor and director. Their marriage ended in 1973 with no children. She got married to Victor Geoffrey Planer a second time on August 20, 1977.
By 1978, they had divorced, and on July 18, 1981, she got married to David Flynn. They had two children, Katherine, born on February 7, 1982, and Sean, born on July 31, 1985.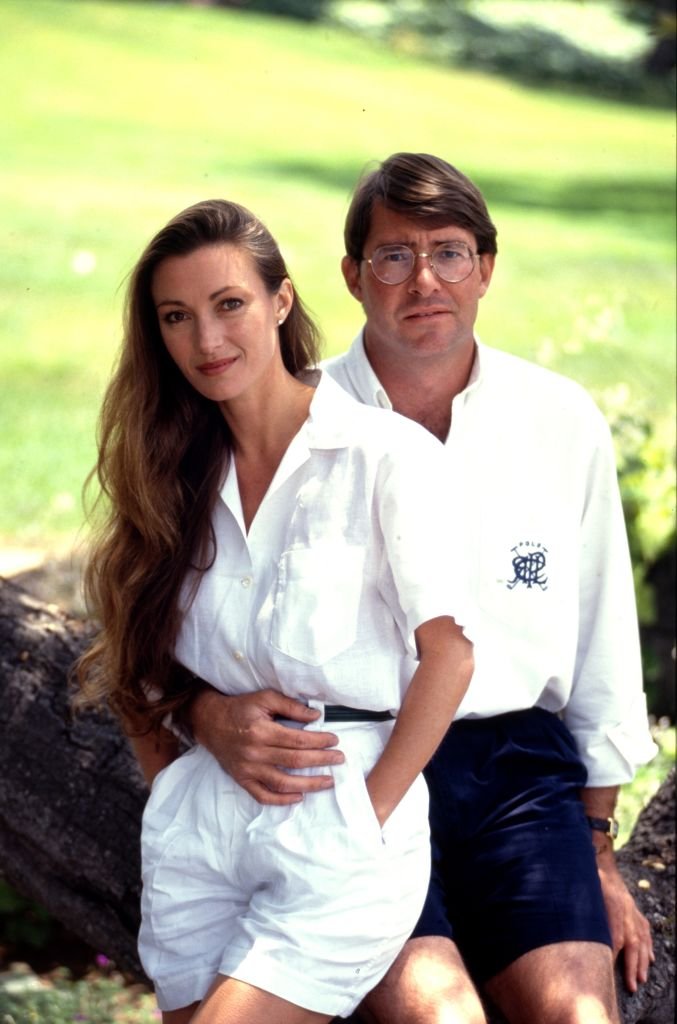 Jane Seymour and David Flynn at home May 5, 1991, in Montecito | Photo: Getty Images
They were together until May 1, 1992, when they got divorced. On May 15, 1993, Seymour got married to the actor James Keach for the fourth time.
On November 30, 1995, they welcomed their twins John Stacy and Kristopher Steven. They got separated in 2013, and their divorce was finalized in 2015.
Even though they have been divorced, Seymour is close to her ex-husbands' children Jenni Flynn and Kaelen Keach, whom they had in a previous relationship.
Her divorces were painful, depressing, and made her angry, but they also made her stronger. She was also able to find a way to communicate and keep what was good in the relationship.
BURIED IN $9 MILLION DEBT
In 1993, Seymour's ex-husband left her with a nine million dollar debt and lawsuits from every major bank. Apart from being penniless, she was also homeless.
She called her agent to ask him to get her anything to save herself. That was when her agent got her the contract for "Dr. Quinn, Medicine Woman."
When Seymour got the contract, they told her that she had to sign on for five years in case it became a series, and she started 12 hours after signing.
The money she was paid saved her life, got a roof over her head, she could get back on her feet, and her kids could be on the set with her and while doing their schoolwork in her trailer.
THE DARK INCIDENT WHY SHE ALMOST QUIT HER CAREER
During the Hollywood #MeToo wildfire, Seymour came forward with her story on how one of the industry's most influential producers sexually harassed her when he asked her to screen test for a role.
The producer asked her to come to his house and watch the first screen test there. After they watched the test, he put his hands on her lap, and she resisted him.
She was terrified, shaking, and asked him to call her a cab. After he put her in a cab, he threatened that if she ever told anyone, he would guarantee that she never worked again anywhere on the planet.
When asked by her agent if she ever saw the producer, Seymour lied, and her agent was relieved because he knew that the producer had a "bit of a reputation." After the incident, she went back to England and decided she would quit acting. Seymour said:
"I got fat. I baked bread and ate a whole loaf every morning, and did needlepoint. I decided I wasn't going to do this anymore. I wasn't prepared to do what had to be done."
She came forward with her story because she believed that every woman had the right to choose. After that, another opportunity came around for Seymour to play Nora in "A Doll's House," and she took it. That role helped her career flourish, and she has kept acting since then.
REUNION WITH "DR. QUINN" CAST
On December 6, 2021, Seymour reunited with her co-stars, William Shockley, Jason Leland Adams, and Joe Lando, from "Dr. Quinn, Medicine Woman" to celebrate Lando's 60th birthday.
After almost 30 years, she was glad that the greatest gift in life was the time that they had shared with Lando. Seymour was glad to have done the show, which had more impact in countries other than America.
Please fill in your e-mail so we can share with you our top stories!