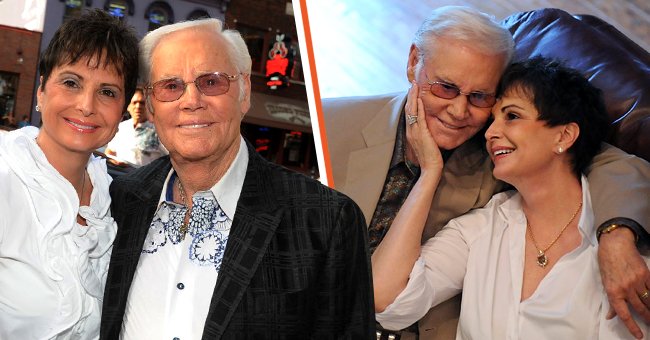 Getty Images
George Jones Met 4th Wife of 30 Years on Blind Date & She Was by His Side till His Last Breath
After three failed marriages, George Jones finally met the love of his life through a blind date, and she was with him until he died in 2013. Find out more about their incredible love story.
American singer and songwriter George Jones was globally famous for his extensive list of hit songs, including "He Stopped Loving Her Today," his best-known song.
Besides his incredible hitlist, he was also known for his distinctive voice and phrasing. In the last 20 years of the musician's life, he was often referred to as the greatest living country singer.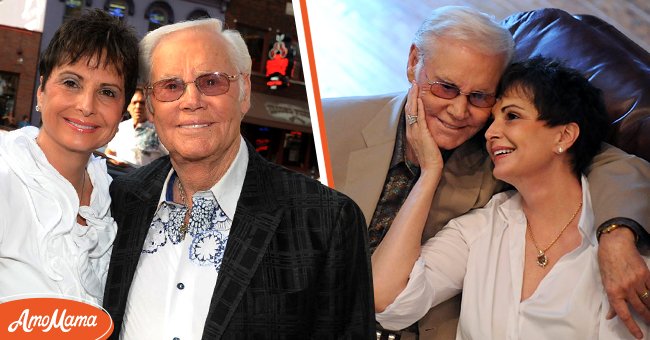 Late singer George Jones with his wife Nancy. | Photo: Getty Images
Many have described Jones as the "Rolls Royce of Country Music." It was a befitting title for the musical icon as he had over 160 chart singles during his active career.
However, while Jones excelled in his music career, he struggled in his marriages. He was married four times in his lifetime, with his first three marriages failing.
In 1950, he tied the knot for the first time with Dorothy Bonvillion. However, their marriage lasted for only a year as they divorced in 1951.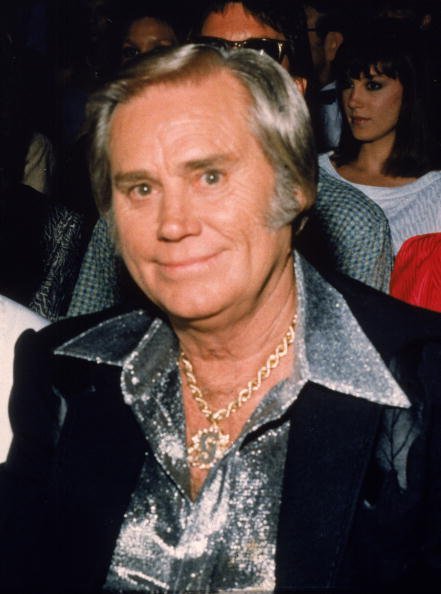 Portrait of George Jones seated at an unidentified event in late 1980s. | Photo: Getty Images
Jones' second marriage was to Shirley Ann Corley in 1954. However, just like his first marriage, his union with Corley ended in divorce in 1968.
Jones' first two marriages resulted in three children (a daughter and two sons) he rarely saw. Besides his two failed marriages, he was also drinking heavily.
A year after divorcing Corley, Jones married his fellow country music singer Tammy Wynette. However, their marriage was turbulent.
The couple shared a daughter named Georgette Jones after her father. In her memoir, Georgette wrote about her parent's troubled marriage, "The Three of Us: Growing Up With Tammy and George."
Jones and Wynette divorced when Georgette was four years old. They lived in Florida, where Jones was busy restoring an old plantation house. In addition, he was building a country music theme park around the plantation house.
Jones' dream was to stop touring and get off the road for good so that he could stay at home and play shows there. However, he could not achieve those dreams.
Despite Jones and Wynette's love for each other and their joint tours and concerts, they could not remain a couple. Georgette wrote that the main reason her parents could not stay a couple was because of her dad's "nippin" and her mom's "naggin."
According to her, all her dad wanted was to be left alone to pursue his interests while her mom sought her own Prince Charming all through her life.
In 1975, Jones and Wynette divorced, and he credited it for accelerating the downward slide he experienced at a point in his career.
Jones opened up on why he split with Wynette. He revealed that they still loved each other. When asked what went wrong, he said his drinking was a problem and drank a little more than he should have.
In his memoir, "I Lived to Tell It All," he also said he had no regrets about his marriage to Wynette except for his heavy drinking. Following their divorce, he quit the road and moved from Nashville to Muscle Shoals, Alabama.
More than once in his lifetime, Jones credited Nancy for saving his life
However, he was experiencing a troubled trajectory caused by bad management, tax hassles, cocaine abuse, alcoholism, massive debts, and lack of shows, which earned him the nickname "No Show Jones."
After experiencing the heartbreak of three failed marriages, Jones threaded with caution. He opened up to People about finding love for the fourth time, saying:
"If I do it again, I'm gonna do it right."
Remarkably, things turned out just as Jones predicted. His fourth marriage to Nancy, a former telephone company worker from Shreveport, was his longest and most fulfilling.
Jones and Nancy met on a blind date in 1981. Nancy revealed a friend had introduced them, and she was reluctant to meet him. However, he was kind and well-mannered, and they talked for a long time.
Afterward, they began a relationship. She explained that she always knew he was a good guy despite his struggles. Thus, they just had to reach in and get rid of his demons.
Nancy and Jones tied the knot in 1983. She was able to turn his life around afterward. However, doctors advised him to dry out or die due to his struggles with alcoholism and drug abuse.
He decided to spend four weeks at the University of Alabama Hospital in Birmingham. Nancy joined him in his hospital suite and was always by his side.
Jones revealed he spent much time thinking during that period. However, he received thousands of encouraging letters and said many prayers. Hence, he decided that he was done with drinking and drugs. The iconic singer told People about his experience:
"I was down about as low as you can get. I didn't think there was any way back, so if I hadn't lucked out and had Nancy, I would probably have wound up dead."
Twelve years after marrying Nancy, Jones was healthy and back to his best musically as he recorded new songs and did what he loved doing best. He told People:
"I'm more happy with the new songs than I have been in a long time. It's back to my original style. These past years have been the happiest years of my life."
After Jones' divorce from Wynette, they rarely spoke to each other. However, they reconnected in 1993 after their daughter, Georgette, welcomed twin sons, Kyle and Ryan.
Jones and Wynette did not reconcile until later in 1993, when the latter suffered complications from a bile-duct infection that nearly killed her.
Nancy encouraged Jones to visit Wynette at Nashville's Baptist Hospital, where she lay in a coma. His visit to her was a turning point in their relationship. They did not become close after that, but it made them sing together again.
On April 6, 1998, Wynette died at 55 while sleeping on her couch in her Nashville, Tennessee, home. Her doctor said she died of a blood clot in her lung.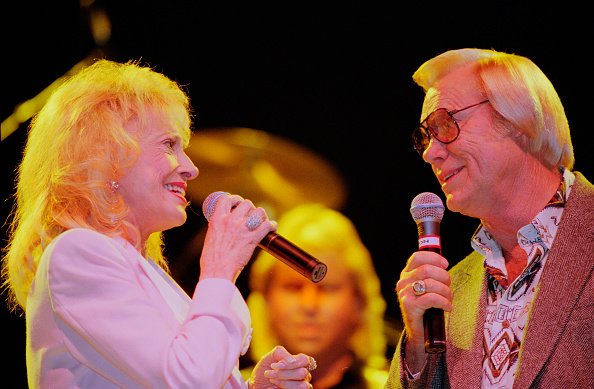 Tammy Wynette and George Jones at Hammersmith Apollo in London in September 1995. | Photo: Getty Images
Meanwhile, Jones died at 81 on April 26, 2013. He died at Vanderbilt University Medical Center in Nashville after being hospitalized with fever and irregular blood pressure.
More than once in his lifetime, Jones credited Nancy for saving his life. However, she also learned so much from him during their 30-year marriage. In a chat with Fox Nashville, Nancy opened up about her final moments with Jones and struggled to hold back tears as she did.
She described Jones as the most loving man and said he taught her how to love and the ins and outs of the music business. Nancy also said Jones taught her not to hold grudges but be nice to people even if she was mad at them.
Nancy recalled her final moments with her late husband. She said she was crying, and he asked her why she was doing so. Jones told her he had lived for 81 years and had messed up in some of those years.
He added that he had paid for his bad acts and was going to heaven and urged her not to cry. Nancy described Jones as her best friend and vowed to ensure his legacy lives on.
She revealed they talked for six hours before he died, and she is now carrying out everything he wanted her to do.
Please fill in your e-mail so we can share with you our top stories!