Getty Images
Jessica Betts Smiles in Pic with Wife Niecy Nash Who Wore an Electric Blue Dress & Was Once 'Reluctant' to Date Her
Jessica Betts, who looked like a perfect match to her wife, Neicy Nash, in a recent Instagram photo, had to chase the "Claws" actress and TV personality before they started their romantic relationship.
"Claws" star Niecy Nash shared new gorgeous photos of herself and her wife, Jessica Betts, dressed up for CNN's Hero Awards on Instagram this week.
Nash wore a stunning figure-hugging blue gown, while Betts looked equally stunning in an all-black ensemble that featured a suit and a long overcoat. She accessorized the look with a simple silver cross necklace.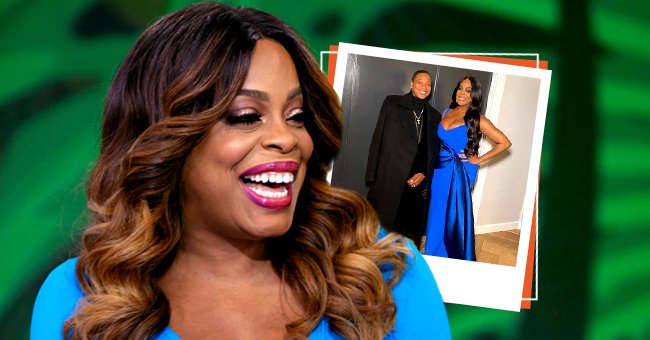 Niecy Nash pictured on "Today" in 2019 [Main Picture] Niecy Nash and Jessica Betts pictured for CNN's Hero Awards, 2021. | Photo: Getty Images & Instagram/niecynash1
Betts and Nash
tied the knot
on August 29, 2021. The wedding announcement came as a shock as many fans were not aware the pair were dating or aware that Nash had divorced her second husband, Jay Tucker.
The couple first connected in 2015 over social media. In 2018, they finally met when Betts appeared on "Claws" as a bartender. Two years after meeting for the first time in person, the couple wed.
Although they are happy and in love now, the R&B musician revealed during an episode of "The Red Table Talk" that Nash was "reluctant" to get into a relationship, and she had to chase the "Reno 911" star.
During the same episode, Nash explained to the hosts, Jada Pinkett Smith, Willow Smith, and Adrienne Banfield-Norris, that she was hesitant to enter a relationship for two reasons:
"I had said on the other side of this marriage I'm going to get me a little young 25-year-old … and I was just going to live my life and just have fun..."
The second reason was that Nash was fearful that their friendship would not survive a romantic relationship. "The Soul Man" actress never wanted not to have Betts in her life, so she was cautious about changing the dynamic of their relationship.
Despite her reluctance, Nash and Betts forged a romantic relationship together. This relationship is much different from Nash's previous relationships with men as she admitted, "it was the first time in my life I had ever felt fully seen. And it changed me."
Although Betts might have had to pursue Nash to give their romance a shoot, Nash's children were easier to get on board with having Betts a part of the family as the "Clean House" alum said her kids love their step-parent.
Nash has three children, Dominic, Donielle, and Dia, whom she welcomed with her first husband, Don Nash. The children have accepted Betts as they "really, really like her" and think, "she's the coolest thing."
Please fill in your e-mail so we can share with you our top stories!