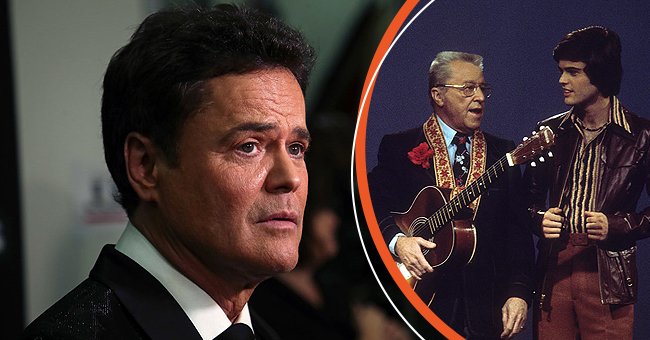 Donny and George Osmond | Getty Images
Donny Osmond's Dad Spoke Loving Last Words to Him Though He 'Lost His Speech' before Death
Even though George Osmond had lost his speech and couldn't communicate well, he had some loving last words to tell his son Donny Osmond before passing.
Donny Osmond has been wowing his fans with his impressive musical skills since he and four of his older brothers created the Osmonds' music group in the early-70s. George Osmond, the family's patriarch, had a lot to do with their success.
George made sure his kids could follow their dreams by taking his family to California and managing their careers, and it paid off. And when he died in 2007, he had nothing but loving words for Donny.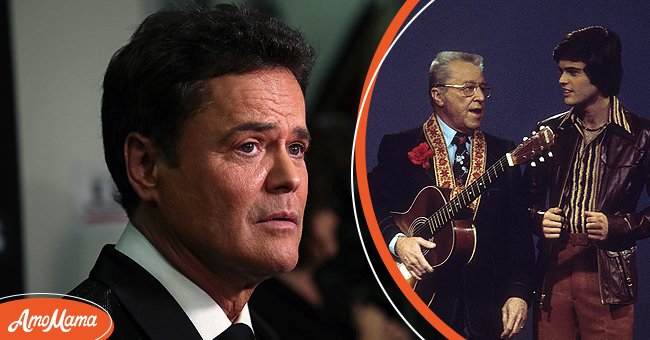 Donny Osmond on April 17, 2017 in Los Angeles, California [left]. Donny and George Osmond November 12, 1976 | Photo: Getty Images
HAVING KIDS WITH DISABILITIES
Born in October 1917, George married Olive May Davis in 1944 and had nine children with her: Virl, Tom, Alan, Wayne, Merrill, Jay, Donny, Marie, and James. They almost stopped having kids after only two.
Donny explained that Virl was born 85 percent deaf, and Tom had almost total deafness at birth. Hearing impairments appear to be a genetic problem in the Osmonds because one of Donny's nephews also has hearing problems.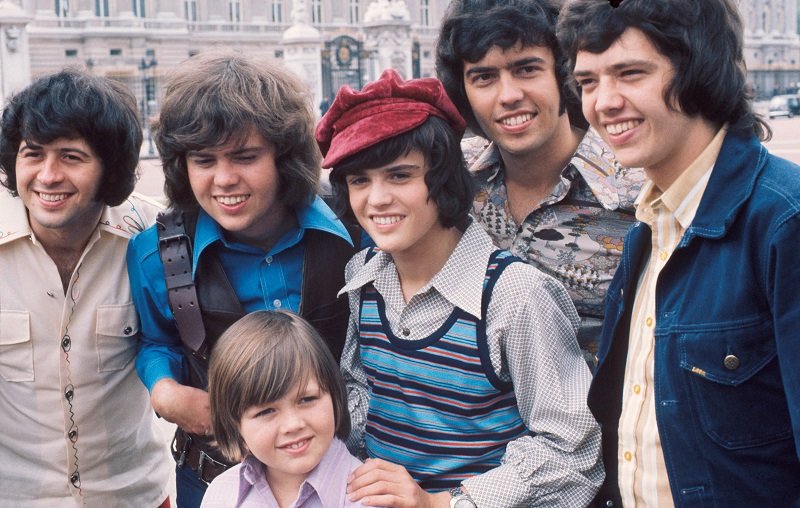 Group portrait of The Osmonds in London in 1973 | Photo: Getty Images
The "Donnie & Marie" star confessed that, since Virl and Tom were born with disabilities, doctors and friends told George and Olive that they should stop having kids. Fortunately, they only stopped after James, their ninth.
George and Olive decided early on that they would not treat Virl and Tom differently or lower their expectations with them. Now, they both communicate verbally and also know sign language.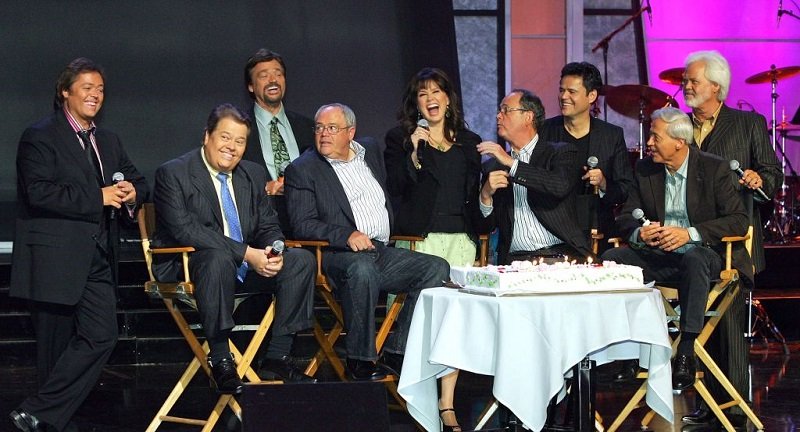 The Osmonds: Jimmy, Alan, Jay, Tom , Marie, Virl, Donny, Wayne, and Merrill on August 13, 2007 in Las Vegas, Nevada | Photo: Getty Images
TOUGH LOVE FROM GEORGE
Donny and his brothers' road to stardom was not easy, but George made sure they became massive stars. Unfortunately, George's tough love wasn't always what Donny desired, especially when dating Debbie Glenn.
During the singer's teenage years, he started secretly dating Glenn, and by the time he was 19 years old, he was in love and wanted to marry her. George was not totally on board with that idea.
After Donny himself told his dad that he would walk down the aisle with Glenn, George said, "Well, there goes your career." The Osmond patriarch acknowledged, though, that it was a significant milestone in Donny's personal life.
Glenn and Donny married in 1978 and now share five kids. Donny admitted that although his dad was right about his career after tying the knot, he wouldn't change a thing because his wife "is an amazing person to be with."
In 1982, when Donny was already too old to keep up with the boy band, he didn't want to be Donny Osmond anymore. However, he started showing that he struggled with his fame and career as a child.
When he was nine years old, he was on a six-week tour of Sweden, and George was by his side. It was a very tiring schedule as Donny would play three shows a day.
At some point, he got homesick and wrote a letter to Olive, begging her to fly to Europe and take him with her. His older brother Jay told George about the letter, and he wasn't happy. As expected, Olive didn't rescue him.
Although Donny had a hard time dealing with fame (which he achieved thanks to George's pushy requirements), he already forgave his father. Donny explained:
"[George] had a very hard life: his father died after he was born and he never knew him. What was he going to do? Cancel the show? He had responsibilities to his family."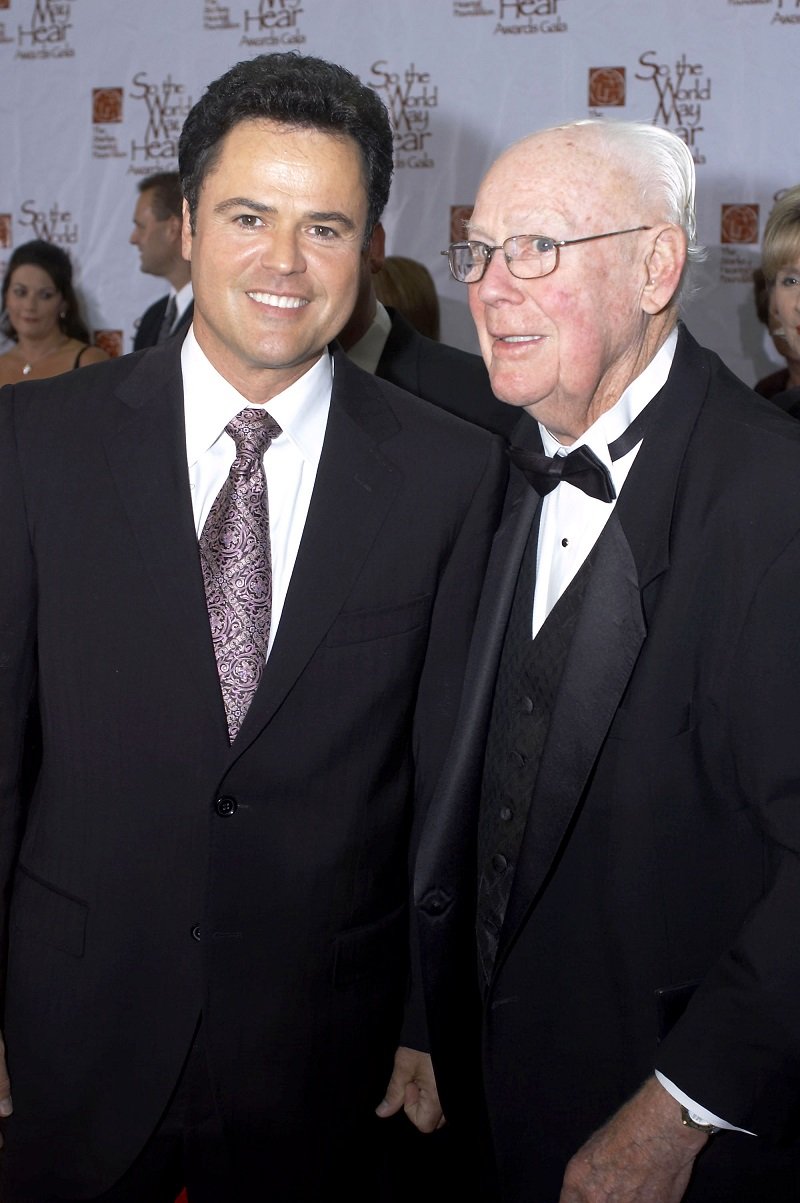 Donny and George Osmond on August 20, 2005 in St. Paul, Minnesota | Photo: Getty Images
LOSING THE LOVE OF HIS LIFE
Things became more challenging for George and the Osmonds in November 2001 when Olive suffered a stroke. On Mother's Day 2004, the family matriarch passed away at 79. She and George were married for six decades.
Approximately 1,200 people attended the service and burial at East Lawn Memorial Gardens in Provo, Utah. Olive was just as necessary for the family as George, but she focused more on caritative work.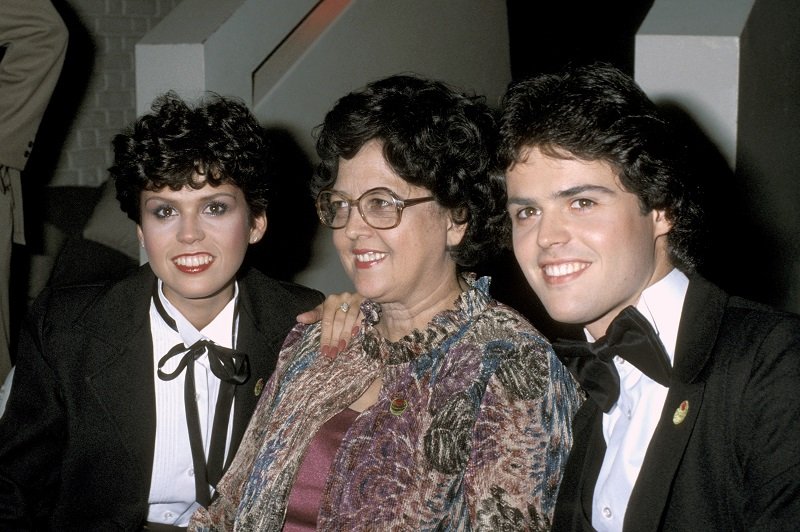 Marie, Olive, and Donny Osmond in July 1978 in New York City | Photo: Getty Images
In 1983, she co-founded the Children's Miracle Network, which raised $2.5 billion in 20 years to provide care for over 17 million seriously ill kids in hospitals across the States.
Following Olive's death, George was heartbroken. He became increasingly lonely each day and even told his son Wayne that he was not happy three times within weeks.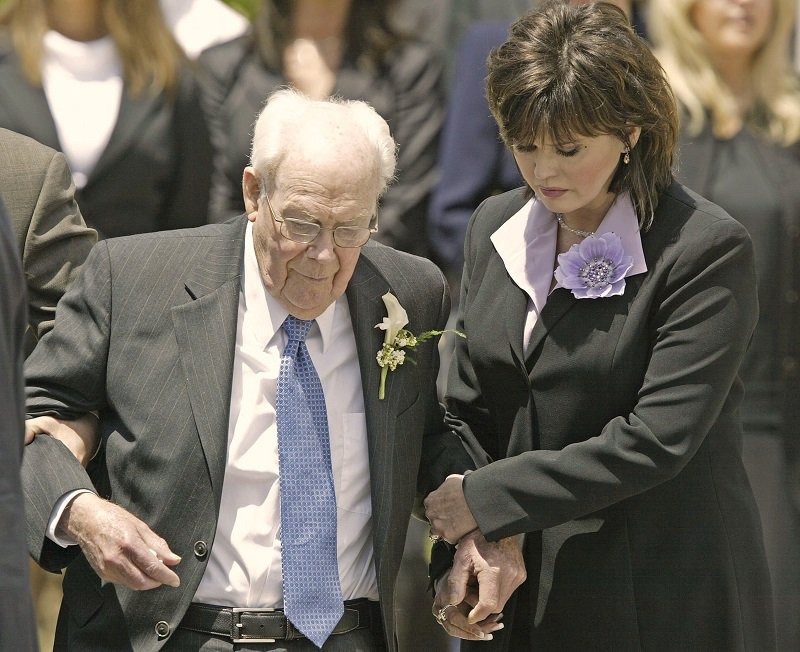 Marie Osmond and her father George Osmond at the funeral of Olive Osmond on May 15, 2004 in Provo, Utah | Photo: Getty Images
LOVING FATHER'S LAST WORDS
On November 6, 2007, George died of natural causes. He was 90. Wayne confessed that the three times his dad said he was unhappy, he prayed for him to find happiness again, "and his dad did. He's back with my mom," Wayne said.
Marie also described her father as the "cutest man ever," adding that he had a great sense of humor and would tell Olive jokes and laugh with her at night when their kids were sleeping.
Donny revealed he felt an urge to see George a few days before he died. Luckily, he listened to his instincts and visited his father, who shared loving last words with him. Donny said:
"He had lost his speech. He couldn't communicate well. But every once in a while, he said something intelligible. He said, 'Donny, I love you."'
LEARNING LESSONS FROM GEORGE
Donny has also been candid about the lessons he learned from his dad, including that family always comes first and that he should aim high and work hard for his dreams.
In Marie's case, she admitted her father taught her to stay positive when she was just a teenager and had a "particularly hectic time" working on the variety show "Donnie & Marie."
George told her that the "dust clouds," meaning any hardship in life, would never settle. He said that sometimes those dust clouds could be overwhelming, but they could never be immovable, so staying optimistic and believing that God would help was the best thing to do.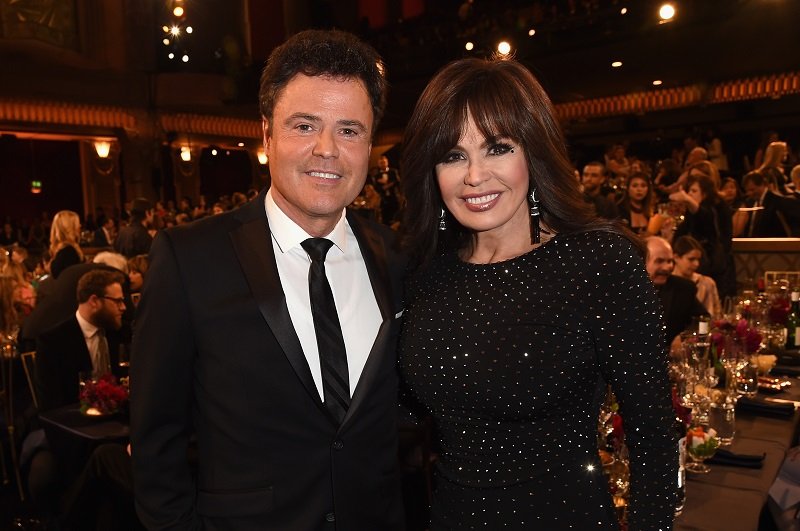 Donny Osmond and Marie Osmond on April 11, 2015 in Beverly Hills, California | Photo: Getty Images
LEAVING BEHIND NINE KIDS
The Osmond patriarch left behind nine children and dozens of grandchildren. Despite his hearing disability, Virl helped his siblings by taking photos for publicity. Now, he has eight kids.
As per Tom, he has eight children and had a quadruple bypass heart surgery in 2019. Alan, who has eight kids, is currently dealing with multiple sclerosis and uses a wheelchair.
Wayne and Merrill had interesting music careers after The Osmonds' separation. Nowadays, Wayne has five children with his wife, Kathlyn, and Merrill shares six with Mary.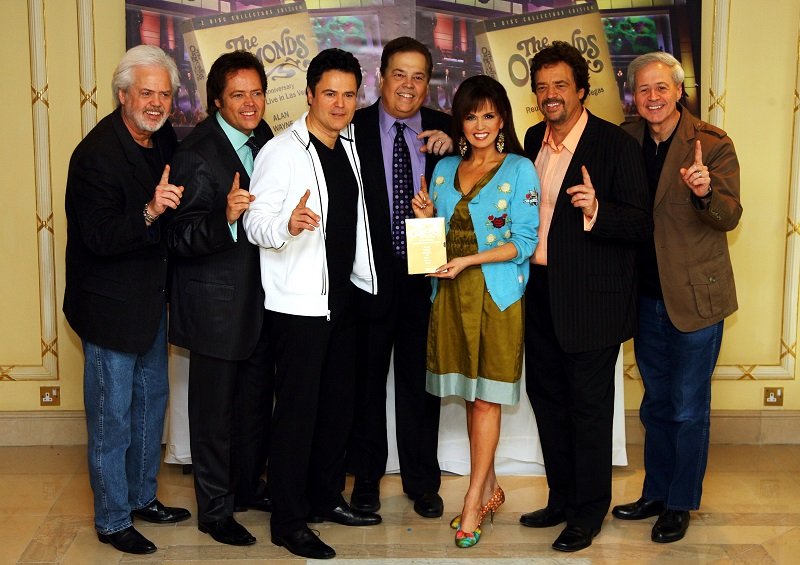 The Osmond family: Merril, Jimmy, Donny, Alan, Marie, Jay and Wayne on May 29, 2008 in London, England | Photo: Getty Images
Jay married Kandilyn Harris in 1987 and welcomed three children together before parting ways in 2011. Donny is still the most famous member of his family, has appeared in "Dancing with the Stars" and "The Masked Singer," and has five children.
Marie has also been highly successful with her country music, acting career, and books over the years. Nowadays, she shares seven kids with her husband, Steve Craig.
Jimmy, the youngest member of the family, has six gold records under his belt and four kids. He had a stroke in December 2018 but is slowly getting better. What a big and talented family!
Please fill in your e-mail so we can share with you our top stories!