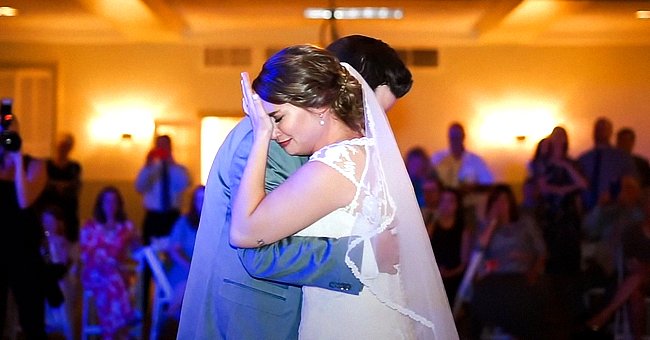 Kaley West dancing on her wedding day. | instagram.com/meg_mclachlan
Bride Hears Late Father's Recorded Voice on Wedding Day Thanks to Her Brothers' Ingenuity
Kaley West had a wedding dance to remember after her five older brothers took turns to dance with her in substitution for their father, who died in 2015. Get inside the beautiful and emotional moment.
Kaley West had a close bond with her father, David West, and always looked forward to the day he would walk her down the aisle. However, she could not achieve those dreams as David died unexpectedly from heart disease in 2015.
Since Kaley was her dad's little princess, her five older brothers, Danny, Dustin, Derek, Kevin, and Kasey West, still wanted to make her wedding day special.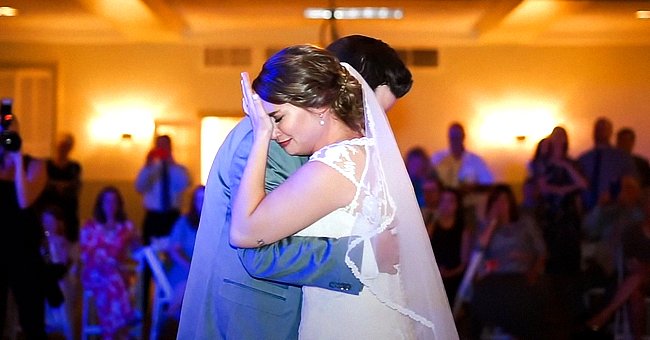 Kaley West dancing on her wedding day | Photo: instagram.com/meg_mclachlan
The five brothers told their little sister they were planning a surprise for her on her wedding day in 2018. However, they never told her what the surprise was.
On her wedding day, Kaley's brothers found a way to incorporate their father into the celebration. Since her father was late, Kaley had initially told her brother she did not want a father-daughter dance at her wedding reception.
Unknown to her, they were planning a big surprise for her. They only joked that there would not be a father-daughter dance since she did not want one. Hence, she thought they were going to do something different.
At the reception, Kaley's brother announced that every girl's dream is to dance with their dad. Since his sister could not do that, he and his brothers had the opportunity and would love to dance with her for her father-daughter dance.
After his speech, Michael Bolton's "Fathers and Daughters" started playing. Next, Kaley's father's voice from a video incorporated into the song was heard.
He said hi to her and introduced himself as her father, adding that he loved her very much, 1800 times worth. After hearing her dad's voice, Kaley became overwhelmed with emotion.
She struggled to stand and tried to keep herself composed. However, the only thing she felt then was complete love. Her brother Dustin revealed she told him immediately after hearing her dad's voice that she kind of felt a hug from behind. Dustin could tell instantly that it was a special moment for his sister, even though it was also heartbreaking.
[Kaley] said Bolton's approval was the cherry on top, adding that they were excited by that.
Kaley's brothers danced with her one after the other while Bolton's song played, intertwined with her father's occasional words to her.
Kaley and her brothers cried while dancing while guests at the wedding watched the beautiful moment silently. Dustin described the special moment as the perfect tribute to their late dad, who everyone loved.
The West family posted the video of the beautiful moment on their YouTube page, and it went viral, generating over three million views. One of those to view the video was Michael Bolton, who reposted the YouTube video on Twitter. In his tweet, he wrote:
"I'm so humbled and honored that the west brothers choose my song #FathersandDaughters to dance with their sister Kaylee at her wedding. Their video brought me to tears."

A netizen's comment on the emotional Youtube video | Photo: Youtube/thewestfamily
The legendary musician's gesture surprised Kaley and her brothers. She said Bolton's approval was the cherry on top, adding that they were excited by that.
Kaley also posted the video on Facebook. In her caption to the video, she described her brothers as amazing for making the moment beyond incredible for her. She also wrote:
"There was so much love on our wedding day and tangible love felt amongst everyone in that ballroom."

A netizen's comment on the emotional YouTube video | Photo: YouTube/thewestfamily
Kaley hoped the video would remind those who watched it of their love for their loved ones and make them hug them a bit tighter after watching.
She concluded by thanking her five brothers and all her sisters-in-law for making her wedding one that she would never forget.
Please fill in your e-mail so we can share with you our top stories!