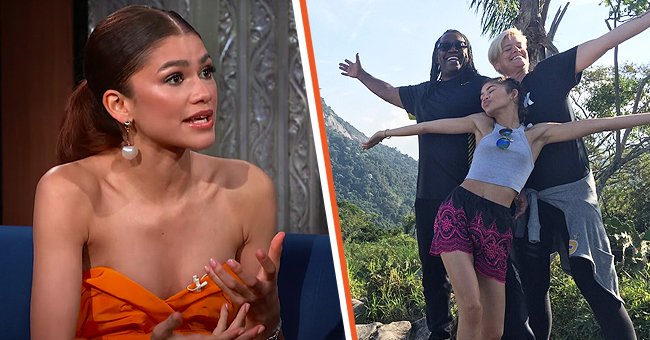 youtube.com/The Late Show with Stephen Colbert | twitter.com/Zendaya
Zendaya's Biracial Parents Are Loving and Supportive Yet She Was Once Forced to Defend Them Online
Around four years ago, just as rumors that "Spider-man" co-stars, Zendaya and Tom Holland, were dating started, her supportive parents already expressed how they felt about the British actor.
"The Greatest Showman" actress, Zendaya has a wonderful relationship with her parents, Claire Stoermer and Kazembe Ajamu Coleman, who were both teachers when Zendaya was growing up.
Stoerman and Coleman have been by their daughter's side and supporting her from her Disney days on "Shake It Up" to Zendaya's acclaimed performances in "Dune" and "Spider-man."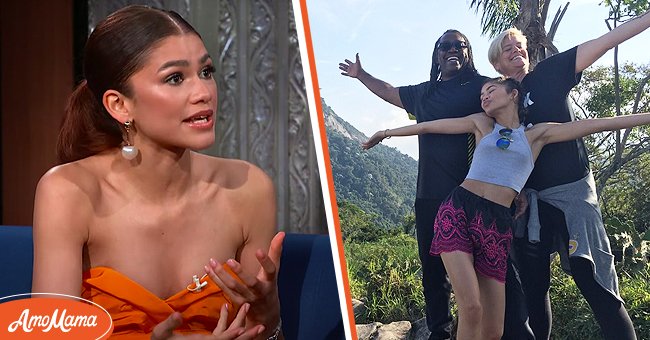 Zendaya pictured on "The Late Show with Stephen Colbert" in 2019 [Left] Zendaya and her parentings in enjoying the outdoors in a Twitter picture Zendaya posted in 2016 [Right] | Photo: YouTube/The Late Show with Stephen Colbert & Twitter/Zendaya
They also remained close and supportive of their daughter when they divorced. TMZ reported in 2016 that Stoermer had filed for divorce against Kazembe Ajamu Coleman; the pair were married for eight years at this point.
However, Zendaya reacted to the news on Twitter and said her parents had not been together for a while. She explained the family was private people, so the information was not reported earlier.
The "Malcolm and Marie" star has also supported her parents over the years. She has regularly posted about her parents in the past, including for milestone events such as Father's Day. She has also spoken out publically about them.
During an interview on "Ellen," Zendaya said she was "lucky to have the parents" she has. She noted that they instilled the core values that she carries with her through life and credited her parents for her achievements.
The "Dune" actress defended her parents on Twitter in 2015 after an internet troll called her parents ugly. Zendaya clapped back at the rude Twitter user with a message of her own which started with:
"While you're so concerned about what my parents look like, please know that these are two of the most selfless people in the world."
Instead of being worried about "trivial things" such as other people's looks and insulting others, her parents became educators and dedicated their lives to teaching children.
Her touching words and defense for her parents continued as she urged the trolls to "log out, go to school, hug a teacher and read a textbook" before stating that hatefulness stemmed from a person's internal struggles.
Another prominent supporter in Zendaya's life is her boyfriend and co-star Tom Holland, as he regularly marvels at her beauty and accomplishments online and during interviews.
Fortunately for Holland, Zendaya's loving parents have already given him the stamp of approval. In 2017 a source told US Weekly Zendaya's parents had met the "Spider-man" star and loved him.
Please fill in your e-mail so we can share with you our top stories!