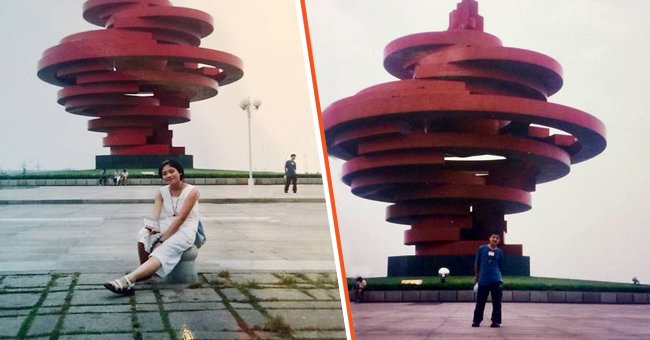 twitter.com/ChannelNewsAsia
Married Couple Discover They Were at the Same Place 11 Years before They Met Thanks to a Photo
There have often been debates about the existence of soul mates, but a Chinese couple had no choice but to believe they were indeed made for each other after realizing their paths had crossed years before they got married.
Love is indeed the most magical feeling ever, and everyone longs to meet their "perfect match" someday and enjoy bliss together. The story of a Chinese couple who met as teenagers and got married a decade later has been one of the most-read stories on the internet.
Mr. Ye and his wife, Ms. Xue, had no idea their paths had crossed several years before they tied the knot. The couple both visited May Fourth Square in Qingdao, China, and had pictures taken of themselves at the same time.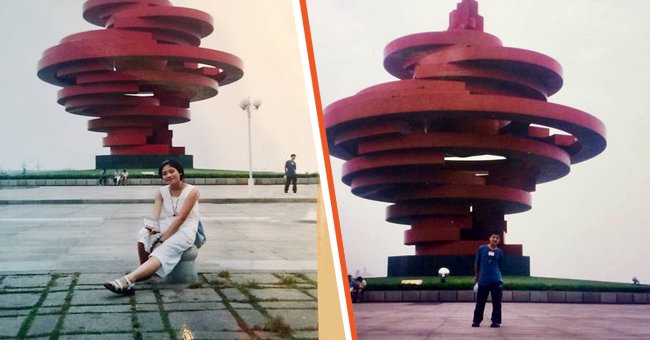 Picture of Ms. Xue at the May Fourth Square in China [left]. Picture of Mr. Ye at the May Fourth Square in China [right] | Source: twitter.com/ChannelNewsAsia
The moment has been described as one of the biggest cases of coincidence. In the pictures shared on Twitter, a man could be seen posing for photos in the background where Xue sat for hers.
The duo was oblivious of each other's existence at the time, and little did they know that they would someday fall in love and start a family together.
COINCIDENTAL HOLIDAY
The pictures, which were taken in 2000, were holiday pictures for the young duo. Both parties were on vacation with their respective groups. Mr. Ye traveled to Qingdao with a tour group, and Ms. Xue visited the city with her mother.
The couple made the discovery in 2018 when Ye was cleaning the study in his mother-in-law's house. Ye explained that he was looking at a picture of his wife sitting in front of the May FourSquare, and he observed a man standing behind her. It was at that point he realized he was the mystery man behind her.
Ye returned home and discovered a holiday photograph of his 17-year-old self posing in front of the same Qingdao landmark, shot on July 28, 2000. The pair were taken aback when they noticed a young boy dressed in a blue T-shirt and black trousers in the identical stance in both photos.
BEAUTIFUL MEMORIES
Ms. Xue was astounded by the power of fate and thought it was a miracle. They showed their friends the photos, and the majority of them thought the two were predestined to be together.
According to reports, Mr. Ye met his wife through acquaintances in 2011 when he returned to Chengdu, his birthplace, after graduating from university in Suzhou. They married a year later, and their wedding photos were taken in Qingdao.
The couple now shares two daughters and have plans to return to the harbor city when their twin children grow older. They assured the reporters that they would safely store the two photographs and treasure them as priceless memories.
Please fill in your e-mail so we can share with you our top stories!