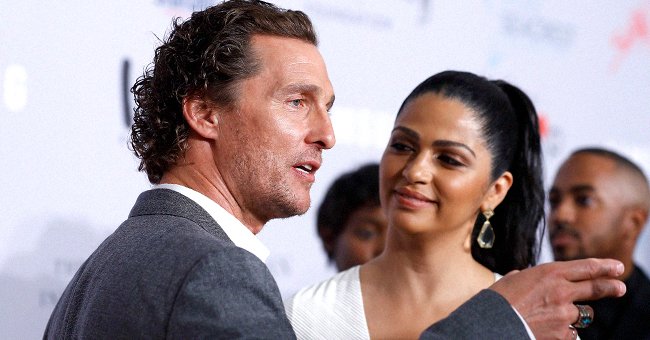 Getty Images
Matthew McConaughey 'Kidnapped' Future Wife on 1st Date Though He Didn't Want to Marry Then
Matthew McConaughey and Camila Alves have been married since 2012. However, the actor used extreme measures to get her attention on their first date. Find out what he did and more about their relationship.
American actor and director Matthew McConaughey is one of Hollywood's top-rated stars. He first gained prominence in the movie world after starring in the coming-of-age comedy "Dazed and Confused."
Afterward, he featured in several supporting roles in films like "Angels in the Outfield" and "Texas Chainsaw Massacre: The Next Generation" before nabbing a breakthrough leading role in the legal drama "A Time to Kill."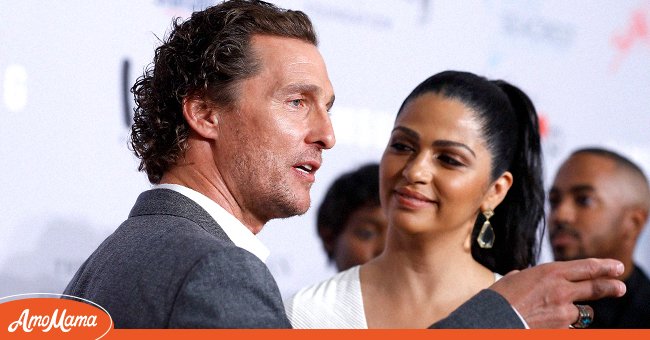 Matthew McConaughey and his wife, Camila Alves at an event. | Photo: Getty Images
He also starred in "Contact," "Amistad," "The Newton Boys," "EDtv," "U-571," and "Frailty." In addition, McConaughey starred in several romantic films, including "The Wedding Planner" and "Ghosts of Girlfriends Past" in the 2000s.
In 2009, he embarked on a two-year hiatus from acting before returning to star in films like "The Lincoln Lawyer," "Bernie," "Magic Mike," "The Wolf of Wall Street," "Killer Joe," and "Mud."
McConaughey portrayed Ron Woodroof, a cowboy living with AIDS in the biopic "Dallas Buyers Club," and won the Academy Award for Best Actor for his performance.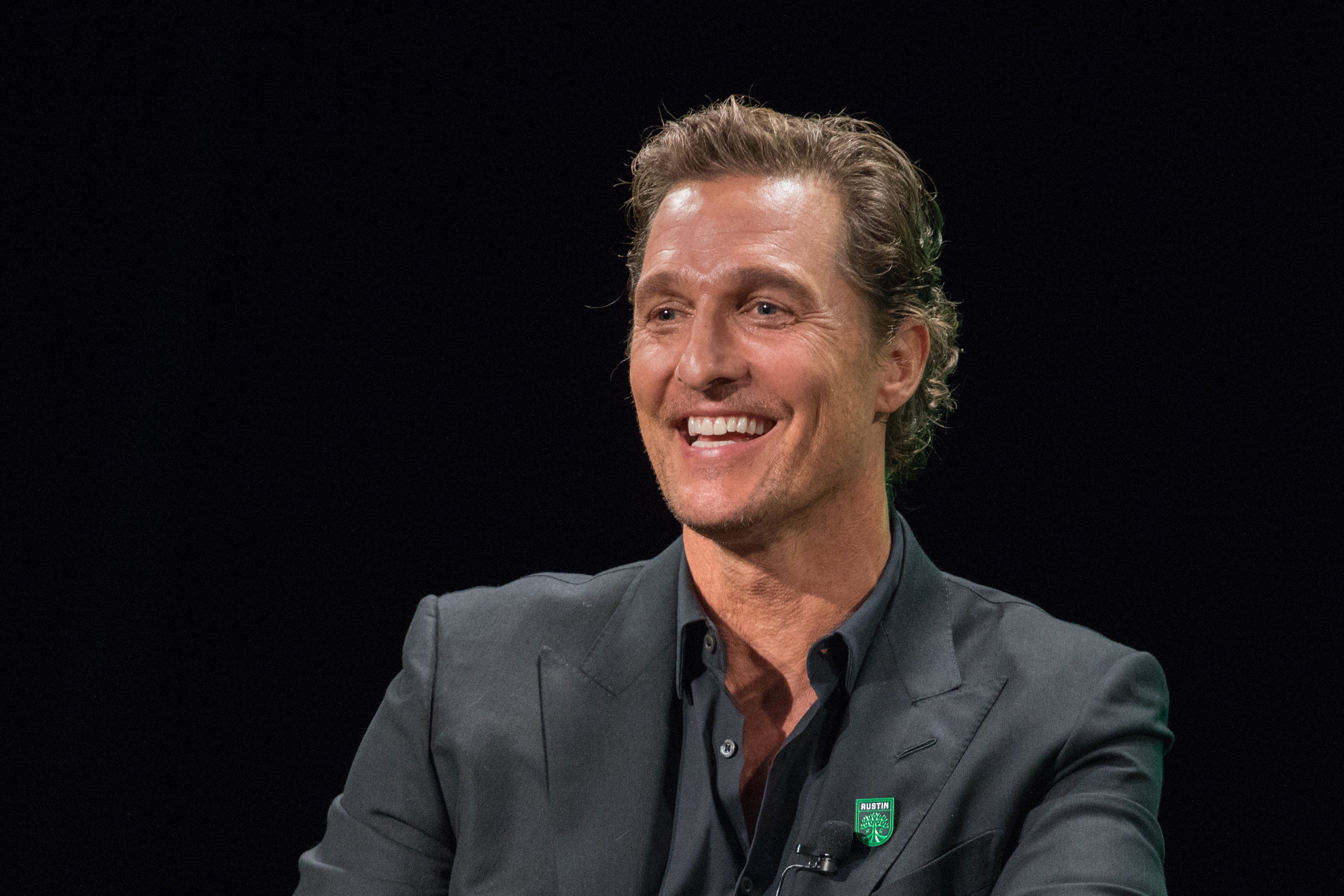 Matthew McConaughey attends the Austin FC announcement new investors at 3TEN ACL Live on August 23, 2019 in Austin, Texas. | Photo: Getty Images
Some other films he has starred in include "Interstellar," "The Sea of Trees," "Free State of Jones," "Gold," "The Dark Tower," and "The Gentleman."
McConaughey is a proud father of three children he shares with his wife Camila Alves, with whom he has been married since 2012.
Alves is a Brazilian-American model and designer. She moved to New York at 19 to pursue a career as a fashion model. She and her mom designed the Muxo line of handbags.
In 2010, Alves hosted Bravo's reality TV series "Shear Genius" season three. In 2012, Macy's clothing line INC International Concepts signed her as its new face.
Alves launched a lifestyle website called "Women of Today" in January 2016. The website serves as a hub for her social media, live stream video program "Camila's Code," and blog posts on food, health, and lifestyle.
She is also the co-owner of Yummy Spoonfuls, an organic food company that launched a product line for babies and toddlers in 2016. Alves co-hosted, with Eddie Jackson, the first season of Food Network's competition show "Kids BBQ Championship," which aired in 2016.
As an actress, Alves appeared in the television series "Shear Genius" and the official music video of Ne-Yo's "Because of You." Alves and McConaughey met in 2006 but did not get married until 2012. Find out more about the couple's remarkable love story.
Despite his desire for more kids, McConaughey does not see having his wishes not coming to pass as a problem.
ALVES AND MCCONAUGHEY'S FIRST MEETING
In January 2017, he appeared on "The Howard Stern Show" and opened up about how he wooed Alves. He revealed that he was single and not looking for a relationship when he met her.
McConaughey began his narration by joking, "I kidnapped her for our first date." He said he was at a club on Sunset and making margaritas at the end of the table when Alves moved across the room. McConaughey was immediately attracted to her.
When she sat down, he could not get his eyes off her and attempted waving in her direction to get her attention. After a while, their eyes met, and he convinced himself to walk over to her table.
Eventually, he invited her and her friends over to his table. However, Alves left her group and joined McConaughey's table alone. When they spoke, the actor learned Alves's car became faulty on her way to the club.
Thus, he offered to drive her to his home. They partied for a while when they arrived at his place. He also tried to extend the time. Later, Alves said she wanted to go, and she ordered a cab. However, McConaughey told her it was too late and urged her to spend the night in his guest room; Alves agreed.
The actor confessed he sneaked down to the guest bedroom twice that night but got booted out on both occasions. McConaughey also revealed the "cool moment" he realized Alves was the one for him.
He said he woke up the following day and looked into the kitchen. While climbing down the stairs, he heard laughter, the kind heard from people who hang out a lot.
He saw Alves in her outfit from the previous night when he walked in. She was gisting with his buddies and housekeeper as though she had known them for a long time.
Another thing that turned McConaughey on about Alves was that they said no word to each other while he drove her to the auto repair to pick up her car — a drive of 45 minutes. Instead, they listened to the music playing from his car.
After dropping her off, he got a kiss from her and asked her out on a date. However, she refused because it was her dad's birthday. He asked her out on another date the next night, but she refused.
On his third time of asking, Alves accepted McConaughey's request for a date. When she came, he cooked her dinner.
MCCONAUGHEY'S RELUCTANCE TO GET MARRIED
After McConaughey and Alves hit things off and started dating, marriage was not on the former's to-do list. This was despite him and Alves being parents to a child then.
In a 2009 press conference, McConaughey shared his thoughts about getting married in the future. He was asked if he saw himself being a groom in the future and replied per Collider:
"Am I getting married in the future? Not today. Honestly, not today. I don't have any plans for it. I was asked this earlier. It's not an institution I'm against at all."
McConaughey explained that he was actually for marriage, believed in it, and had seen it very healthy for many relationships.
He added that some people go through marriage greatly. However, the star actor said it was not something he planned to or felt like he needed to do then.
MCCONAUGHEY CHANGES HIS MIND ABOUT MARRIAGE
As the years went on, McConaughey changed his mind about marriage. During a 2014 chat with GQ, the actor was asked why he decided to marry Alves after having children with her. He replied:
"I had to get to the point where I saw it as more than just the thing to do... You know, I didn't want it to be a destination; the fun is that we're on the adventure together. So I spent a lot of time with her..."
He said they did much reading and had conversations with people who had been divorced and those who had been happily married. They also spoke to their pastor.
In the end, McConaughey and Alves understood marriage was a covenant between themselves and God. They also understood that marriage was not a destination but the beginning of their adventure together.
After realizing that, McConaughey did not have to intellectualize his way into marriage but began feeling the excitement. He disclosed:
"I was having my own definition of the freedom I wanted thrown right back at me, in possibly a much greater way."
McConaughey also revealed part of his reasons for getting married was because Alves was already pushing for them to tie the knot. He said:
"And look, some of it had to do with her putting it on me. It took her going, 'C'mon, Big Boy, Mr. Easygoing-We'll-Get-to-It-When-We-Get-to-It. Either [expletive] or get off the pot.'"
When asked if he had been able to maintain a sense of an ongoing life while maintaining his family, McConaughey said: "Better than I had imagined I would. If anything, the more secure I feel at home, the more I feel like I'm able to fly."
SECRETS TO THEIR MARRIAGE
McConaughey and Alves have been married for nine years and continue to wax strong in their relationship. He recently revealed the secret of his happy marriage during an appearance on Australia's "Today Extra."
When asked how he keeps things peaceful at home, McConaughey said one should avoid making straight lines crooked. He said that couples should keep doing things to keep them that way when things are going well.
However, when things are not going well, couples must deal with those issues immediately to avoid making them bubble up and become major issues later.
KIDS AND MORE KIDS
Alves and McConaughey are parents to three children. They welcomed a son in July 2008, a daughter in January 2010, and another son in December 2012.
McConaughey enjoys being a father to his three children. He learned some valuable fatherhood lessons from his dad, who died suddenly in 1992.
During an interview with CNN's Anderson Cooper, the "Interstellar" actor discussed the lessons he learned from his late dad. He said his dad taught him always to follow his path and give it his best shot.
The father of three said he is leaning on those lessons he learned growing up in raising his kids. He said he is trying to instill the same values his dad taught him differently.
Despite already having three children, McConaughey craves more, but his wife has none of it. While speaking at a panel last year, the "Magic Mike" star expressed his desire to have eight more kids though his wife is not on the same page.
Despite his desire for more kids, McConaughey does not see having his wishes not coming to pass as a problem. He admitted that it is easy for men to want more kids, but it is harder for women.
Besides that, he said his biggest dreams have already come true thanks to his three children, who are his "living legacy."
Please fill in your e-mail so we can share with you our top stories!