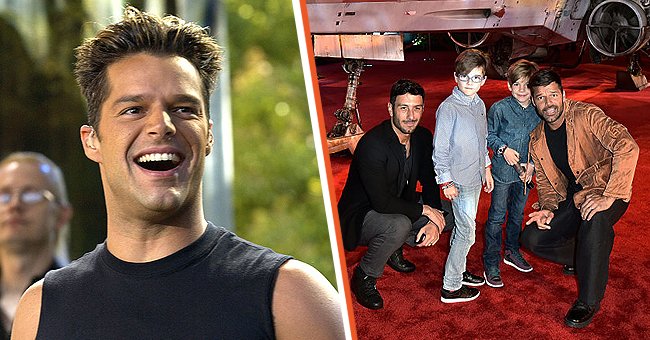 Ricky Martin, his husband Jwan Yosef and their kids. | Getty Images
Dad of 4, Ricky Martin Told Young Son a Woman 'Lent' Him Her Belly So That He Could Be Born
Puerto Rican Pop singer Ricky Martin who in 2010 came out as gay, became a father through surrogacy. When his kids were old enough to question their birth, Martin had to explain the best way he could.
Ricky Martin grew up in the music spotlight; the young artist started performing with the Puerto Rican music band "Menudo" when he was just 12 years old.
The Latino star grew up with the mindset that getting it right as an artist meant that the girls must scream when you moved your hips. Also, he believed the member of a musical group with the most fans was the successful one.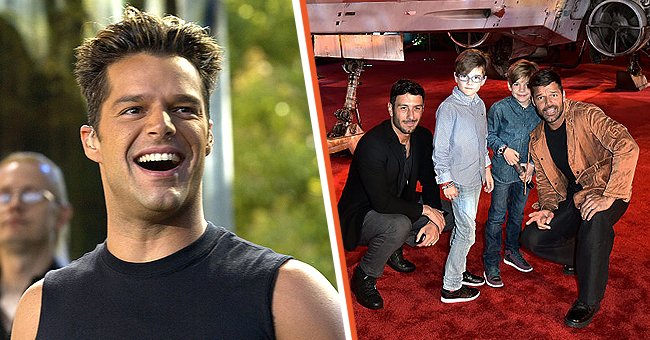 Ricky Martin performs on "The Tonight Show with Jay Leno" on June 27, 2003 [left]. Ricky Martin (R) with children and artist Jwan Yosef at the Pantages Theatre on December 10, 2016 [right] | Photo: Getty Images
Martin was told that if he had a girlfriend, never to tell his fans to avoid their disappointment, even though the talented musician is gay.
He did not allow his sexuality which he kept a secret, to affect his onstage persona, but deep inside, Martin was conflicted and would look away whenever he encountered someone of the same sex.
HIS STRUGGLES
In 1999, Ricky Martin was on his "Livin La Vida Loca" tour when he decided to take a break. He was already a successful musical artist with lots of popular songs, but personally, Martin was very sad and depressed.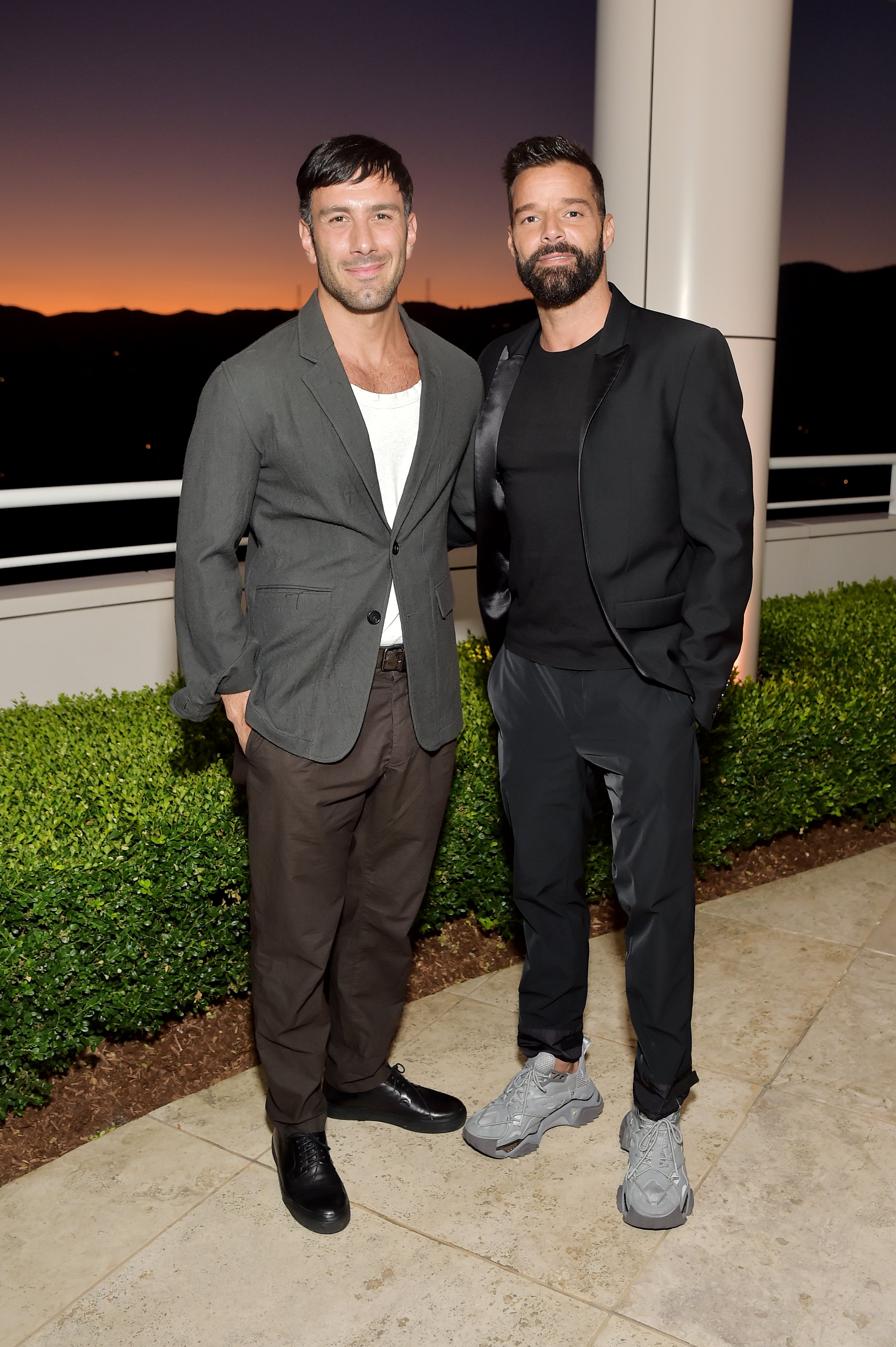 Jwan Yosef and Ricky Martin on September 16, 2019 | Photo: Getty Images
Performing on stage was his escape and the only way he could control his emotions. That was the only time he forgot his troubles and snapped out of feeling sad.
Those feelings became too much to deal with, and after he finished his tour of Australia, he revealed to his team that he would not be able to continue. He was scheduled to tour South America next but could not do it.
Martin just wanted to go home and cry. He needed to be angry and forgive himself for allowing the situation to reach its level. Despite being successful, Martin did not live his best life. He had kept his sexuality secret from fans, although his family and friends knew.
COMING OUT AS GAY
In 2011, Martin decided to go public about his sexuality when he released a memoir titled "Me: Ricky Martin." In it, the Latino star revealed he was gay.
When he was writing the memoir, Martin was confused as to what exactly he was going to tag his sexuality. Should he come out as a gay or bisexual man?
Eventually, he admitted that he was a very fortunate homosexual man. He accepted he was gay and wrote that in the book. Martin cried afterward but declared he had been super happy ever since he took that step.
He revealed that coming out about his sexuality was because of his need to be happy and have self-acceptance and self-respect. It was a process of revealing to people his real identity.
RELATIONSHIP WITH CARLOS
In an interview with Vanity Fair Magazine, Martin talked about his partner at the time, Carlos, and introduced his two sons Matteo and Valentino, whom he fathered through a surrogate.
Martin explained he experienced beautiful things with Carlos, who taught him how to be free.
He also learned about complexity and understanding; Carlos told Martin at the beginning of their relationship that he was looking for a boyfriend and not a father with a family, but the music star had started the surrogacy process before meeting Carlos.
Martin created a family structure, and whatever Carlos did not understand, he would explain. That kept them together, and they were together for almost four years.
FATHERHOOD JOURNEY
Ricky Martin welcomed twin sons Matteo and Valentino in August 2008. The children were born through gestational surrogacy, and after their birth, the music star took a break to focus on raising them.
The music star explained that the kids once questioned how they were born, and he had to be as truthful as he could. The kids asked if they were in his belly, but Martin explained that a woman close to his heart lent him her belly to help bring them into this world.
He revealed the twins are one of his biggest critics, and they would sometimes tell him if they did not like his dance moves or a particular song.
NEW RELATIONSHIP
After discovering Yosef's page, Martin met Jwan Yosef, an artist, where he displayed his artistic pieces on Instagram. They exchanged messages and started dating not long after. In 2017, the couple took the bold step and tied the knot after just a few months of dating.
NEW BABY GIRL
It was almost New Year's Eve in 2018 when Martin revealed on his Instagram that he and his new partner Jwan Yosef were expecting a beautiful and healthy baby girl Lucia Martin-Yosef.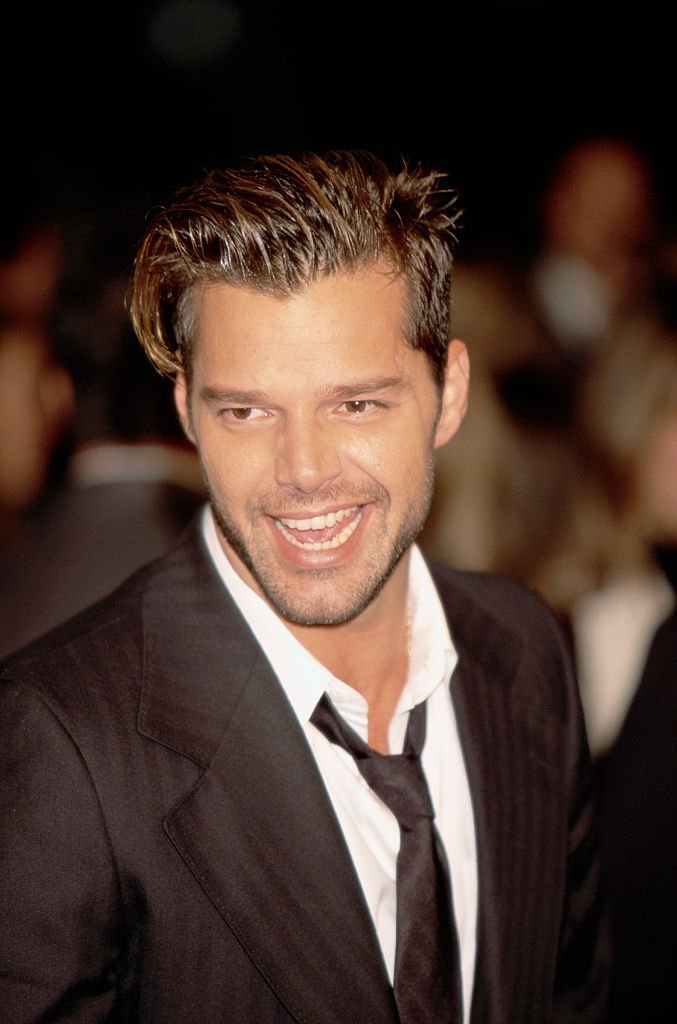 A portrait of Puerto Rican pop star Ricky Martin. | Photo: Getty Images
The "Livin La Vida Loca" star explained it was a special time for him, his partner, and the twins because they could not wait to see Lucia.
FOURTH CHILD
Ricky Martin and husband Jwan Yosef announced the birth of their fourth child, Martin-Yosef, on October 29, 2019. His arrival comes ten months after the birth of their baby girl Lucia-Martin Yosef.
MARTIN'S TAKE ON PARENTING
Martin explained that even though his kids may not have a traditional upbringing, he plans to give them a wonderful childhood. The father of four knows only about being a single father but revealed wonderful women surround him who care about him and the kids.
He revealed that when his kids ask questions, he would answer with honesty and not feel alone because thousands of kids are raised by single parents.
People often question why his kids appear on magazine covers, and he explained that he wants people to see him and the kids as a typical family. The children sometimes question why they have two daddies, but Martin replies that they are part of a modern family and are both their father and mother.
The music star also explained that he loves a big family, and he has kept a couple of embryos since he and Yosef are looking to parent as many kids as possible.
Please fill in your e-mail so we can share with you our top stories!