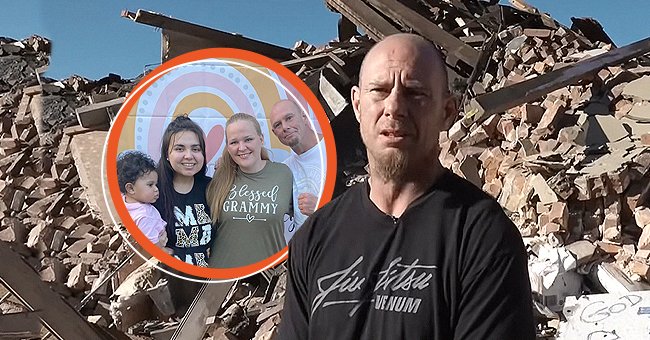 youtube.com/FOX 13 Tampa Bay | facebook.com/SPARKLES678
Man Rescues Wife and Sister-In-Law Trapped in the Kentucky Candle Factory Destroyed by Tornado
An MMA fighter, Brian Brooks, prevented his family and others from mourning after he rescued his wife, sister-in-law, and some workers trapped in a candle factory, which was destroyed by a tornado.
To date, terrible tornadoes have continued to destroy several communities. In Kentucky, one of the most affected US states in recent weeks, many have been left dead, and others are missing due to the severity of the natural disaster.
In that sense, Brian Brooks, an MMA fighter for over fourteen years, considered it a miracle that he found his wife and sister-in-law alive where they were trapped in a candle factory swept away by the tornado.
Reports explained that Brooks was lying in bed that night while his daughter and granddaughter were in a bathtub with pillows, blankets, and helmets to protect themselves from a tornado. While the MMA fighter lay in bed, he got a phone call from his wife. He told Fox News:
"It's my wife. She calls me and tells me she loves me, that she's trapped, and they are smashed. And she hung up."
Without hesitation, Brooks entered his wife's truck and drove to the destroyed candle factory without caring about the warnings from the National Weather service to stay off the roads.
Not long after, he arrived at the location and walked over to the screaming people. Then, recalling the experience, the man told the outlet:
"It was like the worst war movie you see on TV. The people that were screaming that you could not see in the dark."
Despite the discouraging sight, Brooks was eager to help. So, carefully, he began to pull the workers out of the rubble. While at it, his sister-in-law spotted his "crazy shoes" and started hollering at him for help. Brooks said:
"I was like 'Oh my God,' and started trying to pull, but the roof, candle wax barrels, bathroom walls, rafters, everything was on top of them."
The MMA fighter eventually got help from officers around, and with a crowbar, he successfully rescued his sister-in-law and his wife, Roberta. After being brought out of the rubble, the women were taken to the nearest hospital to receive medical attention.
Three days later, they returned home with minor injuries and many heartaches. The brave man revealed that Roberta and her sister did not believe they would see Brooks again.
He remained very grateful as he said prayers for the unlucky ones. After the incident, eight people were confirmed dead at the factory.
US president Joe Biden promised that the federal government would cover the recovery costs for the next month. May the souls of the departed rest in peace.
Please fill in your e-mail so we can share with you our top stories!