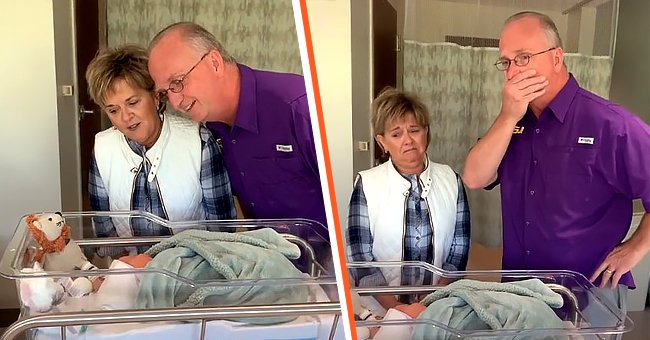 Tiktok.com/thegoodwrench
Grandfather Is Moved to Tears on Discovering That His Grandson Is Named after Him
A grandfather was excited to meet his newest grandchild, but he met an even bigger surprise that left everyone in the room emotional when he got to the hospital.
A grandfather was thrown into tears when he walked into his daughter's hospital room, where she had just welcomed her son, his newest grandson. What was meant to be a welcome visit, turned out to be an emotional moment for the family.
Then 63-year-old Mike Sheff was clueless that his daughter had planned a big surprise for him in addition to giving him a grandson. Sheff walked into the Henrico Doctors Women's Hospital in Richmond, Virginia, to see his daughter, Jessi Way, but he was unprepared for what was ahead.
Sheff was in the company of his wife, Julie, then 63, and both grandparents excitedly inspected their newborn grandson but a few seconds into looking at the toddler, Julie noticed""Michael Sheff Wa"" on the name tag.
Jessi and her husband welcomed their son a few days before her parents arrived, but since they had planned to surprise Sheff and Julie, they kept the name a secret until they arrived from Oxford, Ohio.
Jessi had not only given her son her father's first name but also his middle name, Sheff, which was dropped after she and her sister married. The then 33-year-old was bent on keeping the name alive, so when Sheff read the tag, he became filled with emotions.
The event happened in 2019, but after two years, Jess felt it was time to share the story on her TikTok, where several users noted that they were touched by her father's pure reaction. The video went viral and has received more than 11 million views with thousands of comments.
Jess is glad her family's story caused a positive reaction on social media, adding that the reaction her post got showed that she gave her son the right name. Also, she was glad to have stirred up families to reunite and share great moments.
HEY GREAT-GRANDPA!
Another touching moment featured a great-grandfather who was overcome by his emotions after finding out that his great-grandson had been named after him upon seeing the birth certificate.
Then 65-year-old Larry Kayler Myers was thrilled to visit his granddaughter Samantha at her Tulsa hospital, where she had just welcomed a son. Myers came along with his camera ready to capture cute moments, but he could only weep for joy in the end.
Nurses watched on as the great-grandfather became subdued by his emotions after he was given the baby's birth certificate, which read," Lincoln Kayler Williams"
Samantha and Thomas, her husband, successfully surprised her grandpa by naming their son after him. The 65-year-old was thrilled to see his little one bear his name.
Kayler wasMyer'ssfather'ss name and was later passed down to him in the form of a middle name. Samantha's son has now continued what appears to be a family tradition which was a heartwarming gesture.
Please fill in your e-mail so we can share with you our top stories!