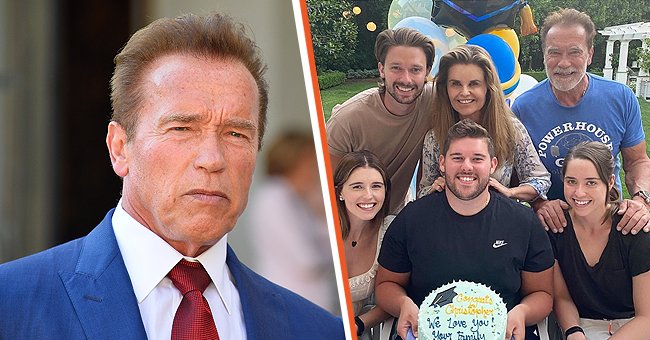 Getty Images - Instagram/katherineschwarzenegger
Arnold Schwarzenegger Begged Wife's Forgiveness after He Fathered Love Child with Housekeeper
Legendary American actor Arnold Schwarzenegger revealed in his tell-all autobiography "Total Recall" that fathering a child with his housekeeper was the stupidest thing he did in his marriage.
Arnold Schwarzenegger's marriage to Maria Shriver looked like it might last forever. The couple birthed four children, and each had a glittering career.
Sadly, it all came crashing down in 2011 when Schwarzenegger admitted he had secretly fathered a child with former housekeeper Mildred Baena.
WHO IS SCHWARZENEGGER'S WIFE OF 35 YEARS?
Maria Shriver was born in 1955 in Chicago to her father, Sargent Shriver, and mother, Eunice Kennedy Shriver. Her father, Sargent, was a politician and founding director of the Peace Corps.
Her mother, Eunice, founded the Special Olympics and also Robert F. Kennedy, Ted Kennedy, and former U.S. President, John F. Kennedy's sister. Maria was her parent's second child and only daughter.
Politics was the family's business, and soon, Maria joined her father's presidential campaign in 1972. Sargent was the running mate of Democratic candidate George McGovern. Maria worked with the journalists and reporters covering the campaign, which informed her passion for being a journalist.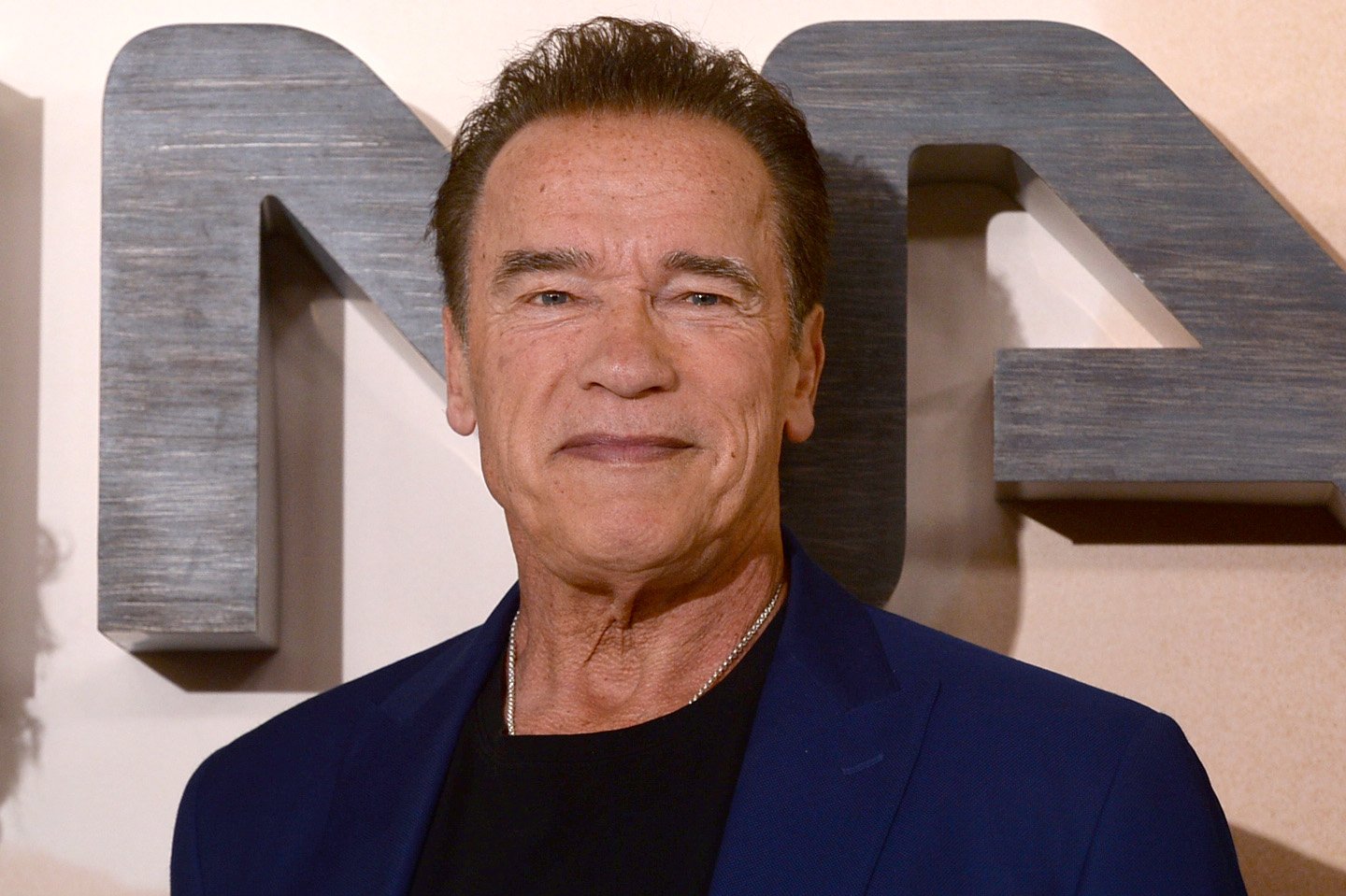 Arnold Schwarzenegger pictured at the "Terminator: Dark Fate" photocall in 2019. | Photo: Getty Images
After graduating from Georgetown University in 1977, Maria started her Journalism career as a writer and producer for a TV station in Philadelphia. In 1983, she became a news correspondent for CBS and, after three years, left to work for NBC.
MARRIAGE TO ARNOLD SCHWARZENEGGER
NBC newsman Tom Brokaw first introduced Schwarzenegger and Maria in 1977 at the Robert F. Kennedy Pro-Celebrity Tennis tournament.
The movie star was immediately taken by Maria's beauty. Schwarzenegger fell in love with her thick dark hair and beautiful smile. But, he also could not resist her extraordinary personality and energy.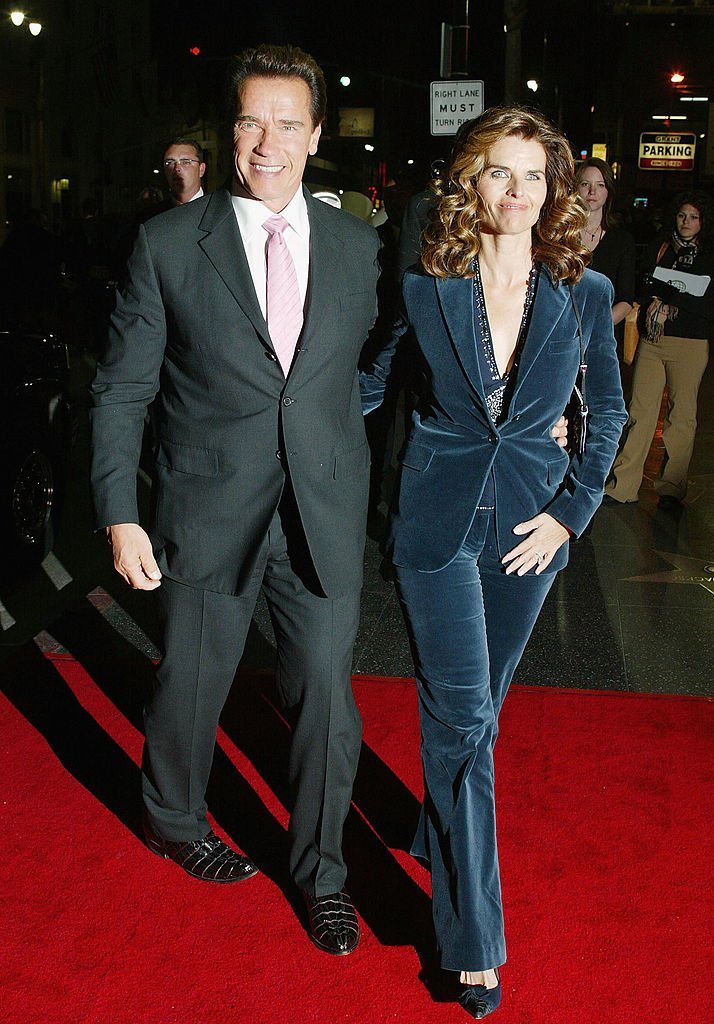 Arnold Schwarzenegger and his wife Maria Shriver on November 28, 2005 | Photo: Getty Images
Maria invited him to Hyannis Port for the weekend, and from there, their relationship grew. On April 26, 1986, they married at the Kennedy compound in Hyannis Port, Massachusetts. The couple is parents to four children.
Their eldest child Katherine Schwarzenegger was born on December 13, 1989. Their second child, Christina Schwarzenegger, arrived on July 23, 1991, while the couple had their first son, Patrick Schwarzenegger, on September 18, 1993.
Their youngest, Christopher Schwarzenegger, was born on September 27, 1997. During their marriage, the couple's individual careers blossomed. Maria's reputation as a journalist grew with the mother of 4 winning a Peabody Award in 1998.
Arnold Schwarzenegger, on the other hand, appeared in some classic films like "Predator," "Terminator," and "True Lies." He was also elected and served as Governor of California after the state's 2003 recall election.
ADULTERY AND DENIAL
In 1996, Arnold Schwarzenegger cheated on his wife Maria while she was away on vacation with their kids, and he had to stay in Hollywood to work on the movie "Batman and Robin."
The movie star had sex with their housekeeper Mildred Baena in the guesthouse of their Pacific Palisades, California mansion. As a result, Baena got pregnant and later gave birth to a baby she named Joseph. She then listed her husband as the father.
Schwarzenegger tried to convince himself that maybe he was not the father, but as Joseph grew older, he looked more like him, and eventually, he had to accept Joseph was his child.
After Joseph's birth, Maria confronted Schwarzenegger about the identity of the kid's father, implying she had learned the truth from Baena, but the movie star denied the allegations.
He kept Baena as his housekeeper to control the situation, and when Beana's husband left her, Schwarzenegger started supporting her financially.
MARIA SHRIVER DEFENDED HER HUSBAND
Schwarzenegger kept his affair with Baena and the fact that he fathered a child with her secret. The movie star was embarrassed and could not face his wife's family, the Kennedys.
News of Schwarzenegger's infidelity started floating around, and the movie star had to be defended by his wife, who declared in a 2003 appearance on Oprah, "I am my own woman, I have not been, 'bred,' to look the other way."
SCHWARZENEGGER 'S SCANDAL
On January 4, 2011, a day after Schwarzenegger finished his term as the Governor of California, he was summoned to a couple's counseling session by Maria. Schwarzenegger initially thought the session was about how the couple would cope with transitions back into private life.
However, immediately he sat down, the therapist told him Maria wanted to know if he fathered a child with his housekeeper Baena. The actor could no longer deny and admit the allegation was true.
Instead, he tried begging for Maria's forgiveness admitting he messed up, that she was the perfect wife. Still, Maria could not bring herself to forgive him and, shortly after, separated from the former governor before filing for divorce.
ONE MORE AFFAIR
In his memoir "Total Recall: My Unbelievably True Life Story," Schwarzenegger revealed he cheated on then-girlfriend and now ex-wife Maria Shriver with actress Brigitte Nielsen.
The actor explained this happened while he and Nielsen were filming their action film "Red Sonja" in 1985. He was dating and living with Maria before they got married a year later.
Nielsen was married to superstar actor Sylvester Stallone when the affair happened. In Nielsen's memoir "You Only Get One Life," the actress claimed she did not know Schwarzenegger was in a relationship.
SCHWARZENEGGER'S PENANCE
The movie star declared cheating on his wife Maria was the stupidest thing he did in their marriage. The actor revealed his actions of infidelity caused Maria and their kids pain.
The "Terminator" star who bared all in his memoir explained his ex-wife had not read the book. However, he said María knows the book is about his whole life, as he talked about his successes and failures.
He struggled to understand why he was unfaithful, but he believes it was his stupidity and arrogance of thinking he could break the rules and get away with them.
The actor believes he and Maria will one day get back together, and even though people might call that denial, it is just the way his mind works.
Please fill in your e-mail so we can share with you our top stories!