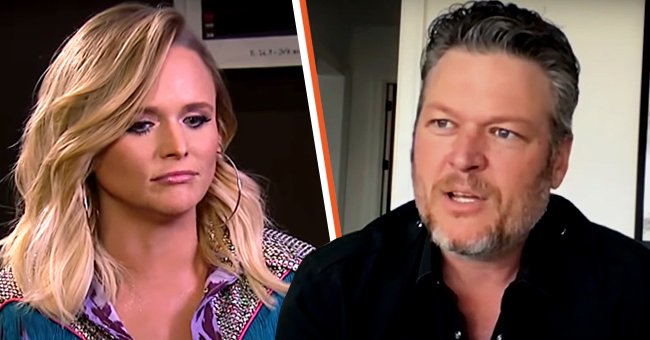 YouTube/The Late Show with Stephen Colbert | Youtube.com/Entertainment Tonight
Miranda Lambert Sacrificed Her Engagement for Blake Shelton Who Would Later Hit 'Rock Bottom'
Before Blake Shelton married his current wife, Gwen Stefani, he was in a relationship with another musician, Miranda Lambert. She was engaged when she chose Shelton over her then-fiancé.
Before Blake Shelton ended up with fellow country musician Miranda Lambert, 18 years ago, he was married for the first time to Kaynette Williams. He and Williams met when he was 15 in Ace, Oklahoma, just after high school.
The pair were in love before Shelton found fame as a country musician. They tied the knot in 2003, but sadly their marriage only lasted for three years before they divorced.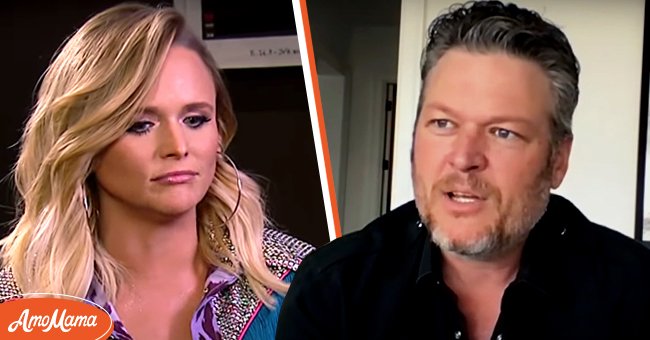 Miranda Lambert interviewed on Entertainment Tonight while at the iHeartRadio Theater in New York on November 9, 2019, and Blake Shelton on "The Late Show with Stephen Colbert" on February 13, 2021 | Photos: YouTube/Entertainment Tonight and YouTube/The Late Show with Stephen Colbert
MIRANDA BEFORE BLAKE
Lambert was engaged to Jeff Allen McManus after being together for three years. She met Shelton in 2005 at CMT's 100 Greatest Duets Concert, and they immediately clicked while performing together.
Shelton ended divorcing Williams and Lambert called off her engagement. Their relationship eventually led to marriage, but they faced severe ups and downs.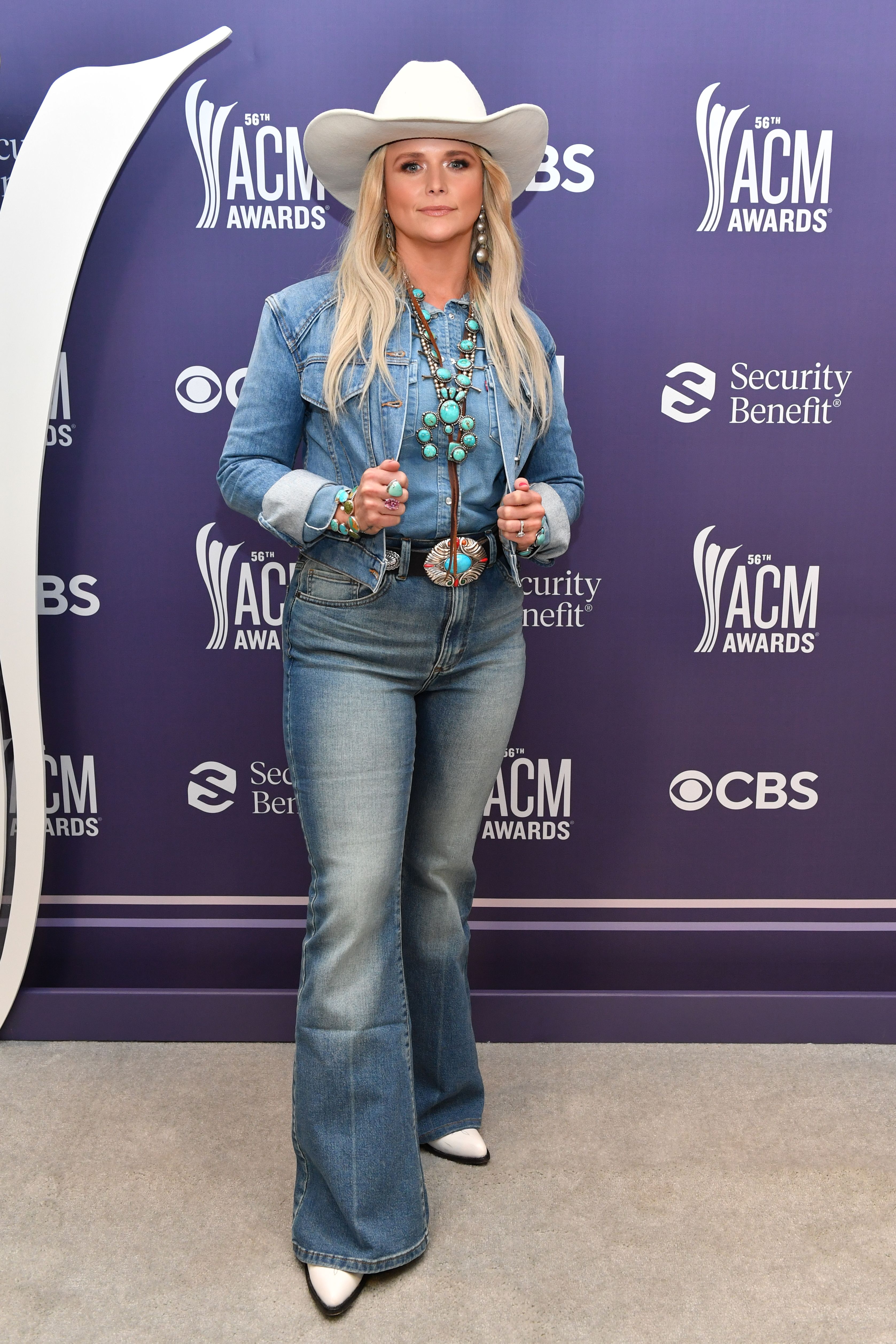 Miranda Lambert at the 56th Academy of Country Music Awards on April 18, 2021, in Nashville, Tennessee | Photo: Jason Davis/Getty Images
HOW IT FELT BEING WITH BLAKE
In August 2011, Lambert opened up about falling for Shelton. She confessed to Hoda Kotb that she knew he was married and off-limits but felt butterflies, and they were drawn to each other when she met him.
THE COUPLE'S ENGAGEMENT
On May 9, 2010, Shelton proposed to Lambert with a diamond-and-platinum ring, but before then, he got his bride's father's blessing, according to her. At the time, the couple had been together for five years.
THE WEDDING
Lambert and Shelton ended up getting married on May 14, 2011, at a star-studded Don Strange ranch wedding in Texas ranch. That month, "The Voice" coach shared a Twitter photo of the marriage license he acquired in Grayson County, Texas.
Lambert revealed in an interview that she knew he was the one for her, and so did her mother. She said her parents loved him, and both families got along well, and the singer felt she was living a fairy tale.
BLAKE'S VOW ABOUT MIRANDA
During an Us Weekly interview at the time, Shelton vowed that Lambert would be his last marriage. He confessed that he didn't want to propose until he was sure it was the right time and said he wanted the marriage to last.
HONESTY IN THE RELATIONSHIP
As the marriage progressed, Shelton shared that their main rule was total honesty, and they had no secrets. The country star even revealed how far he went to earn her trust, stating:
"'Go dig through my drawers or my computer if you feel like you need to.'"
TEASING & DIVORCE RUMORS
One thing the couple shared was humor. In a June 2013 People magazine interview, Shelton confessed that he was always teasing his wife because he got a kick from how quickly she got irritated.
He'd lie and tell her one of her dogs was missing and let her believe it for around 10 minutes. At the time, the pair had been married for two years, and already tabloids would speculate that they were getting divorced.
RELATIONSHIP STRUGGLES
Despite all their good intentions, the couple faced struggles like having a long-distance relationship because of work. They planned to see each other every two weeks, but that didn't always work, and they had to make do with what time they got.
Even though things didn't happen as smoothly as they liked, Lambert said divorce wasn't an option. One other challenge they faced was differing views regarding having children.
While Lambert was seemingly more focused on work in the early stages of their marriage, her husband was keen on starting a family. Shelton felt broody just seeing his parents with their grandchildren and looked forward to all of that.
TRUST ISSUES & SEPARATION
In July 2015, the famous couple announced their separation. They spent a lot of time denying the negative rumors that swirled around in the media during their four-year marriage.
An E! News source claimed their busy schedules had caused the duo to spend little time together, leading them to drift apart. Trust was mentioned again, with the insider alleging:
"Trust was an issue for both of them. It went along with having to spend a lot of time apart."
The source also said there had been rumors about infidelity in the relationship. Even though they initially denied them, the rumors allegedly became difficult for the pair to hear.
CHEATING RUMORS
The same month the separation occurred, TMZ said sources claimed Shelton had been unfaithful in his marriage while he accused her of the same. The insiders alleged the vocalist had cheated with another famous country singer.
THE DIVORCE
TMZ said things were so bad that Shelton ordered his estranged wife to clear her exotic animals off his Oklahoma ranch the same day the divorce was made official. The divorce went through hours after the separation was announced.
The New York native [Brendan McLoughlin] and his ex Kaihla Rettinger, had a baby in November 2018, making [Miranda] Lambert a stepmother.
Speaking to Billboard in July 2016 about his failed marriage, the singer confessed that while going through it, he found himself "at rock bottom." However, both stars have since found happiness again.
MOVING ON
Four months after his divorce, Shelton found love with fellow "The Voice" coach Gwen Stefani. The two stars have since gotten married, and he's now a stepfather to her three young sons.
Lambert also didn't waste time and dated Anderson East five months after the divorce, but they split in April 2018. She then dated Evan Felker, but the relationship was over four months later.
In February 2019, she announced that she was married and introduced us to Brendan McLoughlin. The New York native and his ex Kaihla Rettinger had a baby in November 2018, making Lambert a stepmother.
Please fill in your e-mail so we can share with you our top stories!