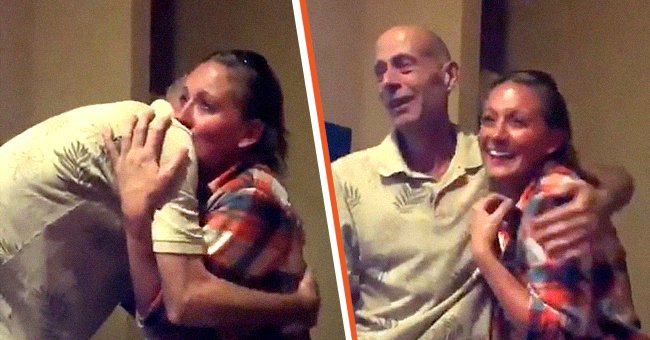 facebook.com/garrett.eischens
Bride Moved to Tears as Late Father's Best Friend Surprises Her to Walk Her Down the Aisle
When her father passed away, one bride was heartbroken that he would never have the opportunity to walk her down the aisle. However, her dad's best friend stepped up and gave her a special surprise.
Allyson Eischens lost her father in 2005, but thankfully her fiancé, Garret, came up with a surprise plan for her walk down the aisle. He knew the moment was special and made sure she wouldn't have to face it alone.
Eischens father's best buddy, Chris Roose, was the perfect person to fill in for him. The duo lived across the street from each other, and Eischens knew Roose well.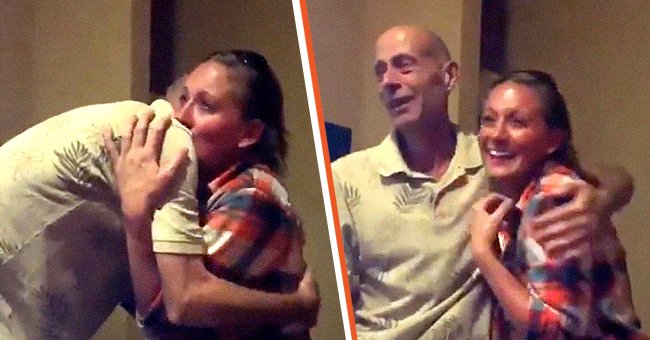 In an emotional embrace a man surprises his late best friend's daughter and offers to walk her down the aisle | Photo: facebook.com/garrett.eischens
WALKING BY HERSELF
The Roose family was a source of support after Eischens lost her dad, and for her special day in 2017, he was there for her again. Eischens wanted to ask him to walk her down the aisle, but something stopped her.
Roose's wife was in an accident and couldn't travel, so Eischens decided to walk down the aisle alone. She said: "When I knew Chris wouldn't be able to make it, I thought I'd just go by myself." However, her husband to be had other plans.
THE BIG SURPRISE
Garrett organized the special surprise. Two days before the wedding, Eischens found out that Roose would be by her side after all. The bride was stunned and overcome with emotion.
In a clip, Roose casually said: "Hey, I heard somebody needs to be given away." The woman felt loved and was happy to share the moment with her late father's best friend.
THE EMOTIONAL REACTION
Eischens said: "Having Chris there was everything. You don't think something like that is a big deal until you don't have it." The pair embraced for a while as tears streamed down the bride's face.
The sweet gesture touched netizens, and one user wrote: "I am sure your dad is smiling. That was very touching." Another added: "Wow, you got yourself a good man. This made me tear up. Congratulations!!"
THE ONLINE REACTION
One commenter also said: "Absolutely beautiful moment. God bless the man who is showing the new bride what love really means." A user added: "Your dad would be proud."
Someone else shared their own experience. The commenter stated:
"I remember the first time I saw my Dad's best friend after my Daddy passed away, I cried like a baby."
WALKING DOWN THE AISLE
Eischens was thrilled to have him by her side and thankful to her fiancé for organizing it. She added: "[Roose] has always considered us important in his life, but I don't think he realizes how much of an impact he's had in our lives."
The bride's big day was extra special, and the walk down the aisle was a highlight. Roose was the pillar of support Eischens needed, and it was an unforgettable moment for everyone.
Please fill in your e-mail so we can share with you our top stories!