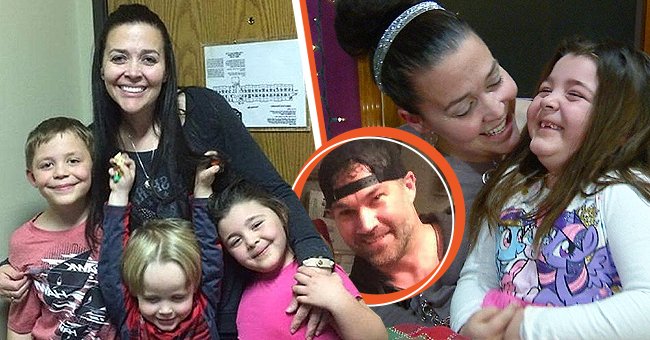 facebook.com/amy.staderickel twitter.com/CNNImpact twitter.com/wsvn
Homeless and Jobless Mother-Of-Three Accidentally Messages a Stranger and He Decides to Help Her
A Facebook message sent to the wrong person changed one family's life in 2016. The stranger who received the message decided to help the woman and gave her an unforgettable Christmas miracle.
An Appleton, Wisconsin mother needed some help and reached out to a friend via Facebook. She asked for prayer and assistance in her message as she and her children were living in a hotel room but were running out of money quickly. However, the message never reached the intended person.
When a stranger who had a similar name as her friend opened the message, he had no idea what would happen next. Amy Rickel's plea for help mistakenly reached Brian Van Boxtel, someone she didn't know.
A mother with her three children [left] A mom embraces her young daughter [right] A man who helped a family in need [inset] | Photo: facebook.com/amy.staderickel & twitter.com/CNNImpact & twitter.com/wsvn
A STRANGER OFFERED TO HELP
Van Boxtel didn't leave things there and quickly told the woman he would pay for her hotel room. She stated: "[Van Boxtel] was like, 'Nope! God puts us in people's lives for a reason." What happened next was even more surprising.
Van Boxtel encouraged the mother to ask for help via a GoFundMe page, and her pleas quickly garnered support. The mom of three didn't have a job or a house, but members of the Green Bay community stepped up to help.
THE COMMUNITY STEPPED UP
Kathy Schumann offered Rickel her minivan to get around and some more assistance. She said:
"We just felt like this holiday season we couldn't let the kids be out in the cold and we cleared out a room and brought them home."
Van Boxtel, who was the person that set all of the generosity in motion, revealed what motivated him to help. He said a simple question of "What would Jesus do?" led him to offer his assistance.
FOUND HER A JOB
Others also chose to help the mother. When Chad Morack found out Rickel was a licensed practical nurse, he helped her contact a recruiter.
Alexandria Witkowski was happy to help Rickel find a job and was impressed with her résumé. Within nine days, Rickel went from being homeless and jobless to having a place to live and a job lined up.
THE ONLINE REACTION
The mother expressed that she was "pretty amazed" and still found it hard to believe. She added: "It's totally restored my faith in more than just humanity, my faith in God."
Netizens were happy to hear about her story, and many offered support. One user wrote:
"Oh Amy, I'm so happy for you and your children."
GRATEFUL FOR THE KINDNESS
Another commenter added: "I don't know you, but I was balling when I read your story. Bless all those who stepped up to help." In the comment section of a post, Rickel thanked Van Boxtel.
She said: "It's all because of you, Brian Van Boxtel, thank you ... You are amazing!" Her Christmas miracle story showed many the power of extending kindness to one another.
Please fill in your e-mail so we can share with you our top stories!