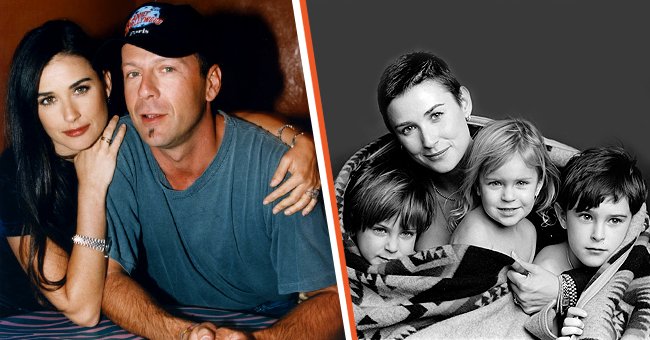 Bruce Willis, Demi Morre and their daughters. | instagram.com/demimoore Getty Images
Demi Moore Was 'Rebellious' When 'Controlling' Bruce Willis Wanted Her to Quit Acting & Stay Home
Demi Moore opened up about her past marriage to fellow Hollywood star Bruce Willis where he was controlling, and she was not willing to succumb.
Hollywood will forever remember the era when movie powerhouses Bruce Willis and Demi Moore were husband and wife. The two got married in the 1980s, and while it seemed like the perfect match, there were hitches.
Moore opened up about her marriage to Willis in her 2019 memoir, "Inside Out," which chronicled her personal struggles, childhood, and relationships. Here are details of her revelations.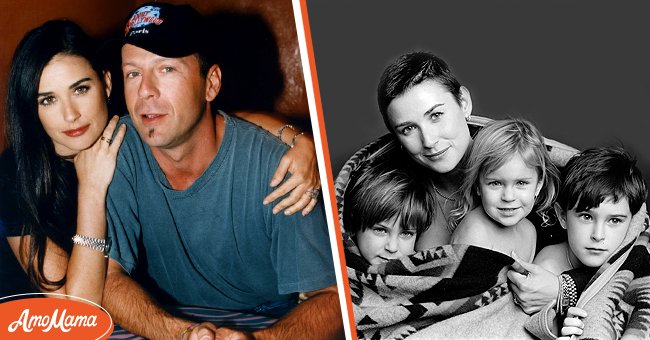 Former lovers Demi Moore and Bruce Willis in Paris, circa 1995. [Left] | Monochrome photo of Demi Moore hugging her kids. [Right] | Photo: Getty Images
HOW DEMI MOORE MET BRUCE WILLIS
Action film star Bruce Willis and Demi Moore met in 1987 when they were at the pinnacle of becoming icons in their young careers. Bruce, for one, was transitioning from a Hollywood heartthrob to a movie star.
In the same vein, Moore reached a prestigious stage where she would become the highest-paid Hollywood actress. The two met and struck it off right from the start.
Moore had just ended a rocky engagement with Emilio Estevez, but it was clear that she was ready to move on with Bruce. She wrote in the tell-all that Bruce "insisted" she was beautiful despite the actress' eating disorder.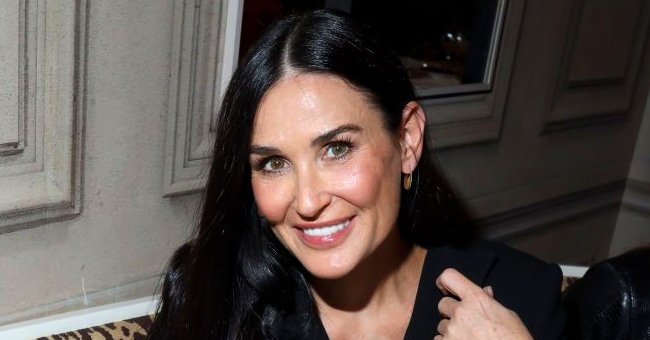 Demi Moore attends the Monot show of the Paris Fashion Week Womenswear Fall/Winter 2020/2021 on February 29, 2020. | Photo: Getty Images
WEDDING, PREGNANCY, AND ULTIMATUM
Moore and Bruce could not get enough of each other, as they flaunted their love in the presence of their millions of fans. Their passion for each other spawned a whirlwind romance that climaxed as a lavish wedding ceremony.
Because the stars wanted the same things in terms of starting a family, they wasted no time having babies. Moore got pregnant shortly after the wedding and immediately settled into her maternity role.
The "GI: Jane" actress was so invested in motherhood that she breastfed their first child, Rumer Willis, for two years. However, Demi was ready to continue her career once she weaned the little one and lost weight.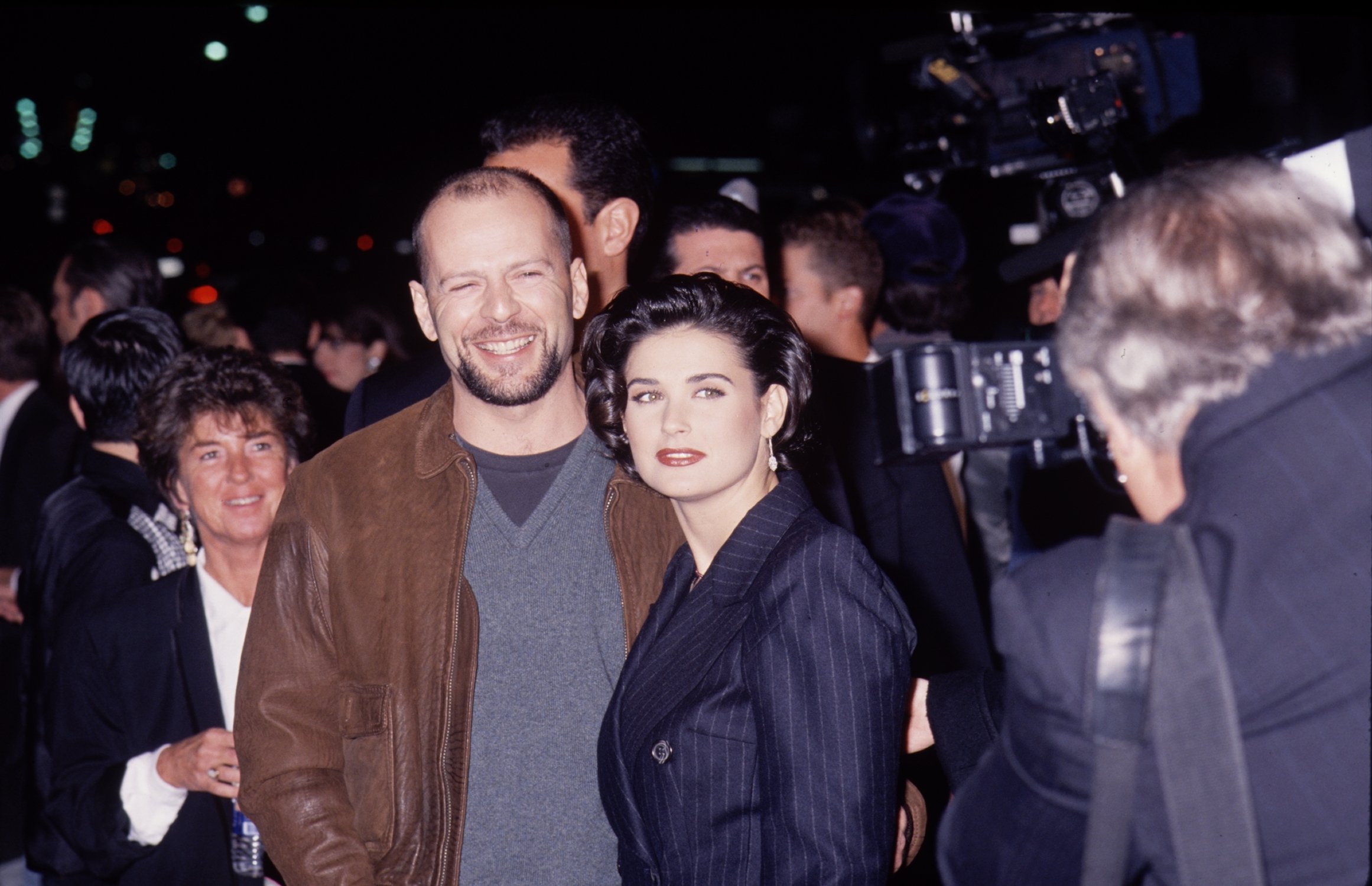 Bruce Willis and Demi Moore pictured together at an event during their relationship. | Photo: Getty Images
CRACK IN THE MARRIAGE
When Moore decided her motherhood break was over and she was ready to return to the big screen, her hubby did not agree. According to her book, Bruce wanted Moore to be a stay-at-home mom.
It didn't take long for the now-57-year-old actress to get with the program in Hollywood again, as she received several gigs. However, back home, Bruce was not making things easy for his star wife, as he insisted that things would not work if they were both working parents.
She assured her spouse that things would work, and in that regard, Moore took her young daughter to work on the set of "We're No Angels." Moore went back home constantly to accommodate her husband's schedule.
Divorce was the ultimate resolution in Moore and Bruce's marriage, but they were both swirled in cheating rumors before that.
But from how her book panned out, her efforts were not satisfactory to Bruce. Things came to a head after her fame went a notch higher due to her 1990 blockbuster movie, "Ghost."
In "Inside Out," she claimed that Bruce told her he did not want to be married anymore. She shared that the "Mission Impossible" actor was proud of her achievements, but he disapproved of the attention she got.
Soon enough, Moore suspected her husband was cheating, but he seemed to be the man who would not walk out on his family. So the couple stayed together through all the storm and had two more children, Scout and Tallulah.
However, by 1998, they could not remain together anymore. Moore's mom was also going through the throes of an ailment, and her relationship with Bruce became further strained. Ultimately the two legally called off their 13-year marriage in 2000.
HOW THEY BECAME CLOSER
Divorce was the ultimate resolution in Moore and Bruce's marriage, but they were both swirled in cheating rumors before that. Willis also once confirmed that he did not subscribe to monogamy.
After their divorce, they both returned to the dating pool, but Moore and Bruce never neglected their co-parenting duties. Later, the "Die Hard" actor and his ex-wife found common ground, and things became amicable between them.
In 2015, they were spotted at a "Dancing With The Stars" event where they had gone to support their daughter, Rumer. Bruce has since married model Emma Heming, while Moore was married to a fellow star, Ashton Kutcher.
These days, Moore and Kutcher are no longer an item, and it is safe to say she is content with her family life and parenting duties with Bruce.
Early this year in March, she took to her Instagram page celebrating the "The Sixth Sense" actor's birthday while calling him "one of a kind."
Please fill in your e-mail so we can share with you our top stories!