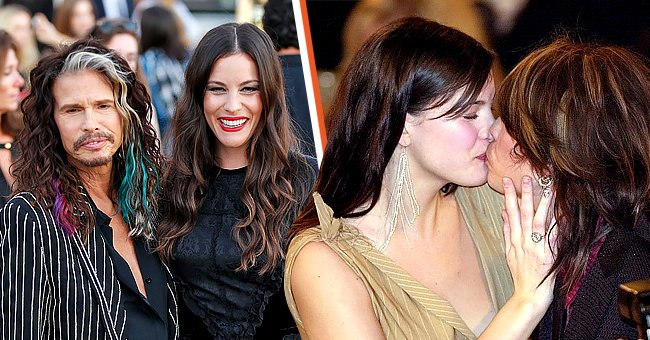 Getty Images
Steven Tyler's Daughter Liv 'Fell in Love with Him' before Finding Out He Is Her Real Dad
Iconic American rock singer Steven Tyler has a daughter he once didn't know existed. The pop star's daughter, Liv, fell in love with him before discovering him to be her real dad.
Steven Tyler stands out from many rock stars from his signature rough-looking shoulder-length dark hair, flashy appearance, and dulcet tones.
He is also one entertainer who has maintained the same look for many years, making him appear ageless. And, his life is as interesting as his appearance.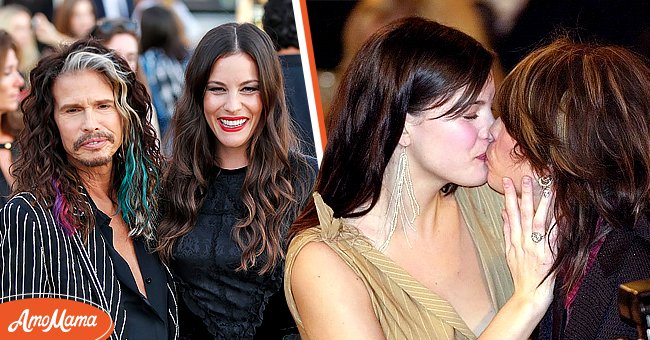 Steven Tyler and Liv Tyler are seen arriving at the Givenchy fashion show during Spring 2016 New York Fashion Week on September 11, 2015 in New York City [left]. Steven Tyler kisses his daughter Liv for a photograph before the start of the 16th Annual Rock and Roll Hall of Fame induction ceremonies on March 19, 2001, at the Waldorf Astoria Hotel in New York City [right] | Photo: Getty Images
TYLER AWAY FROM THE STAGE
Aside from being a versatile singer, songwriter, and actor, Steven, 73, is also a dad to four kids, one of whom is "The Lord Of The Rings" star Liv Tyler. He had been married twice but has had several other relationships.
Back in 1975, Steven dated 16-year-old Julia Holcomb. He was 27 years old at the time. Holcomb, who later became a part of an anti-abortion campaign, revealed that the pop star was initially her guardian.
However, after Steven was named her guardian, he decided he wanted to be her boyfriend, and the two started dating and living together. Holcomb also followed him to band tours while they were together.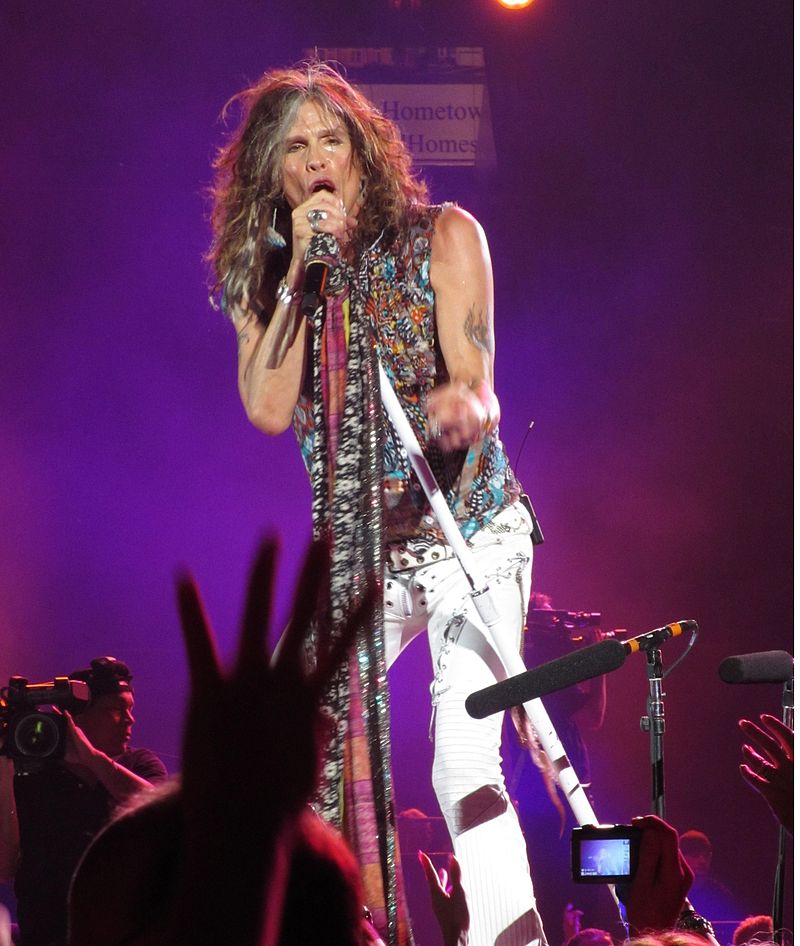 Steven Tyler performs at the Andrea Bocelli show in the 2017 Celebrity Fight Nigh in Italy | Photo: Getty Images
Holcomb once opened up about the abortion she had for Steven, which was one of the reasons their relationship crashed. Their age difference and trauma from a house fire was another factor that wrecked their affair.
During an interview, Steven also addressed the abortion issues, and the now 73-year-old musician says it was a "big crisis." Steven noted that he did regret his actions after Holcomb had the abortion, and it was a "devastating" experience for him
However, Steve later welcomed a child with model Bebe Buell. The model had his first child Liv on July 1, 1977, but the girl never knew Steve as a parent. Instead, Buell made her believe rockstar Todd Rundgren was her biological father.
Other women Steve had a relationship with was model Cyrinda Foxe whom he married in 1978. The couple had a daughter, Mia, in 1978 and divorced in 1987. Foxe died of cancer in 2002.
In 1988 the "Dream On" singer walked down the aisle for the second time with designer Teresa Barrick, and they had two children, Chelsea and Taj before they split in 2006. In the same year, Steven started dating Erin Brady, and they got engaged in 2011 only to call it off in 2013.
LIV, WHO DIDN'T KNOW HER FATHER
Liv, led to believe Utopia singer Todd Rundgren was her father, made a significant discovery that shook her entire world when she was 11. The little girl was in her bedroom looking at a poster of Aerosmith leadman Steven when she realized who he might be.
Liv once noted that her mother had a diary entry, and she wrote "I think Steven is my father" in it. And, when she eventually confronted her mother about her paternity, the then little Liv realized that her suspicion was correct.
Liv's mother, Buell, had Rundgren sign the birth certificate after she was born. At the time of Liv's birth, the music star had his suspicions, but he went ahead to sign the document and give Liv his last name.
Reports later came out that Buell had decided to keep the paternity a secret from her daughter because Steven was in the news for drug addiction at the time. She later said she and Rundgren agreed to let Liv know the truth if it ever became an issue.
BEFORE THE TRUTH WAS DISCLOSED
Liv met Steven for the first time when she was about 9-year-old, and she immediately felt a connection. The two met at one of Rundgren's concerts where he bought her Shirley Temple. Although the then little Liv had no idea who he was, she says she "fell in love with him."
Liv once revealed that she loved Steven so much she talked to his posters on her walls. She also cherished all the stuffed animals he bought for her and recalled loving him deeply.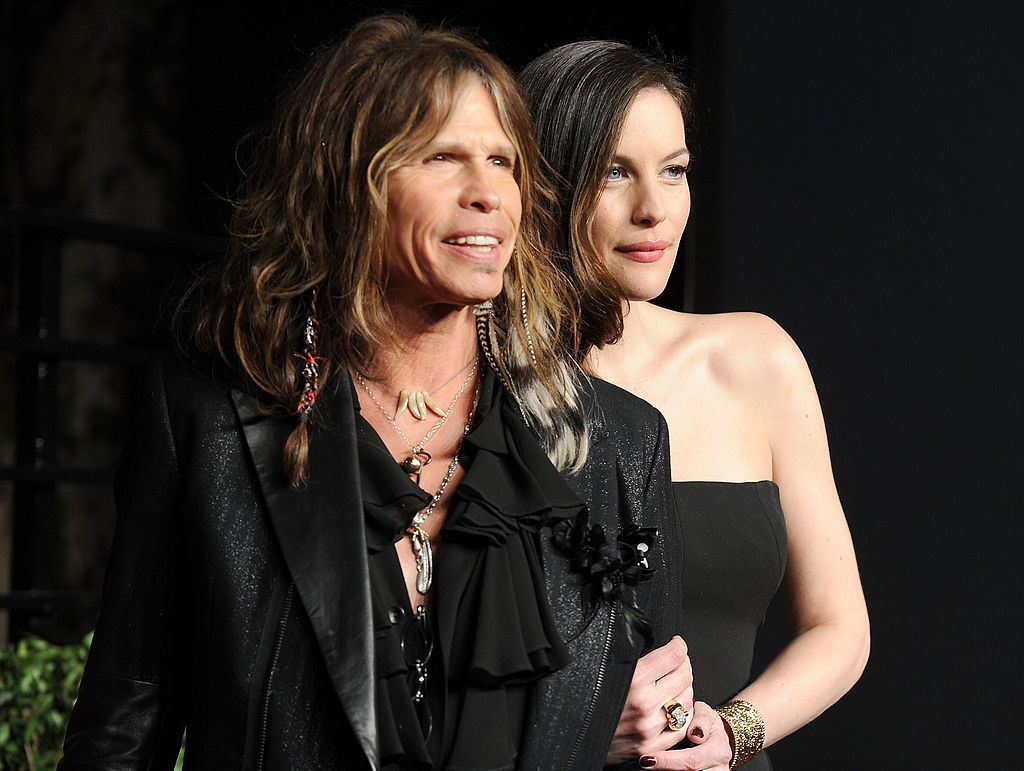 Steven Tyler and actress Liv Tyler at the Vanity Fair Oscar party in 2011 | Photo: Getty Images
Once speaking in an interview, Liv, who is now an excellent actress, said she bought many posters of the 73-year-old pop star. Remembering how she felt, Liv says:
"It must be chemical somehow – DNA and genes, I felt a connection in a very strong way when I met him as a little girl and I didn't know why at first, but I figured it out rather quickly."
LIV, AFTER YEARS OF DISCOVERY
Like her father, Liv took a career in showbiz, and since she began acting, the 44-year-old actress has starred in countless outstanding productions. After making her film debut in "Silent Fall," she went on to star in "Heavy," but it was her lead role in "Stealing Beauty" that catapulted her to fame.
Liv's other acting credits include "Cookie's Fortune and Dr. T," 2008's "The Incredible Hulk," she also starred in "The Strangers" the same year. Liv was Arwen in the hit 2000's "The Return of the King" and Sarah Helgeland in "Super."
LIV IN RECENT YEARS
Several years have passed since the 44-year-old actress discovered her biological father. Now, she is all grown up, one of Hollywood's renowned actresses, a wife, and a mother.
But, Liv looked back when she first found out Steven was her dad during an interview where she revealed that when she discovered Steven was her father, it was a moment that felt so "spiritual." The actress believed the connection she felt was probably due to the genes.
Liv Tyler and Todd Rundgren on June 23, 2014 in New York City | Photo: Getty Images
However, Liv, 44, says she is grateful Rundgren chose to be her father, and although he and Buell were not in a relationship, Liv revealed that he was a stable presence in her life. Liv says her fathers are both " unconventional, " comparing the two men, Liv says her fathers are both "unconventional."
Liv, a mother of three, made it known her biological father had traits that helped her with parenting. The actor revealed Steven inspired her to be more playful with her children.
After her first son Milo William Langdon, the 44-year-old actress gave birth to son Sailor General in February 2015 and had a daughter, LuLula Rose, in July 2016.
During an interview on "The Jonathan Ross Show," she talked about her experiences on set and returning to the screen after Lula's birth; the actress gushed about her little girl and life as a mother.
Away from the screen, Liv is notably private about her family life, but she once shared a rare picture that featured her and her kids on Instagram. The post revealed how she survived COVID-19 and is living a more healthy life with her family.
Please fill in your e-mail so we can share with you our top stories!