youtube.com/WFSB 3 facebook.com/luciana.machado.319
Sick Parents Beg Son's Teacher to Take Care of Their Unborn Baby Days before Its Birth
When parents were ill and unable to look after their newborn baby, they reached out to someone for help. They asked their son's teacher to step in, and the educator didn't hesitate.
In 2020, a Stamford, Connecticut teacher went the extra mile for a student's family. The parents were facing a Covid-19 diagnosis at a pivotal time in their lives. They desperately needed someone to help them and their growing family.
Teacher Luciana Lira was that someone. She did her best to be a pillar of support for all of her students at Hart Magnet Elementary School. However, she never imagined becoming a temporary guardian for a family in need.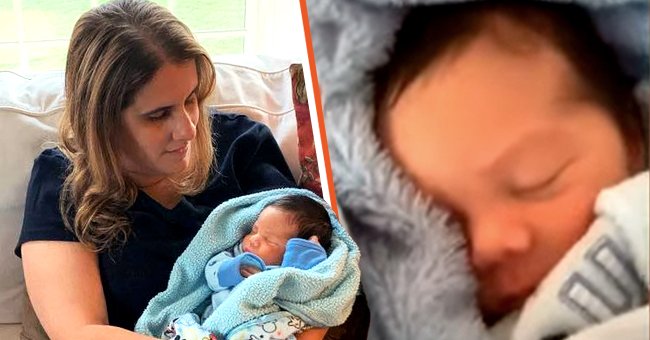 A teacher holds and looks after a baby while her parents are ill [left] Newborn baby is temporarily cared for by a teacher [right] | Photo: youtube.com/WFSB 3 & facebook.com/luciana.machado.319
THEY TURNED TO SOMEONE UNEXPECTED
When Zully and Marvin welcomed their baby prematurely, they were not in a condition to take care of her. The baby's parents had covid, and thus she couldn't return home with them. The Guatemalan family turned to someone unexpected.
Their son, Junior's teacher, was listed as their emergency contact, and they had no one else to call on. The mom was ill, and until she was well enough to look after a baby, teacher Lira made sure the newborn was taken care of.
SHE CARES ABOUT HER STUDENTS
Baby Neysel spent her first few weeks on earth with the educator. She looked after the child while the family quarantined and awaited their eventual negative covid tests. The mother hadn't held her baby after she was born to ensure her safety.
Thankfully Lira was there to stand in while everyone worked on improving their health. The teacher said:
"We care about our students, we care about their families, and everybody needs to know we're here for them and just want to help."
THE FAMILY TRUSTED HER
Lira was honored to be trusted with such a big responsibility. She worked remotely for most of 2020 and was happy to assist them during the time. She called it "an amazing experience" and shared progress updates on her Facebook page.
The family was assisted by the immigrant advocacy organization Building One Community. They were given some much-needed supplies during their quarantine period. However, the most significant support undoubtedly came from Lira.
THE ONLINE REACTION
Netizens commended the teacher's selflessness. Not everyone would be willing to take on such a big request. A user said: "May the world have more Lucianas just like you." Another added: Wow! You're a nurse and babysitter! Such compassion!
A commenter also wrote: "Congratulations, Luciana, I know that you are the kind of person who will remain attentive and available to help the next." She certainly went above her call of duty to show kindness and care and deserved all the praise that came her way.
Please fill in your e-mail so we can share with you our top stories!